Last summer, I decided to take advantage of the opportunity to study abroad in New Zealand, a place I had always dreamed of traveling to.
During my time abroad, I traveled around New Zealand on an expedition with a group of about 30 people. During my time traveling around, I heard from various professionals in the tourism industry in New Zealand. Afterwards, I had an internship with a nonprofit in Wellington, NZ.
I flew from Charlotte, North Carolina to Christchurch, New Zealand. With flights, layovers, and delays, it took about 30 hours to get there. During my journey to New Zealand, I felt an array of different emotions. I was excited, invigorated, nervous, tired, and a bit annoyed at times (long flights are pretty brutal).
But eventually, I landed in Christchurch. Before landing in Christchurch, we flew over incredible mountains and at that time I got an intense feeling of excitement. I knew I was about to start an incredible journey.
After landing in Christchurch, I grabbed my luggage and took a shuttle to my hostel. It was a beautiful day in Christchurch. It was warm and sunny, which is pretty rare for a day in the middle of winter. During the ride to my hostel, I was talking with my shuttle driver.
We talked about driving on the left side of the road, how it's common to experience several seasons in one day in Christchurch (the weather is crazy), and bungy jumping. He told me he had gone bungy jumping once and that it's one thing I definitely have to do while in New Zealand (after all bungy jumping was invented in NZ).
Once I arrived at my hostel, I found my room and met a girl from Scotland, who became the first friend I made on my trip. We had both arrived a day before our program started. The two of us spent a couple hours talking. We also talked with another girl in our room from Canada who had already done quite a bit of traveling in New Zealand.
The next day, more people who were in my study abroad group arrived. There were now four of us. There were a few hours before the program started, so we decided to grab breakfast and get to know each other.
After breakfast, we walked around the city, went to see the famous cathedral that was damaged during the earthquake, and went shopping at the container store. The four of us were looking at postcards at the container store when we saw a postcard of the coast. We asked the lady working at the store how far we were from the beach.
She said it takes about 30 minutes by bus. So, we decided to go to the bus station and catch a ride to the beach. It seems as though I naturally always end up at the beach.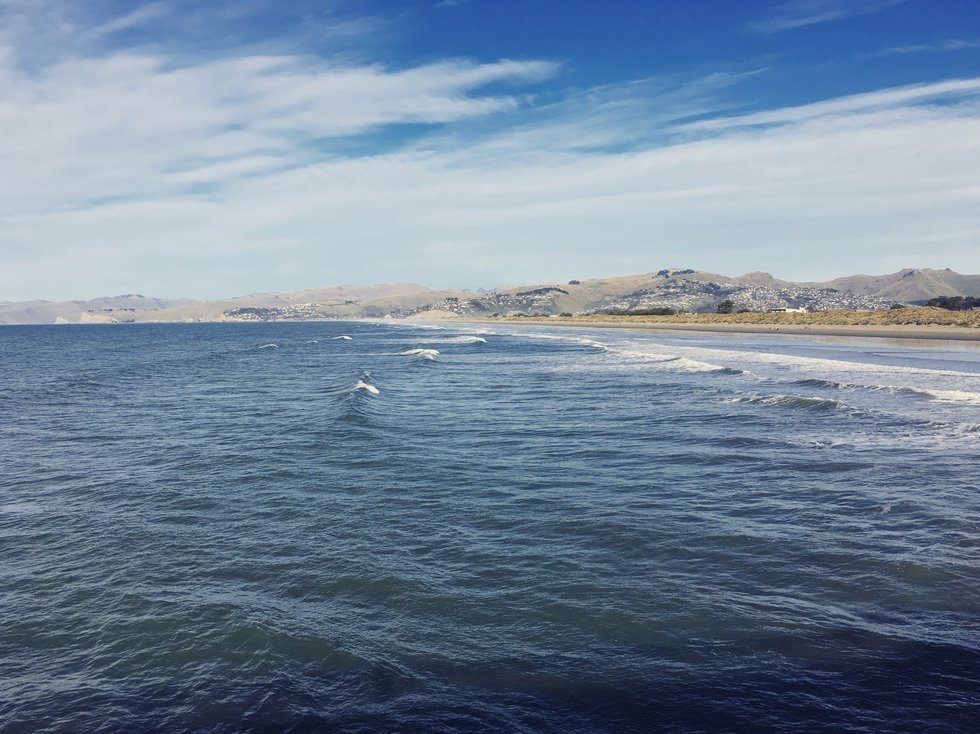 We took a walk along the beach and continued to get to know each other. We were excited that it was warm enough to take our shoes off even though it was the middle of winter in NZ. After spending some time at the beach, we took a bus back to the city. When we arrived at the hostel, we met everyone else in our study abroad group. We all got to know each other and went to dinner. After dinner, we went to a nearby pub to grab a drink and play some pool.
The next day, my study abroad group participated in "The Amazing Race." During this race, we were divided into multiple groups and were set on a quest to complete each task on a list we were given. Some tasks on the list included trying Hokey Pokey ice cream and tasting kumara chips (a couple of New Zealand staples).
We went into BurgerFuel (which later became a favorite restaurant of my group) to try kumara chips. The employee working was so sweet and talked with us about New Zealand and was so excited for us to try kumara chips, he made them for free. He is now known as the "fry guy" among our group. By participating in this race I was able to explore all over Christchurch, talk with locals, and learn about different traditions.
The town was beautiful, artsy, and very damaged from earthquakes. I learned about how the town is struggling with tourism due to the damage and people thinking there is nothing to do. However, this town has a lot to offer; there is various hiking trails, biking opportunities, beaches, restaurants, etc.
Later, I decided to hike Bridle Path with my new friends. On the bus ride there, it was sunny and beautiful making us super excited for the hike. After we arrived and started the trail, we could not believe our eyes.
The views were already incredible and we were not even near the top. We kept climbing the mountain, excited to reach the top when all of a sudden the wind started picking up. We continued our trek to the top when the wind became extremely strong and the sky was almost black. A storm came out of nowhere and was obviously coming quick. Numerous locals told us to turn around as it was getting really bad ahead.
Our group ended up splitting into three different groups. Two of the groups turned around while the other group continued to the top. The two groups that turned around dodged a heavy hail storm. One group made it to the top and saw the incredible views but got caught in the storm on their way down. Everyone was safe /and had a good time even with the change of pace.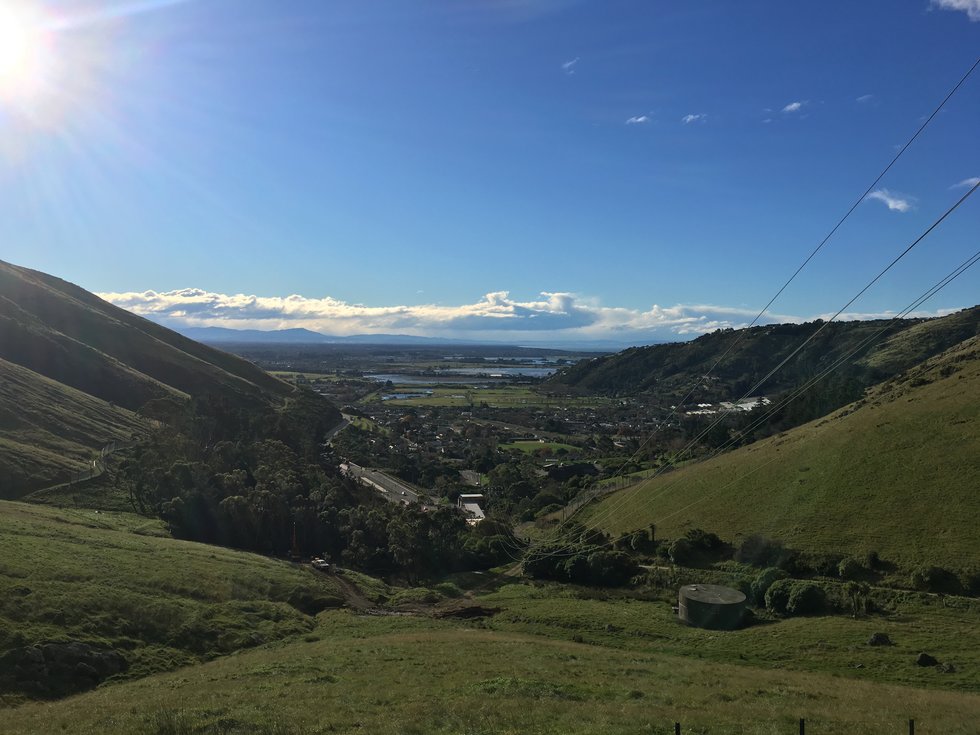 After Christchurch, my group began our "road trip" to St. Arnaud. We did not have a lot of time to spend in St Arnaud.
However, the bus ride allowed me to talk and get to know everyone. I really lucked out and had an incredible group to experience New Zealand with. While on the road, my tour guides pulled off of the road a couple of times to show us incredibly beautiful spots they have found while exploring themselves.
One of the spots was a random place without a name with spectacular views of mountains in every direction and a lake. We were able to wander around the area, take photos, and throw a few snowballs before continuing our journey to St Arnaud. Before arriving, we took one more stop to see a beautiful waterfall.
The sun was beginning to set while we were admiring the falls. When we arrived in St Arnaud, it was already nighttime, so we could not do a lot of exploring. However, a few of us decided to take a walk and we were able to see the Milky Way. This was one of the highlights of my trip. Seeing the Milky Way was absolutely incredible; I have never seen anything like it. I hope I never forget that moment.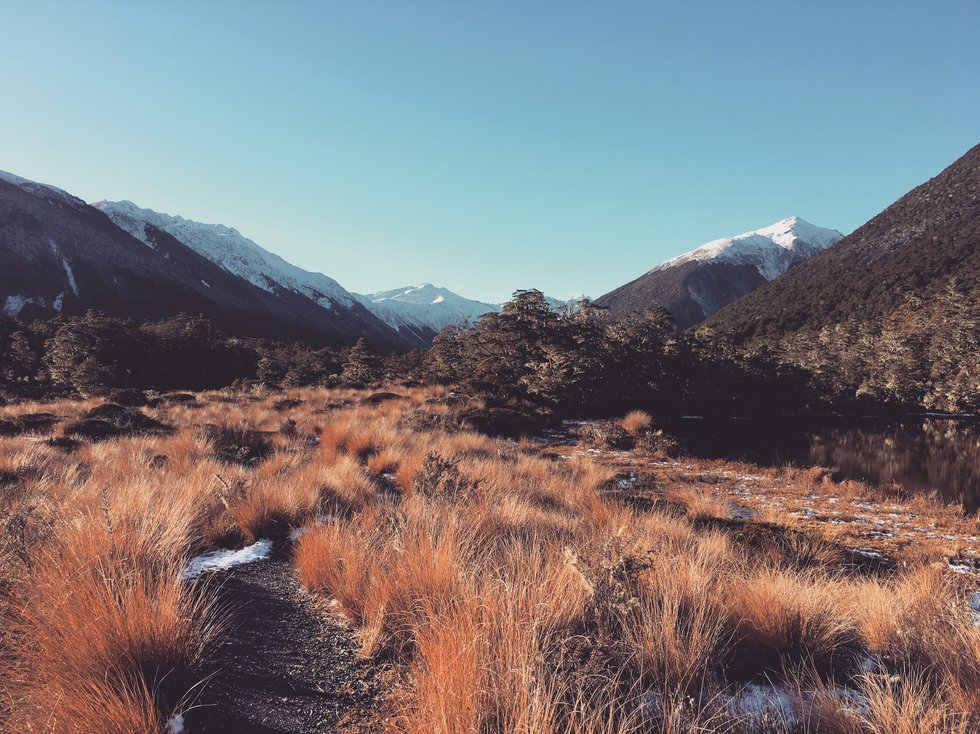 The next morning in St Arnaud, we all got up early and stopped to see Lake Rotoiti. This was an incredible spot where the lake was surrounded by mountains. Everyone was amazed by the beauty surrounding us. We were able to see the beginning of the sunrise at this site. Afterwards, our group got back on the bus and headed to Picton to pick up the ferry to Wellington.
The ferry ride was incredibly beautiful. During this time our group spent more time talking with one another. We all were amazed by the beauty of New Zealand. We constantly looked out the window and went up on the deck to take it all in.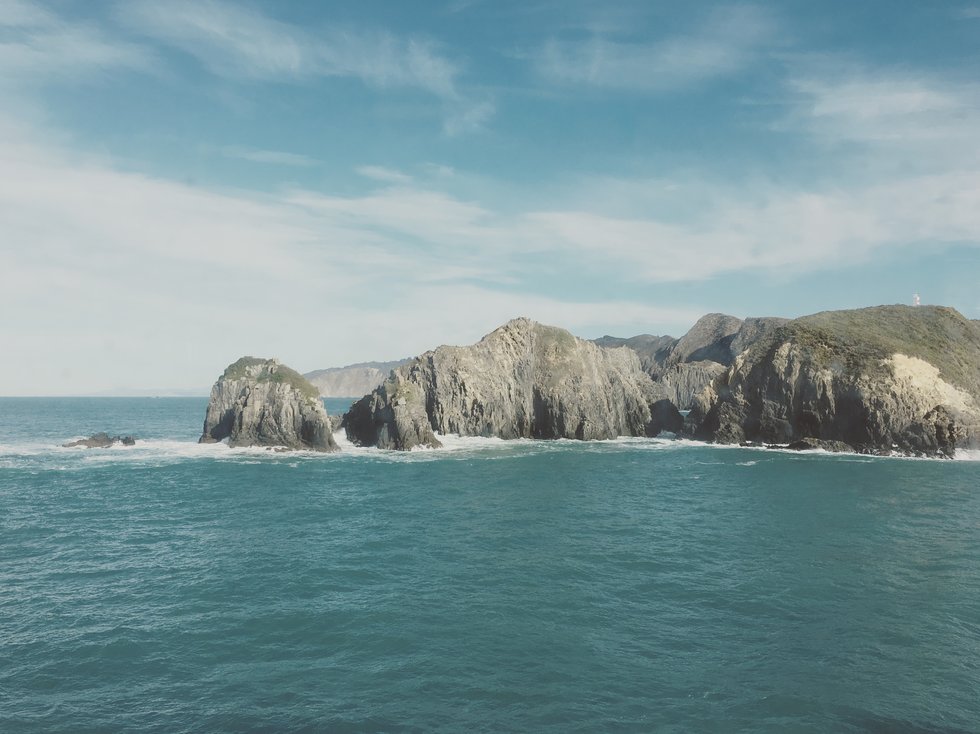 We arrived in Wellington after spending a few hours on the ferry. We had the opportunity to visit Weta workshop, where they make props for various movies including Lord of the Rings, The Hobbit, Chronicles of Narnia, etc.
After Weta Workshop, our tour guide took us on the scenic route on the way home to show us around Wellington. We saw a gorgeous sunset as we drove around the city. Everyone in my group was so excited about spending four weeks interning in Wellington after finishing the expedition. We had one night in Wellington before continuing our expedition. We spent the night exploring the nightlife.
After Wellington, we had a long bus ride to Gisborne. The bus ride was about 10.5 hours but at least the ride was beautiful.
During our journey, we stopped for lunch in Napier. Instead of lunch, I decided to check out the beach with a couple friends, which ended up being a black pebble beach. I've never seen a beach quite like it. The mountains were in the horizon, the water was aqua, and the waves were crashing.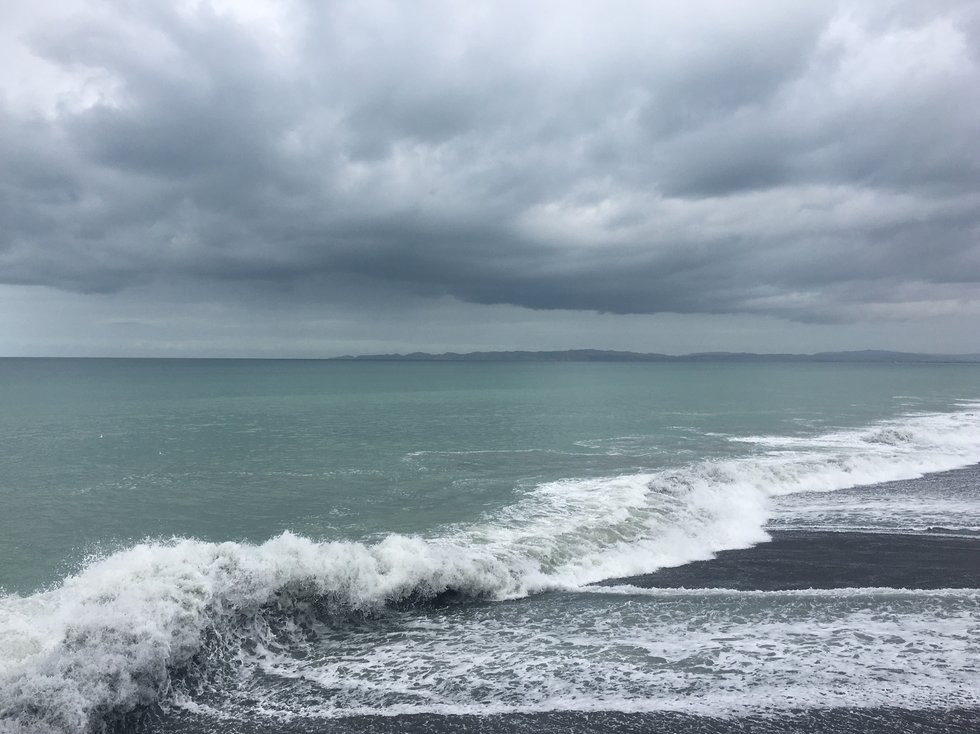 After the stop in Napier, we continued on to reach Gisborne. In Gisborne, we went to the Eastwoodhill National Arboretum of New Zealand and learned about their marketing techniques and we went to the Tairawhiti Museum.
At the Arboretum, we discussed the challenges that come along with a small marketing budget. The organization has trouble doing effective marketing for their target market without breaking the bank. We were also able to take a scenic walk through the Arboretum and see numerous beautiful trees including Redwoods.
The Arboretum used to be a nudist community where people lived as they pleased. Afterwards, we went to the museum where we saw stunning artwork and learned about Maori culture. After, I had some free time and explored around Gisborne. The was when I decided to buy the coolest dream catcher that barely fit in my suitcase (not thinking things through is typical for me). It made the rest of my traveling so difficult, but it was worth it!
The next morning, my group decided to get up before the sun and drive to the beach to catch the sunrise.
Though it was not just any sunrise, it was the first sunrise in the entire world. Gisborne, New Zealand is the first place the sun rises each morning. Our entire group was amazed by the beauty of the sunrise in front of us. We all watched as the sun came up and watched the incredible waves. Seeing the sunrise in Gisborne was one of the highlights of my trip.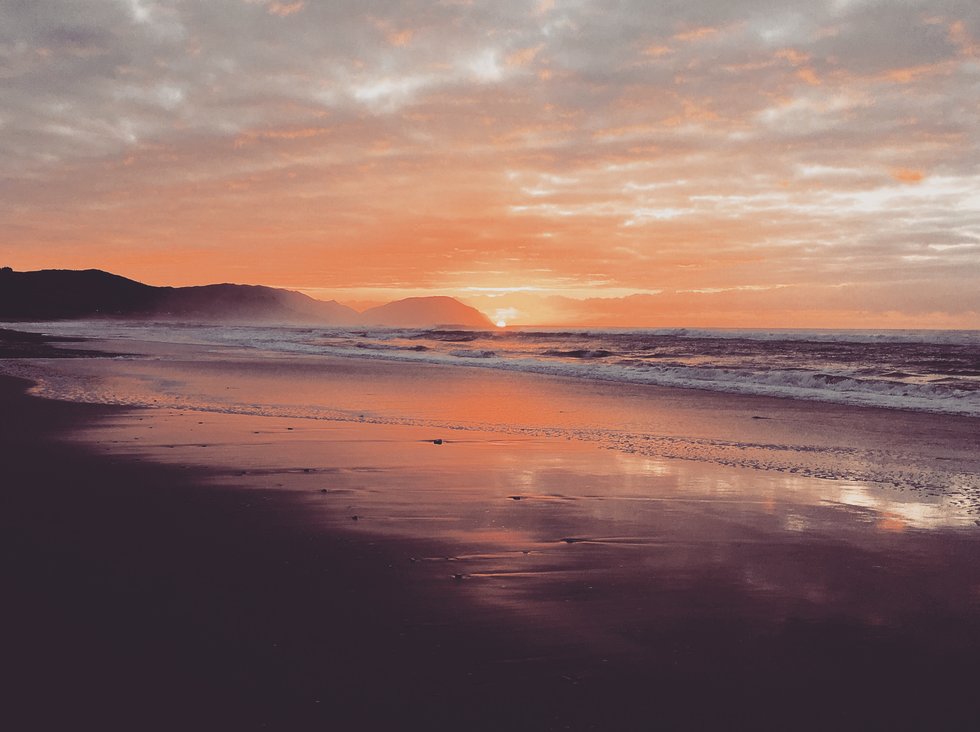 After enjoying the sunrise Gisborne, we traveled to Rotorua. During the first day in Rotorua, half of my group took a trip to Hobbiton, while the other half spent a relaxing afternoon in some natural hot pools. I spent the afternoon enjoying the natural hot pools.
The next day, my group visited Te Puia and saw many geysers and learned how they are used for sustainable living. While walking through the area looking at the various geysers, I felt like I was in another world. I could not believe what I was seeing. There were various rock formations and steam everywhere.
The water from the Geysers is used for showering, cooking, etc. Way before this became a tourist attraction, local people and tribes have utilized this area as a natural amenity. The geysers were a little difficult to see due to the gloomy weather (classic New Zealand), but they were fascinating to learn about.
After seeing all of the geysers, I got a see a kiwi bird! The kiwi bird is why New Zealanders are called Kiwis.
They're super rare to see in the wild. Everyone in my group was super excited to see one. However, we were all surprised by the size of the kiwi. We were expecting a tiny bird, but they are actually about the size of a chicken. After enjoying our time looking at the cute kiwi, we continued our tour and learned about Maori culture, learned to say a few Maori words, and got to see students creating Maori carvings and weaving.
One of the unique features of Te Puia is the balance of tourism and education. All of the money made from tourism is put back into the organization to provide education to students. The students learn Maori traditions including carving, weaving, and tattooing. The goal of this education system is for the students to later teach others traditional Maori activities to ensure growth of the culture.
After visiting Te Puia, I visited Ogo, which is a company created by the inventor of zorbing. Zorbing is an activity where you go inside of a giant ball and roll down a mountain. It sounds kind of lame, but it was so fun! When we went to the Ogo location, we heard the company's marketing strategies but no one was planning on actually zorbing.
However, after hearing about the company from the owner/inventor, we were sold and almost all of us decided to try it. After signing up, we were taken up to the top of the hill and hung out in the hot tub and enjoyed the views of the mountains and city while waiting for our turn to go. Once it was time to go, we dove into the ball and rolled down the mountain. We all did it in pairs, so we locked arms, slid around, and laughed all the way down. Afterwards, we got in another hot tub at the bottom of the hill, then dried off and got on the bus to head to Auckland.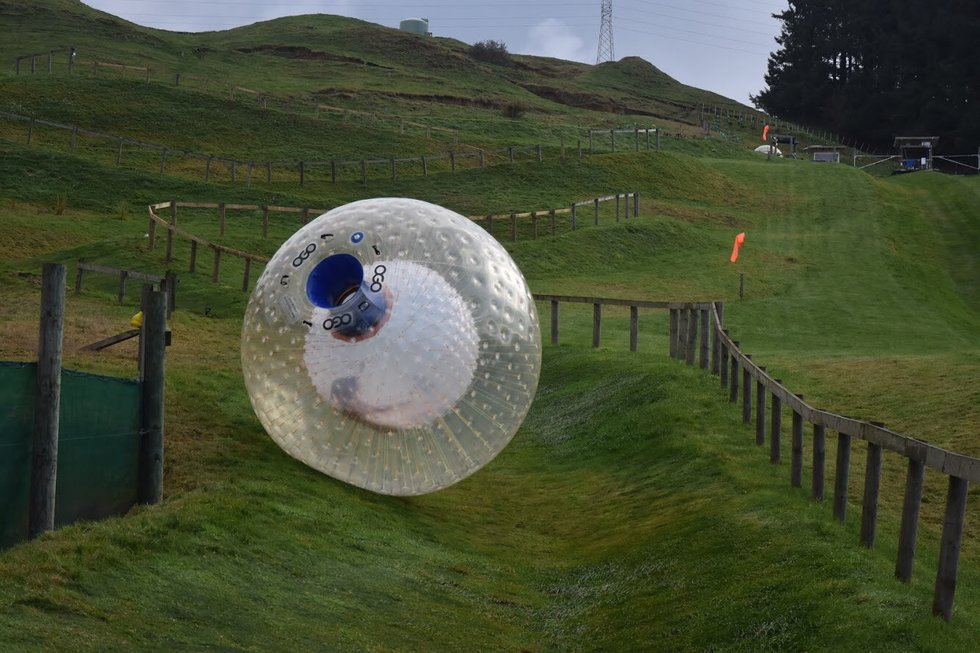 When we arrived in Auckland, we were all excited to be in a huge city. Once we got off the bus, we all walked around and explored the city.
The next morning, a few friends and I decided to get up early and hike up Mount Eden to see the sunrise. We walked across the city to find the hiking trail and then we ended up taking the most difficult route to the top. We climbed up a steep, wet hill, slipping and sliding, only to reach the top and have a local tell us there were stairs we could have taken (our way was more fun, anyway).
But either way, we made it to the top of the mountain and got to see the sunrise. The view of the city was incredible from the top of Mount Eden. We could see the entire city lit up, a volcano, and the ocean. The sky was bright and beautiful. This was such a cool experience. After our hike, we visited cute little stores and coffee shops around town.
Auckland has amazing coffee and so many vintage consignment shops. While in Auckland, I also learned about marketing and communication strategies from Haka Tours and Tourism New Zealand. Both of these organizations are extremely successful and it was interesting to hear about their strategies and ideas for success. I also went out with friends and was able to watch rugby with locals and enjoy some fun nightlife in Auckland.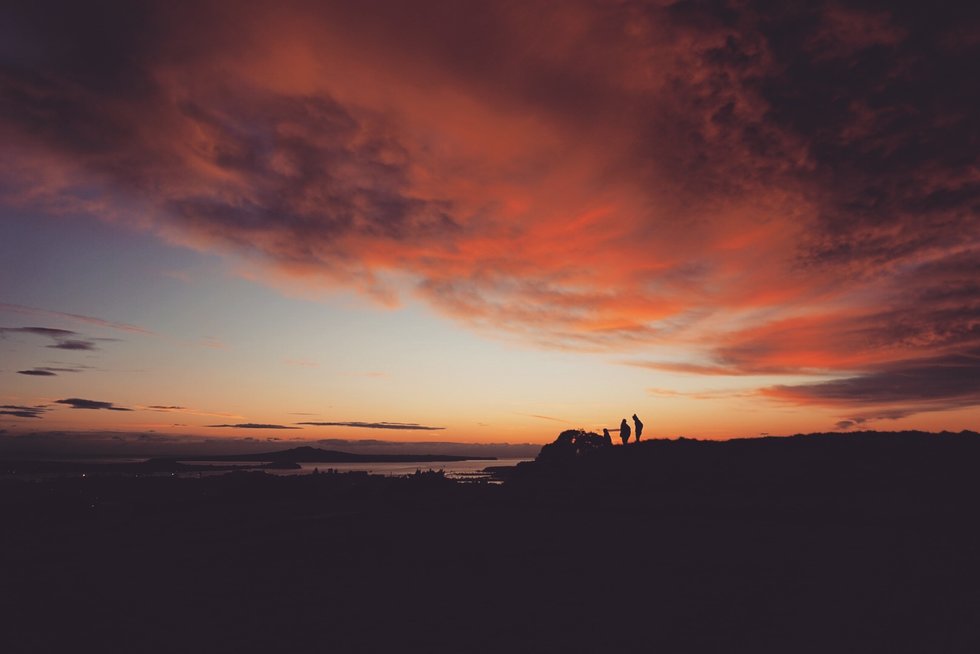 After our fun time in Auckland, we headed to National Park. We ended up arriving in National Park right at sunset, so we all hurried off of the bus and went across the street to enjoy the view. It was incredible to see the sun shining on the mountains and countless cows grazing below. This was one of the prettiest places in New Zealand.
The hostel we stayed in felt like a cabin as it was super cozy and in the middle of nowhere. The two professors who led the expedition also decided to cook our group a delicious traditional Kiwi meal. We all had a "family dinner" and spent the evening enjoying each other's company.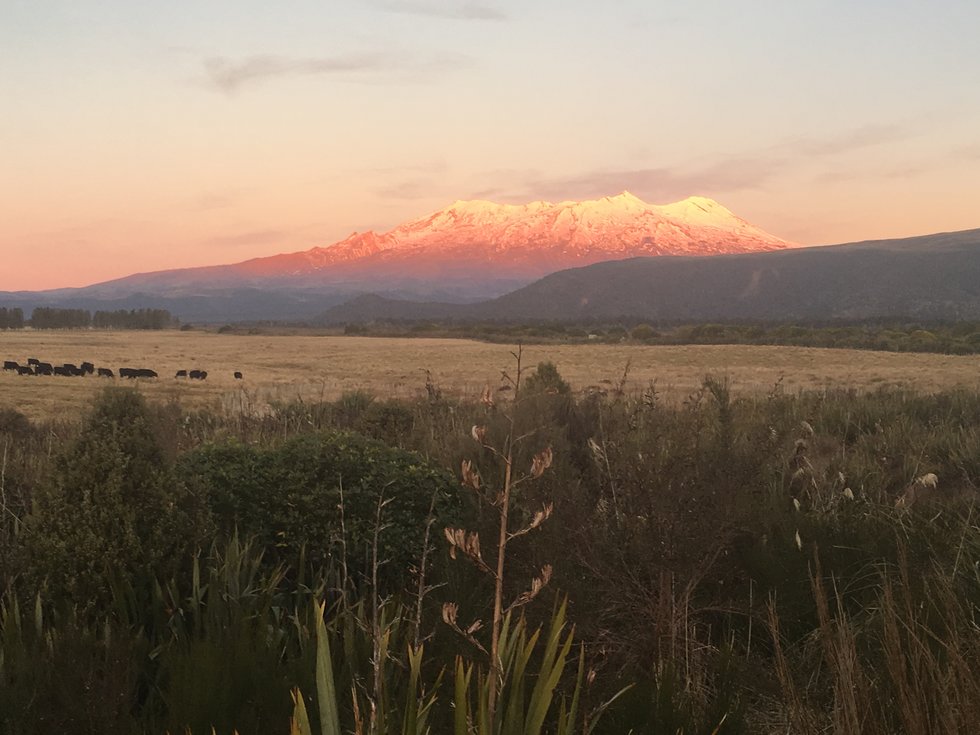 The next morning in National Park, I went to hear the marketing plans for the iconic Chateau Tongariro Hotel. The hotel was stunning with incredible views. I had the opportunity to take a tour through the hotel and ask questions about the marketing strategies used for promoting the hotel. After visiting the Chateau Tongariro, my group decided to go on a hike.
The weather was less than ideal as it was quite cold and rainy. However, we only had one full day in National Park, so there was no way we were going to miss out on hiking. Our tour guide decided to take us on a nice hike to a waterfall.
Many of the trails were unsafe due to the weather, so I was happy our tour guide knew of this particular trail. We all hiked along the trail as our tour guide taught us about some native plants to New Zealand until we reached the waterfall. The waterfall was absolutely beautiful. We all enjoyed the view for a little while then continued our hike.
When we got back to the bus, we were all cold and soaking wet, yet so glad that we decided to go on the hike. This hike was one of my favorite parts of the trip. I probably would never go hiking in bad weather back home, but I was more than willing to do it in New Zealand! It was more than worth it!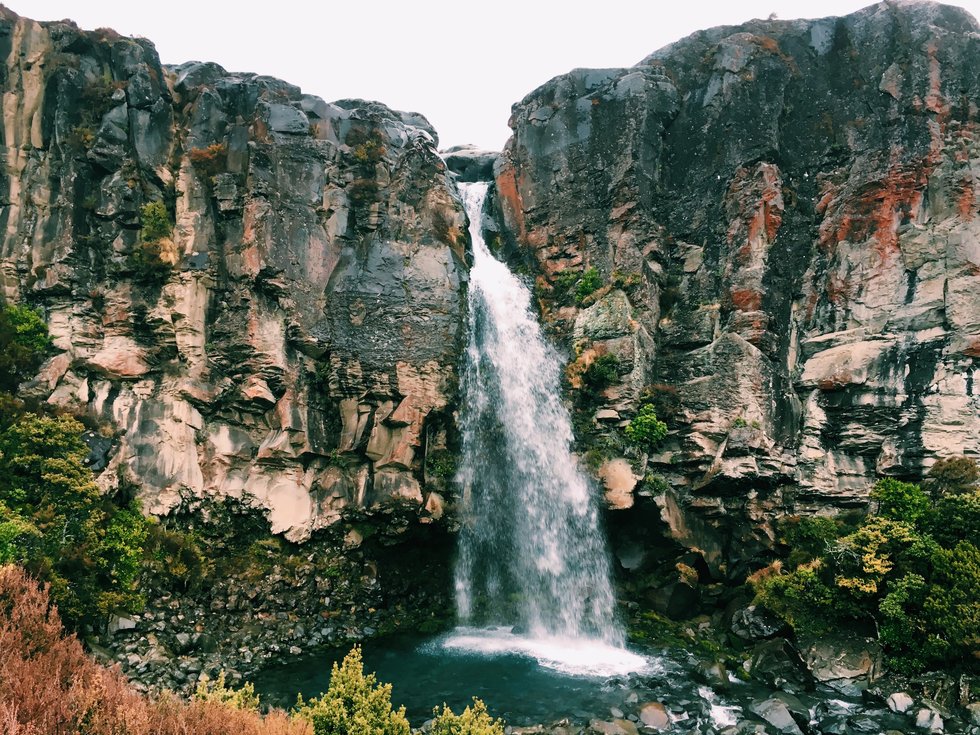 After National Park, we traveled back to Wellington, where I spent the next four weeks interning. I was a digital marketing intern for a nonprofit.
Along with two other interns, I ran the nonprofit's social media accounts, did marketing research, analyzed analytics, and created a campaign. This internship was an amazing opportunity to learn, develop my skills, and adapt in an unfamiliar working environment. Working in New Zealand is so different from working in the states.
It's so much more laid back in New Zealand and building relationships are more important. The workspace I was in also had a fancy espresso machine and played classic rock, so I was very content. I had an incredible four weeks interning in New Zealand.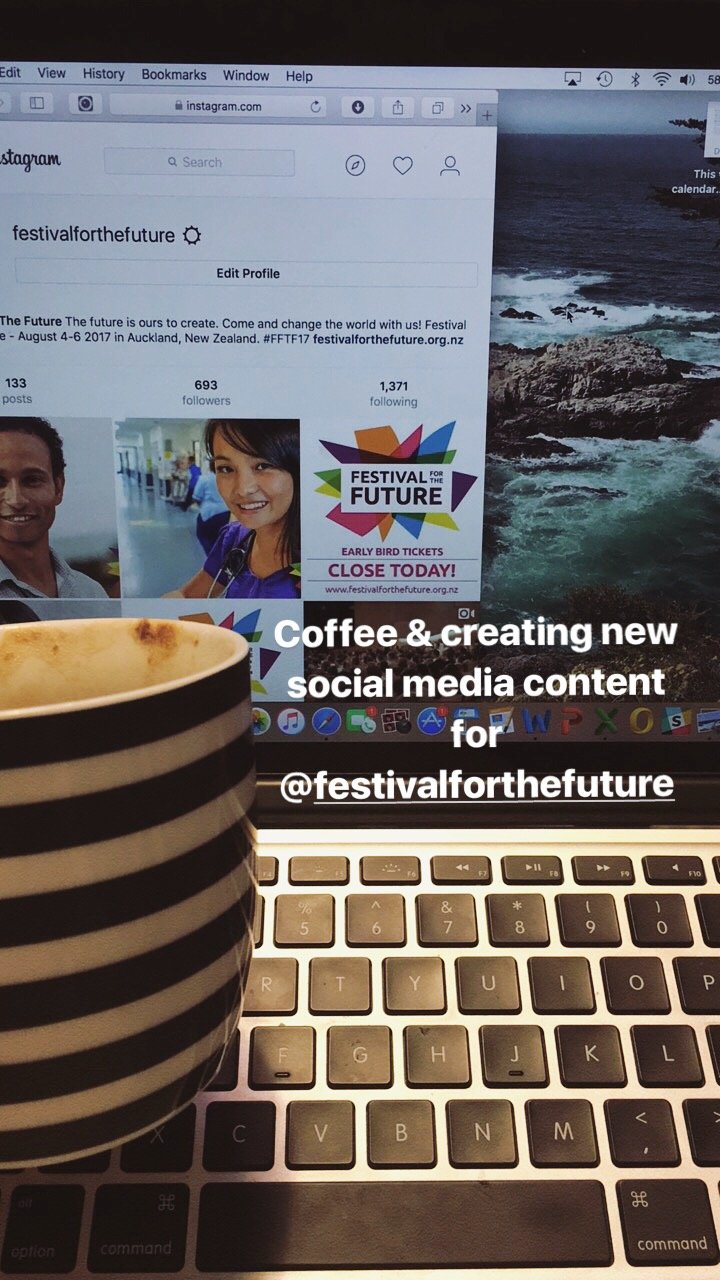 When I wasn't interning or writing papers, I spent time exploring Wellington. I enjoyed walking around the city and going to the Harborside market on Sundays to get fresh produce. A couple of friends and I also hiked up Mount Victoria to see incredible views of Wellington.
My study abroad group and friends we all made in the hostel also went to a rugby game, which was so fun! I also enjoyed drinking a ridiculous amount of flat whites while in Wellington (if you go to NZ you have to get one).
My friends and I also often would catch a bus and head to the coast. We also enjoyed getting brunch on the weekend. The nightlife was also super fun in Wellington. And, one weekend, we went to an island off of Wellington to go hiking. Another weekend, a friend and I decided to take a bus to Lake Taupo. This is where I had the most incredible experience bungy jumping and white water rafting!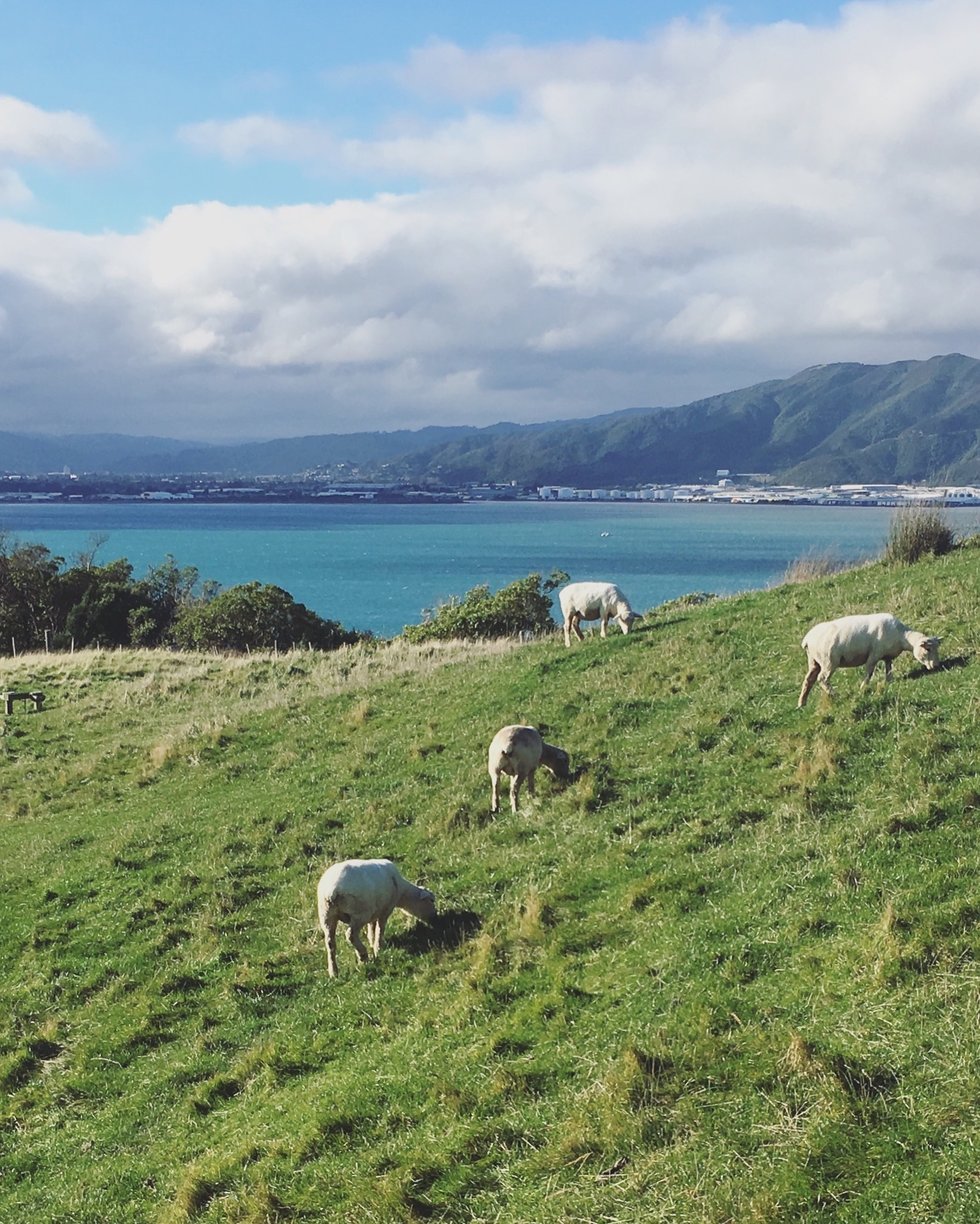 Studying abroad and interning in New Zealand was one of the most incredible experiences I have ever had. I learned so much about myself and met so many amazing people. I would not trade it for anything!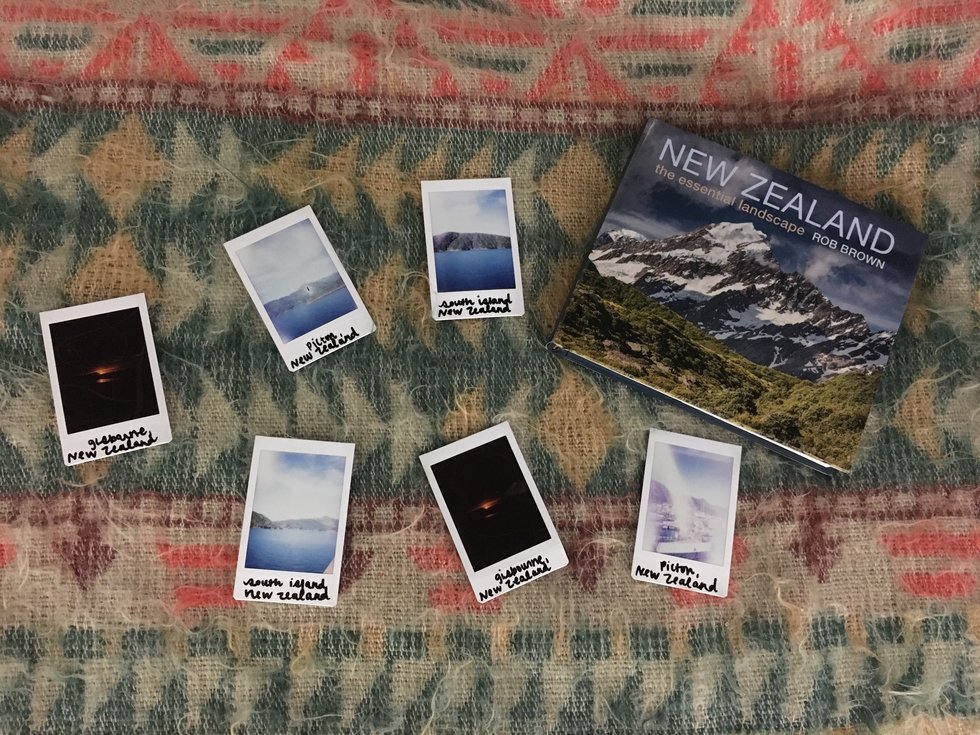 Cover Image Credit: Photo by Jeanine Goodall