For a long time, Goya has been a staple in some Latino households. People carry around jars of Adobo when they eat at friend's houses and packets of Sazón Goya can be found in almost everyone's pantry. Many BuzzFeed lists, videos, and memes aimed at Latinos reference Goya somewhere.
But in a year that just keeps hitting us with bad news, Goya Foods CEO Robert Unanue said that Trump was an "incredible builder" and that the US was "blessed" to have him as president at a White House event on Thursday.
To many who have been struggling because of Trump and his policies, it's a real blow and just an example of billionaires supporting billionaires. The Unanue family is the second-wealthiest Spanish-American family in the United States, having a net worth of $1.1 billion in 2014.
When confronted with backlash from celebrities, politicians, and the general public, Unanue complained that his free speech was being oppressed. Yes, he has the right to say what he wants. But the people have the right to stop buying his products if they don't like what he has to say.
That's part of our freedoms as consumers in a capitalist market.
Unanue feels like he's been slapped in the face by his largest consumer base, but the truth is, he doesn't experience the negative sides of Trump's regime. He's rich, white, and Spanish (not Mexican, Puerto Rican, etc). He has privilege that a lot of people that swore by his products do not.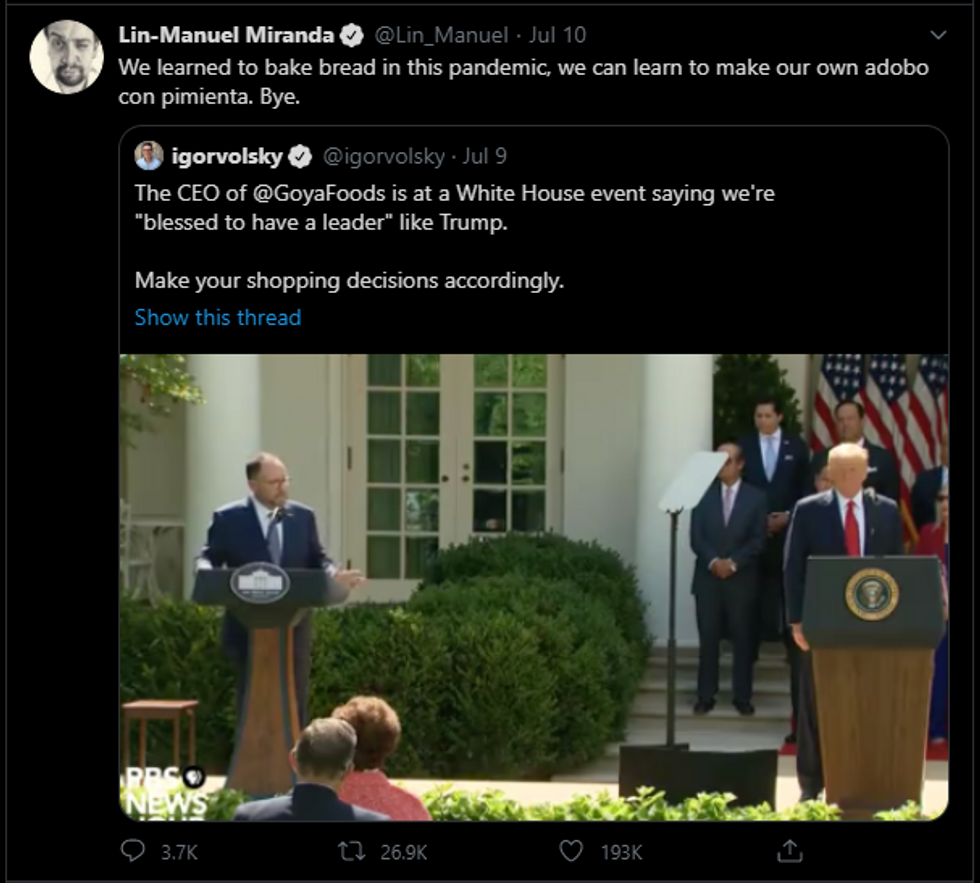 https://twitter.com/Lin_Manuel/status/128158550774...
There are several better, tastier, healthier, and fresher alternatives to Goya Foods. And what's better? Many of these alternative options are created and sold by small businesses owned by BIPOC. Win, win, win!
Unanue may want his company to be free of political questioning, but what you choose to buy and eat has political power. We still have La Costeña, El Mexicano, Badia, Herdez, Knorr, Maggie and other tasty brands.