Rupi Kaur is a 25-year-old India born, Canadian poet and illustrator. Her first collection "Milk and Honey" came out in 2014 and her second collection "The Sun and Her Flowers" came out just last year in 2017. She is a very influential writer, with her writing focusing on a variety of themes that are not only relatable, but impactful. Here are some of my favorite poetry pieces of hers and how I relate to them.
1. "your body is a museum of natural disasters"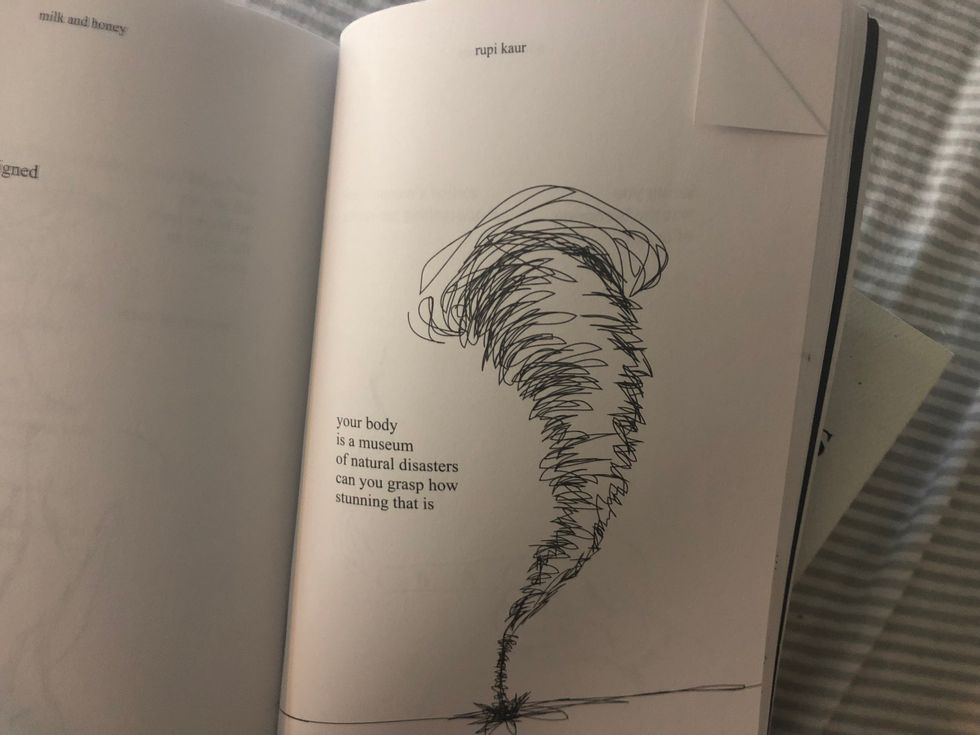 Morgan Martin
I used to have a real body confidence problem. I have always been very small and very tall, and junior high bullies were relentless. This poem is impactful to me, especially as someone who previous struggled with self harm because, I have my own "natural disasters" and have always thought of them as the ugliest parts of me. When you step outside of the tragedy behind a "natural disaster", you can see the beauty in it as a whole.
2. "thinking it was you who gave me strength. wit. beauty. simply because you recognized it. as if i was already not these things before i met you. as if i did not remain all these once you left."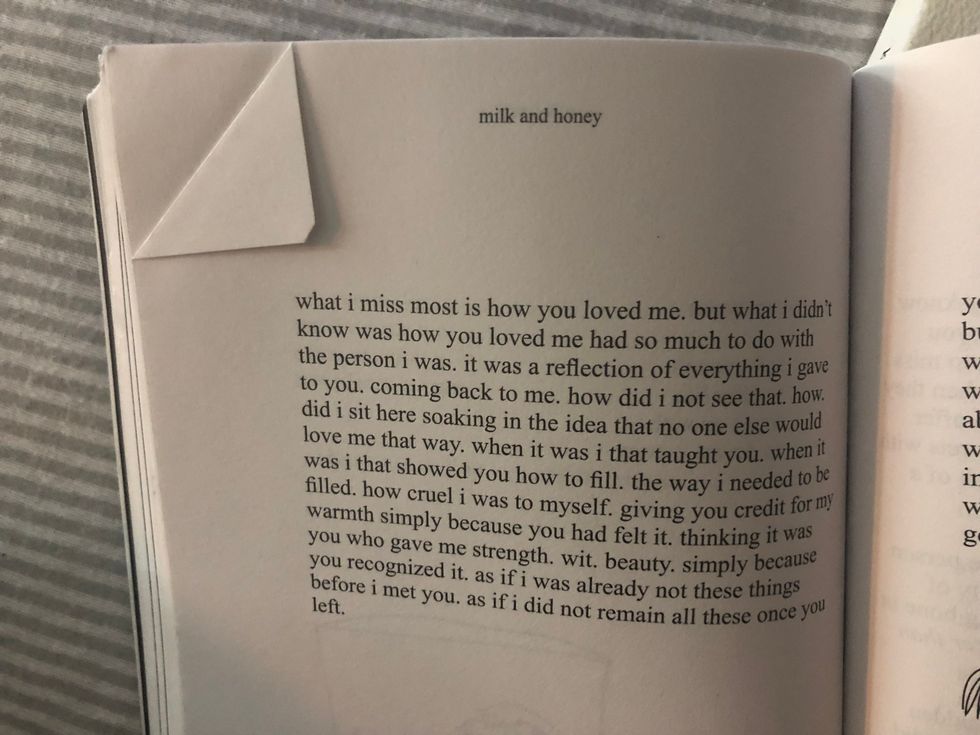 Morgan Martin
Many of us have been through heartbreak in our lives. When we lose a significant other, we tend to miss feeling loved. We miss being told, "You're beautiful" or "you're strong". This poem helped me out of a dark place and made me feel empowered when I felt so low. It reminded me that you are you're own separate entity from your relationship, and just because you lost that person, you didn't lose who you are. You are still strong, beautiful, and witty with or without them.
3. "the good thing about feeling in extremes is when i love i give them wings..."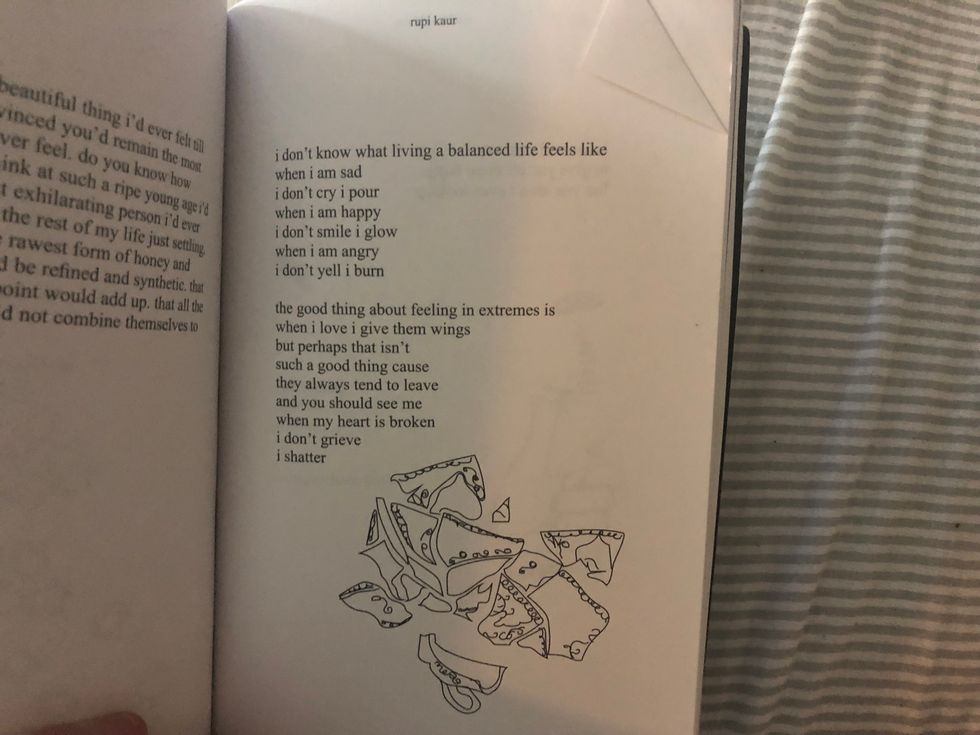 Morgan Martin
As someone who struggles with Borderline Personality Disorder (BPD), I've never been able to just feel a little. I feel things almost too deeply and in extremes, just like the poem insinuates. This poem reminds me to be careful with my emotions and be careful guarding my heart. Not everyone has a kind heart.
4. "you were so enough he was not able to carry it"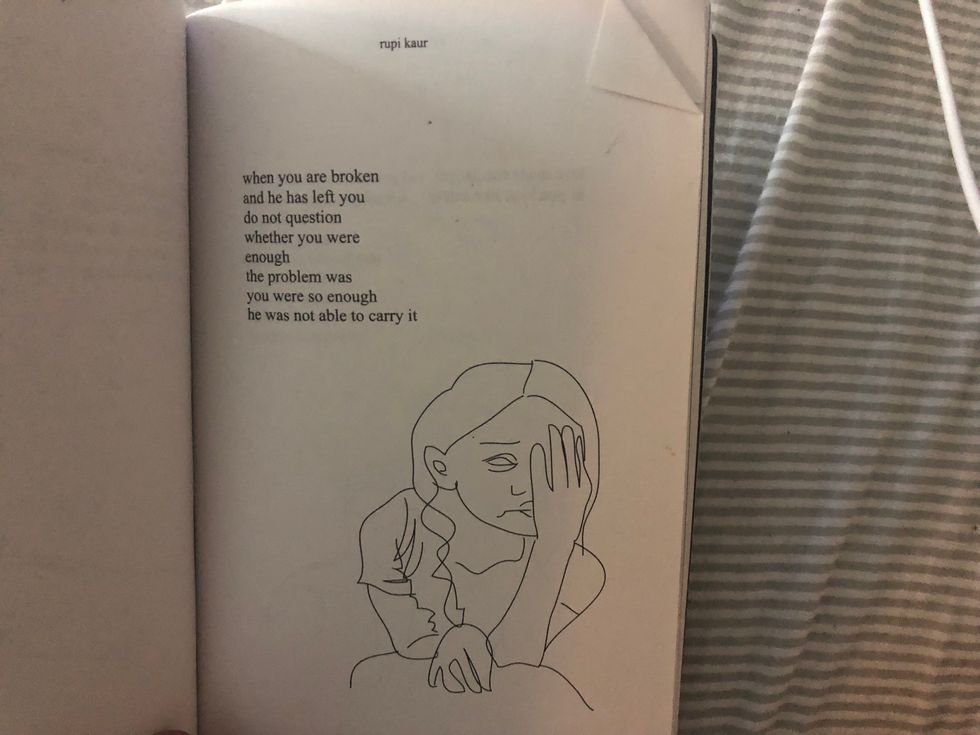 Morgan Martin
This is my little reminder that you never need to lessen yourself for anyone. You are ALWAYS enough, you are probably more than enough.
5. "isn't it such a tragic thing. when you can see it so clearly but the other person doesn't."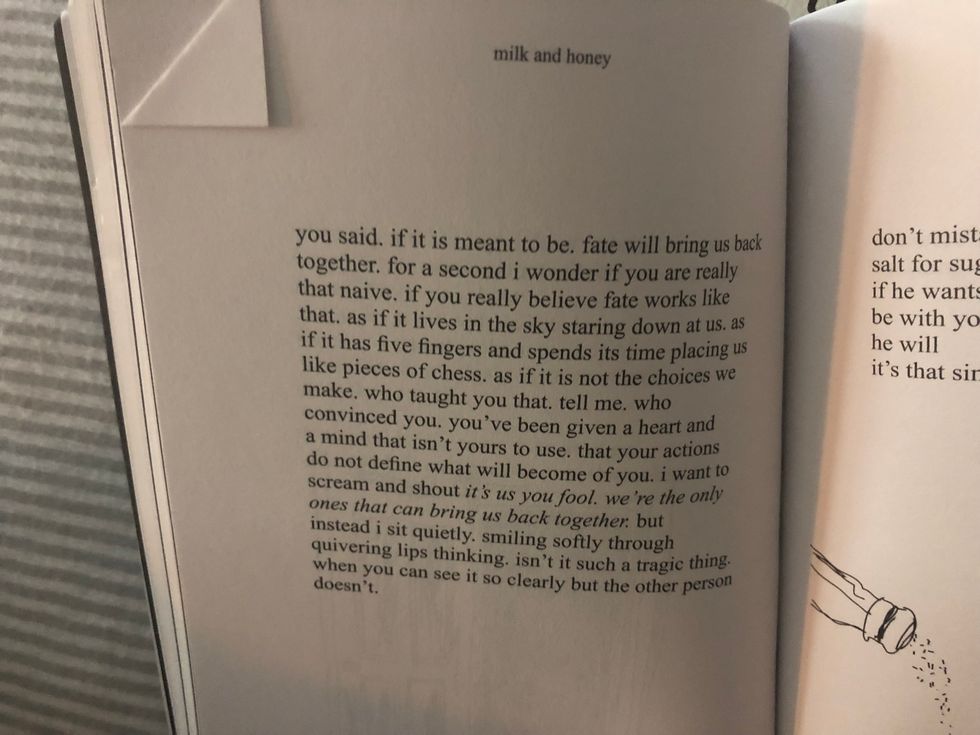 Morgan Martin
We are in control of our own actions and emotions. When we want something we have to go get it. This was one of the poems that got me through my biggest heartbreak, because it made me realize how much we can actually change our futures trajectory, if it's something we truly want.
6. "you were the love that made all the other loves irrelevant."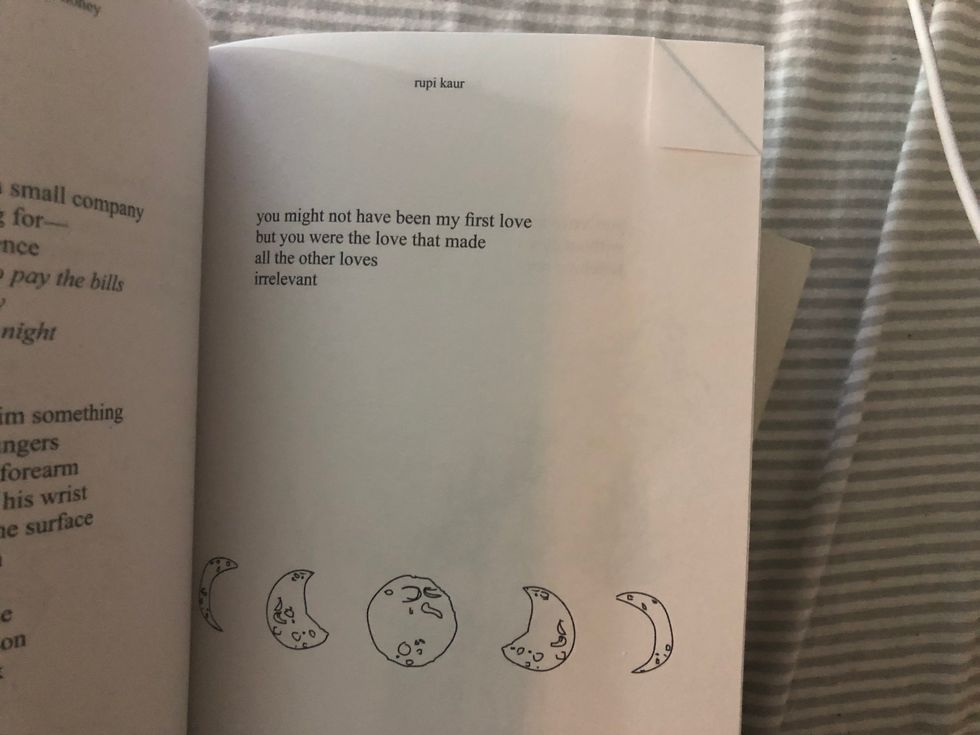 Morgan Martin
This makes me think of my boyfriend. We've been together for two years this month and I've never felt so happy and secure. It's true when you fall in love, real love, nothing in the past matters anymore.
7. "i know the small talk is the only way you know how to tell me you love me. cause it is the only way i know how to tell you."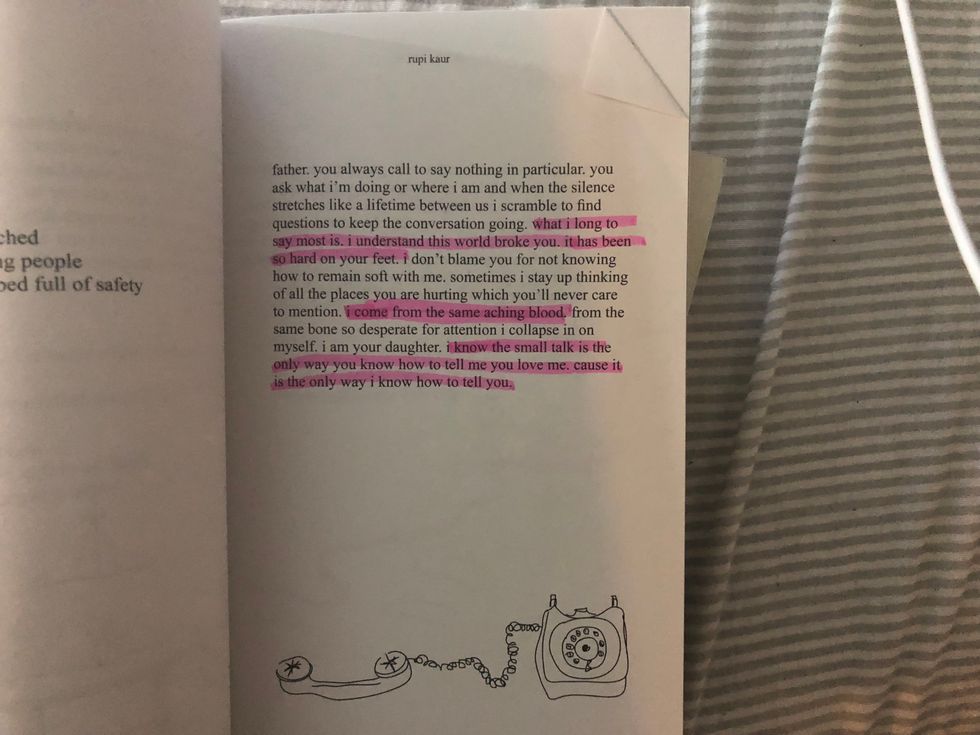 Morgan Martin
I haven't had the most stable relationship with my father over the past year. This poem is impactful because it gives me hope that things will go back to the way they were. It says the things I could never say to him, but wish I could.
8. "you are in desperate need of yourself"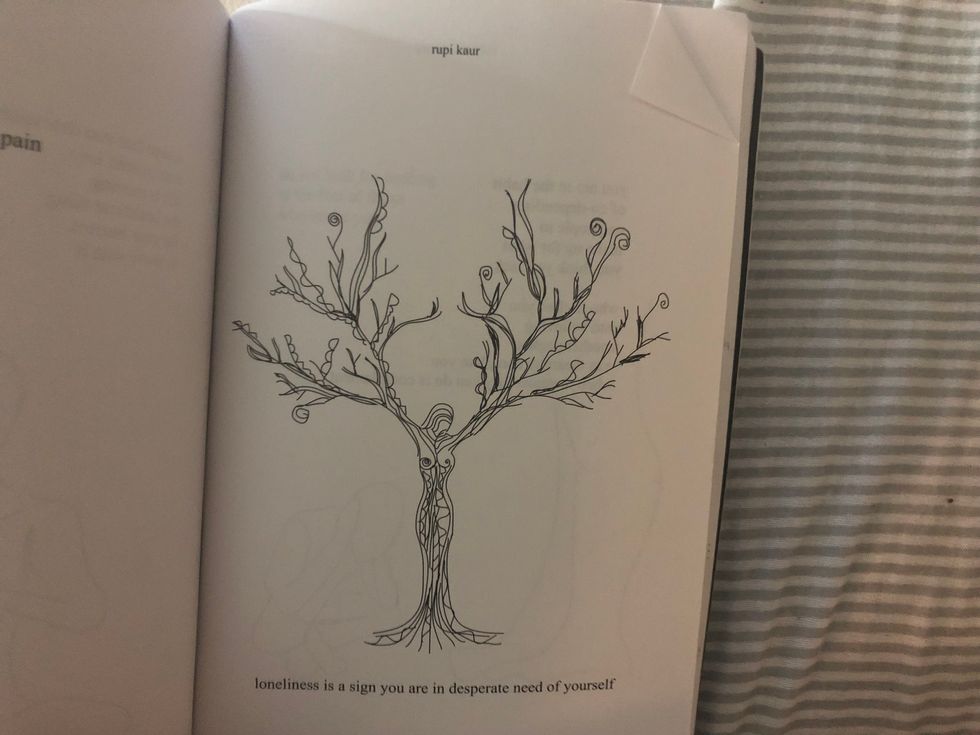 Morgan Martin
This is my reminder when I'm feeling lonely, that I need to be comfortable being alone. It inspires me to do something only I enjoy and spend some time inside my own mind. Somehow, knowing other people feel like I do, makes the lonely feeling go away.
9. "it would be my greatest regret to see them leave this place before i even got to know them"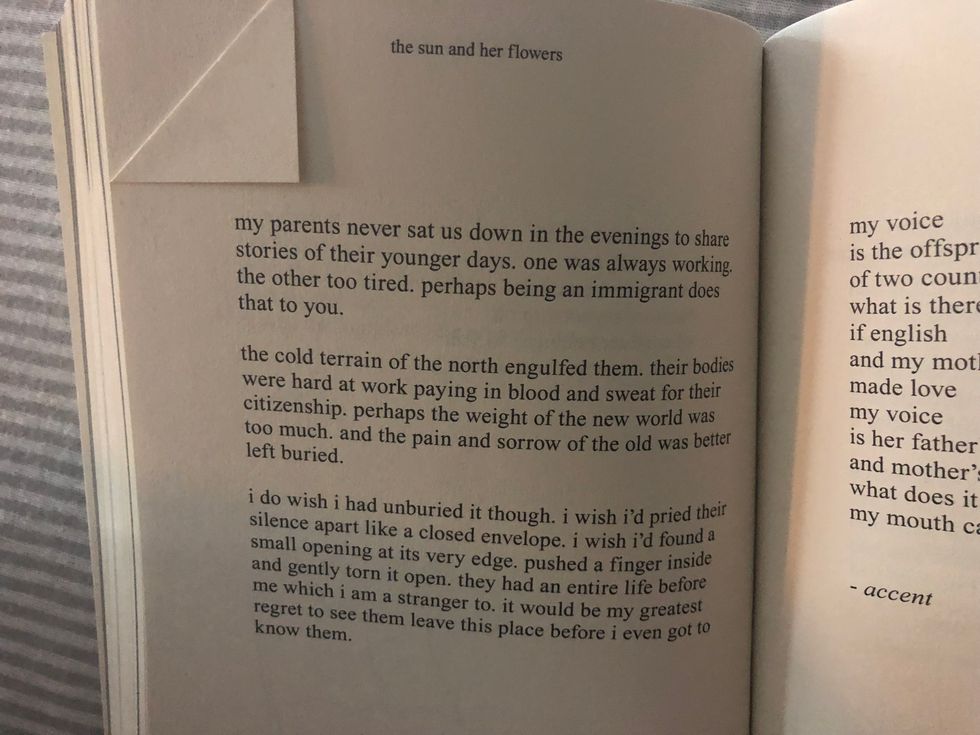 Morgan Martin
I encourage this. Since hearing this poem I realized how little I actually knew about my parents as young adults/teenagers. I try to be more mindful of it now, and ask more questions. We need to learn to know our parents as more than Mom and Dad.
10. "if i am the longest relationship of my life..."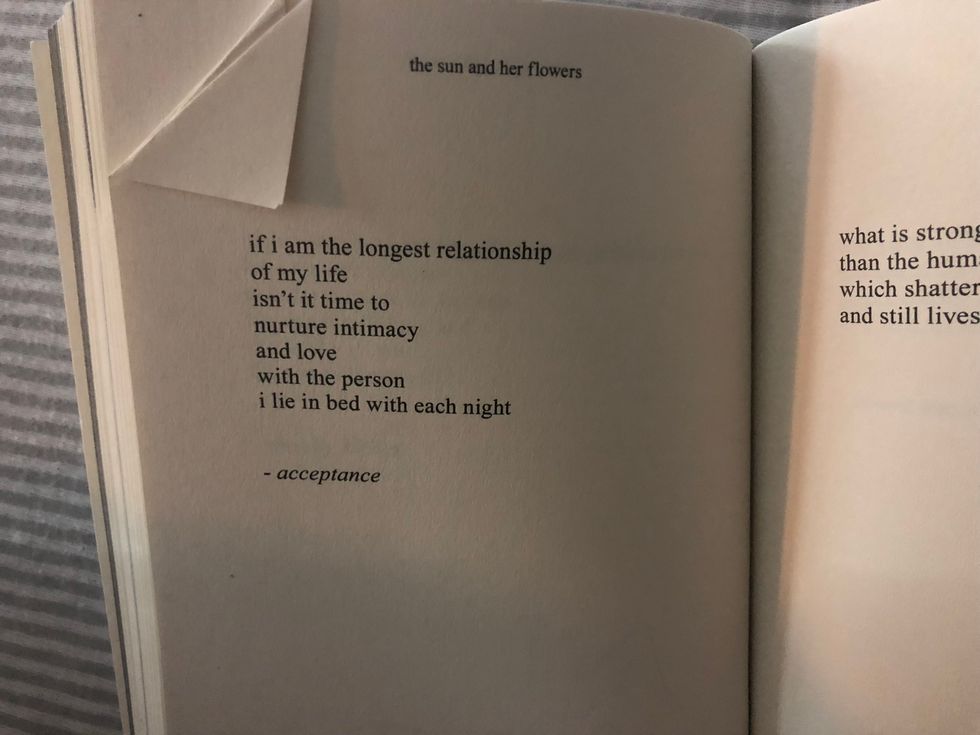 Morgan Martin
Self love is something I've never been particularly good at, as I mentioned above. This poem tells me that we really only have ourselves, whether it be by choice or fate, we need to learn to be comfortable with ourselves and our bodies because we only have one our whole life.
11. "when the world comes crashing at your feet it's okay to let others help pick up the pieces"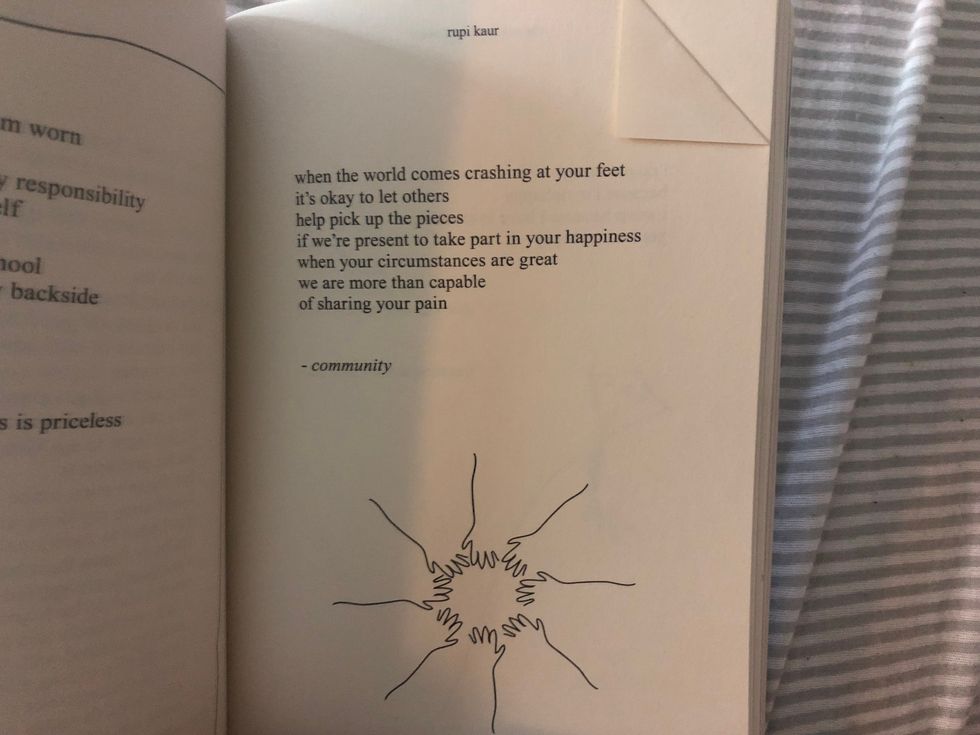 Morgan Martin
In my family, we call these people our "village". This poem is my message, telling me to go to my village, because they have been there through my successes and my great times, and they will help me "pick up the pieces".
12. "it all ends the same, a friend or a lover, a loss is a loss is a loss."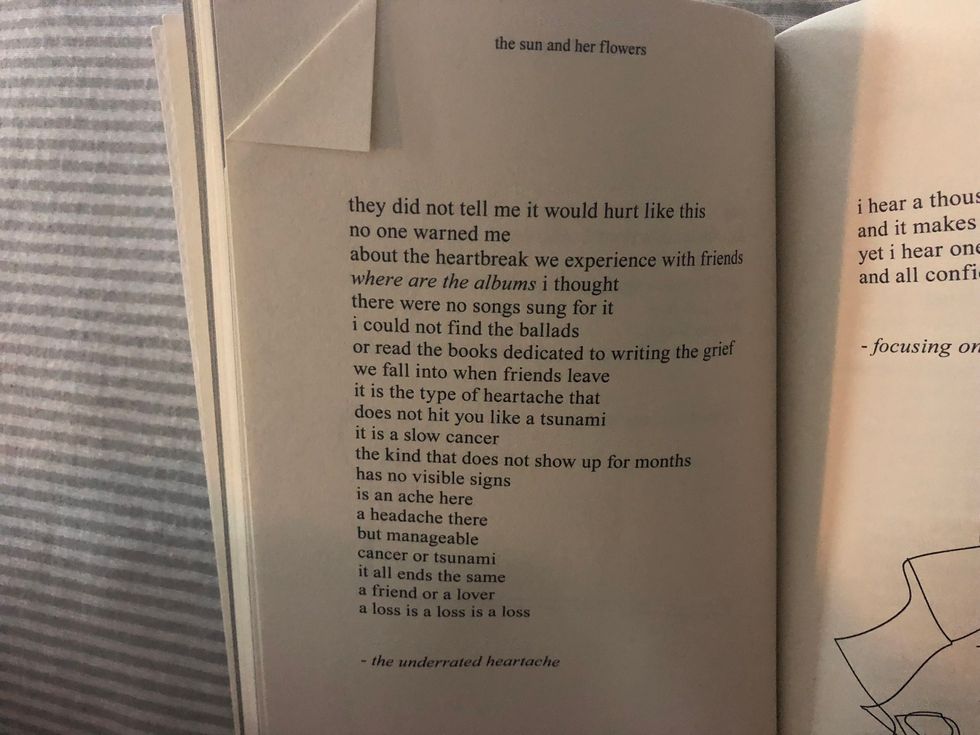 Morgan Martin
One of my best childhood friends is in prison. She crosses my mind everyday and I miss her so much. This feeling you get when you lose a friend, by choice or not, can be debilitating and worse than a romantic breakup. This made me feel better to know other people experienced the same feelings when going through that kind of loss.
13. "representation is vital"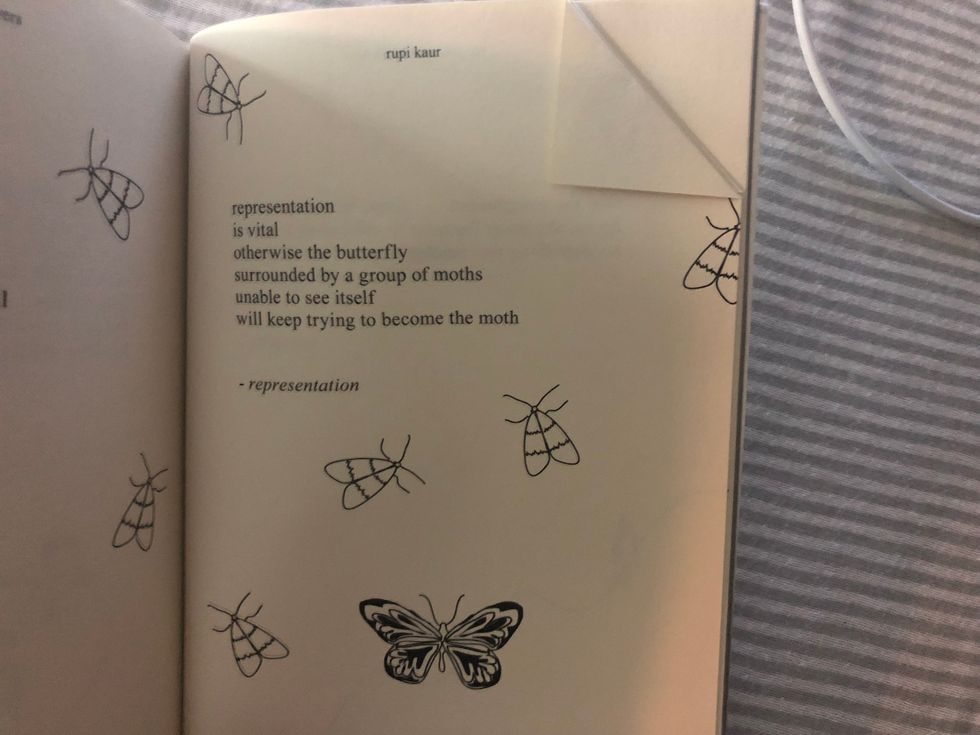 Morgan Martin
This one is impactful to me because it's relatable. If you surround yourself with certain people who all have the same goals, those will become your goals if you aren't careful and remember what kind of person you are and what you want. For example, I came back to school to surround myself with people with similar goals because I felt like at home I was getting stuck in a "moth" mentality.
14. "we are not each other's competition"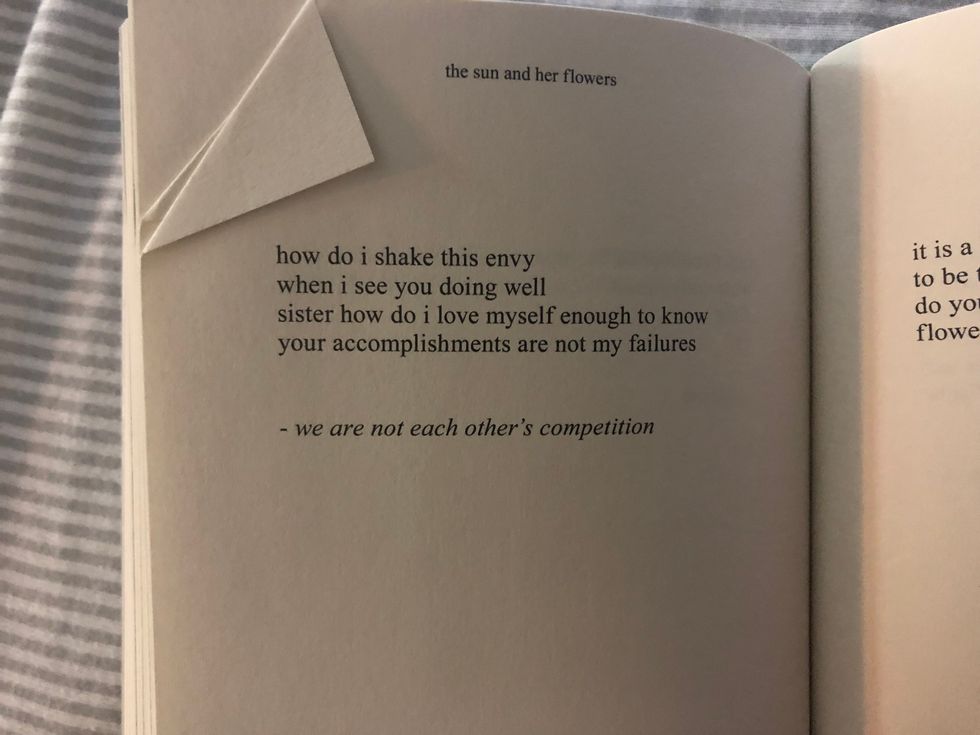 Morgan Martin
My sister is one of my greatest friends but we grew up together and really close in age. Everything was a competition to me and I was always trying to one up her and be the better sister. I've learned to love myself more since then, and learned that we are very different people with different mentalities, but I used to see her accomplishments and be so envious. We are both good at different things but that doesn't make one of us the better sister. We are equal and this reminds me of that.
15. "there was no roots more intimate than those between a mind and a body that have decided to be whole"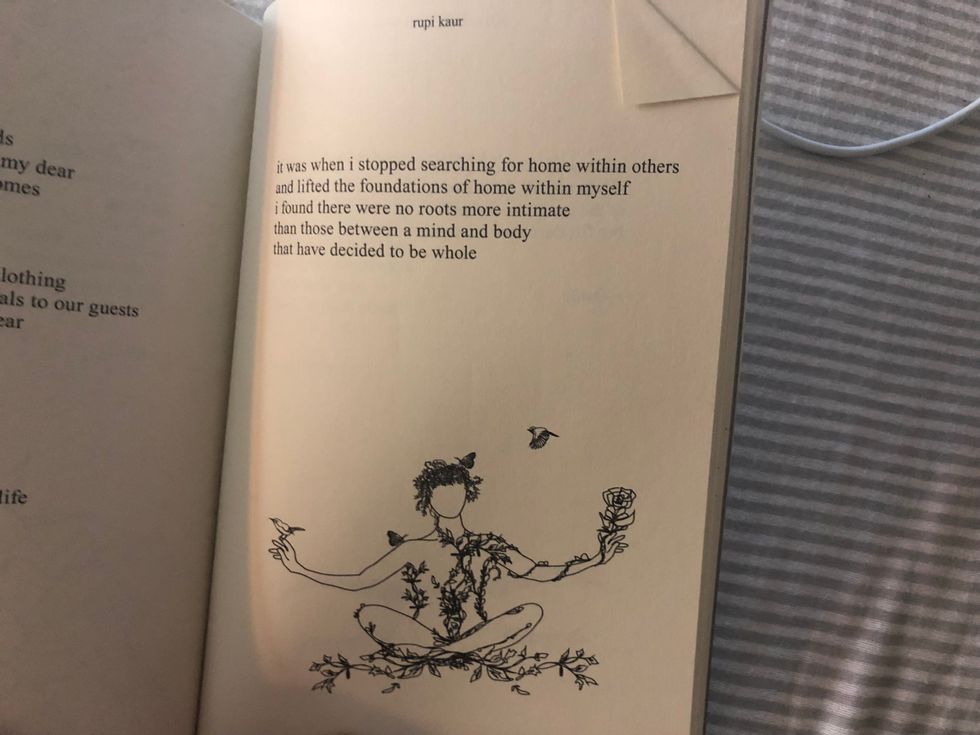 Morgan Martin
I used to do this. I would try so hard to find a friend or significant other and throw my whole self into that relationship forgetting who I was and not nurturing myself. Since I have learned to love myself more I've felt so much more at peace.