Birria de Res with Consome or "Quesabirria" is the answer to your prayers. Look, I know that as an Australian white girl my Mexican food cooking credibility is limited but this recipe has been corroborated by my Mexican Suegra (mother-in-law) so its TOTALLY legit.
I'm going to show you step-by-step how to recreate these DELICIOUS Quesabirria. Tag me @qenzie on YOUR Quesabirria!
"Everybody is going to get to know each other in the pot"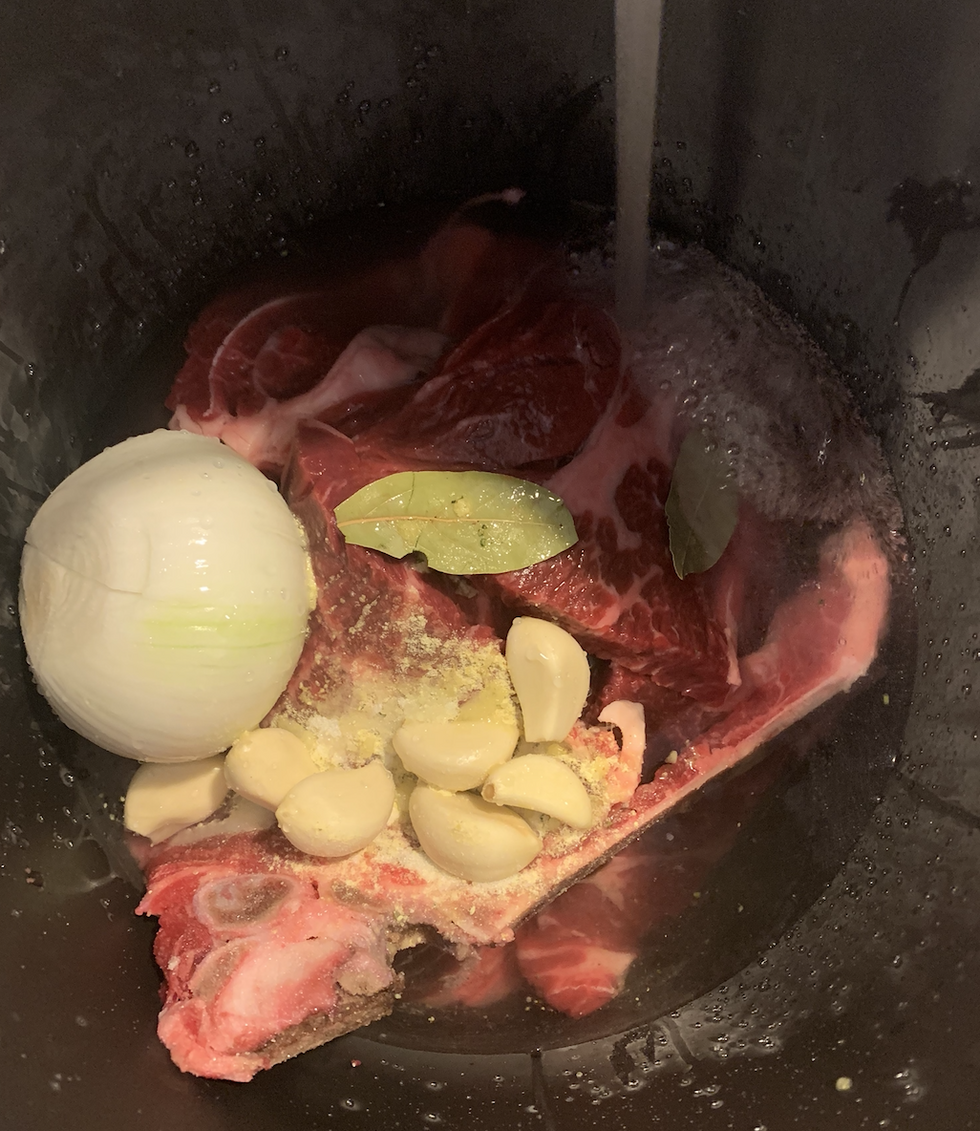 To a large pot add:
5 lb chuck pot roast
2 lb beef bone
1 whole onion
7 garlic cloves
2 bay leaves
2 tbsp chicken boullion
1 teaspoon salt
Cover with enough water to cover by 2-3 inches and bring to a boil on medium heat for 2 hours.
"Feelin hot hot hot"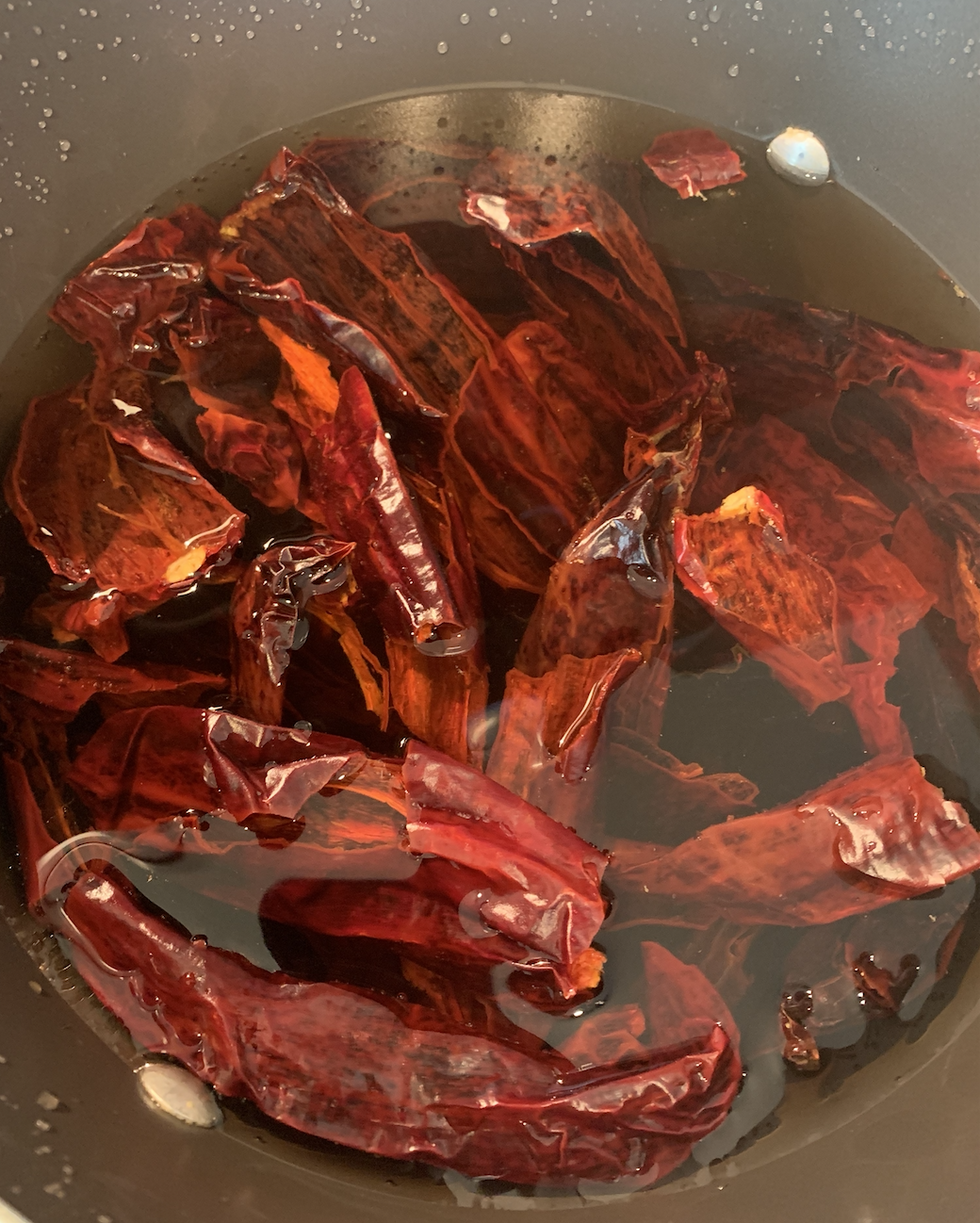 De-seed your chiles and add them to a pot with enough water to cover. Boil for 20 minutes or until soft then cool.
12 Chile California (or New Mexico)
10 Chile Guajillo
3 Chile de Arbol
2 Chile Pasilla (or Ancho)
"blend blend baby"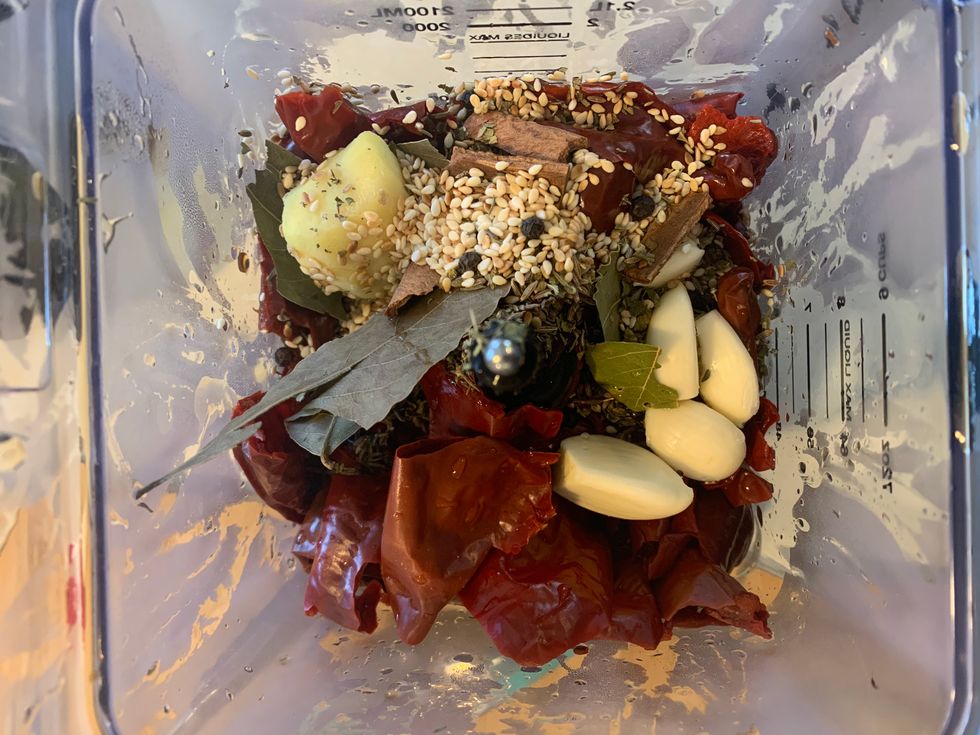 Add your softened Chile to a blender with:
2 cups of your beef stock
5 cloves of garlic
4 bay leaves
an inch of cinnamon stick
an inch of ginger
2 tsp of toasted sesame seeds
5 whole cloves
1/2 tsp whole black pepper
1 tsp whole cumin
1 tsp thyme
1 tsp oregano
pinch of salt
Blend for a few minutes until smooth
"strain don't stain" (seriously, this stuff will stain)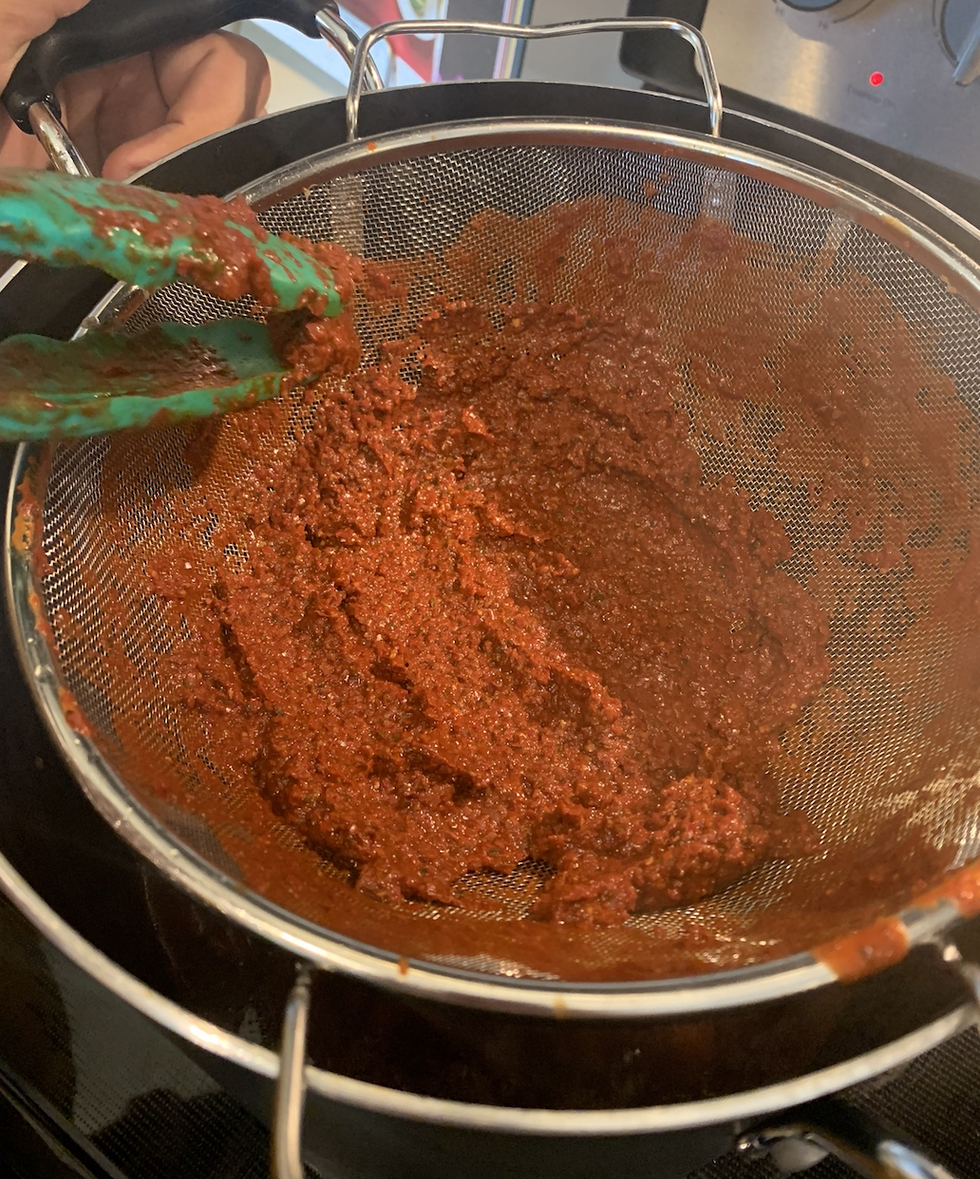 Remove the fat, bone, onion, garlic, and bayleaves from your broth.
Then, strain your blended mixture into your broth and mix. Discard of left-behind Chile bits.

Let simmer on low heat for 3-5 HOURS (or longer)!
"Tom-ay-to, Tom-ah-to"
Put 4 roma tomatos in a pot and cover with water. Bring to a boil for 20 minutes and set aside to cool.
Place softened tomatos in blender with 1 cup of broth and a big pinch of salt. Blend until smooth.
"It's all coming together"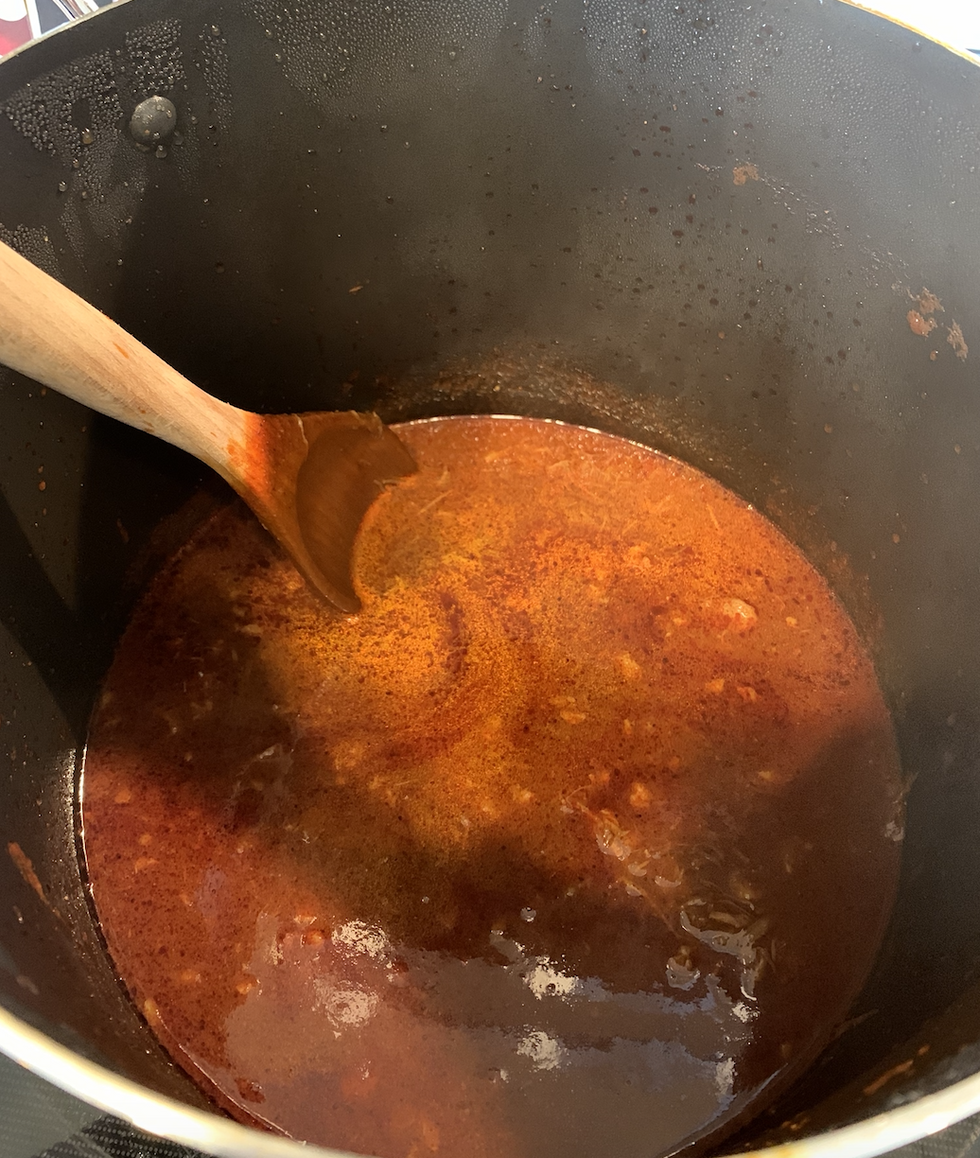 Strain tomato mixture into broth and stir well to combine. Voila - Consome!
Time to start prepping our toppings...
"Chop chop, its almost time to eat"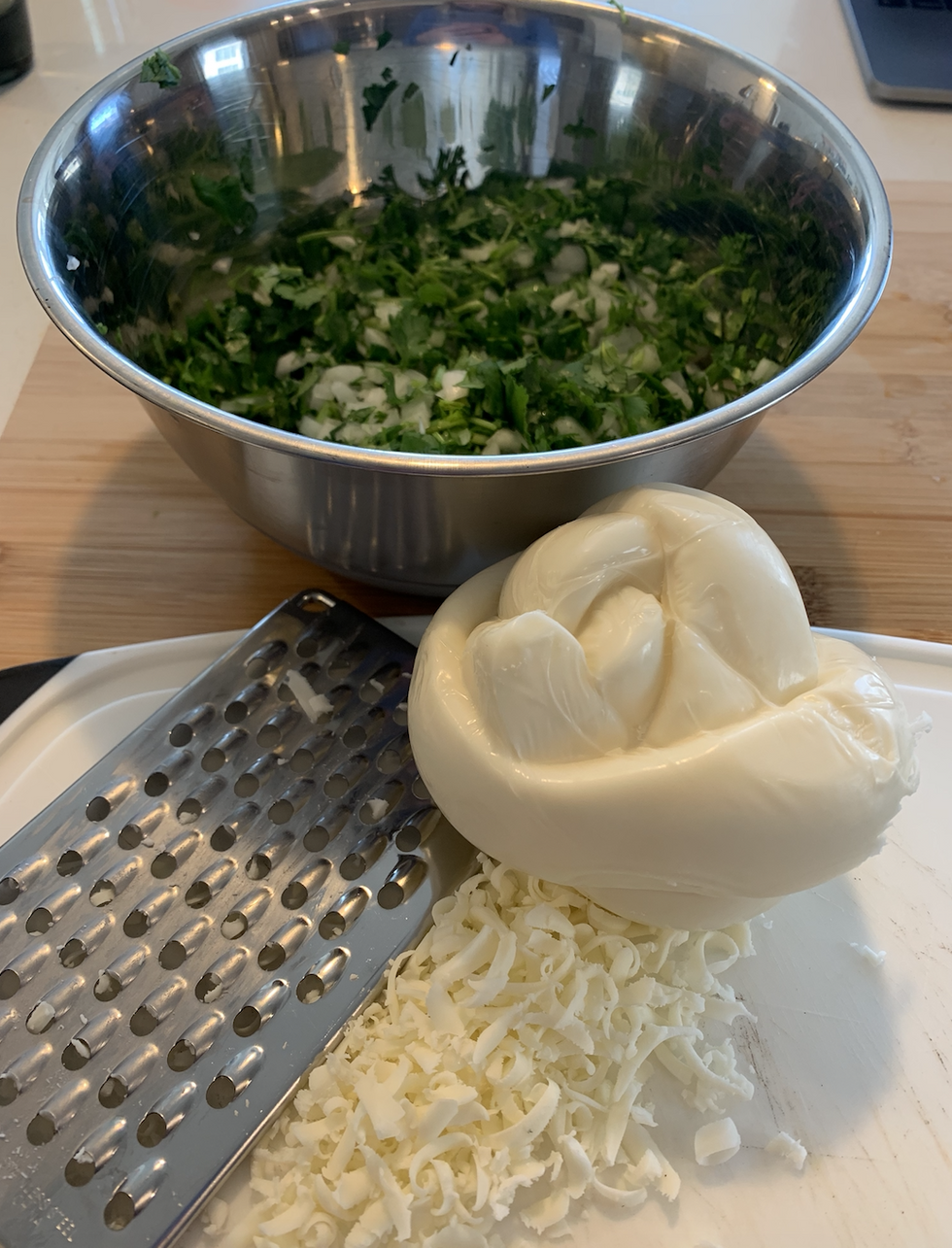 Grate Oaxaca cheese
Finely chop:
1 onion
1 bunch of cilantro
"Dip it, dip it real good"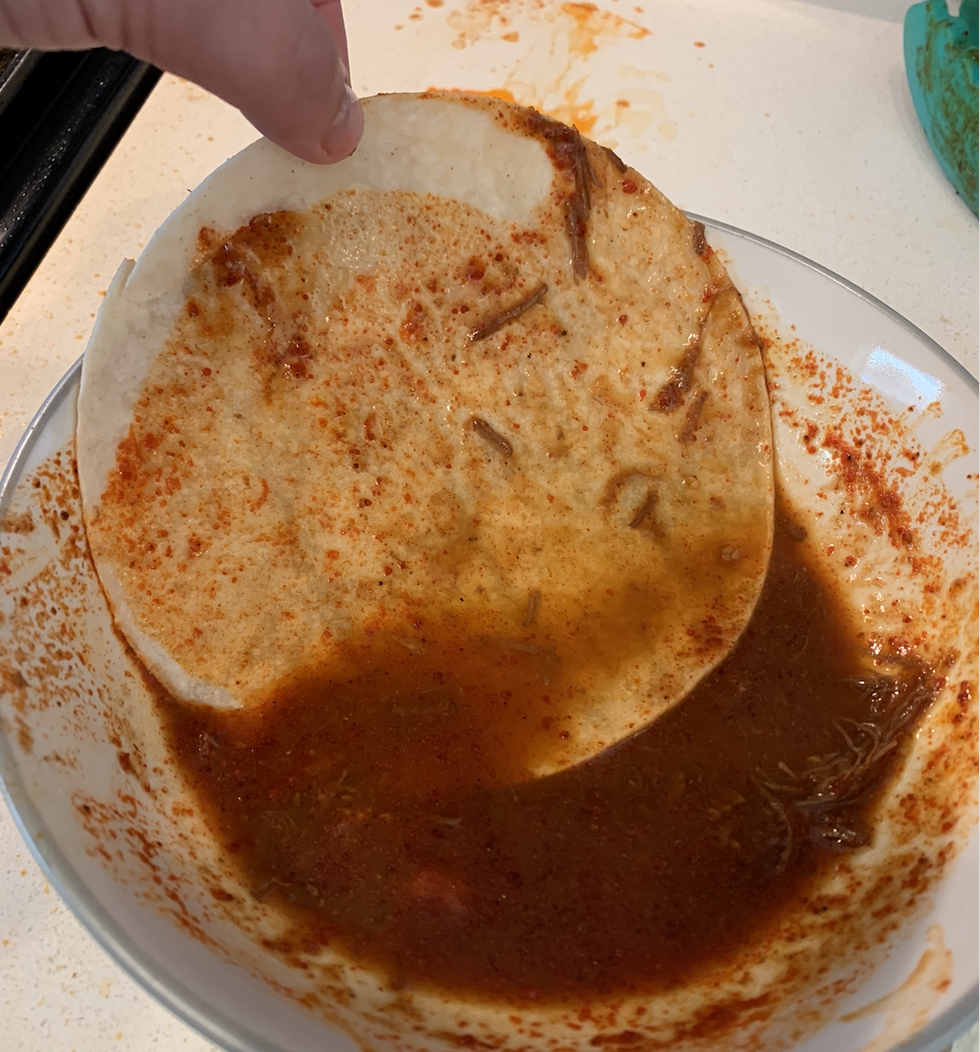 Put about a cup of your consome into a shallow dish and dip to coat tortillas
"sizzle, fo shizzle"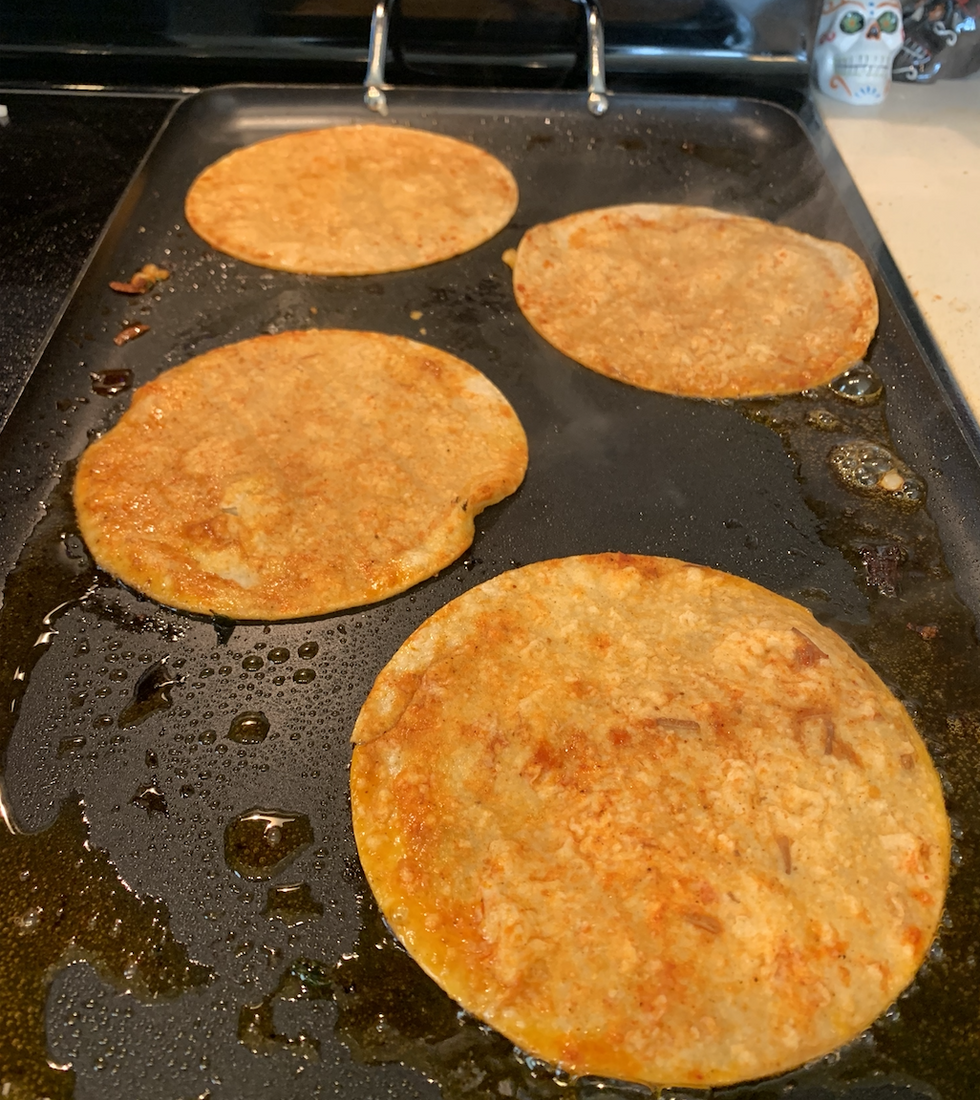 Heat oil on a griddle or pan and gently place down tortillas - they should sizzle.
"it's gettin cheesy"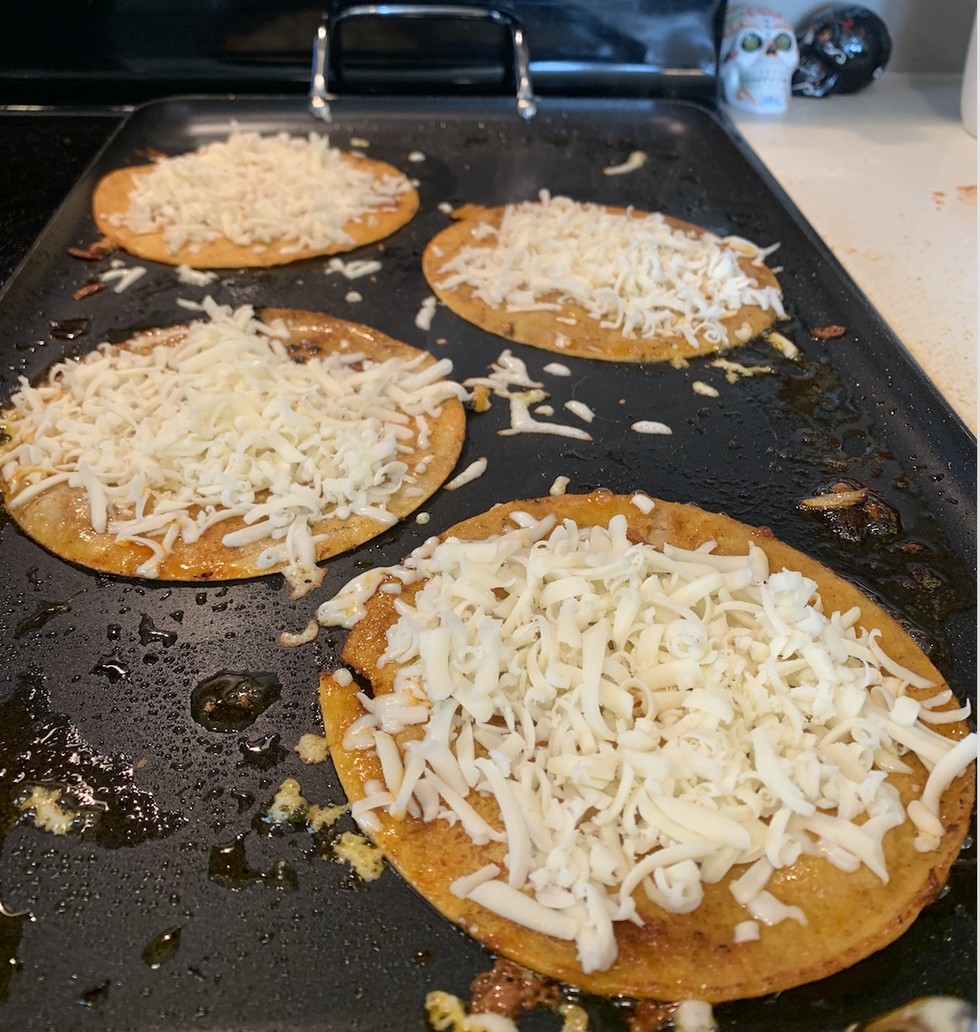 Flip tortillas and cover with grated Oaxaca cheese!
"Oooo she's juicy"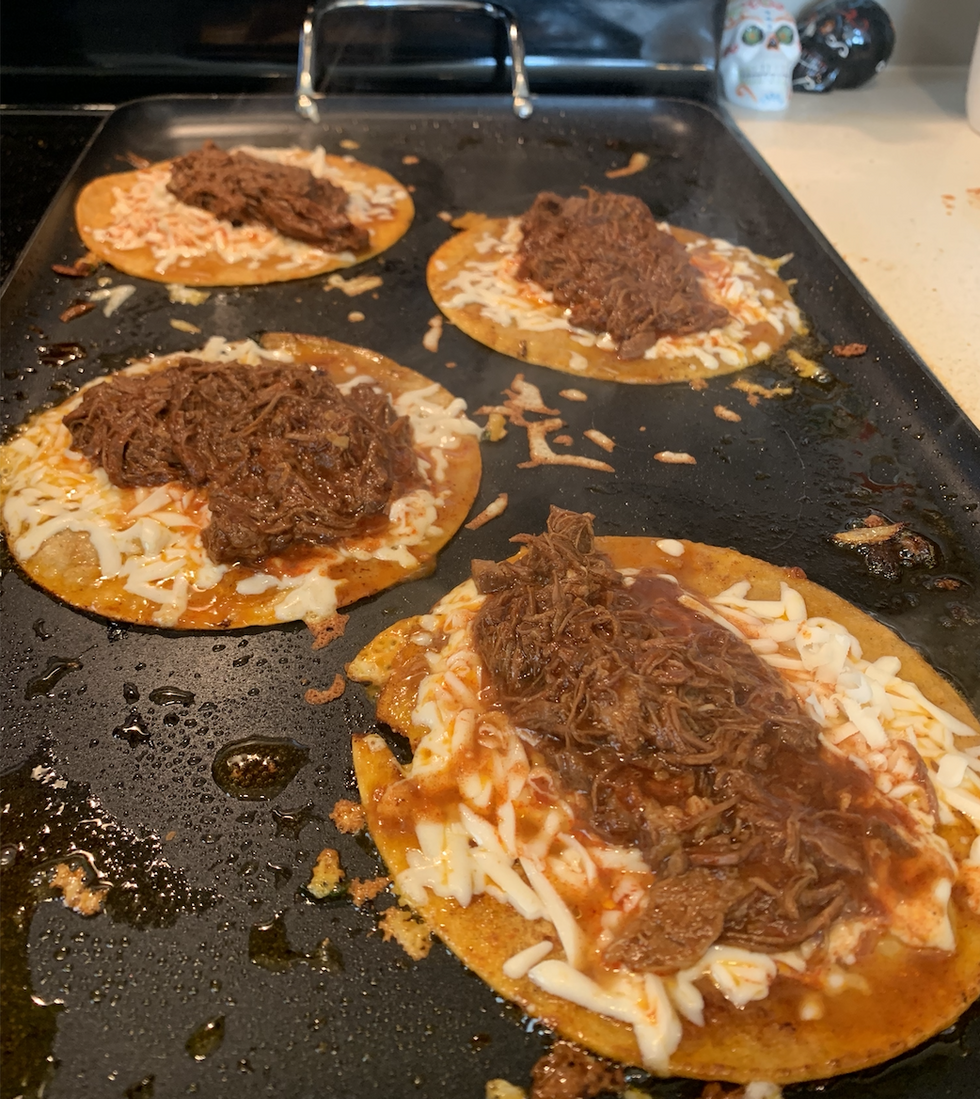 Grab some beef from your consome and place it in the middle of what is now officially a "Quesataco"
"You got to know when to hold 'em, know when to fold em"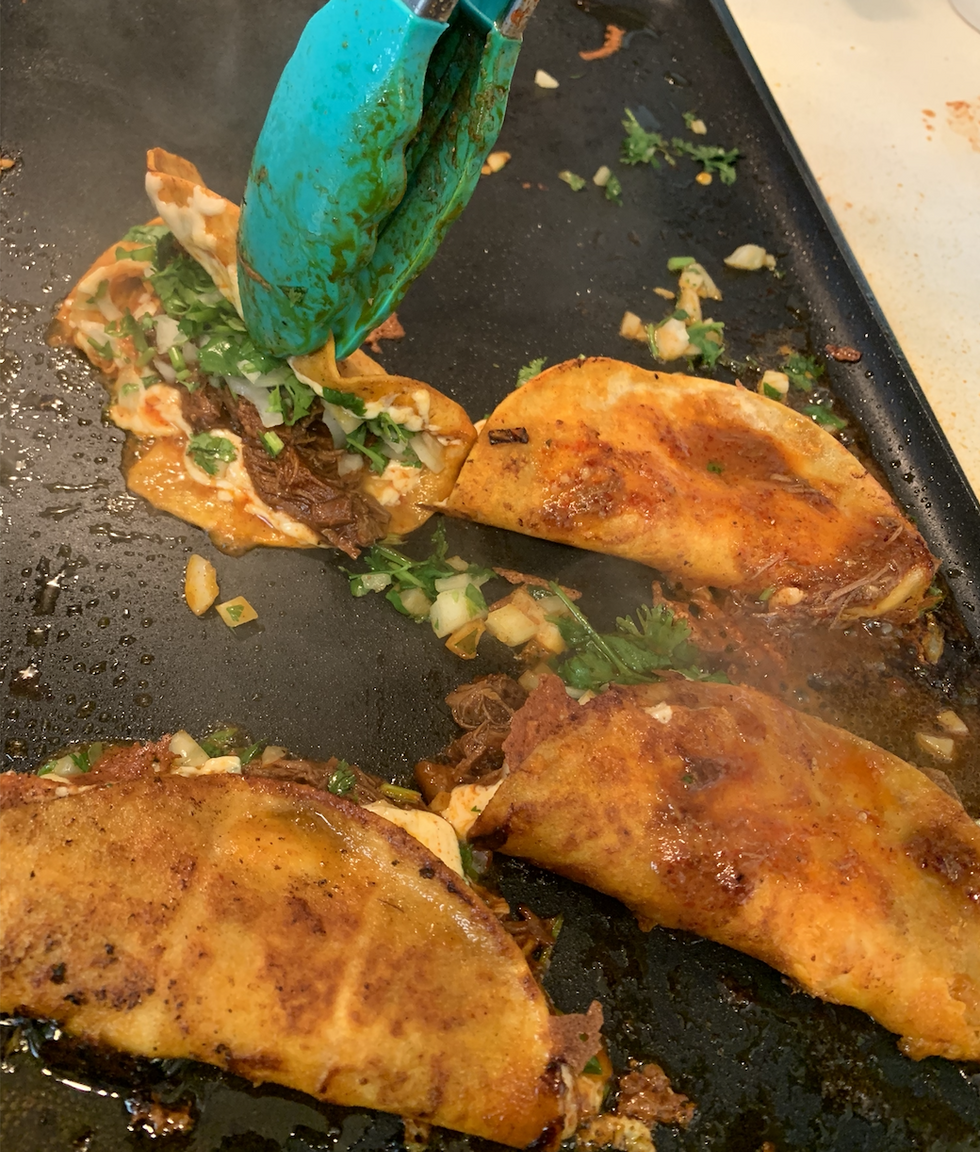 Top "Quesataco" with chopped onion and cilantro and fold in half
"It's about to get messsayyy"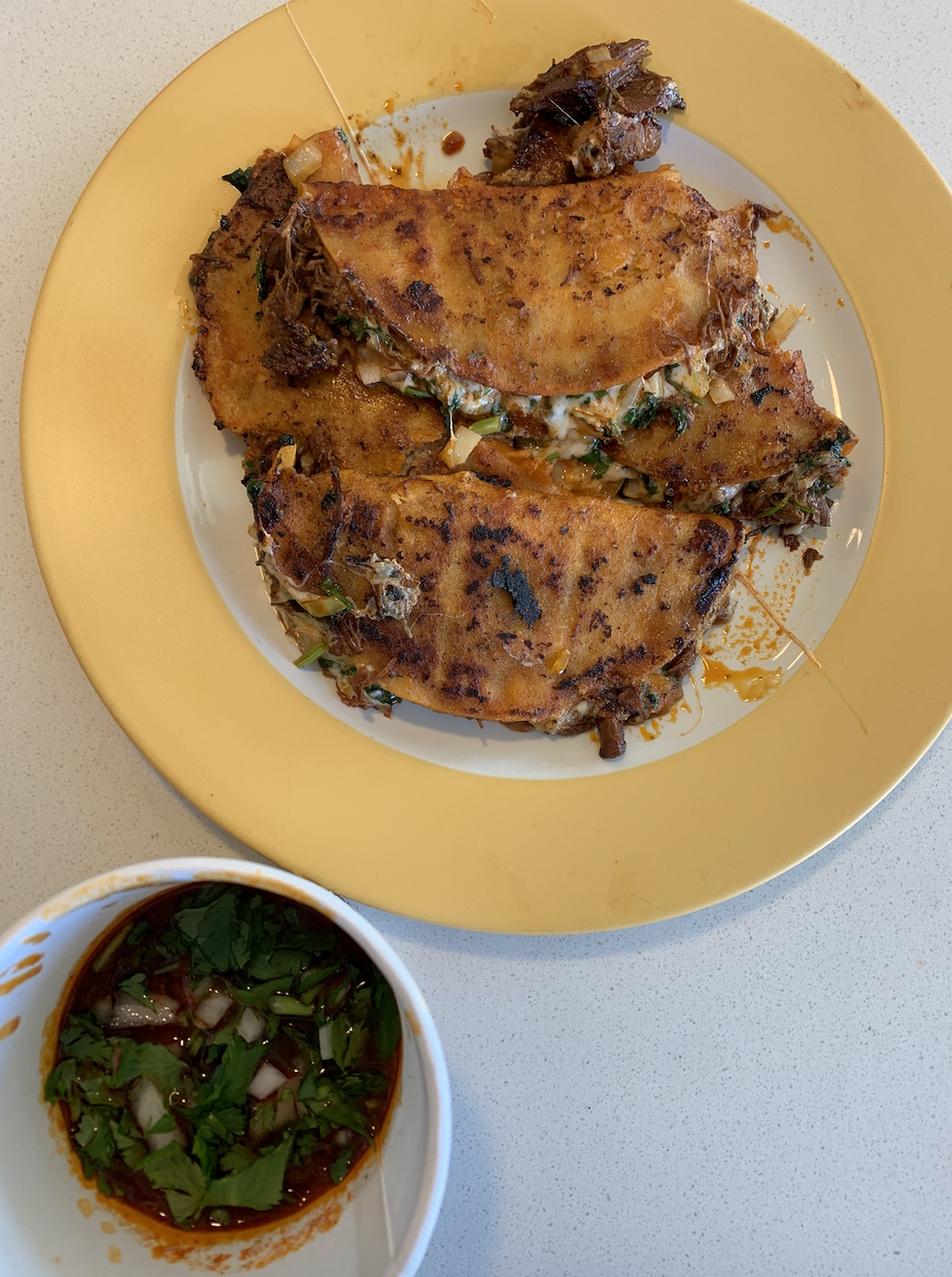 Taco bout delicious!!!
Serve up your Quesabirria with a cup of consome topped with cilantro and onion on the side.
Dip the taco in the consome and shove it in your face!
Pro Top: do NOT wear white.
Here's everything you need:

Ingredients:
5 lb Chuck Steak / Pot Roast
2 lb Beef Bone
2 White Onion
1 Bunch Cilantro
4 Roma Tomato
12 Chile California (or New Mexico)
10 Chile Guajillo
3 Chile de Arbol
2 Chile Pasilla (or ancho)
6 Bay Leaves
12 Cloves of Garlic
1 inch Knuckle of Ginger

1 inch of Cinnamon Stick
2 tsp Sesame Seeds
5 Whole Cloves

1/2 tsp Whole Black Pepper
1 tsp Whole Cumin
1 tsp Thyme
1 tsp Oregano
Salt
Chicken Boullion
Corn Tortillas
Oaxaca Cheese (or mozzarella)
Utensils:
Large pot (about 12qt)
Griddle or pan
Blender
Strainer
Skimmer