Thanks to coronavirus (COVID-19), most of the United States has gone into its own version of quarantine. While no one loves this new way of life we're adjusting to, it's the necessity that will eventually help us fling open our front doors and frolic freely once again! Premature thinking? Maybe. But while we're in the midst of this quarantine time, we're chatting about the most terrifying, the funniest, and the weirdest thing that quarantine has forced us into recently.
---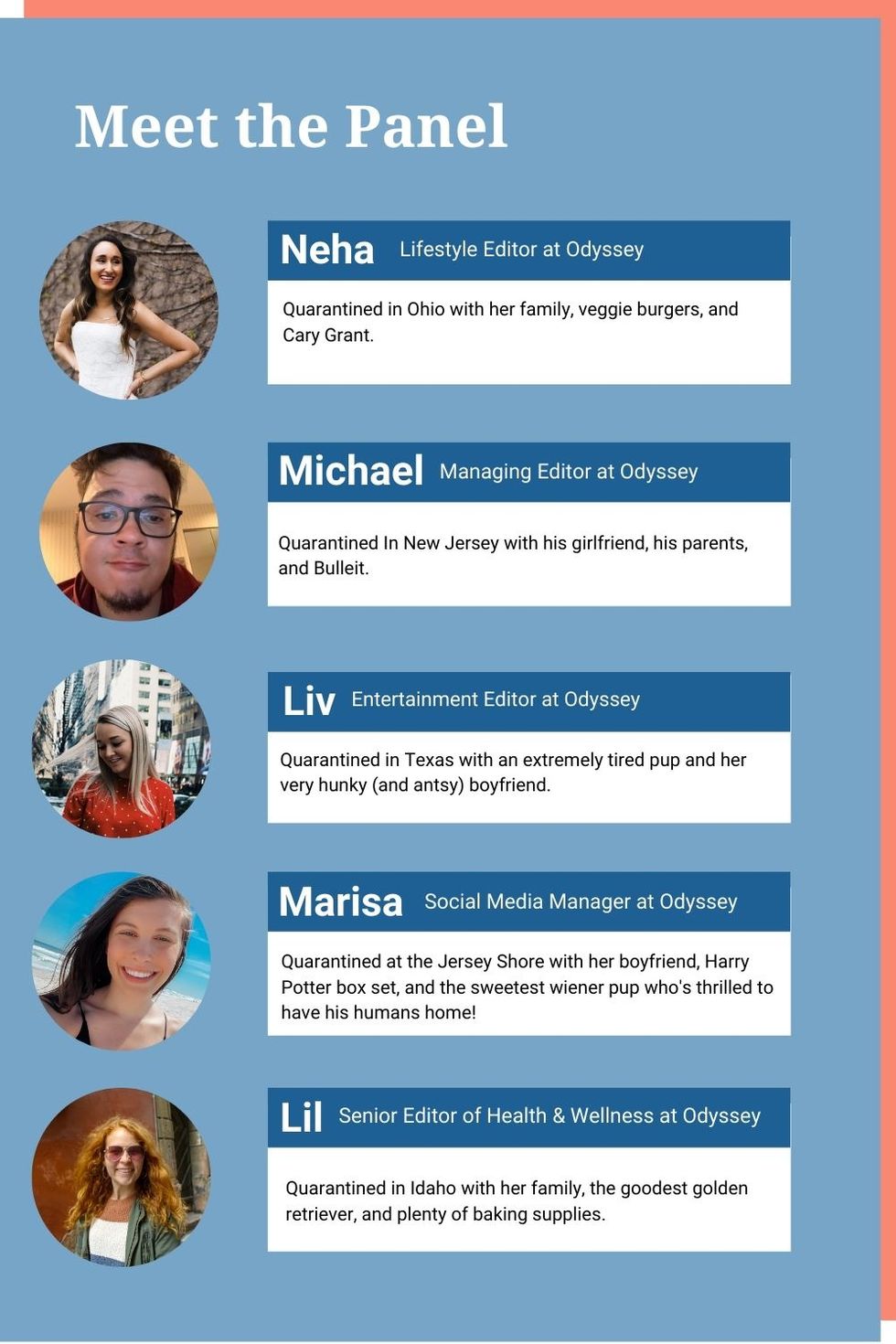 What's the best thing to happen to you this week? 
Neha — My whole family got together to throw a virtual 60th birthday party for my Uncle and all the parents got really drunk.
Michael — My friends canceled a Zoom call.
Liv — My dog's birthday! He is now two years old!
Marisa — New Jersey re-opened parks this weekend, so I was able to visit Island Beach State Park and finally step foot on the beach. Between that and the beautiful weather, it actually felt like a (somewhat) normal May weekend.
Lil — I've almost exclusively eaten tacos this last week and I firmly believe that is how life was intended to be lived.
Have you formed any new habits while in quarantine? 
Neha — I think more than forming new habits, I'm spending more time on the habits I've already cultivated, so I'll spend more time on my morning workouts, meditation, reading, etc.
Michael — Does growing really gross facial hair count as a new habit? Because if so…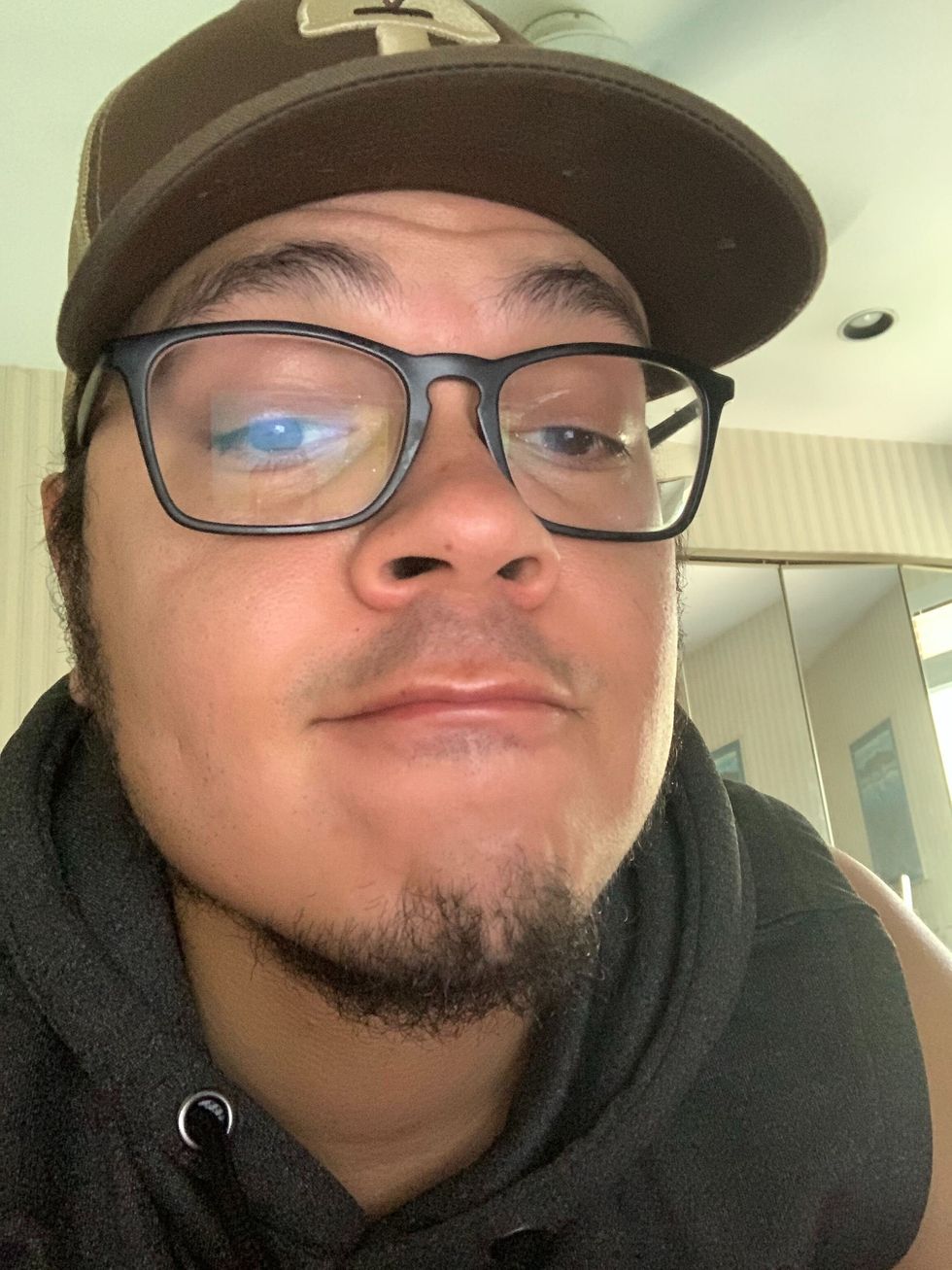 Liv — Morning walks every morning have really helped me stay motivated and get my day started.
Marisa — I actually find that I've been staying up later than usual over the last few weeks. This is partly due to my overthinking mind, and partly due to my newfound addiction to TikTok, but I'm hoping to nip it in the bud ASAP.
Lil — I take one long walk every afternoon to say hello to the neighbor cows. It's the highlight of my day.
What did you buy online this week? 
Neha — I bought a book on astrology and some more powder greens!
Michael — A book for my mom for Mother's Day because I'm a great son even in quarantine.
Liv — A lot of swimsuits. A lot.
Marisa — Mother's Day gifts for the well-deserving moms in my life.
Lil — My mom and I got these aerobic step platforms to get our cardio on. I'm JAZZED.
What has been the best internet dog you've seen this week? 
Neha — The answer to this is, and always will be, Doug The Pug.
Michael — Big Poppa!

Liv — My dog @maddox_themutt. He's just the best.
Marisa — This sweet little guy we reposted on Odyssey's Instagram this week makes me smile every time I see him. Such a mush!
Lil — Fred! What a hard-working doggo.
This is Fred. It's his first day working in customer service. Very sorry to hear your order hasn't arrived but he a… https://t.co/gyMZYPIKNx

— WeRateDogs® (@WeRateDogs®) 1588609524.0
What have you been bingeing this week? 
Neha — I've been re-watching lots of my favorite old Cary Grant movies. "His Girl Friday" is one of my faves.
Michael — "Outer Banks" changed my life. What a watch.
Liv — I finished "The Office" for the second time!
Marisa — I finished "Never Have I Ever" on Netflix in less than 24 hours. It is so freaking adorable and I can't recommend it enough! Please watch and let me know if you're Team Ben or Team Paxton because I need help. I've never been more conflicted in my life.
Lil — I watched Netflix's "Hollywood." Wow, what a cast.
What's the best snack you've had this week? 
Neha — My mom made these Indian chickpea fritters that I have to restrain myself from binge-eating.
Michael — OK, maybe it wasn't a snack, but my family grilled New York strip steaks on the grill and it was basically the best thing that's happened in my life for quite some time now.
Liv — Lots and lots of pickles.
Marisa — I baked my favorite chocolate chip cookie recipe and it did not disappoint.
Lil — Cinnamon rolls are in the oven as we speak!
How many ZOOM/FaceTime calls did you have this week? 
Neha — Sixty-seven.
Michael — It wasn't zero, so let's just say "too many."
Liv — Like seven, all of which were with my mom.
Marisa — Too many to count! I've had plans (from group workouts to happy hours to book club meetings) with friends on Zoom almost every night. I love that I get to "see" my friends so often, but I'm getting tired of staring at a screen all day and night...
Lil — One, and margaritas were present — it wasn't actually THAT bad.
Want to be a part of this panel in future weeks? Want to host a panel of your own? Email lily.moe@theodysseyonline.com for more information!
As an Amazon Affiliate partner, Odyssey may earn a portion of qualifying sales.