As we all know in Jacksonville, Alabama, the F-3 tornado ravaged our town on the evening of March 19th. It was heart-wrenching getting calls from friends who were in their bathtubs crying while they heard the tornado spin as fast as a train, harming their ears.
They questioned whether the ceiling of the third floor of their apartment would hold to save their life, or if it would collapse by the wind, rain, and hail. I was thankful enough to have met a girl in the Navy Delayed Entry Program just days before, who sent me her tickets to see a concert in Atlanta the night of the devastation. It was a blessing in disguise or was until I saw after footage that night, and received numerous phone-tree calls.
During the storm, three thoughts went through my head:
1. Is my cat ok?
She had been there by herself since Friday, so three days already, and thanks to roadblocks, I would have to wait for another three. Six days without my pet, my baby, my familiar. I read posts for over a week of how people had pets locked away in their apartments and how they were denied entry to retrieve their pet.
Within that time, rescuers were contacting owners about pets found dead. DEAD. I know many people say the Jacksonville community is lucky for not having any casualties, but to many people, pets are family. They are living beings, they died every day due to people violating laws to keep owners out.
2. What will I do for a place to live?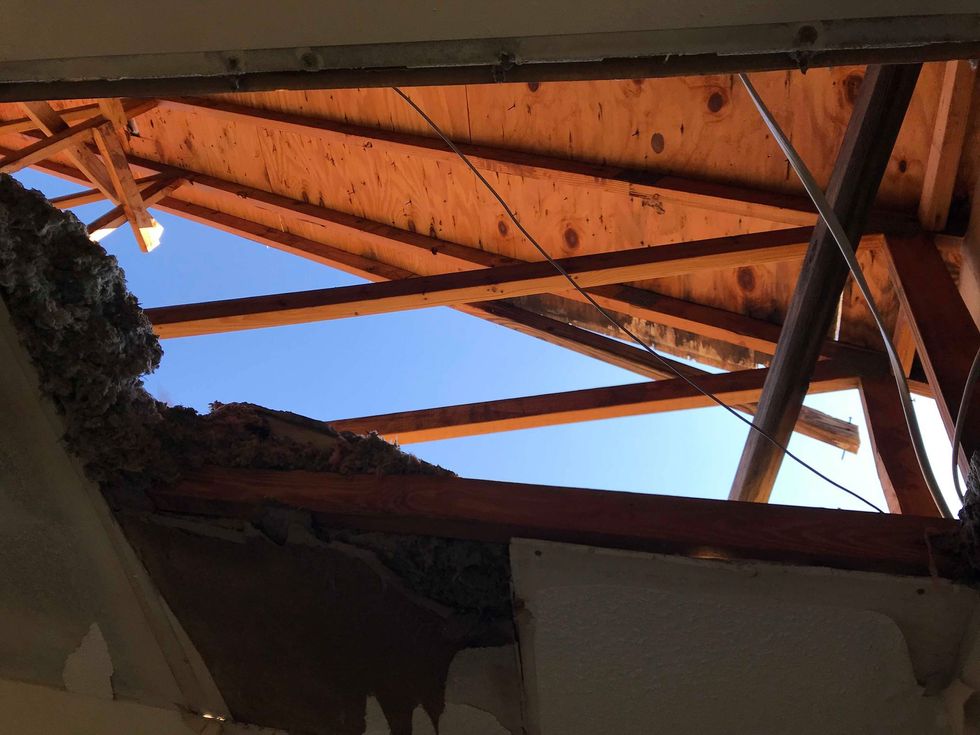 I was receiving photos and calls about my friends completely losing their apartments and cars in the storm. I was told by my friends their accounts of being in their bathrooms tornado overhead, ceiling crashing, and then they would emerge from the rubble to outrun the second and third tornadoes.
Some friends after the tornadoes passed were pulling trapped neighbors from their apartments. Some were having to sit at the JPD watching as a guy is being told his arm will have to be amputated. I feel selfish now because all I could think of is wondering if for some reason my own apartment was gone if my cats were going to be a fluffy splat on the wall.
There was so much shock, I could not help but keep my mind on one thing: my cats at home. Yet, I believed every second of my worrying that God had a reason, and I guess my roommate was meant to have a sunroof.

3. What will this mean for classes?
This was a heavy question even before the tornado. Being a fourth-year student, looking at having to take extra semesters to finish my double major, I was already flummoxed about weighing finishing classes on limited funds, or joining the Navy. I have since chosen the Navy.
Many others have decided to handle the stress of classes and loss of school materials by moving back home and ditching their degrees altogether. Its a matter of how can a student ranging primarily ages 18-22, repurchase all school materials, dorm/apartment stuff to live and mentally manage finishing classes?
I mean, how can we have time to morn and get over the shock of some horrible circumstances caused by mother nature in such a short time and be able to mentally process coursework. Some of us do not even have a place to live, there is a four-page long wait list of people unable to find homes.
As the night seemed to never end, the sun rose to shine on a horrifying reality that I am not sure many can describe. Jacksonville State University was a campus I fell in love with because it was a spread-out small town. Therefore, I never felt swallowed like at Auburn and University of Alabama.
What is interesting is that morning, when the sun rose on our little town, everyone was already up on their feet working to make the town whole again. It is obvious we will never be the same, but that is not a bad thing. It means we will come back stronger and better than ever.
The campus buildings were already in bad shape, as many students had expressed concerns previously to the President and others in the last four years. In a weird way, maybe this causes the University to fix their money issues and realign their priorities to align with that of the student's needs. Maybe this is meant to remind us to not take things for granted, but at the end of the day, I am so proud to say I am a Gamecock, and we are #JSUStrong.