I am a huge Post Malone fan. I think his music is so deep and unique to the point where you don't really know what you're listening to until you've played the songs over and over. However, is Post Malone the spitting image of what I think of when I think of Prince Charming? No. Do his face tattoos give me butterflies in my stomach because I'm so smitten? Not really. And can I picture his goofy, zany personality ever falling head over heels for a girl? Nah.
While his appearance may not look like someone that screams "I have feelings", it is clear in his music that he's had his heart broken in the past. Some of his songs such as "I Fall Apart", "Feeling Whitney","Better Now", and "Rich & Sad" are extremely heartbreaking to listen to and they obviously come from a very tortured part of his past. So what catapulted this saga of grieving lyrics that Posty sings so authentically and raw? Who broke his fragile, sensitive heart and gave us such amazing songs?
Well, a couple of weeks ago, a Facebook page titled "Pictures in History" posted a photo of Post Malone with his ex-girlfriend. Her name and any personal information has not been released. Post clearly looks a lot different nowadays with his tattoos, hair and eccentric clothing. He's barely even recognizable in this throwback picture. What's happened in between when this photo was taken and current day is unknown, but it can be assumed that the girl he's bear-hugging is the girl who broke his heart and caused him to write some of his darkest, most emotional songs.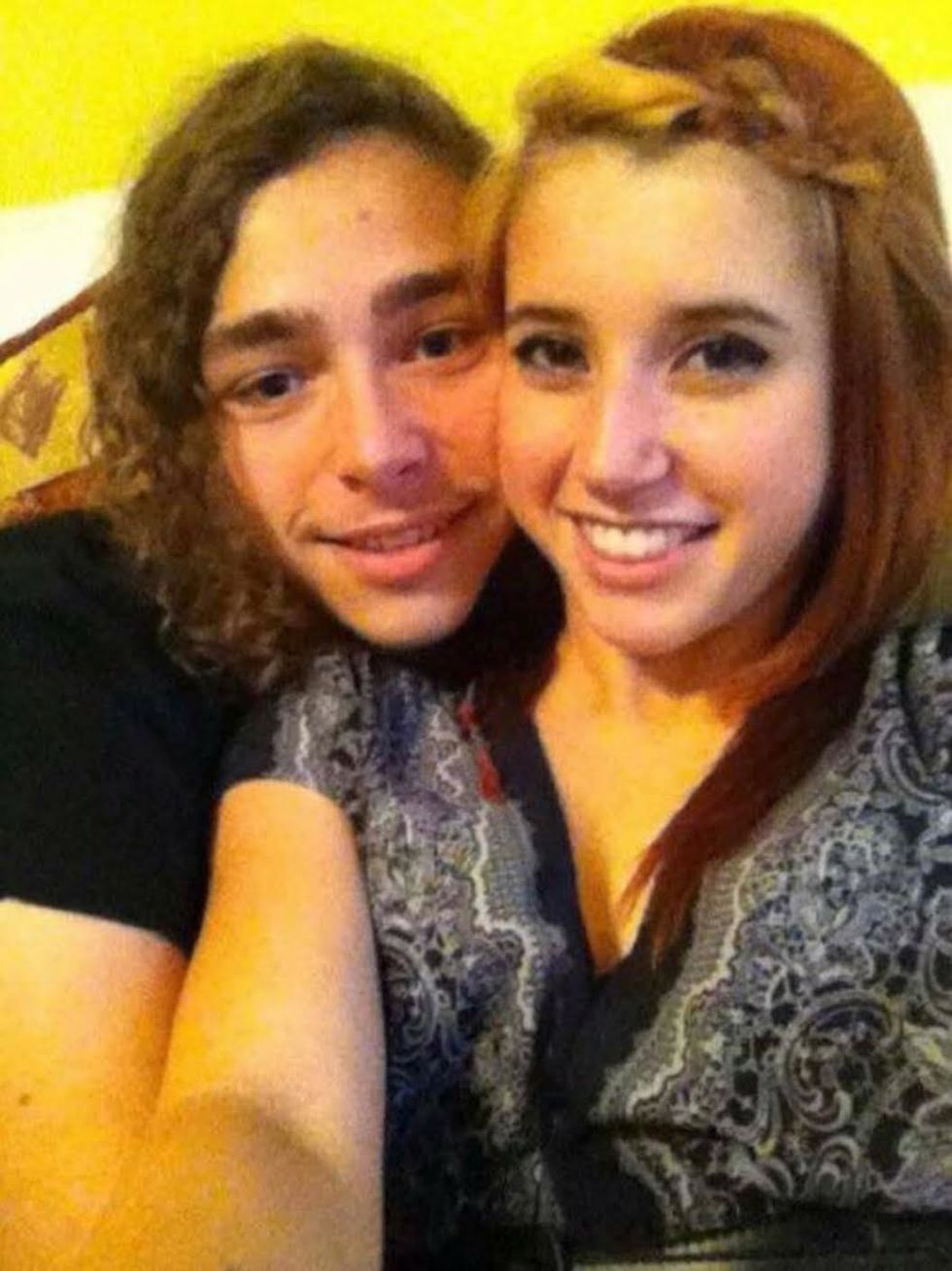 Now let's dissect some of his most painful, raw and heart-aching lyrics.
"To each their own and find peace in knowing, Ain't always broken, but here's to hoping. Show no emotion, against your coding. Just act as hard as you can, you don't need a friend. Boy, you're the man."
These lyrics from "Feeling Whitney" capture the essence of the song which is basically Post calling out for help after struggling with different addictions. Throughout the song, he reminds himself that he has to put up an emotionless front to maintain his self-perceived reputation as "the man", despite the fact that he actually is quite emotional. He's convincing himself that he doesn't need a relationship because he has himself, although that's not really what he believes.
"She told me that I'm not enough. And she left me with a broken heart. She fooled me twice and it's all my fault. She cut too deep, now she left me scarred. Now there's so many thoughts goin' through my brain. And now I'm takin' these shots like it's Novacaine."
"I Fall Apart" is probably Post's most emotional song. In these lyrics, it's confirmed that a girl broke his heart and he blames himself for the relationship coming to an end. He also says that he is scarred from the relationship and he's turned to alcohol to numb the pain. Just like he mentioned in "Feeling Whitney", he hides his emotions to reduce the risk of them being hurt again, which is why he turns to drugs and alcohol instead of confronting how he feels.
"You ain't even speakin' to my friends, no. You knew all my uncles and my aunts though. Twenty candles, blow 'em out and open your eyes. We were lookin' forward to the rest of our lives. Used to keep my picture by your bedside. Now it's in your dresser with the socks you don't like."
Despite "Better Now" being a more upbeat song, it doesn't hide the sadness of the lyrics. In these lyrics, we learn that the girl he was with had met his family, and it was clearly a big deal for Post to take that step with her. We also learn that the relationship happened when he was 20 years old (he is currently 22), and they had discussed plans to be together forever, yet now he means nothing to her.
"I would throw it all away, I just keep on wishing that the money made you stay. You ain't ever cared about that bullsh*t anyway, I just keep on wishing that the money made you stay."

"I was livin' life, how could I have known? Couldn't listen to advice 'cause I'm never wrong. In the spotlight, but I'm on my own. Now they're all gone.
"Rich and Sad" is one of my favorite songs on his new album. I interpret the lyrics as meaning that perhaps the relationship ended when Post got famous and money started coming in. He is basically insinuating that girl was so done with him that not even his fame and fortune could intrigue her enough to stay together because she was a normal girl and not concerned with materialistic things. From these lyrics, we could also assume that a flaw of his is that he feels like he is never wrong, and maybe that was a factor that led to the breakup. Further, I would guess that he was distracted by all the fame he was getting that he got so wrapped up in the spotlight that when he took a step back, he lost someone he loved very much because of it.