I have recently been seeing lots of rough and argumentative posts on Instagram. Politics have now integrated themselves into what used to be the fun parts of the internet. The areas where funny pictures and vacation photos were the only things you'd see, you are now bombarded with photos and videos from both sides of the political spectrum. Why? The media is now an integral part of politics, social media being a big part of that. People, especially young people, now get their news from social media, however, when all the news they are seeing is only showing the extremist of each side, they won't know what actually happened.
It's a political tightrope nowadays.
More recently, I have been on mostly extremist right profiles on Instagram. Now the profile itself isn't overly rude, but most of the people who comment are. I decided to see if I commented something more liberal, would people attack me? I would post very neutral comments that leaded left, and yet I would be attacked and called names for not agreeing with the general conservative agenda. Personally, I am moderate on the political spectrum, but even being moderate, even just being featured in a photo in a newspaper posted online, I was attacked and called horrendous names.
I have two examples of this happening. It is frustrating to try and put yourself and your voice out into society and to have a normal conversation with people when they just yell and scream at you for not believing what you believe. The first instance that this happened to me was in my local paper's Instagram: vc_star.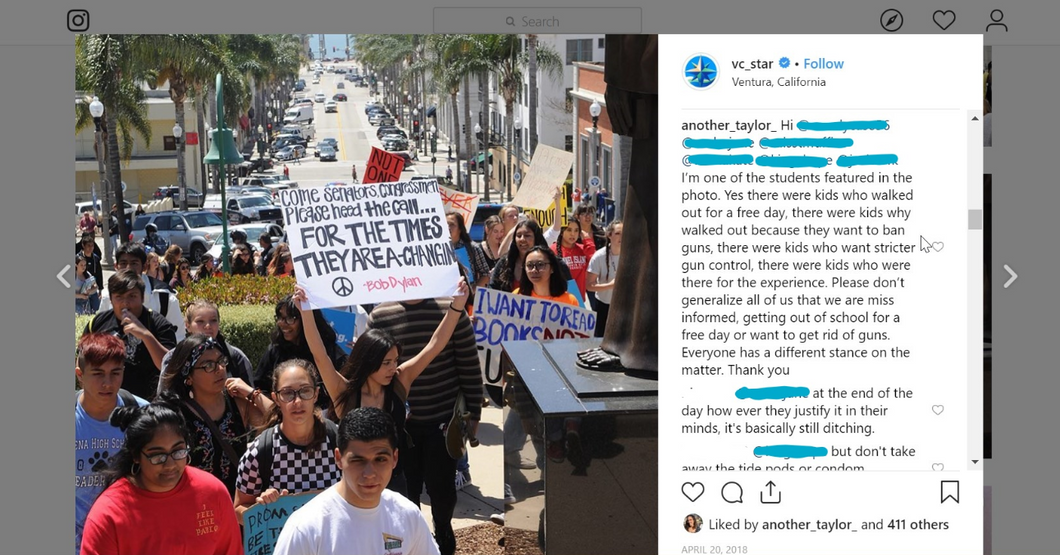 On April 20th, students from the three schools in the district participated in the National School Walkout on the 19th anniversary of Columbine. I personally participated to remember the lives taken by guns, however, I do not want guns being taken away from citizens. I have to state this because many people will generalize that I want the second amendment taken away, which I don't. There was a photo taken of myself and friends of mine that simply documented the occasion. We were not holding any radical signs or screaming at people who were not walking, yet we were getting slammed in the comment section. We were called "ignorant", "stupid", and "cry-babies".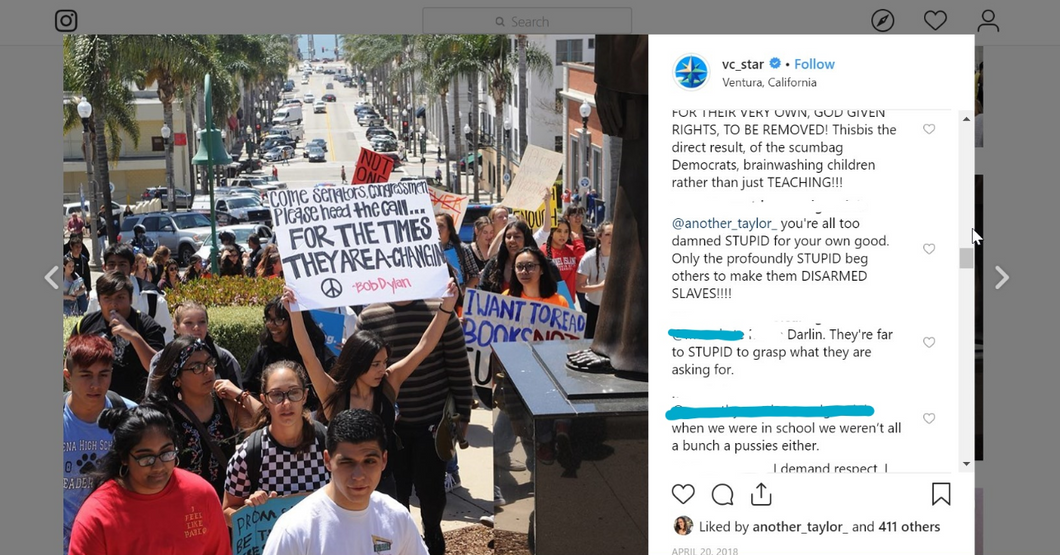 People that we didn't even know said that we should be slapped, expelled and punished gravely for walking out of school. Parents were actually threatened that they "need to have some sense smacked into them". This was hard to read, so a couple of friends and I replied to these comments. We didn't respond harshly or rudely, but with poise and sincerity, yet we were now being personally attacked.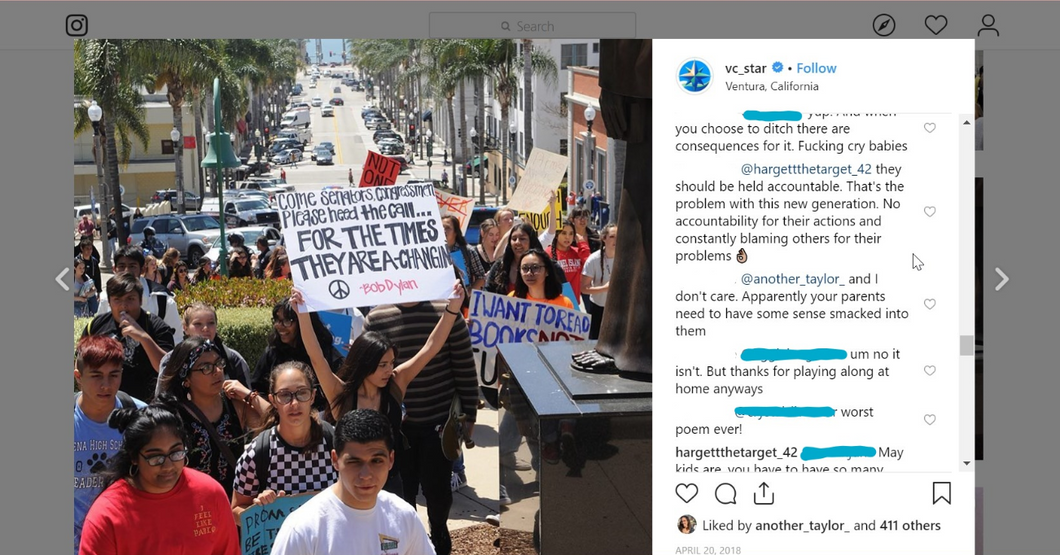 Another instance where this happened is when I commented on the_typical_libaral's post. I replied nicely and asked a simple question in response to a photo of abortion. Yet again, I was slammed for not agreeing with everyone. I was even called an "ignorant potato" which actually made me laugh. After a couple of tries to talk nicely and calmly, I gave up because people nowadays do not want to talk with each other anymore.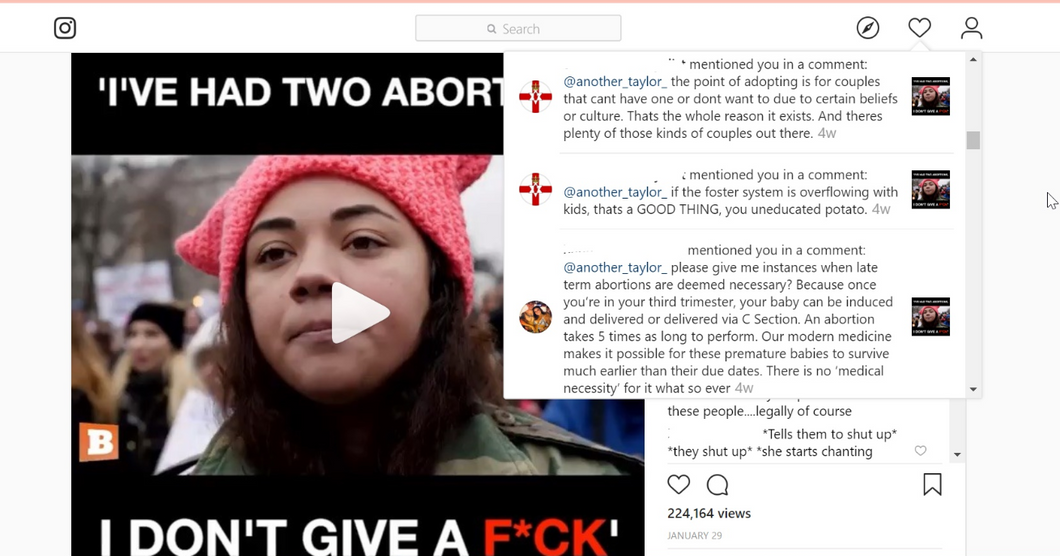 I find it ridiculous that I can't comment on a photo about my beliefs in any way, shape, or form without trying to push my beliefs and ideals onto anyone, and yet I am being chastised for just stating something. Society wonders why people all of a sudden are speaking out. It's because people have been silenced for so long because of people like this. I don't want to try and share my views, let alone try and make changes in fear of what people might do to me. There is a surge of people speaking out currently because there are enough people tired of the charade that they don't care what others will say.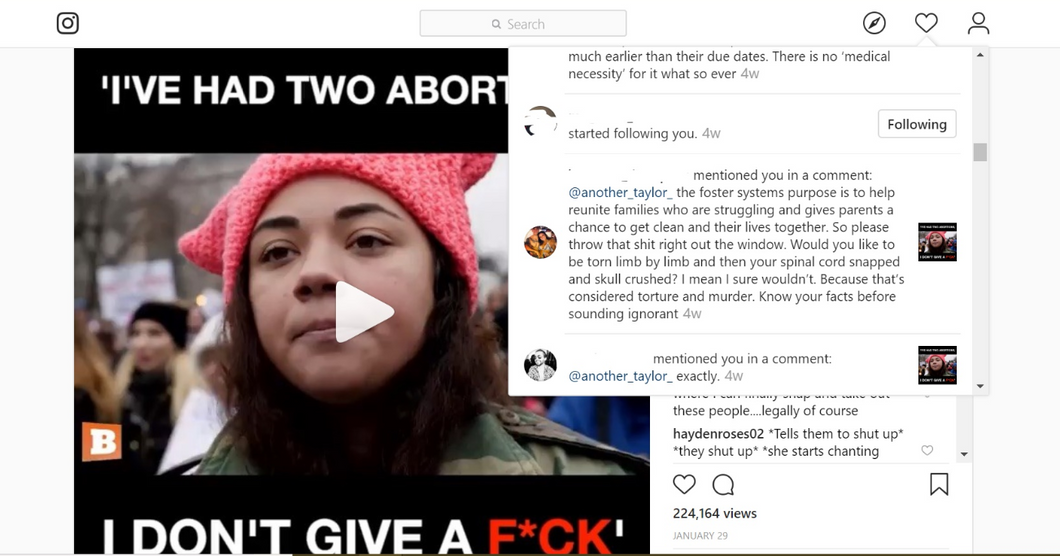 Trying to deal with politics on social media and now even out in the world is hard. If you don't agree with one side, you're attacked and shamed and called an extremist. Being calm and having a conversation doesn't exist anymore and that may just ruin the country. There will always be conflicting ideas in the world, it's just a matter of being able to discuss and come to a compromise but ultimately have a sincere and calm conversation to resolve problems. I will continue to try and talk to people calmly on these posts and in person if I ran into one. But yelling louder and being ruder doesn't make your opinion right and isn't going to make you any better. Rather than losing your voice, let's sit down, get some coffee, and talk it out.