Planning a wedding involves a lot of time and energy no matter when you do it, mix in a pandemic and there are a lot of things working against you that can really put a couple's love to the test. For one filmmaking couple, though, keeping the important things in focus was key to making it through the COVID-19 wedding journey.
In the first episode of a new docu-series called "Pandemic Weddings" by SoulPancake, this couple — Georgia Koch and Mike Bernstein — documented the experience of canceling their wedding and making a totally new plan so they could still get married during the pandemic.
After watching the emotional journey, I had to chat with Georgia and Mike to learn more and get their best advice for any brides- and grooms-to be who are going through these challenges now as fall weddings near.
Q. What made you decide to document the experience? Do you feel it helped make the process easier? Harder?
"When we thought we might have to cancel our own wedding, we started documenting the experience on our iPhones really for posterity sake. We figured at the very least it would be something we could show our children one day about how absurd the entire experience was. When SoulPancake told us they were looking for series that could be made safely during the stay at home order — we figured we might as well try to turn it into something. Since we're both filmmakers (and we occasionally work together) it was meaningful to get to process the experience while making something about it. Definitely difficult at times — but overall it made the process much more meaningful."
Q. At what point did it really hit you that you'd have to cancel your wedding? What were those emotions like?
"Once there was a ban on small gatherings we knew we had to make the call. The entire experience felt more like a blur of thinking 'is this actually happening?' as opposed to one moment where it all felt real. It still feels pretty surreal, as we're sure the pandemic does for so many."
Q. The week of the wedding you both had a very emotional conversation about knowing there's an upside, but not 100 percent knowing what that upside was just yet. Looking back, do you still feel the same? What would you say the upside was now that you've gone through it?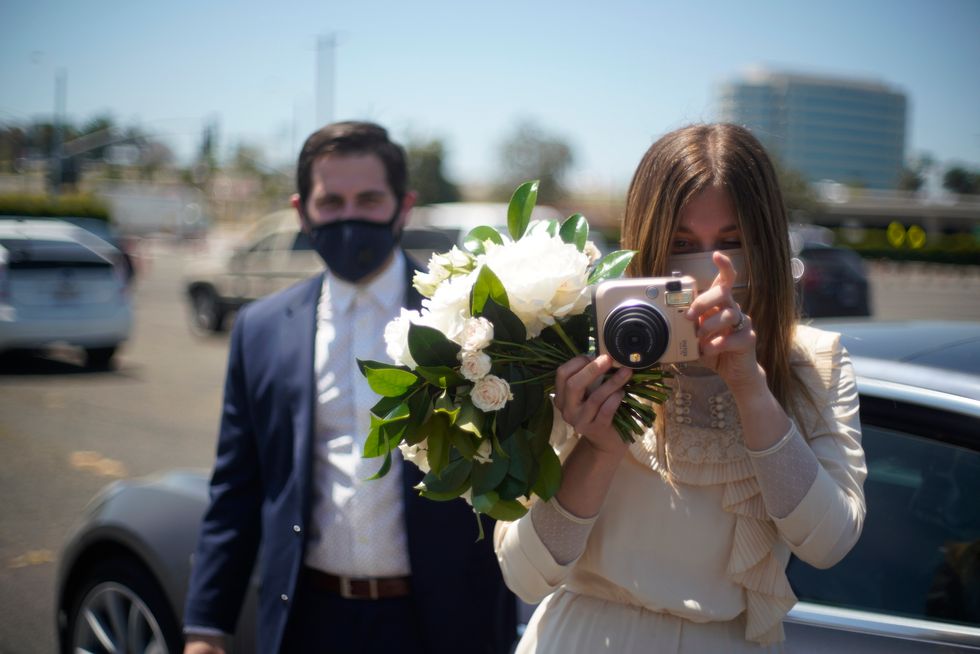 Georgia & Mike Bernstein
"We think we'll likely be processing this for years to come. While there was so much meaning and joy in the experience, this has been such a difficult year in so many ways and the upside still feels a little unclear — or still along the lines of learning how to deal with hard things and making the best of it. It also made us think a lot about what really matters, which is definitely being with the people you love and having them be healthy."
Q. As a couple, what was your biggest lesson or takeaway from the experience?
"If anything it definitely reinforced that as long as we have each other, we can make it through anything together — even if we disagree at moments along the way."
Q. Were there any moments in which you felt your relationship was being tested?
"We definitely feel like the experience brought us together. In a lot of ways planning the wedding was more stressful because it was becoming so expensive (and we had just bought our first home) and you're dealing with so many outside factors and trying to work to pay it off. In dealing with the pandemic and cancellation we really leaned on each other and helped each other through the process. And got to make something together that we're really proud of."
Q. What was the hardest part about canceling your wedding? What made it the most emotional?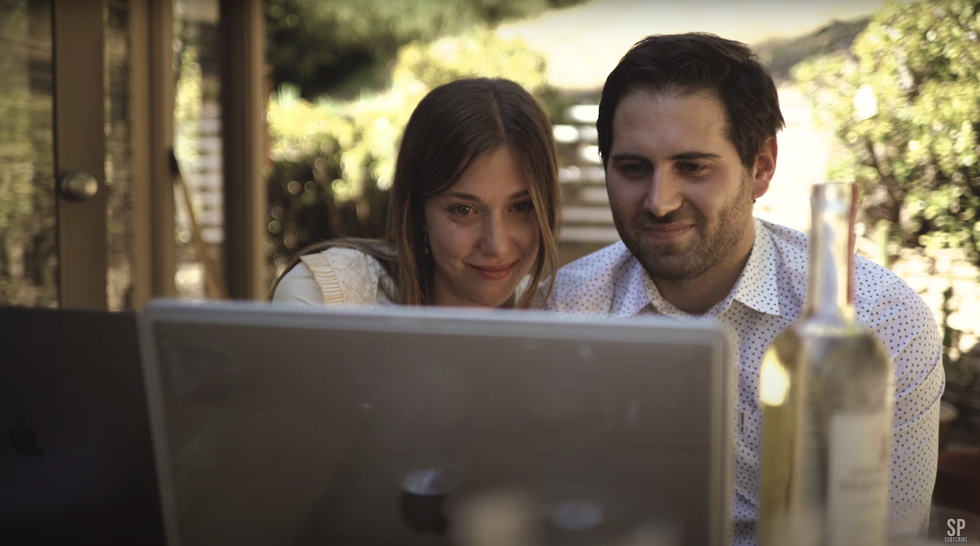 Georgia & Mike Bernstein
"Not having our family there with us. That was really it. A wedding in a lot of ways for us was always about bringing our families and friends together and we still want to prioritize doing that throughout our marriage."
Q. If you could go back in time, knowing what you know now about things being canceled and shut down, would you do anything differently? If so, what?
"We definitely would've gotten married in 2019. Haha. But seriously, we were engaged for a year and a half — in a lot of ways because we were trying to save up to pay for the wedding. If we were planning something now, we would have a much smaller list and we would've done it way sooner."
Q. Do you think you'll have a larger reception or wedding in the future?
"We're covering this a bit in the last episode (spoiler alert), but we actually went down to Ojai this summer with a few close friends and did an outdoor socially distant ceremony when the opportunity presented itself with our original wedding planner (who we feature along with two other planners in the last episode). She had to do a 'test run' for her new COVID compliant wedding service, so we used it as an excuse to exchange our personal vows we never read. Now we're ready to pack up the wedding attire and move onto the next phase, but we're looking forward to throwing amazing anniversary parties every year that it's safe!"
Q. What would you want to tell other couples who have fall weddings that are up in the air?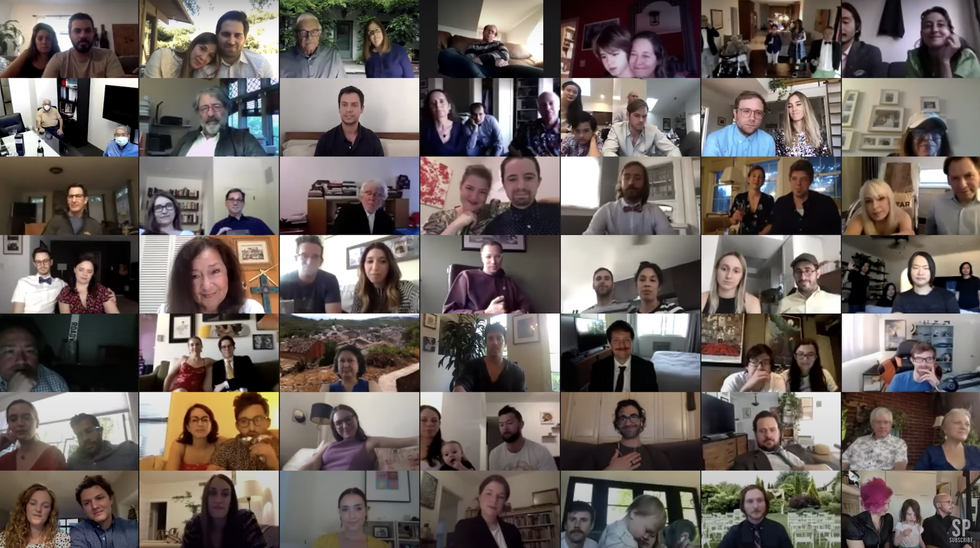 Georgia & Mike Bernstein
"Remember that you can do it however you want to do it. There's no 'right' way. Have a ceremony now or have two or three with small groups of people. Get married on Zoom with 50 people or in your back yard with your dog. Do a drive-thru wedding or head to the beach at sunset. Postpone until we can all get sweaty and hug or move forward with planning and have a plan A, B, and C. It's all OK! And don't feel bad about being upset — we're all craving moments of connection and joy right now, and celebrating marriages are wonderful times to do that."
Watch Georgia and Mike's full episode of SoulPancake's Pandemic Weddings here:
SEE ALSO: A Religious Couple Shared Their COVID-19 Wedding Journey, And Their Faith Kept Them Anchored Through A Tragic Loss
Follow Swoon on Instagram.