Everyone has heard success stories in which people find lost loved ones and old friends through social media, but to help facilitate a reunion is a privilege not many people are able to experience.
Indiana University student Zoe Spilker was scrolling through her newsfeed when she discovered a post by a marathon runner attempting to locate the U.S. Army veteran who helped her finish the race. The runner, Nikki Labaschin, had six miles left in the marathon before she had to stop and catch her breath.
The veteran, whose name was Pete, stopped when he saw her and walked her the rest of the way to the finish line, selflessly grabbing her water and Gatorade along the way. After the race was over, Labaschin took to social media to look for the kind stranger.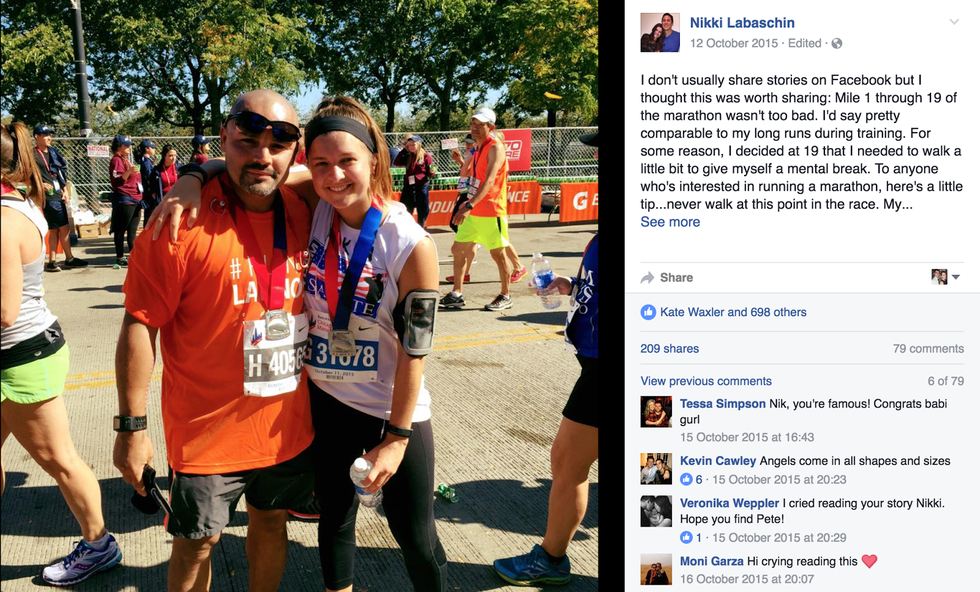 Spilker didn't know the marathon runner or the veteran personally, and yet she felt connected to the cause. "I was really touched by the story and how this girl got helped across the finish line. I wanted him to be recognized," Spilker said.
Spilker, a journalism major, chose Odyssey as her outlet to share Labaschin's story and to help her find Pete. Her post, in which she started the hashtag #FindPete, relayed the heartfelt moments Pete Labaschin shared in their last few miles:
After posting her article, she encouraged her loved ones to pass on the story.
"I had a lot of support from my friends and family just wanting to share it and get the message out," Spilker said. "I called a couple of my family members and friends and they knew I had the opportunity to make a difference here, so they were all very willing."
Within 24 hours, her article got more than 500 shares and friends of friends and complete strangers were commenting on her Facebook share with praise, and even some tips on how to find Pete.
"One person commented and said, 'You might be able to find him this way,' and said to look up his runner number on the marathon page. I don't think they even personally knew him, they possibly were involved in the marathon," Spilker said.
Her Facebook share of the post circulated beyond her own network and in turn, Labaschin's story was further pushed beyond Indiana and around the United States. Spilker didn't just share on Facebook, though—she knew it would take more than one platform to make an impact. So, she shared on her Twitter as well.
"There was one point when someone found the girl on Twitter who knew the guy, so I got a few messages on Twitter because of my share," Spilker said. "I think that was really influential in finding him."
One person who personally knew Pete found Spilker's Twitter post was also able to get in touch with Labaschin, and finally, the runners were able to connect.
Spilker's job was done, and knowing that her article helped the runner connect with her new friend was an incredible experience.
"It definitely made me realize the power of social media in connecting people," Spilker said. "I think a lot of times when people tweet out things or share different things on Facebook, they don't realize how many people can see that. It really does have the power to do good."
This one experience illuminated Spilker's journey with Odyssey, and showed her that Odyssey's mission is literally changing lives.
"Sometimes it's hard to find a platform where we can get our ideas out," Spilker said. "What's really special about Odyssey is that our ideas can reach more people than we expect, and social has a great influence in that."