According to public records, Barack Obama has commuted the sentences of 1,715 prisoners. His motivation stemmed from believing in second chances, naming his work as "clemency initiative." Obama initiated this initiative in 2014, which targeted drug dealers who received mandatory-minimum sentences during the War on Drugs from the 1980s to the 2000s. One specific prisoner named DeMarlon Thomas, whose sentence was commuted by Obama on November 22nd, 2016, was released and living in a halfway house since December 13th, 2016 when two masked gunmen carrying assault-style weapons entered the halfway house and murdered him execution-style. Thomas, aged 31, was an ex-Sunny Side gang member from Saginaw, Michigan who was sent to prison in 2008 with a sentence of 19 years for the distribution of cocaine. Prior to his sentencing, Thomas made a statement to his judge asking for leniency:
"I think giving me leniency would be nice because of the time I am looking at is not right for only pleading guilty to 7.2 grams of crack. "The time I am looking at is for people who kill people, so some leniency should be in my favor."

While transitioning from the life he lived in prison, Thomas was determined to live a better life. According to those who knew and grew up with him, "he was just happy to be free and have a second chance at life."
[rebelmouse-proxy-image https://media.rbl.ms/image?u=%2Ffiles%2F2017%2F01%2F30%2F636213374168468739-1293081529_DeMarlon%2520Thomas.JPG&ho=https%3A%2F%2Faz616578.vo.msecnd.net&s=591&h=a2564e3c743567de75ed5ae291b00b7c019f246b47f0be113ea01c09e0ec474d&size=980x&c=4181812880 crop_info="%7B%22image%22%3A%20%22https%3A//media.rbl.ms/image%3Fu%3D%252Ffiles%252F2017%252F01%252F30%252F636213374168468739-1293081529_DeMarlon%252520Thomas.JPG%26ho%3Dhttps%253A%252F%252Faz616578.vo.msecnd.net%26s%3D591%26h%3Da2564e3c743567de75ed5ae291b00b7c019f246b47f0be113ea01c09e0ec474d%26size%3D980x%26c%3D4181812880%22%7D" expand=1 original_size="1x1"]

Obama believes in second chances and he displayed his beliefs through his good deeds to the community. According to news headlines, Thomas appeared to be the intended target of the two masked gunmen.The gunmen apparently knew Thomas would be at the Bannum Place halfway house in Saginaw and that other people would be present. Michigan State Police Lt. David Kaiser stated, "If you look at the way this was executed, it was no accident -- they knew exactly who they were looking for and knew exactly where he was at." Thomas was shot in the head and died immediately, although the gunman who pulled the trigger continued to shoot him. The other gunman stood with multiple hostages while the other gunman carried out Thomas' execution. Now this? It's crazy. A black man working to change his life for the better won't even see the opportunity to do so. Why? [Possibly] due to his prior association with the Saginaw Sunny Side Gang, again, [possibly]. The whole scenario is unusual, merely because the murder took place in front of a number of witnesses.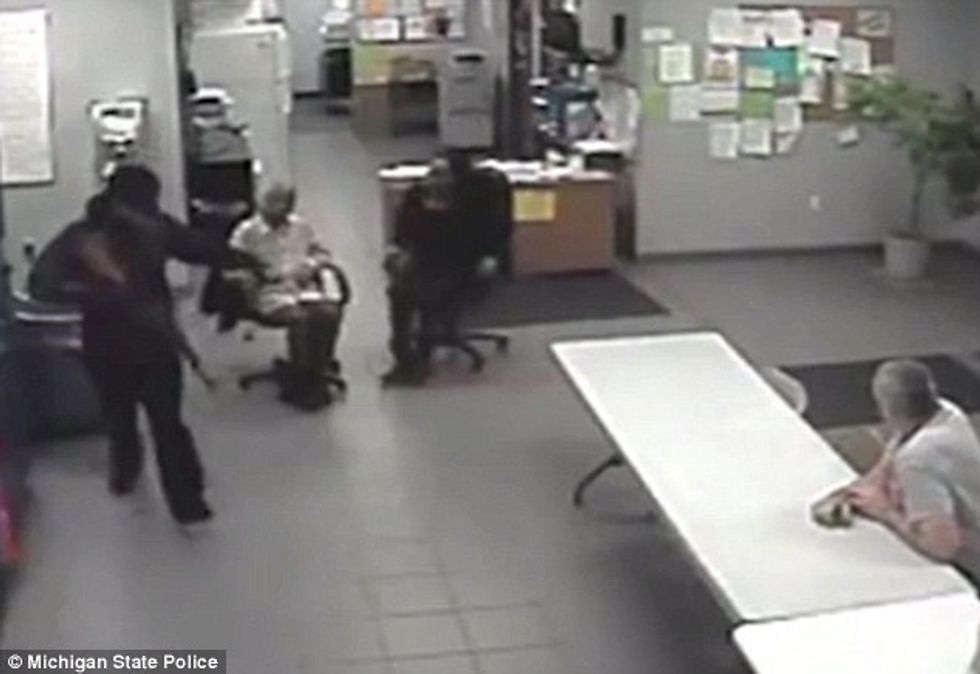 DeMarlon Thomas' full release would have been March 22nd, 2017 and he won't even have the opportunity to see it. Of course, investigators are still looking into the case to identify both gunmen. I mean, why would they stop anyway? LET's GO!
In order to view the surveillance footage released by police, follow this link .