As a continuation of my spring break trip to California, below I'll document the detailed itinerary my friend and I had planned in Los Angeles.
Day 4 (Tuesday, March 20)
For our first morning in LA, we went to Kismet, a Middle-Eastern restaurant on Hollywood Boulevard, in pursuit of devouring a Persian breakfast. One dish that really stood out to me was called Kuku, which was an Iranian egg-based dish. My friend ordered an assortment platter that allowed us to try appetizers. We weren't ready for it to turn into Al's Place multiple-course set adventure #2, but it was a filling breakfast without the daunting factor. The interior decor of the restaurant was simple and charming, with white being the theme color and each table with its own vase of flowers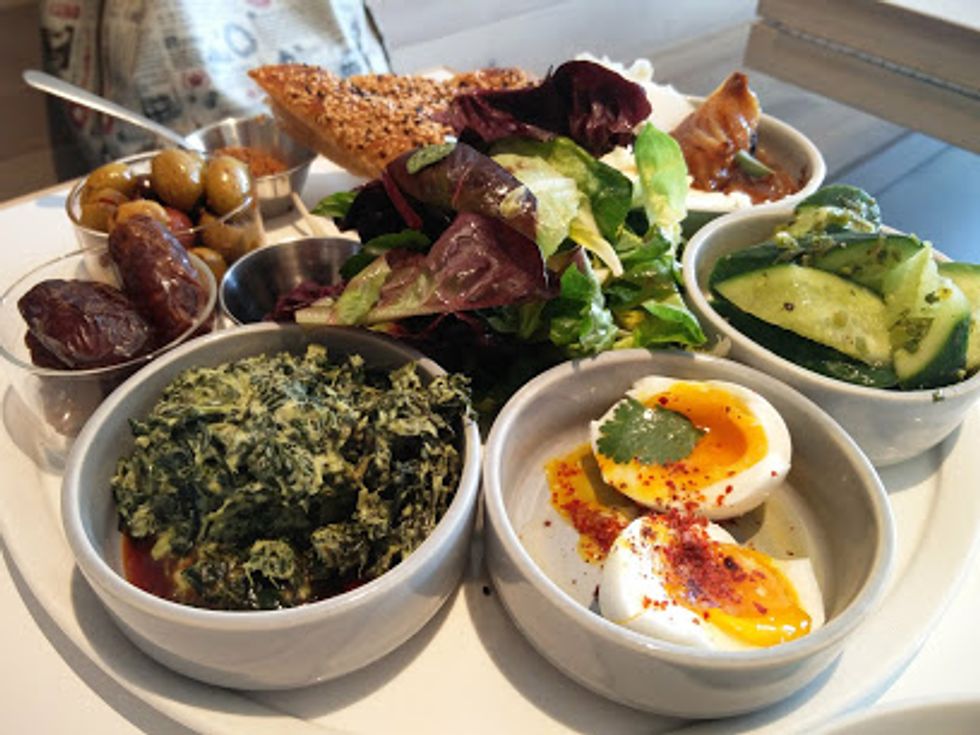 After the hearty breakfast we consumed at Kismet, we took a long walk through Barnsdall Art Park and got our first view of the Hollywood sign in the distance. Our actual destination? A nearby ice cream parlor called Jeni's Splendid Ice Creams. And splendid it was! The workers were also genial to all the customers. It truly seemed as though they genuinely enjoyed working there.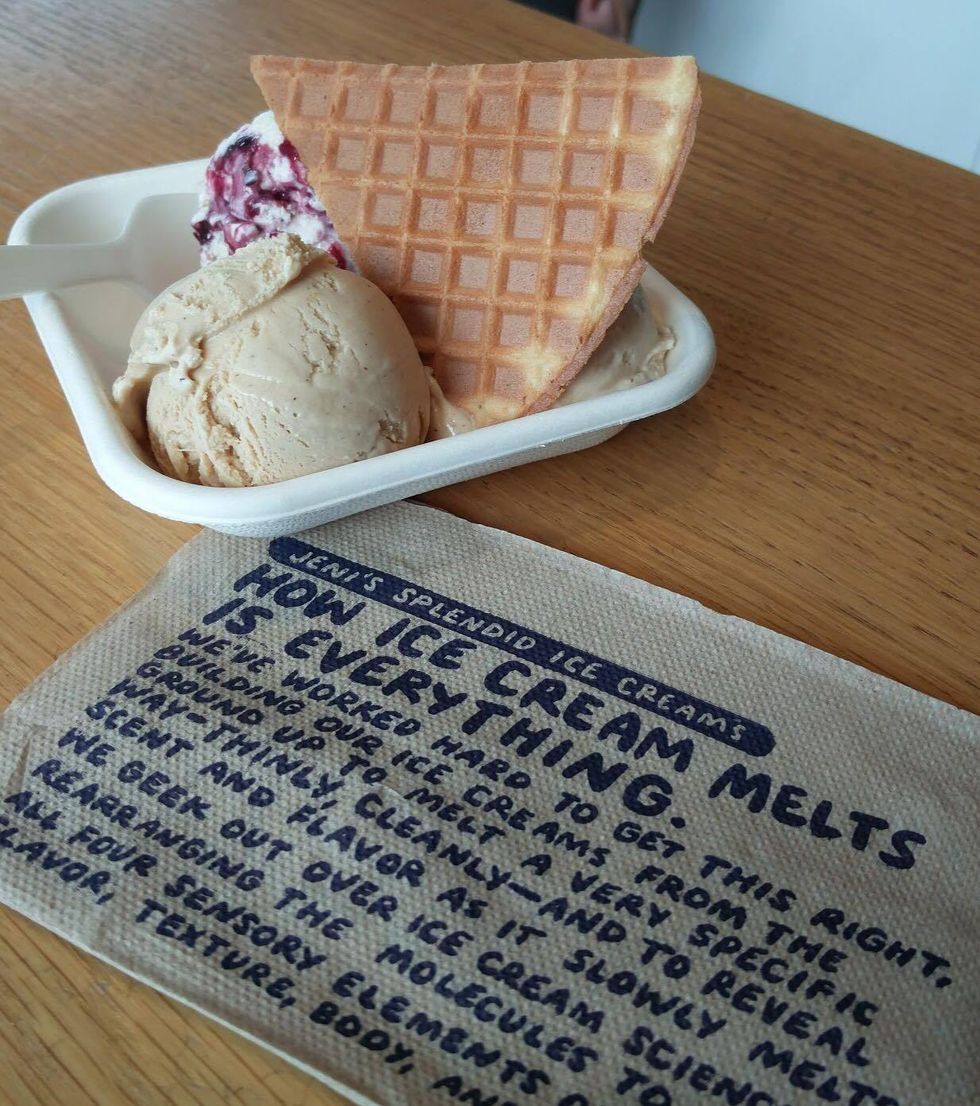 On their napkins, I read an incredibly detailed description of the scientific processes with which they have made their ice cream. The tempting flavor of dark cat espresso was indelibly etched in my memories. When Jeni started her first ice cream store in Ohio, TIME magazine called them "the best (ice cream) in America," but now they have several branches.
After our ice cream venture, we Lyft-ed to Griffith Observatory. The two other Lyft passengers were also going to Griffith Observatory, so it was nice not to have to take a detour. We caught a glimpse of all of the touristy views people get when going to Hollywood from a distance. Neither me and my friends were actually interested in the Walk of Fame, so we didn't physically go near the sign.
I wasn't wow-ed by the museum, but I liked that it was free admission. I thought it was a great place for people who like astronomy and for school field trips. There were facts about the moon, asteroids, comets, seasons, etc. Heck, they had a planetarium and a gigantic telescope as part of the observatory. I mainly went there for the outside views, so making the trip was still worth it in my mind.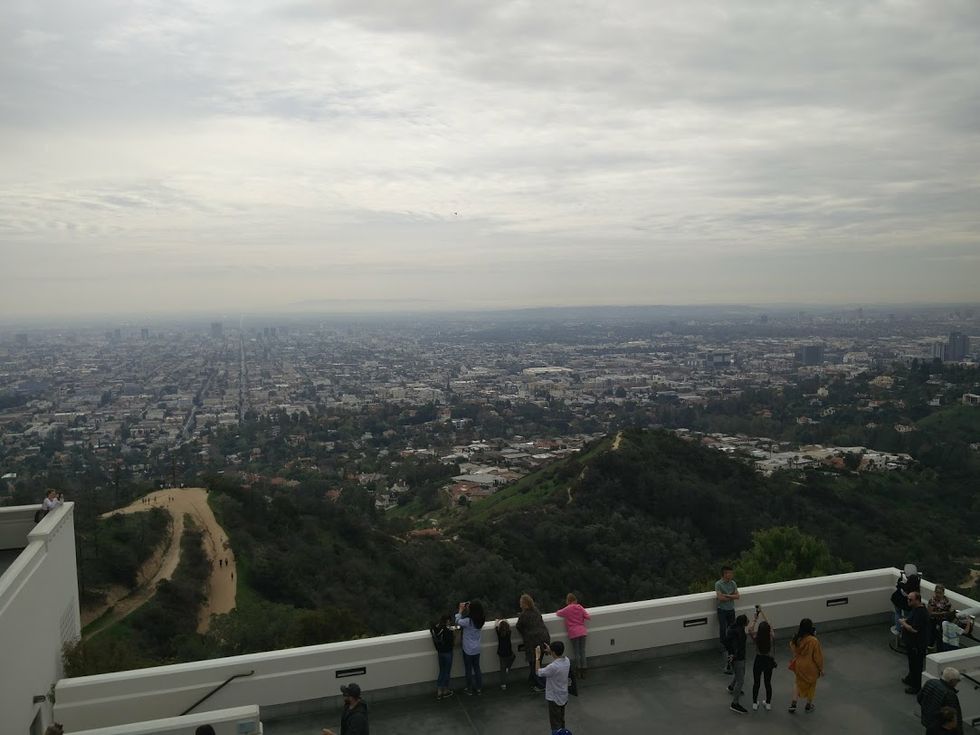 After Griffith's, we hopped on the bus they provided to get back down to the streets and then we Lyft-ed to an independent music store. Our Lyft driver shared with us that he wanted to be a therapist. He was close to our age and one of the more gregarious ones we had encountered, inquiring about our music tastes and goals. Another passenger (also a tourist) joined us for the ride to head to a spontaneous movie premiere with his buddy. I didn't have the Lyft App so I couldn't rate drivers but in my mind, I checked off that this ride was a fun experience because of how interactive the native born LA- driver was.
Finally we arrived at Amoeba, the independent music store. Oh my god. Stepping into there felt like what I'd imagine a chocolate lover would feel in Willy Wonka's Chocolate Factory. I nearly splurged on a record player because I saw Berliner Philharmoniker performing Tchaikovsky Symphony No. 5 on vinyl, and damn, it was painful to not buy it. I held onto it for a good five minutes, just pacing back and forth the aisle thinking over the pros and cons of purchasing it in my mind. My conclusion? One day I will buy a vinyl record player, and when I do, I'll be sure to buy it.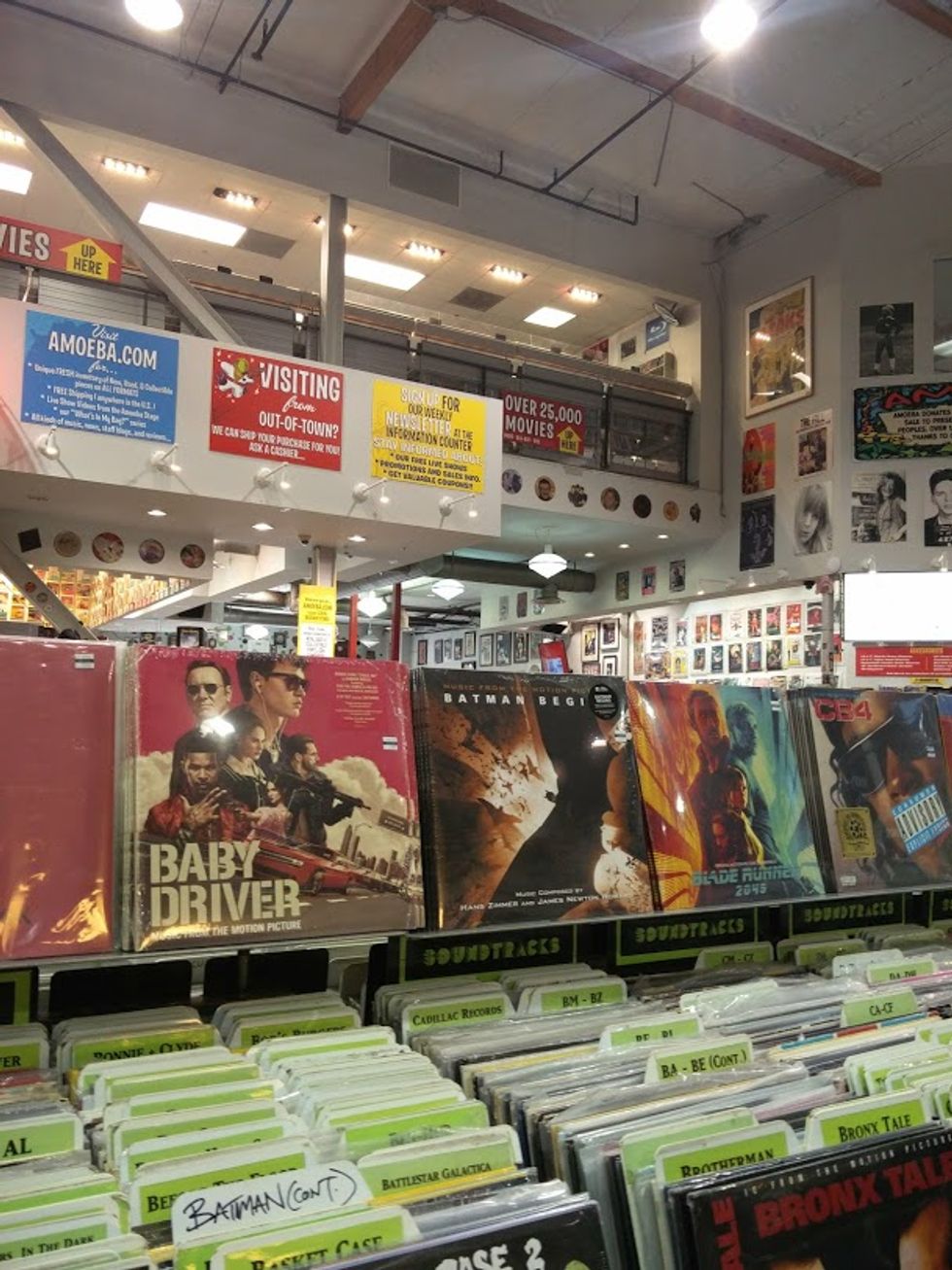 Instead, I left with other treasures, including a Broadway Les Miserables original soundtrack 3-CD album that's out of print. My friend was able to find several CD's, including some rare David Bowie ones. Pretty sure we could've spent more time there, but then we'd never get out without spending more than we intended to..
After this, we went to Grand Central Market for dinner. I ordered "Vietnamese green curry with rice" at Sticky Rice's food stall. It was not up to par with rave reviews, but it's likely because I picked the wrong dish to try. My friend also ordered salvadorian pupusas from another stall (a food place made famous by La La Land). It reminded me much of quesadilla. And one can never have enough cheese, as my turophile friend would say. To cap off the evening, we enjoyed (drumroll, please..) ice cream!

I chose a pistachio and whiskey flavor. It was an interesting blend, and I liked being able to eat it while walking around. In spite of the extra price of buying the cone, the freedom of having ice cream in the cone in one hand and my other hand free was worth it!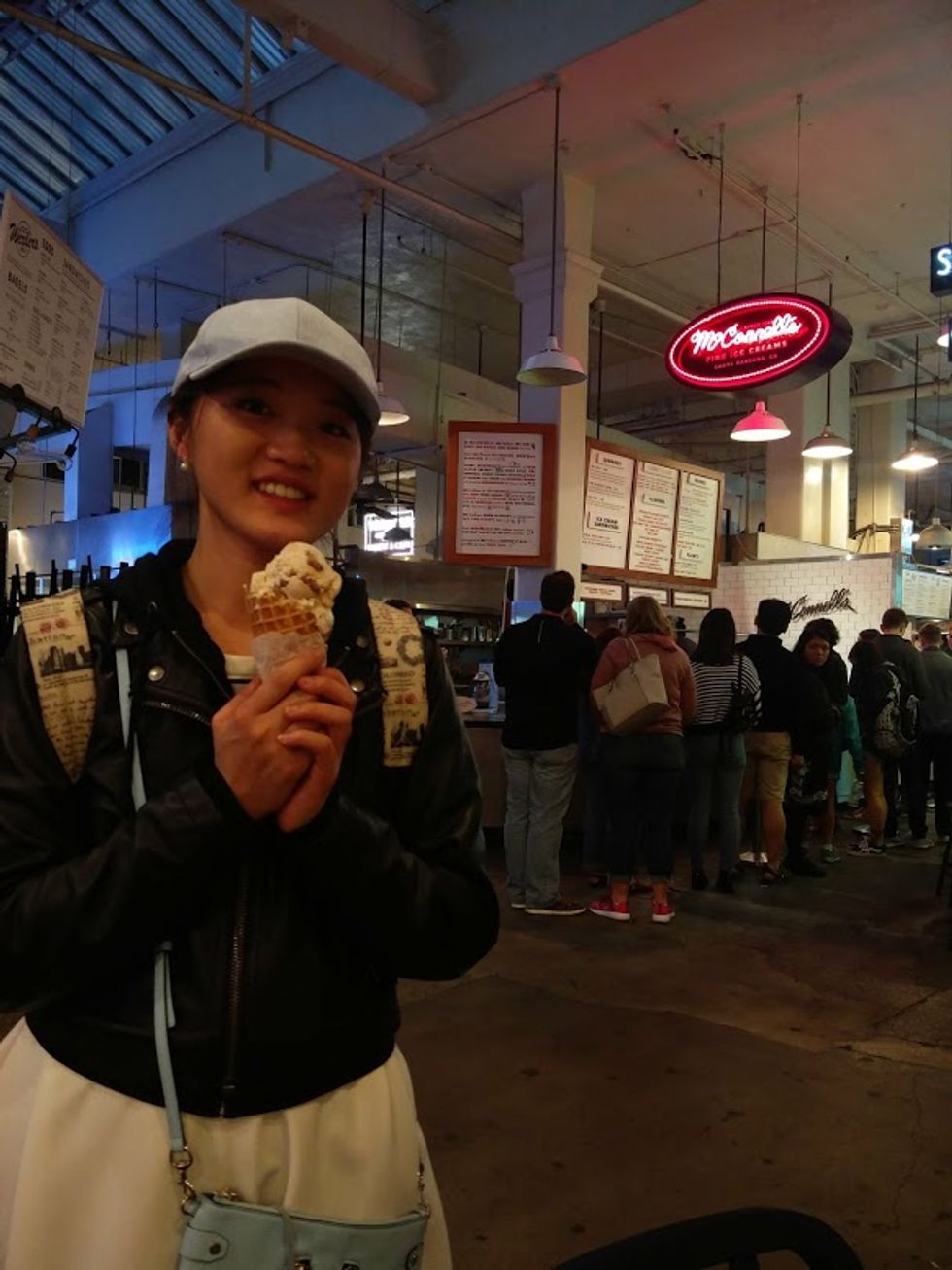 We embarked on a short trip to the Last Bookstore. There, I gleefully purchased a book on Simon Rattle (just because) and a book of poetry by Yrsa Daley-Ward. "Bones" is the first poetry book I've ever purchased, and I hope to read it soon.
We then walked to the Walt Disney Concert Hall for the 8pm recital we booked. The program was partially esoteric--mainly it consisted of works by Bartok and Schubert. We sat in the back of the concert hall, which is the section in which audience members don't quite adhere to concert etiquette. Unfortunately, as a veteran concert goer, I did not enjoy that part of the program. From where we were sitting, I wasn't able to enjoy the acoustics as I did in Stern Auditorium in Carnegie Hall. However, we were still able to delight in pleasing melodies. Schubert's Piano Trio no. 1 in B-flat major was performed with finesse and grace. Bartok was performed by an energetic violin duo that played short programmatic selections, which my friend enjoyed.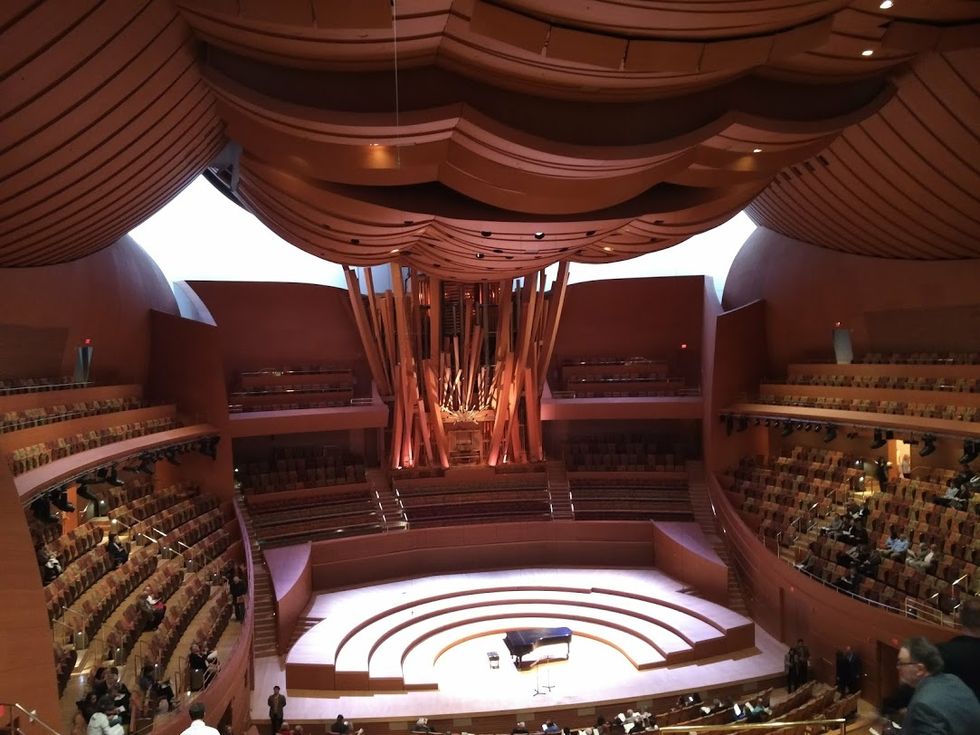 We were not able to see a full orchestra perform that night because of our scheduling; nevertheless, I'm glad I was able to visit the concert hall. It was as spacious and aesthetically-appealing as I had imagined.
My favorite moment there? The pianist for Schubert's Shepherd on the Rock accidentally slammed the keys before the start of his performance, and then, he said, "Good, it's working." Smoothest comeback ever. So, if you ever think classical musicians are somber and serious, think again. Also, I'm guessing the concert hall is well-funded. They have the largest playbill I've ever seen. Usually playbills for orchestra concerts and Broadway shows are not the size of a magazine!

Post-concert, we originally intended to visit Perch, a posh rooftop bar in downtown LA, to enjoy some cocktails overlooking the night view. But then I opted to try more Irish coffee. Casey's Irish Bar wasn't a landmark site for Irish coffee like Buena Vista was, but who am I to be a snob about this? So, drink I did--though the fashion in which I consumed it was more similar to gulping it since I was quite tired, this being day four of our trip.
Day 5 (Thursday, March 21)
It started as a rainy day, but this was fine, because most of our activities were meant to be indoors anyways. We also rented a car today, with my trusty friend behind the wheel. Quickly, we discovered that LA drivers consider rain to be akin to snow. Due to the rain, they drove on the road with such trepidation that it was difficult for us to fathom how they felt. That aside, we enjoyed warm griddle cakes (similar to pancakes) of different flavors: pink lady apple, banana, chocolate, and blueberry (two different cake flavors for $8). Man, were those amazing.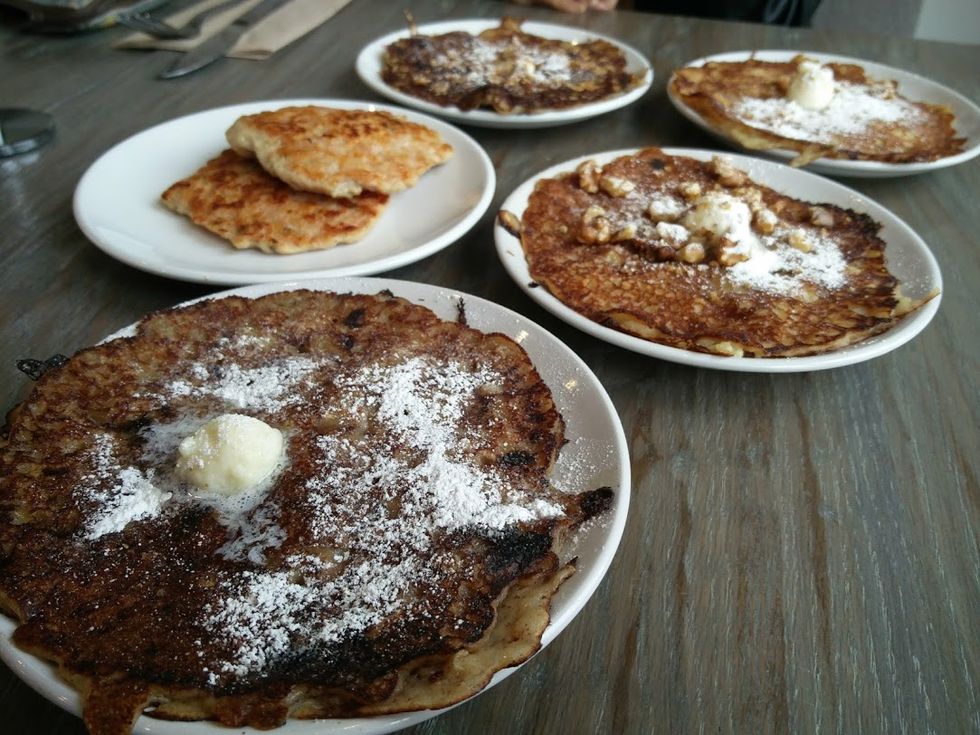 I never finish my full-size pancakes, but these were just the right size. Pink lady apple was a suggestion made by the worker, and it was our favorite! Cinnamon-y and flavorful.
My friend wanted to taste a burger from In-N-Out Burger. Because it's a spot that people talk about as a must-try, we parked in the back lot, and she ran indoors to procure her burger and fries. Meanwhile, countless cars were in the take-out line just to showcase their popularity further. Shortly following the burger excursion, we went to try Diddy Riese's ice cream. This was a college campus favorite spot, so I thought it would be quite crowded but there was a line when I walked in. I got Rocky Road ice cream (I know, a boring flavor) while my friend tried out a Chocolate Chip Walnut cookie paired with Vanilla Bean ice cream.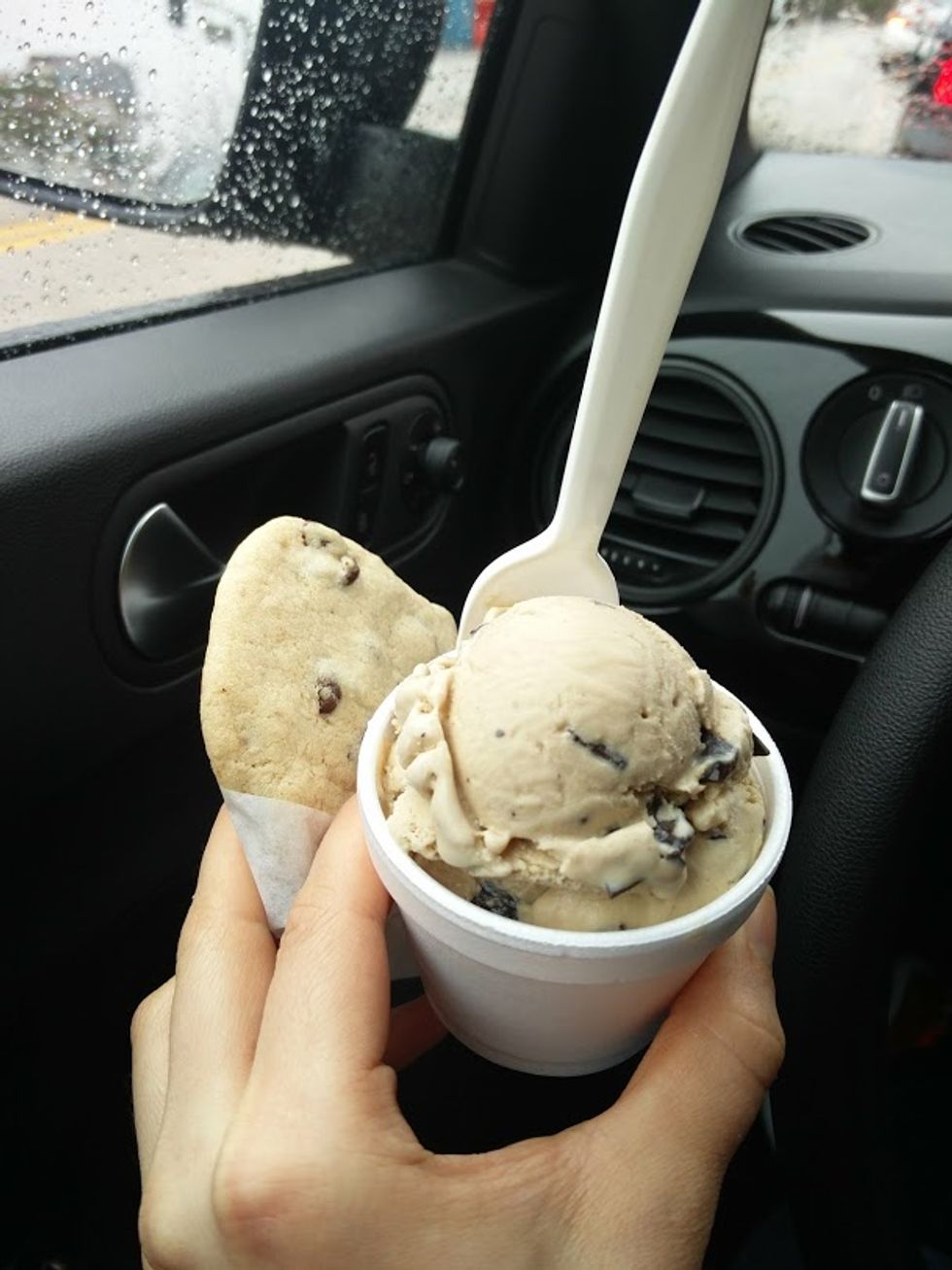 Next stop: Hammer Museum, a progressive art museum. It was free with a parking cost of $10. There was an eery prison simulation in the exhibition as well as artifacts, an automatic piano, and an enchanting sunset display. The sunset one reminded me of Whitney Art Museum's Dreamscape, since it engaged both our visual and auditory senses.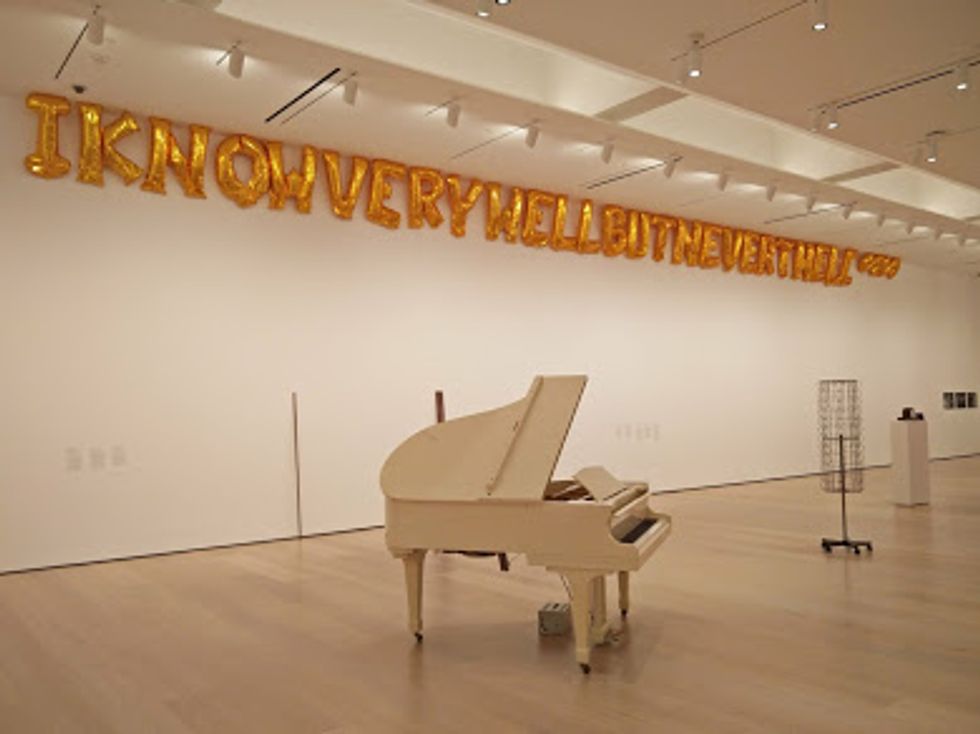 Most notably, the entrance of the exhibition already gave a teaser of the talents that the museum boasted. A Los Angeles-based artist named Sam Falls traveled all of the national forests in California and took it upon himself to create an ethereal panorama imagery of the varying flora and terrain based on what he studied. In between walking through the exhibit, we enjoyed respite sitting in the spun chairs provided in the courtyard.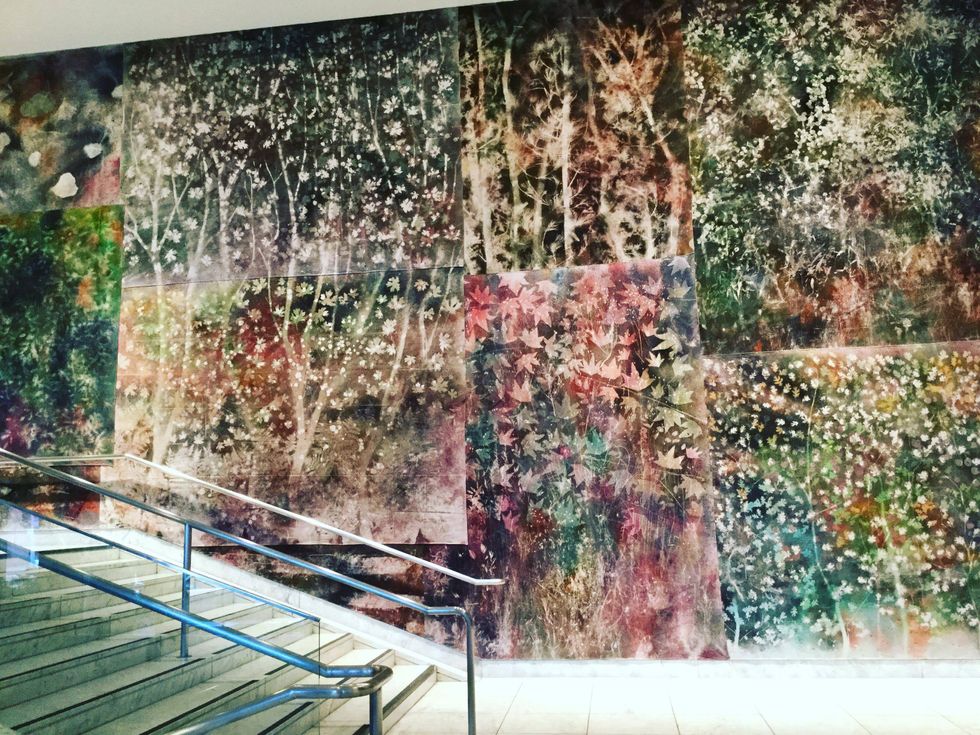 To continue down the list of indoor activities we attended to for the day, we went to the Getty Museum next. We had to forgo visiting the Getty Villa because the Getty Center was cooler than we expected, and a friend told me it was a must-see! This museum is also free of charge, albeit the parking fee of $15. Inside, we gazed upon Marie Antoinette's furniture, Michaelangelo's sketches, Degas's paintings, and Van Gogh's paintings. Due to sharing the name Iris, I had been familiar with his painting, Irises, for decades. It was weird to see how small it was in person in comparison to the size of the print my mom had purchased years ago.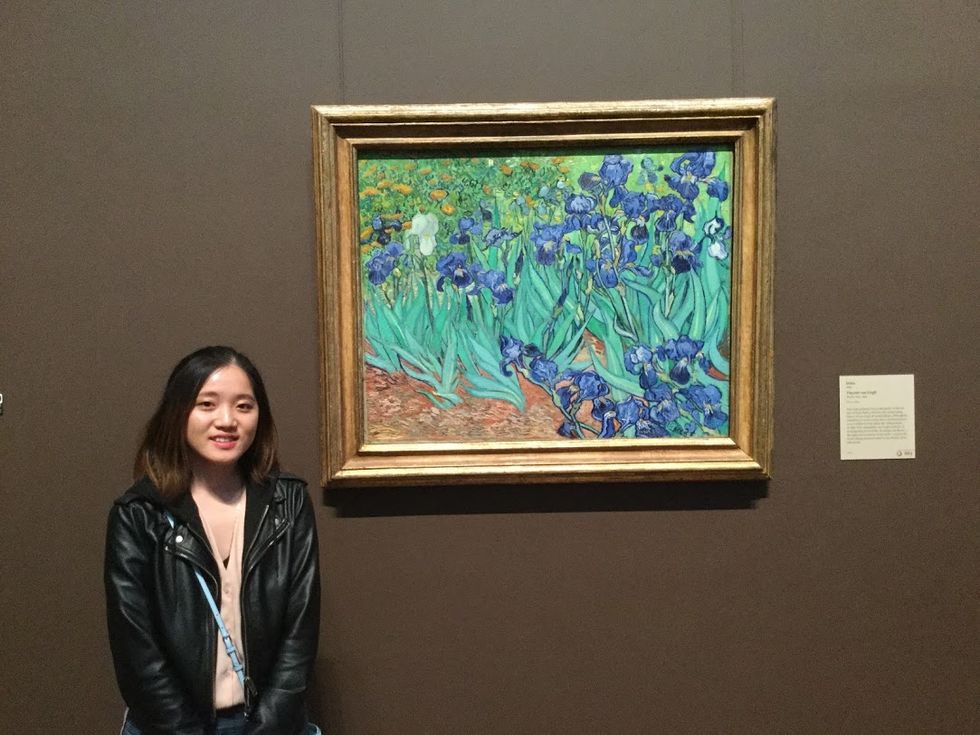 Fun fact: I saw this original painting exactly 28 years after the museum announced its purchase. Yep, March 21, 1990. The coincidence is uncanny. I didn't expect to see this painting during my initial research, but it's easily one of the most famous paintings the museum is known for.
I'm not one to browse art museums, I'll admit, but they even had Greek and Roman sculptures to pique my interest. A painting of a musicians' brawl in painting and someone yawning---yes! One of the security guards jovially pointed out the ceiling that my friend and I almost missed, and we saw a painting of musicians adorned the ceiling. There were so many artworks; I'm sure one could spend a whole day there. That museum also had a lovely patio and majestic courtyard garden.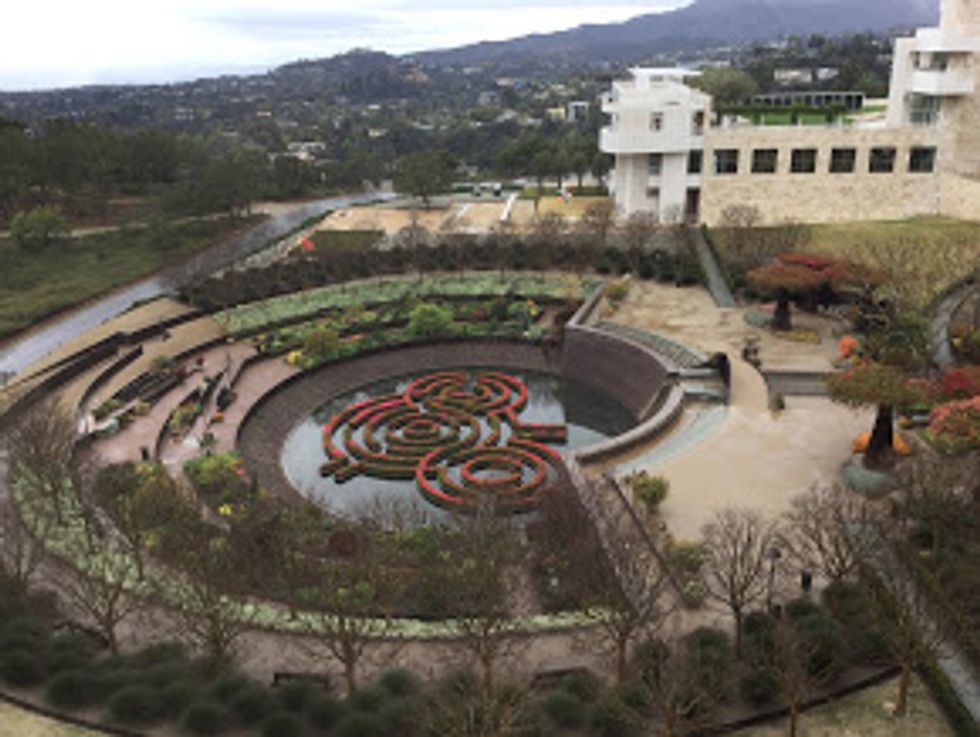 Taking the shuttle train up to the Getty Center was an experience in itself. The docent in the fine arts room shared her knowledge and said it was only the third time on a Wednesday that it has rained. Again, the talk of rain came up. But I was glad to see that such a cultural place was still filled with curious tourists and visitors. Architecturally, the museum itself was a beautiful space to present the artworks that it did.
By late afternoon/early evening, we were rather famished, so we drove toward Gjusta's food hall, which was another gem my friend had researched. I bought bread pudding and a mushroom porridge concoction, both of which tasted scrumptious, but unfortunately, the cost came out to a total of $31. It was pricey, but I can still afford that price for satisfying nourishment. There was a little something for everyone in the unassuming hole-in-the-wall place.
Another advantage of the food hall was that it was a close drive to the Palisades Park, which was our subsequent stop. We especially loved the name of the park, because it reminded us of the Palisades Park in New Jersey. It's like the name plates played switcheroo. That's where we tried to catch a view of the sunset. Unfortunately, we could not because it was cloudy.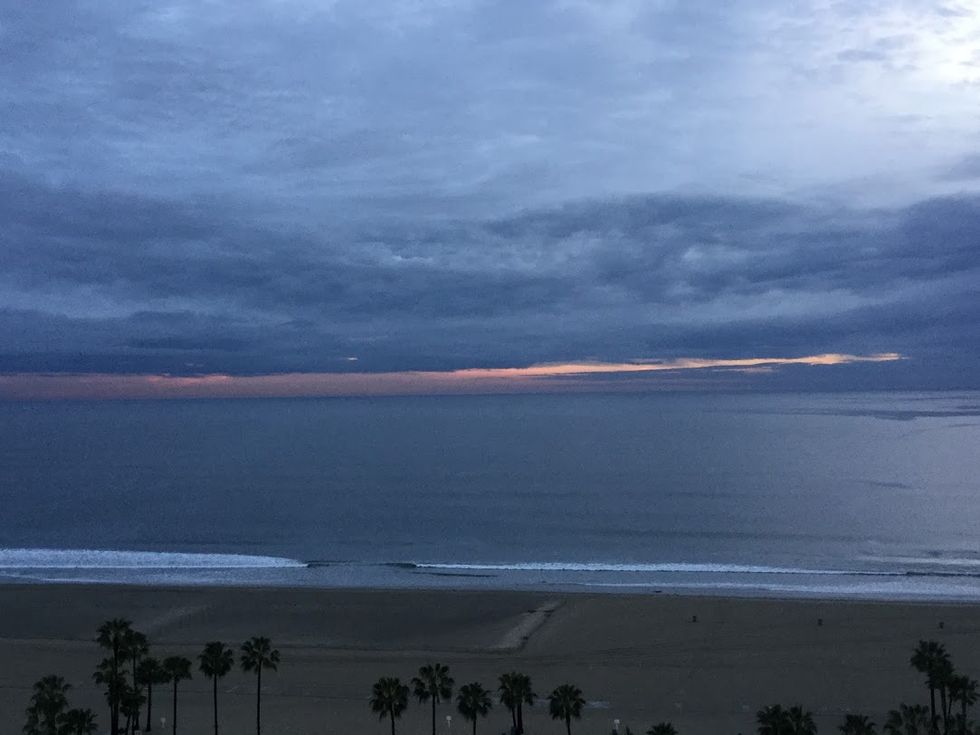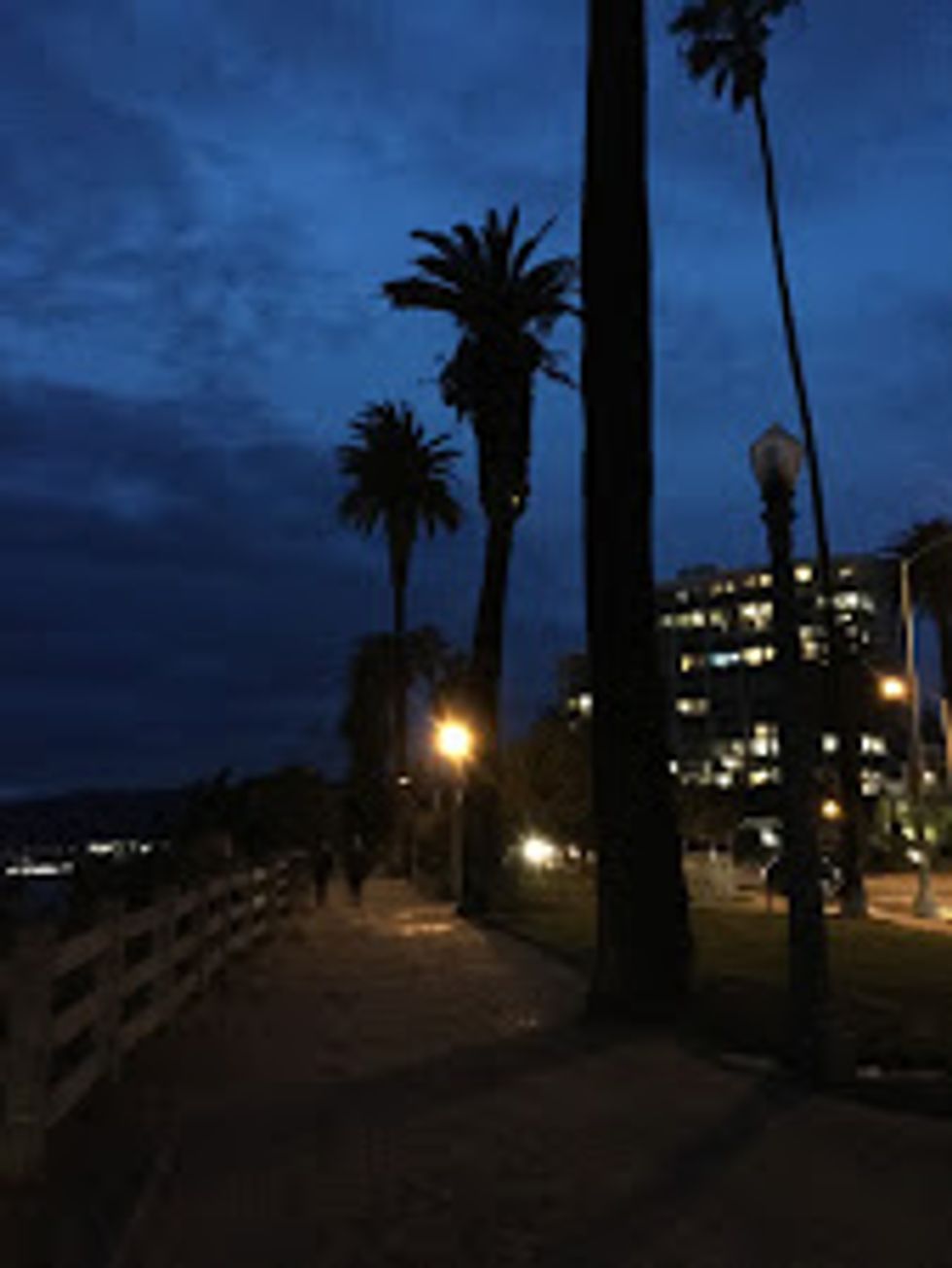 We watched as the waves ebbed and flowed by the beach. Also, kudos to the lady we saw who crossed the street in headphones on a skateboard with an ice cream cone in her hand. She didn't miss a beat when she got to the sidewalk either... That's a California girl for you! Truly cool.
After our sunset excursion, my friend felt tired, but I perked up and was suddenly ravenous. In hindsight, it was perhaps because I didn't eat anything besides ice cream for lunch. We decided travel to Koreatown to quell my hunger. It was a good plan, but as the parking in LA is horrible as purported, it took a long 20 minutes just to find parking. We realized LA resembled Manhattan in many aspects. LA's Koreatown on a Wednesday, for instance. Well, you would've thought it was the weekend because it was jam-packed. People were still having hotpot and enjoying spicy foods, and it was nearly midnight. The endless amounts of stamina and hunger. Maybe if I lived there, I'd understand too.
Anyways, we went to 85°C Bakery Cafe. I told my friend it was a must-go spot. My Taiwanese confections, oh how I've longed for them. I purchased a chocolate bun and egg custard tart as well as garlic bread. All of the treats tasted savory, just like how I anticipated. Yum. My friend bought a squid ink bun, which she seemed to enjoy, but what a peculiar flavor that was. I don't even remember seeing that while I was in Taiwan, so I'm wondering if that's a new flavor. We went to get tteokbokki (rice cakes) at a Korean restaurant. The spice level was only a 2 out of 5. However, they were generous with the banchan (side dishes), and I don't mind not having to drink liters of water to quell the fire in my mouth.
The spicy food fueled my craving for sweets, so we went to a charmingly unassuming Korean tea cafe that was open until midnight. I ordered an aromatic apricot seed tea plus a serving of patbingsu. With freshly cut watermleon and honeydew melon flavored ice cream, we were able to consume a healthy balance of fruits and ice cream! Hah.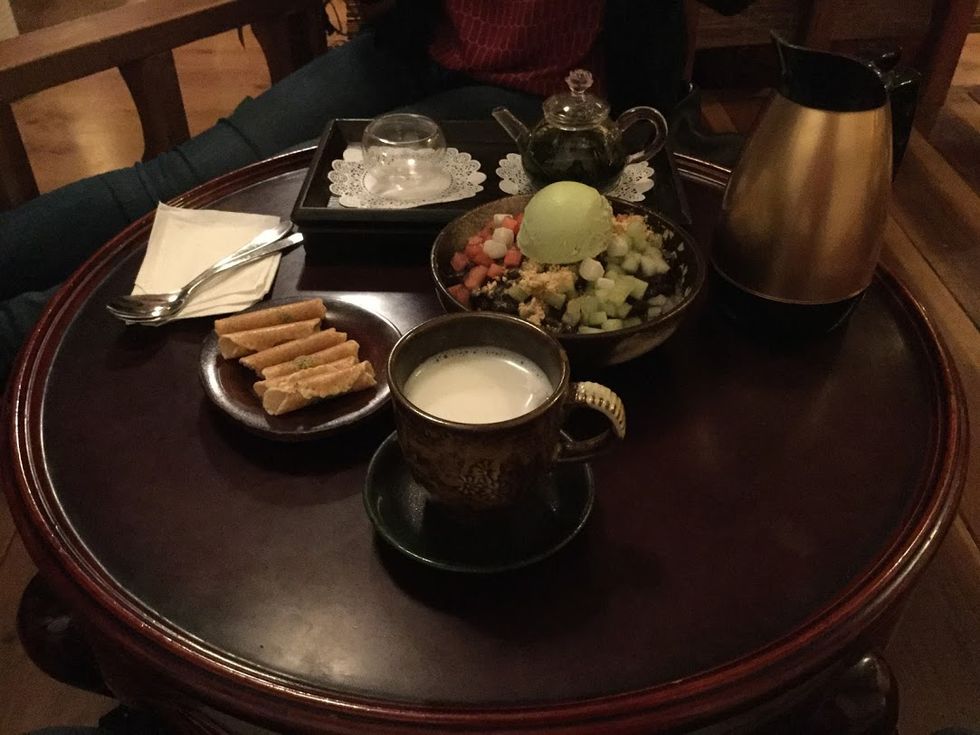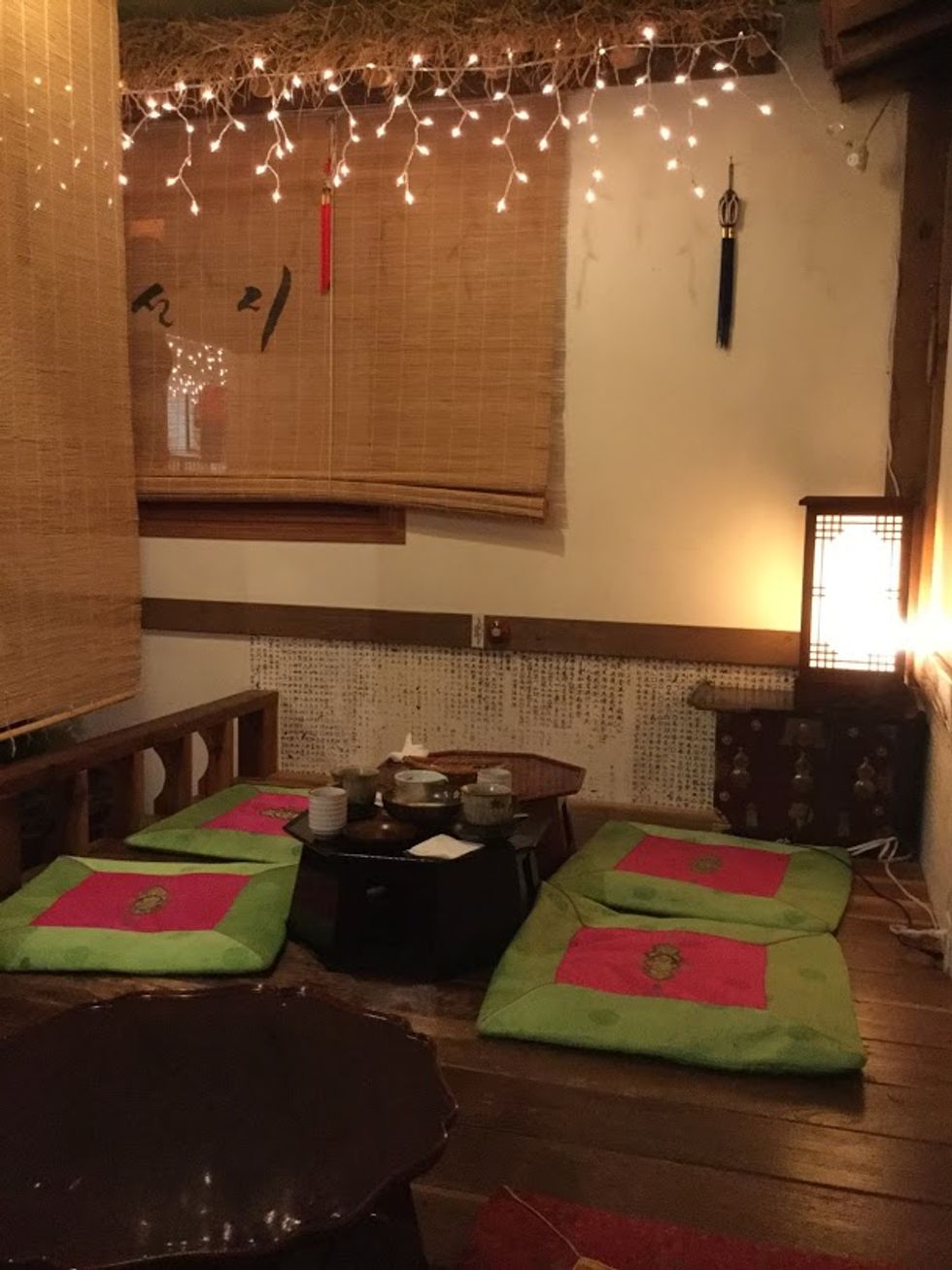 I don't regret any of it. Most of all, I appreciated the calming atmosphere of this cafe! We took off our shoes before entering, and there were shutters that provided a barrier between each table setup. There was a discrete call bell that we could ring if we needed to talk to the waiter. It was a soothing way to wind down after the five days.
When we returned to our Airbnb, which was a cute cozy apartment, we were both glad that we didn't have to plan much for the next day. We basically just packed our stuff and agreed on what time to wake up and where to eat for breakfast.
Final Day (Thursday March 22) and Reflection
The place we researched, which was called Sqirl, didn't open their breakfast menu until 8 am, so we went there to find that they offered only cafe food items at 7 am. I got my matcha fix though (with honey as an ingredient, I'm stealing that idea) and also a chocolate cake. Both tasted homey and decadent---and I regret nothing.

On the way to the airport, we had trouble figuring out how to open the gas tank door for our rental car, which was a Volkswagen Beetle. It wasn't our proudest moment but note to self: It always pays to contact a live customer representative! We called customer service about it, and because they were not able to help us out, they waived the gas fee, so we were not charged for not being able to refill the tank.
Finally, we sat in silence at the departure gate. We were tired as we recollected our thoughts about the trip. I'd like to think I matured a little more after the trip. Right before the trip, I didn't have the experience of traveling with a friend. Would I hate it? Would I love it? I learned more about myself and my friend, who I enjoyed spending time with.
Spending time with someone is much different from living with someone. I realized we operated on different wavelengths in terms of speed and keeping to the schedule. If I didn't have her, I don't think my plans would've been as well coordinated. But because of her, we were able to visit as many places as we did. I also relied on her a lot because I didn't have a smartphone. Being able to use the Lyft app and Google Maps was essential. Plus, she was an awesome photographer!
After taking the air train back, we parted ways on the subway. She gave me a big hug, and we both knew we would be fine without seeing each other for awhile, but that we took a step forward in deepening our friendship. Spending six whole days together and through our tired smiles, we knew that we wouldn't have done it any other way. I'm genuinely excited for our next adventure together.
I'm used to doing a lot of things alone, but I've come to realize partnership in travel comes in handy. You have someone who has your back and can be the co-pilot when you're having trouble navigating. And wherever we will go, it's fun because of the company we found in each other. It's even more awesome to have such a unique shared memory. Because next time I hear "Feel It Still" from Portugal.The Man, "Swim" from Jack's Mannequin, or "Broken" from Lovelytheband, it'll remind me of that time we went to California like the adventurous explorers we are! The surreal experience of it all is a memory I'll keep for years to come. And I know I'll visit California again someday.