I'm recounting a trip I took with one of my best friends this past week because people were asking about our itinerary, and there's a myriad of details to cover. I hope you find this useful if you're planning a short trip to California or even if you want to vicariously take the trip through our lens!
I read up on some pointers that Tuesday and Wednesday flights would be cheaper, but we set out on a Saturday to fulfill her spring break schedule. She was able to procure flight tickets for us via Citi ThankYou® Points, which covered most of the costs. Somehow, the reservation didn't book all of our seats together, but the counter agent was able to accommodate our seating preference each time. To note, we booked these tickets five weeks before our flight. Due to our limited travel period of five days, we created a Google Doc on which we planned our itinerary. Up until the morning of our travel and before each day, we brainstormed and reviewed the schedule to see which locations were feasible, the order of activities, transportation, and so on and so forth. Flexibility was key to figuring out where to go. The places that we found were from a mix of internet research and suggestions from friends and strangers, so we have many people to thank! (Please note: Day 1- Day 3 is a recap of San Francisco, while Day 4- Day 5 will be included with a recap of Los Angeles with a reflection of the overall trip.)

Day 1 (Saturday, March 17)
We met up at the Port Authority Bus Terminal and took the air train to JFK International Airport (after taking the E train to Jamaica Boulevard). I initially only knew of a shuttle bus that takes people from the bus terminal to the JFK International Airport, which costs $15 one-way. But the one-way cost of using the air train is $5 with an additional $1 for the card. Even after you factor in the MetroCard costs, the total round trip cost of using a shuttle bus is double the price at $30 while the total cost of using the air train is merely $16.50.
On the way to San Francisco, we took JetBlue for a smooth 6 hour flight. On-board, they did not offer ear plugs for free, but both my friend and I carried our earphones with us, so we were prepared.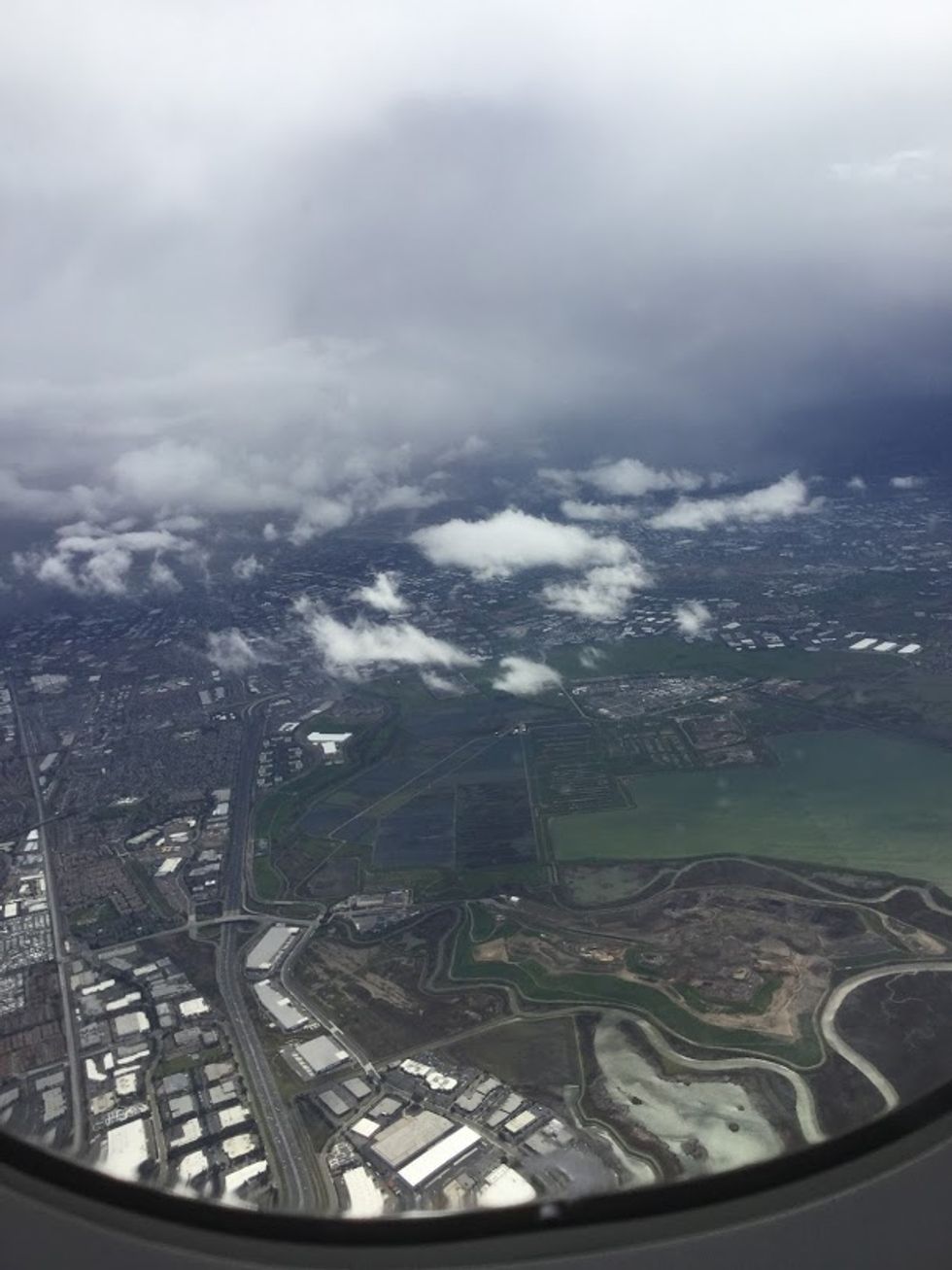 We landed in SF at 2pm and Lyft-ed to our Airbnb. On the way, we chatted with a stranger who lived in San Jose who was friendly and told us to check out the City Lights Bookstore. After settling our bags at our Airbnb (which was very close to the Golden Gate Park), we Lyft-ed to our next location: Mission District.

My friend is a major foodie and looked out for my vegetarian diet, so this stellar restaurant she mentioned from Bon Apetit was called Al's Place. Supposedly, people book reservations months in advance, but they also allow walk-ins, depending on availability. We walked around the town to observe the murals and window-shop some dessert stores, and then we stopped back closer to the dinner opening time.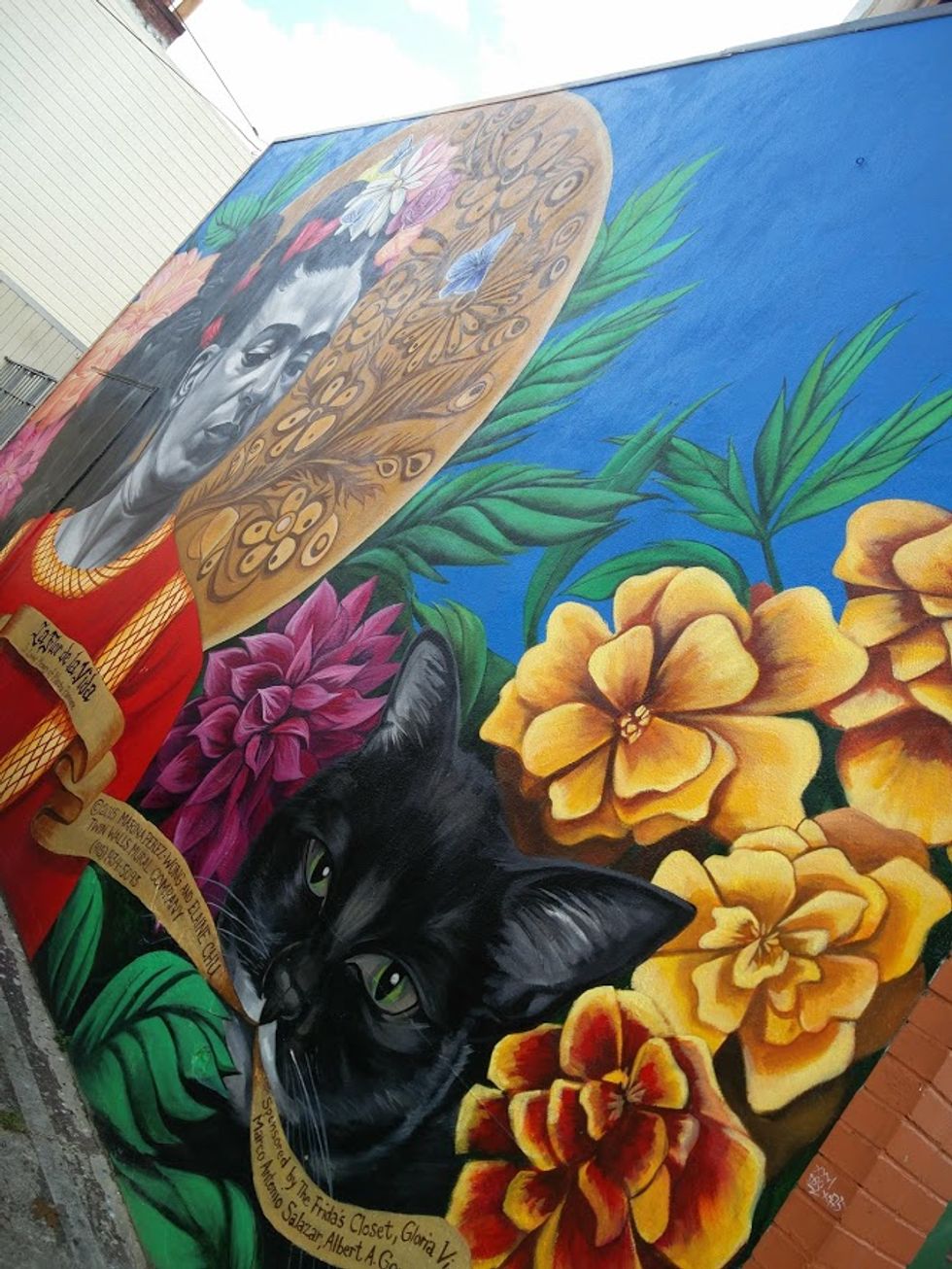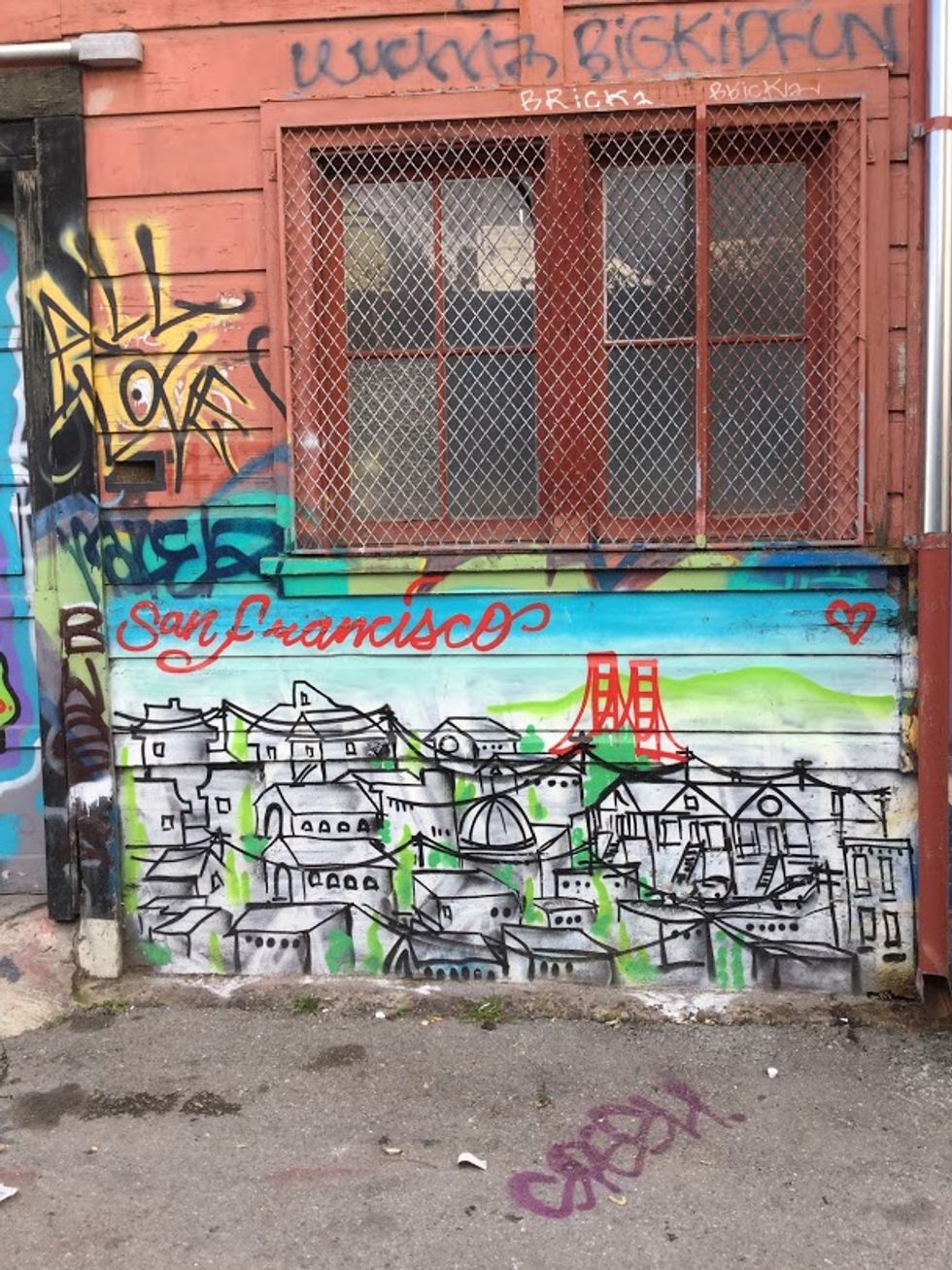 After we got our name in the queue, we were only in line for about 10-15 minutes before we were invited inside. This restaurant apparently boasts a jammin' playlist too; I recall the table next to us asking for their Spotify playlist. I heard some Michael Jackson and other funky beats, but I couldn't make out much of other music because I was more engrossed in the food. Below are a few pictures of the feast we had: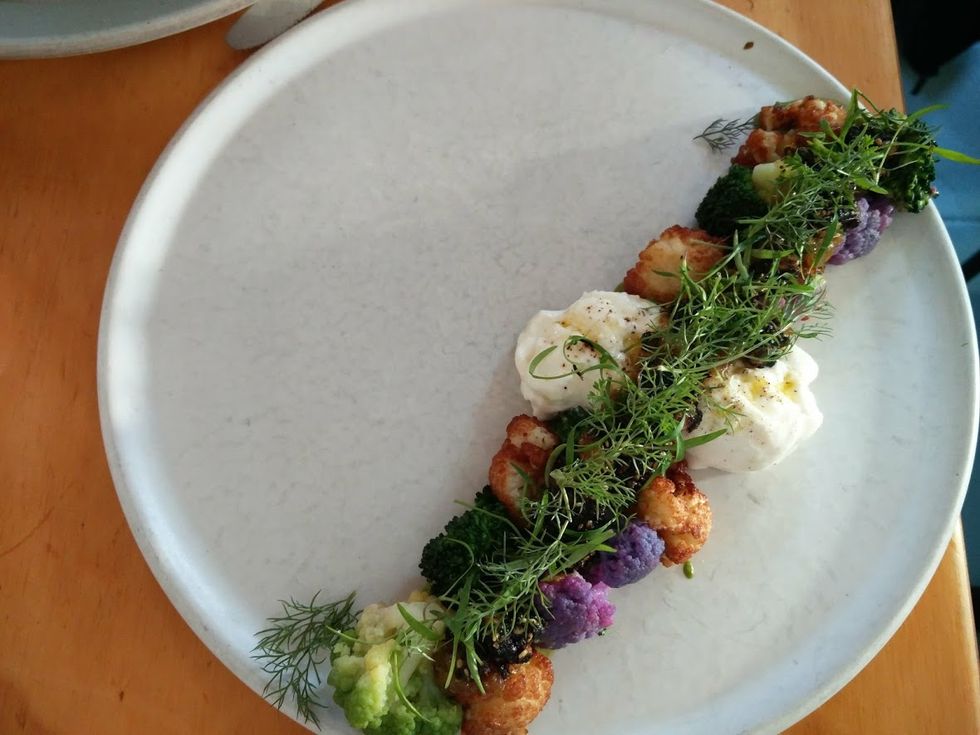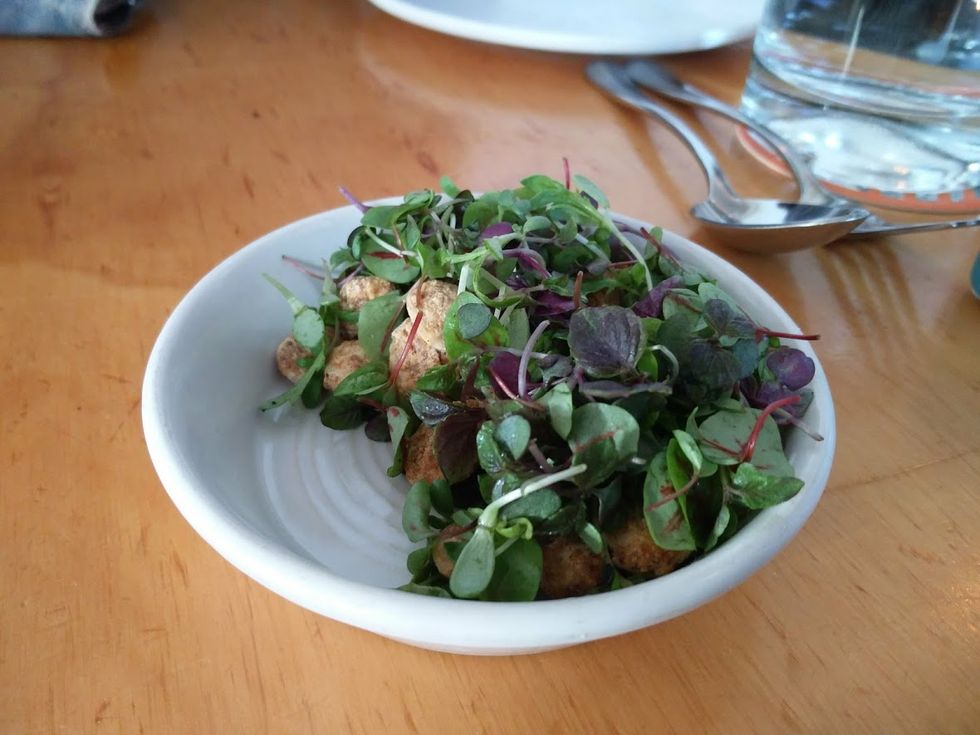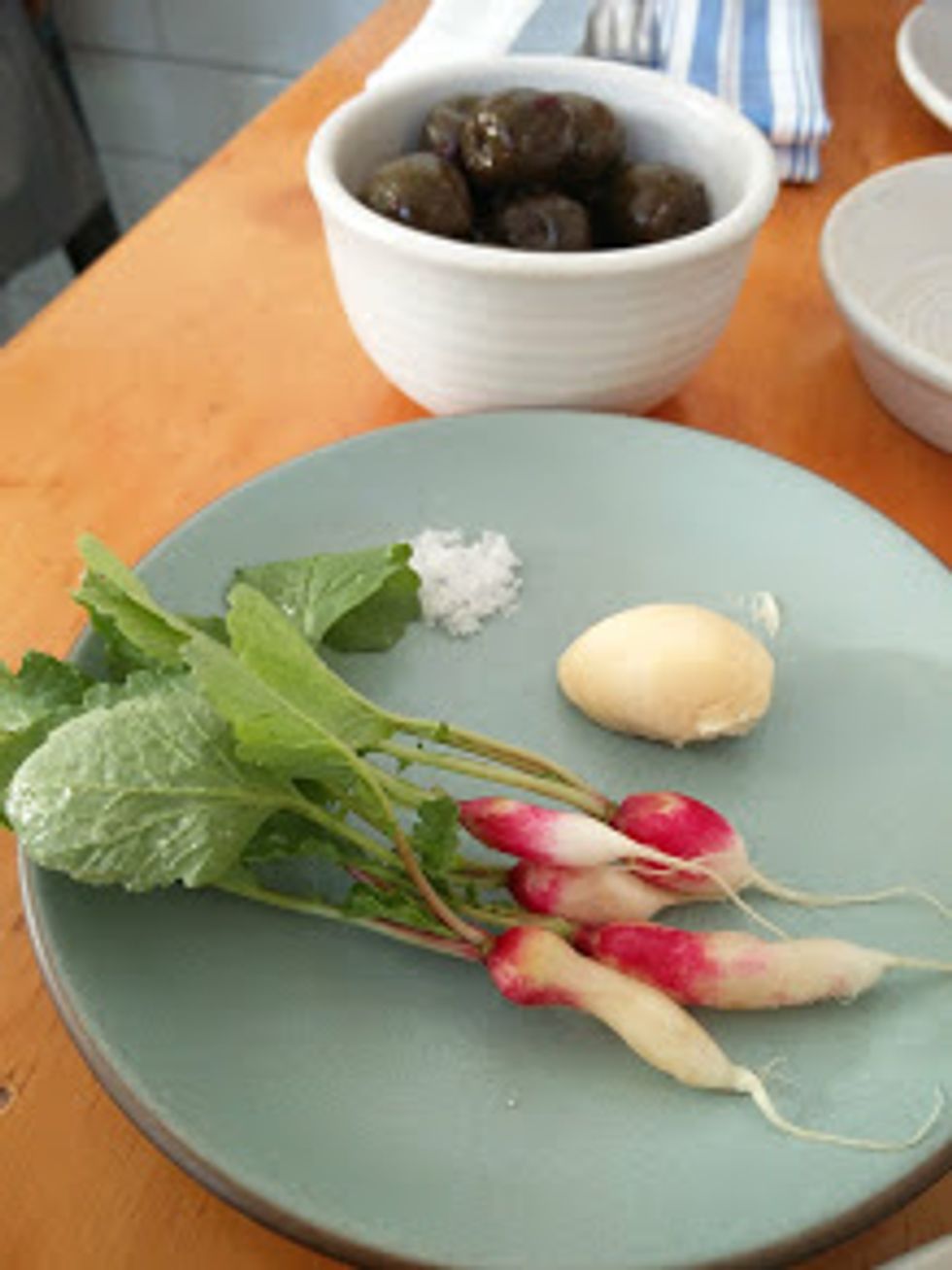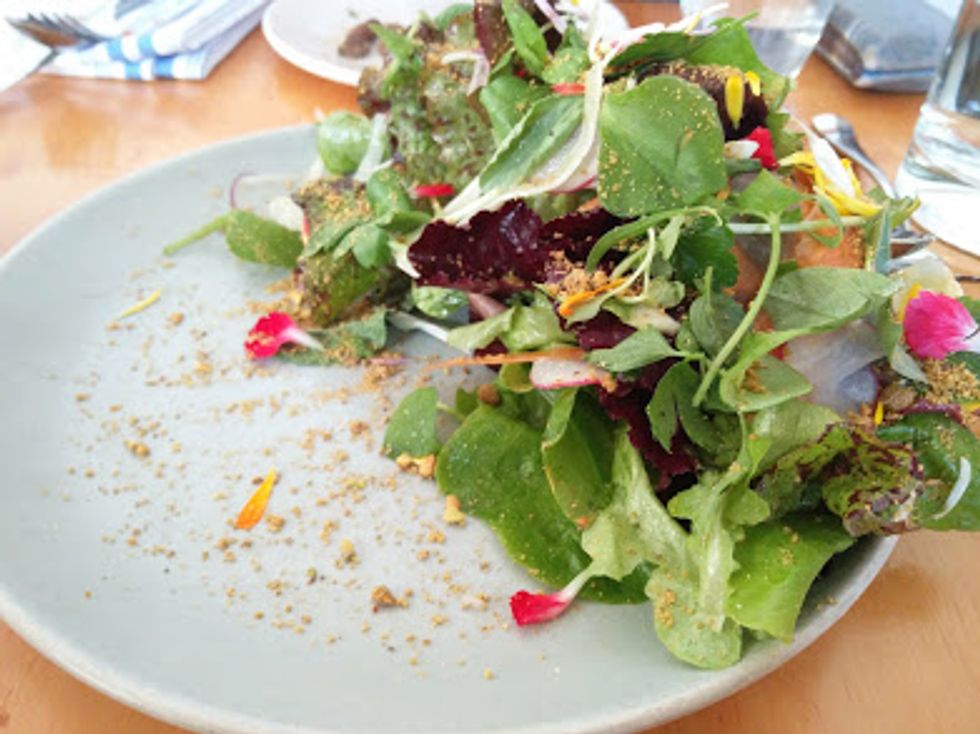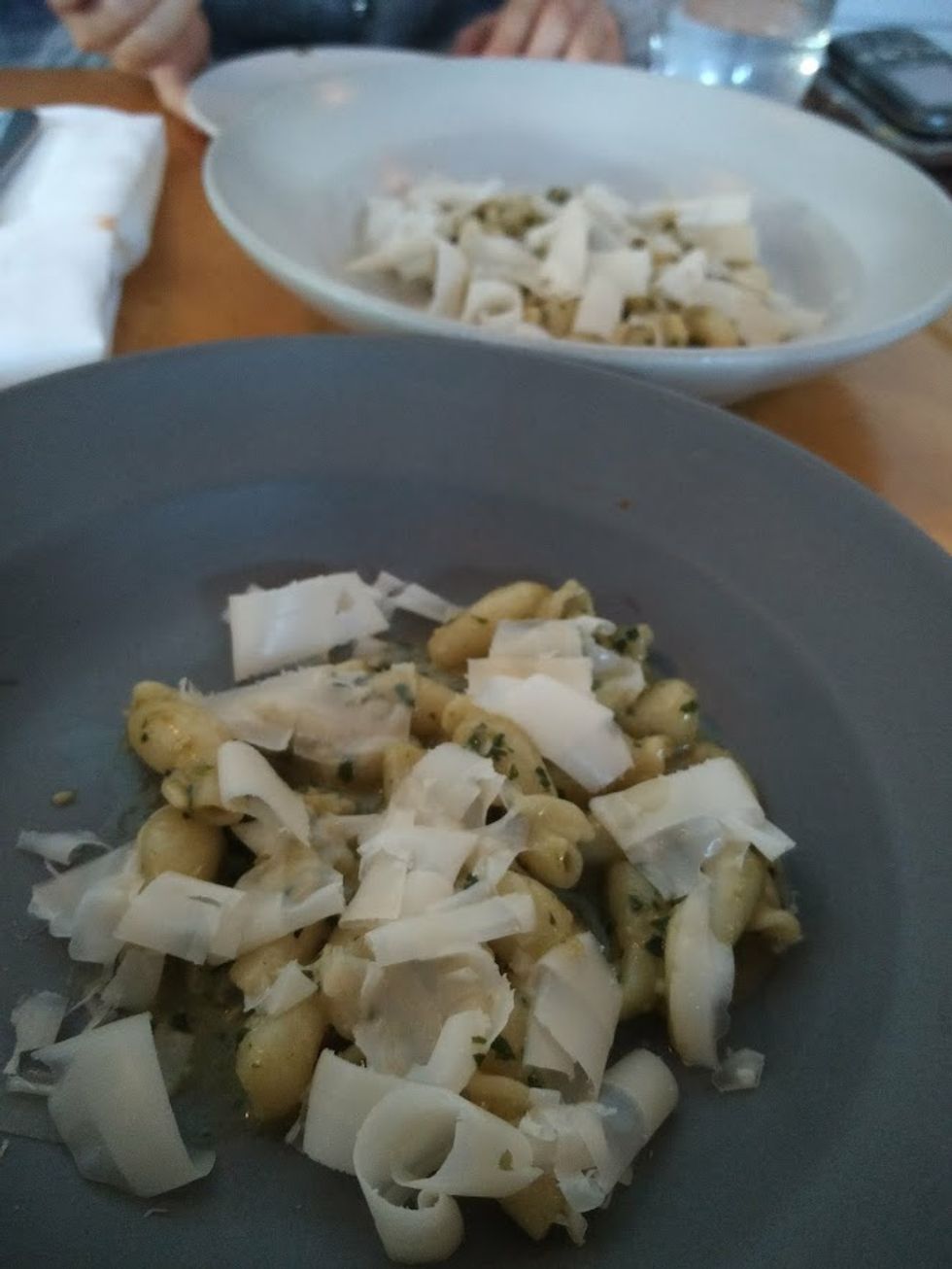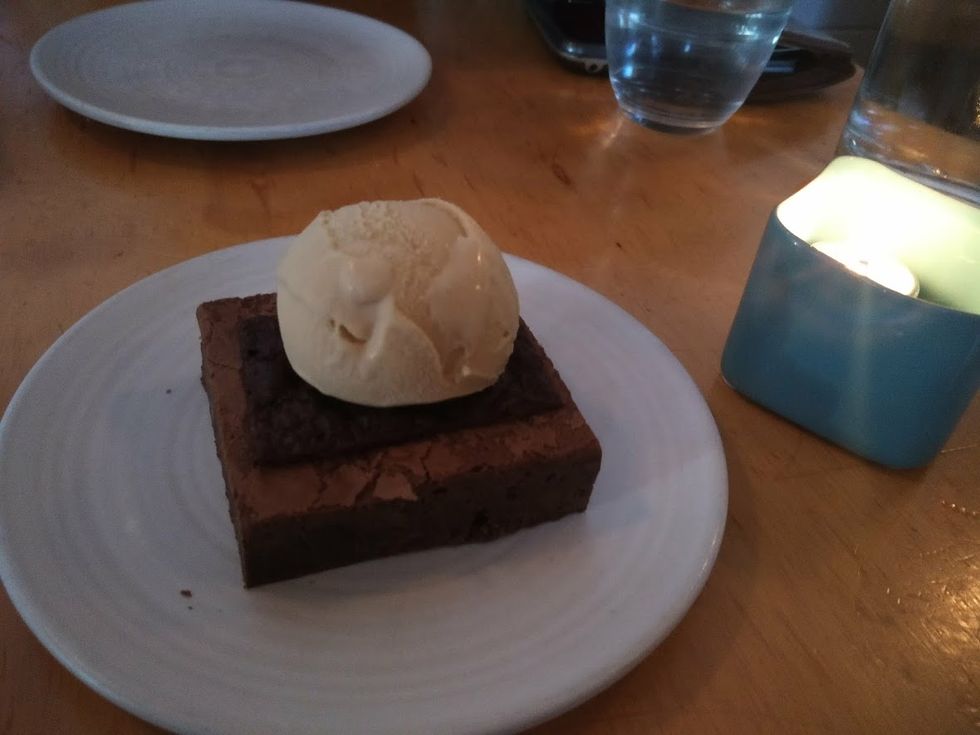 The waitress explained to us that we could get a taste of the restaurant's dishes by doing a multiple course "family style" meal set. After the plane ride, I didn't have a ravenous appetite, but I also didn't eat much during the day besides a bag of Popcorners, so I was like, 'Why the heck not?' It was $93/per person (after tips) spent on experimentation.

It was a culinary display of wonder, but I gotta say, that meal set was quite the feast. Almost too much to stomach after a plane ride. The dishes are varied in flavor, so the chocolate brownie paired with peanut butter ice cream at the very end was welcomed icing on the cake to that lavish meal.
After valiantly conquering this monstrous meal, we took MUNI bus #14 to get to 5th Street, which was near the Powell Street & Market Street stop. This was the most southern stop of the Hyde-Powell Cable Car Line. Riding the cable car at night was a thrilling experience, as we worked our way gradually up the hill.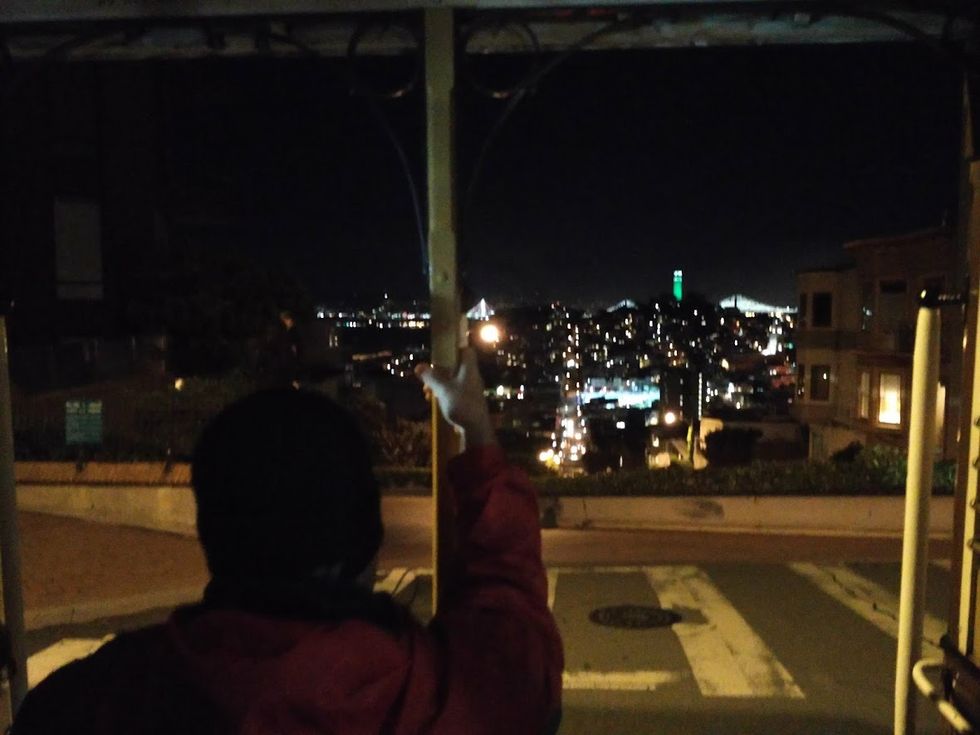 One of the cable car passengers was chatting with the cable car driver about the process of how the cable car works, while the rest of us were half-listening and gazing in wonder at the night scene around us. Big-eyed tourist typicality. With the bustle of the city happening before our eyes and night air cool on our skin, I felt like this experience was a fantastic way to open our five-day adventure.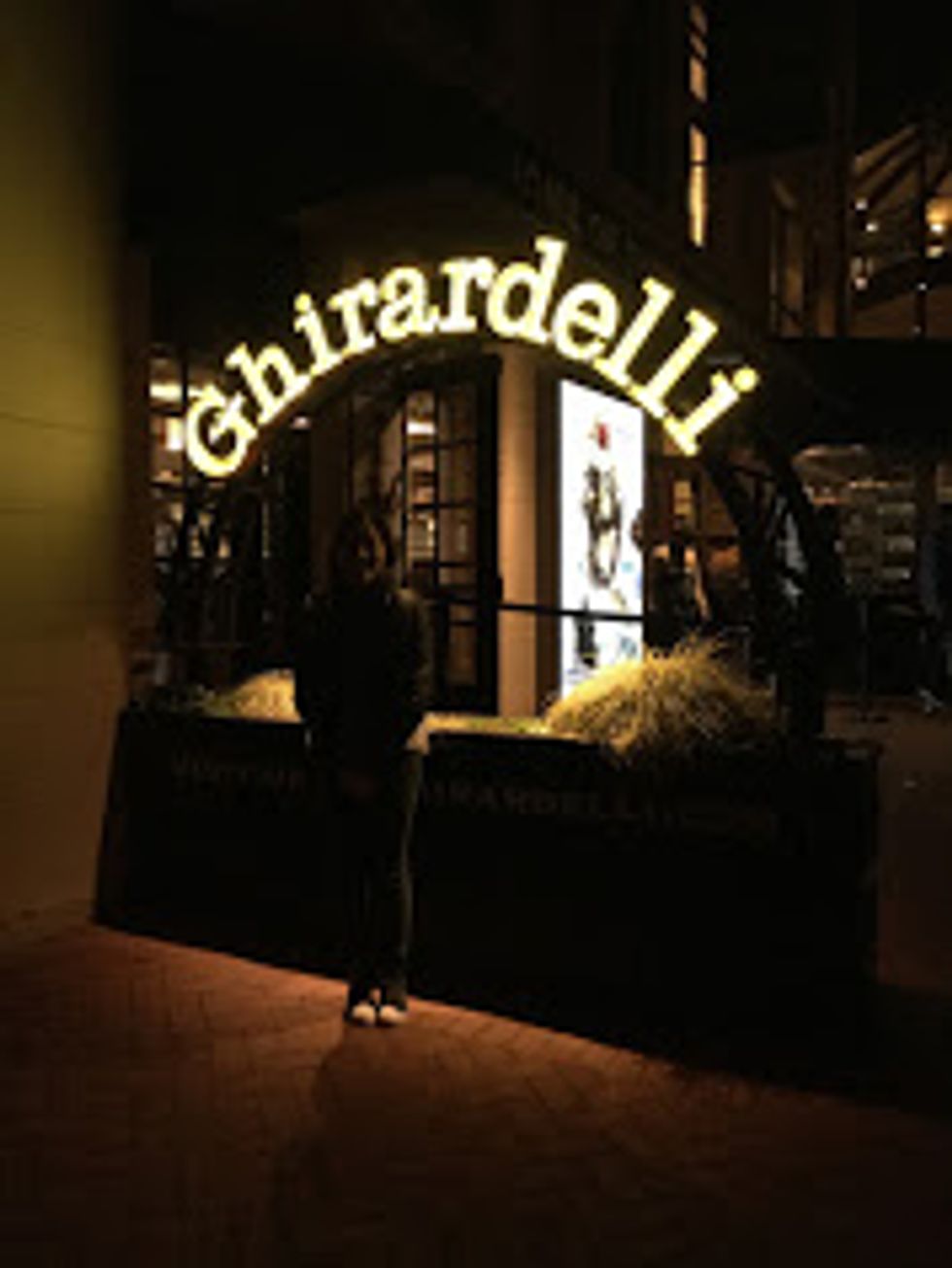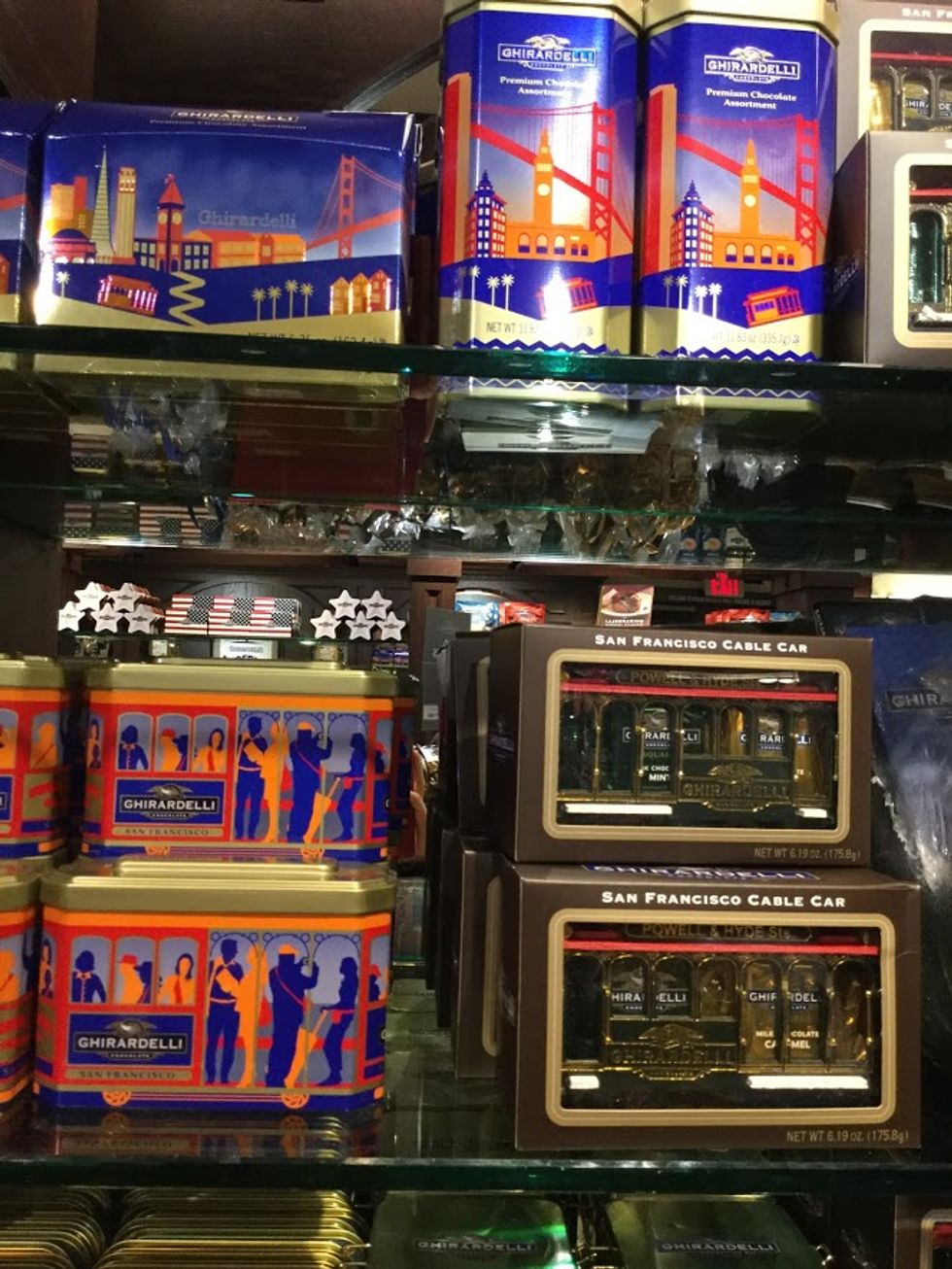 Our first stop was Ghirardelli Square (which used to be a factory), to quench the thirst of my chocoholic endeavors! It was a galore of chocolate treats, and when I walked in, my nostrils immediately took in the sweetness of the confections and sundaes that other chocolate fans enjoyed in that haven. Chocolate-dazed, as I like to call it. I purchased a few squares of peppermint bark and bourbon caramel as well as blueberry. They also sold a toy cable car with a chocolate square inside. Their marketing ploy succeeded, because I bought that as a trip souvenir.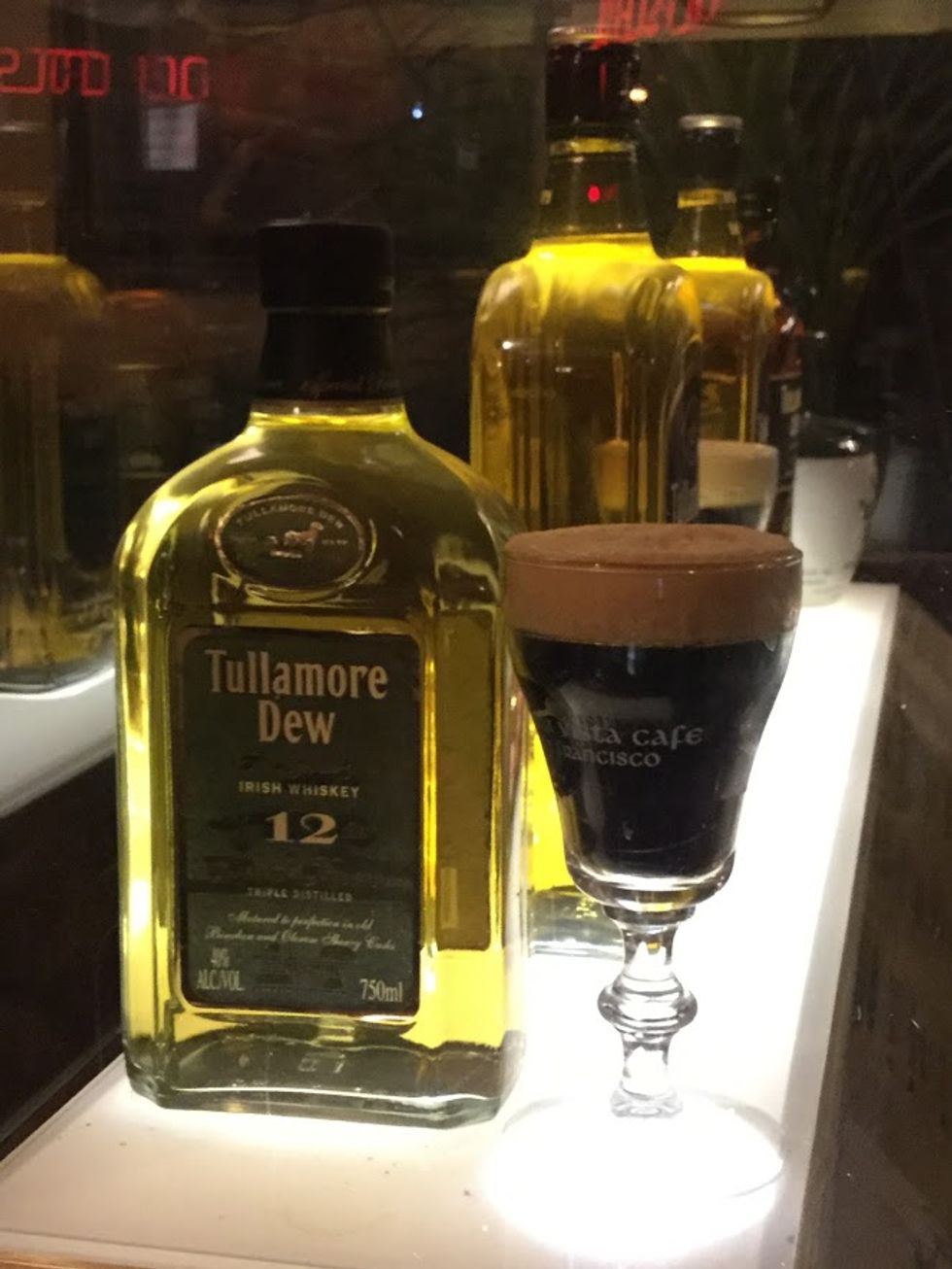 We then stopped by Buena Vista Cafe, which was where I enjoyed my very first cup of authentic Irish coffee. I was quite enthused about this discovery. This cafe is known for making the best Irish coffee--no exaggeration-- and I was happy to pour some Tullamore Dew in my cup. The whiskey caramel tones blended richly with the natural bitterness of coffee as well as the sweet whipped foam. And it warmed me up, which was much appreciated in the coldness of the night!

Shortly after, we walked towards the Embarcadero. We caught a view of how the Bay Bridge looks in night view. We also passed Boudin Bakery. The bars in the Financial District seemed green and alive, because it was St. Patrick's Day. But the fact that the Embarcadero was so quiet and abandoned...Well, coming from the city that never sleeps, San Francisco was surprisingly different to what we had expected in terms of the night scene. Bars and nightclubs may be another matter, but since we didn't venture into those places, I felt as though it was so quiet that we could whistle in the streets, and there wouldn't be someone who would hear us.
The night was drawing to a close, so we Lyft-ed back to our Airbnb. The noise barrier in our room was not the best, so my friend called about the dirty sheets that were left in our room when we had arrived earlier in the day. I'd say that was the only sore spot of the trip--paying for a nice Airbnb and be without towels and other basic amenities that were promised. Luckily, we received a small refund for the cleaning fee and purchase of our towels.
Day 2 (Sunday, March 18)
We started off the day by walking to the Japanese Tea Garden, which was only a few blocks away. The entrance fee was $9. Inside, we explored pagodas, an impressive bridge, koi fish and a garden that made us forget about the wintry east coast. It looked straight out of a fairy-tale.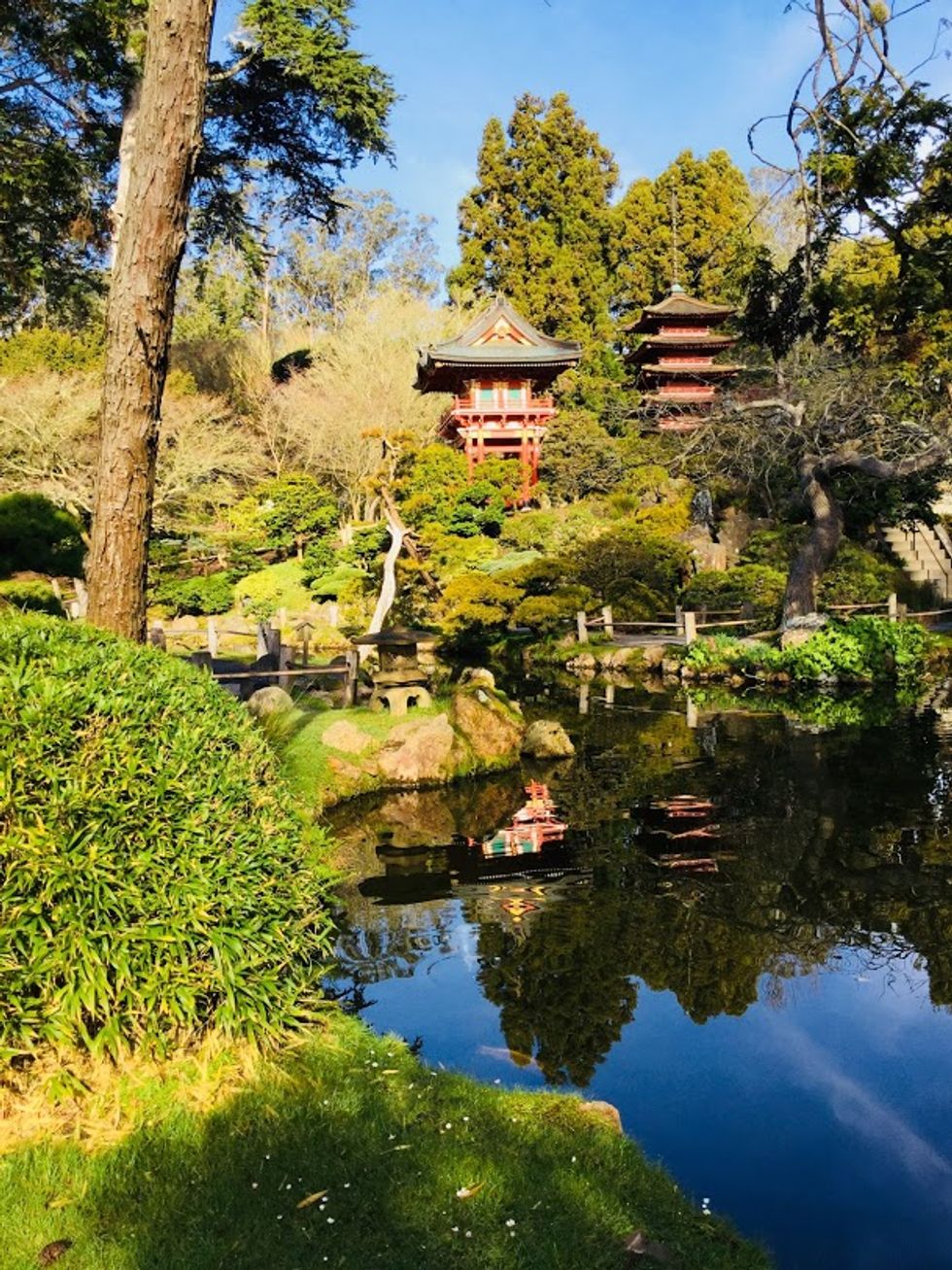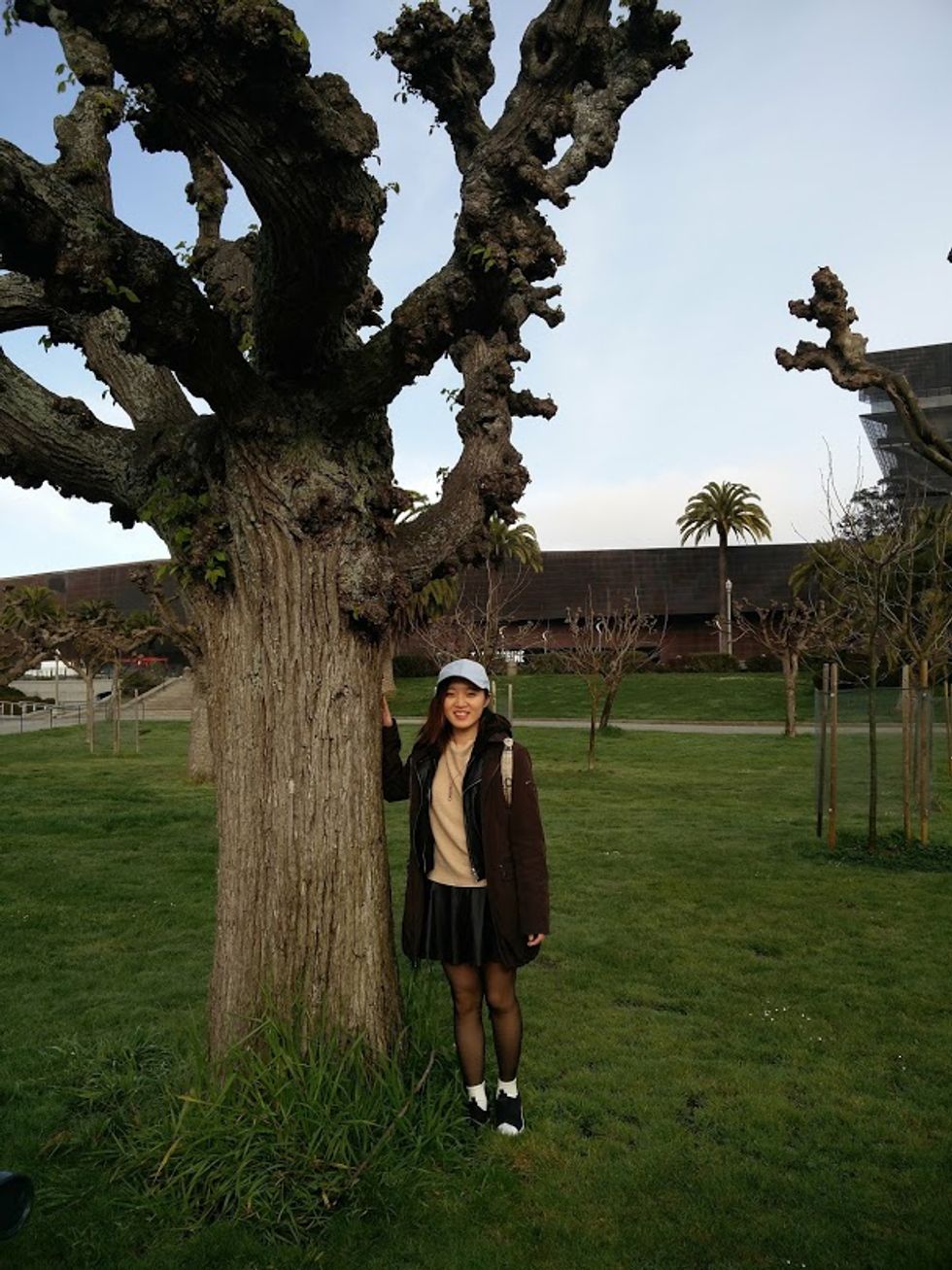 We also explored the trees and green-scape of the Golden Gate Park as we walked through it. The trees that look like Baobabs from "The Little Prince" were called English sycamore trees.
We walked to our location in Mission District, which was Nopa, another highly-rated restaurant my friend scoped out for our brunch. After we got our name in the queue, we walked up the street to catch some daytime views of the city from Alamo Square. Dogs were running around happily in the green space around their owners. We were also treated with a charming view of the Painted Ladies from here.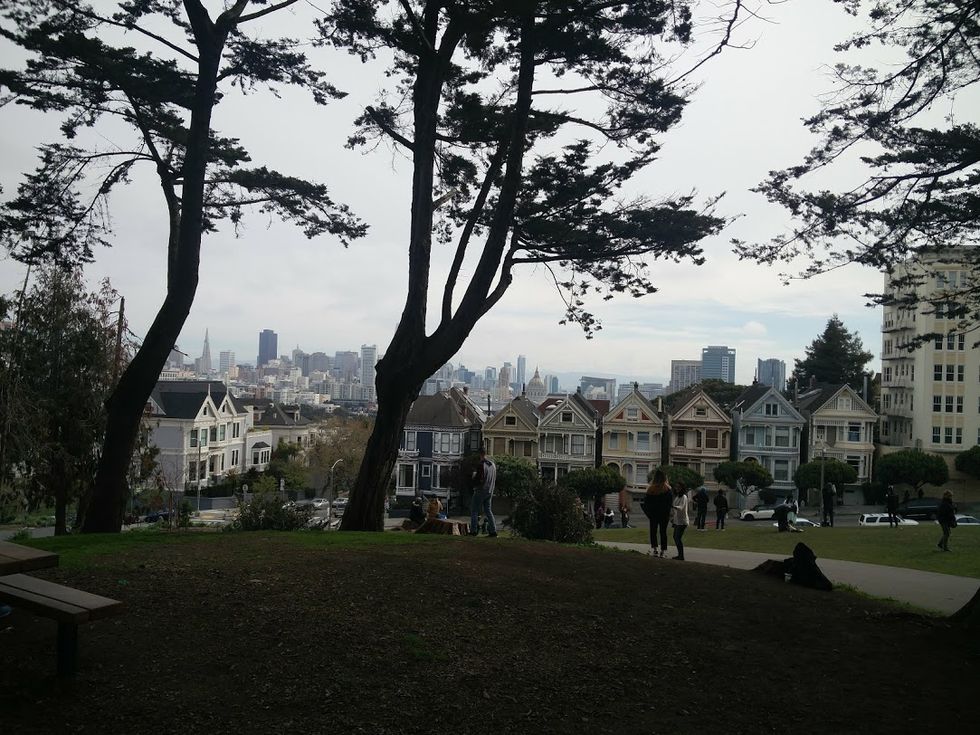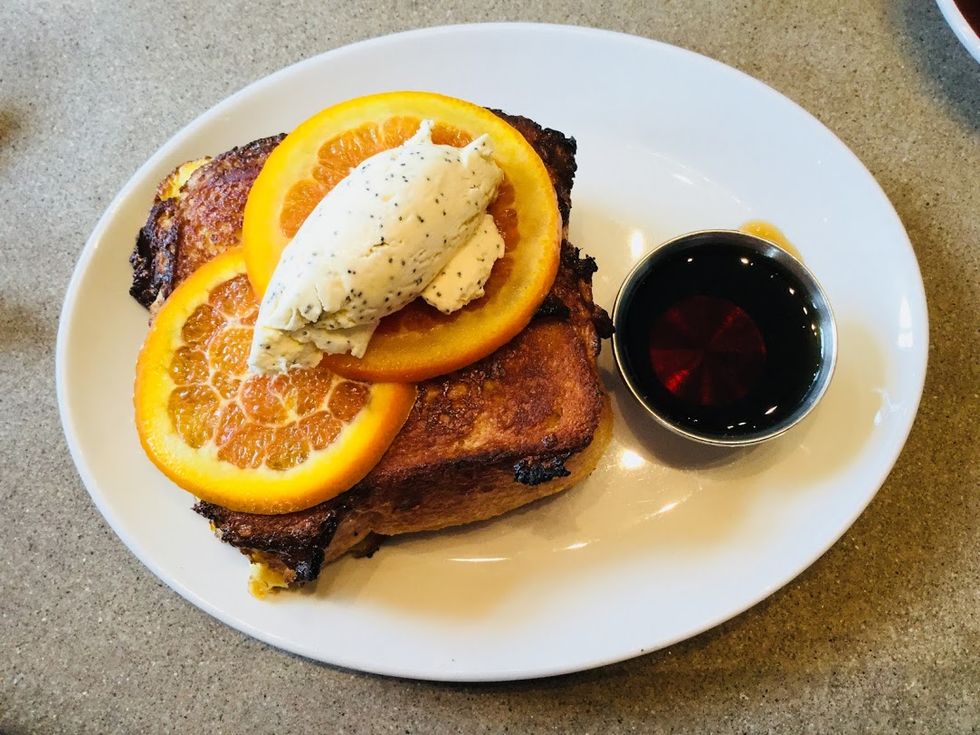 After our 20- to 30-minute wait, we finally entered the restaurant for brunch. We did not commit to another multiple course meal set here but I actually think I wouldn't have minded if I just ate at this restaurant for the rest of my stay in California. I wish they would open a Nopa in Manhattan, because I would totally commit to being a regular. How the brioche cinnamon roll melted on my tongue. The heavenly way in which the French toast melded with the flavor of Cara-Cara orange.. mm, the restaurant spoiled us well.
Upon completing our brunch quest, we went to a nearby street market at which my friend bought a few fruits. Then, we finally embarked on our daytime tour of the Embarcadero! On the way there, we walked past tents of artists and artisans showcasing their crafts. I was almost swayed into buying a flattened bottle of whiskey that had a picture of a chubby cat. But I resisted. Instead, I bought a few prints of paintings from an artist who painted views of the Golden Gate Bridge and a wistful view of cable cars.
We also heard a choir serenading a crowd in a large cafe on our way. In the ferry building, we indulged in brownies and chocolate bars from Dandelion Chocolate. Humphrey Slocombe was also the first real ice cream stop (of many) that we made on this trip. I got the Secret Breakfast flavor, which had bourbon caramel and corn flakes in a cake cone.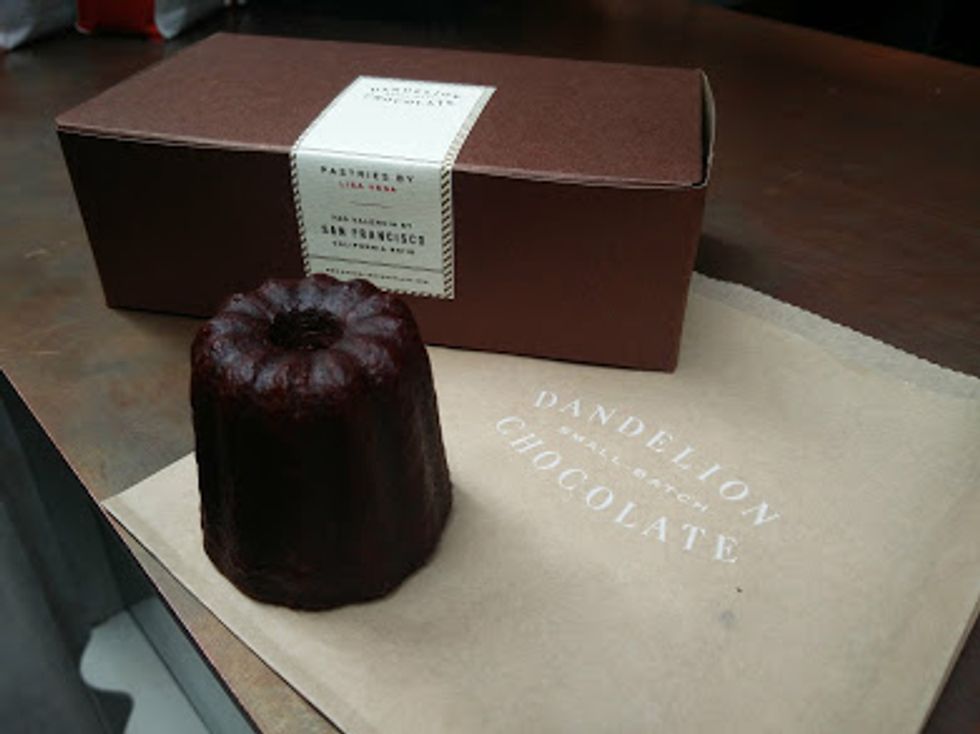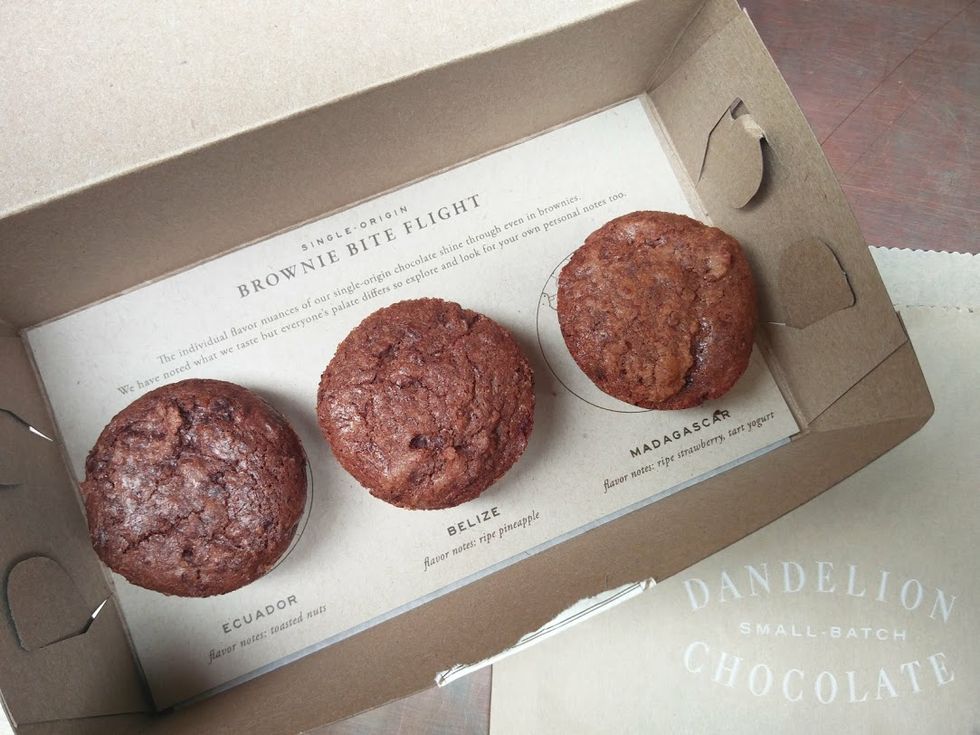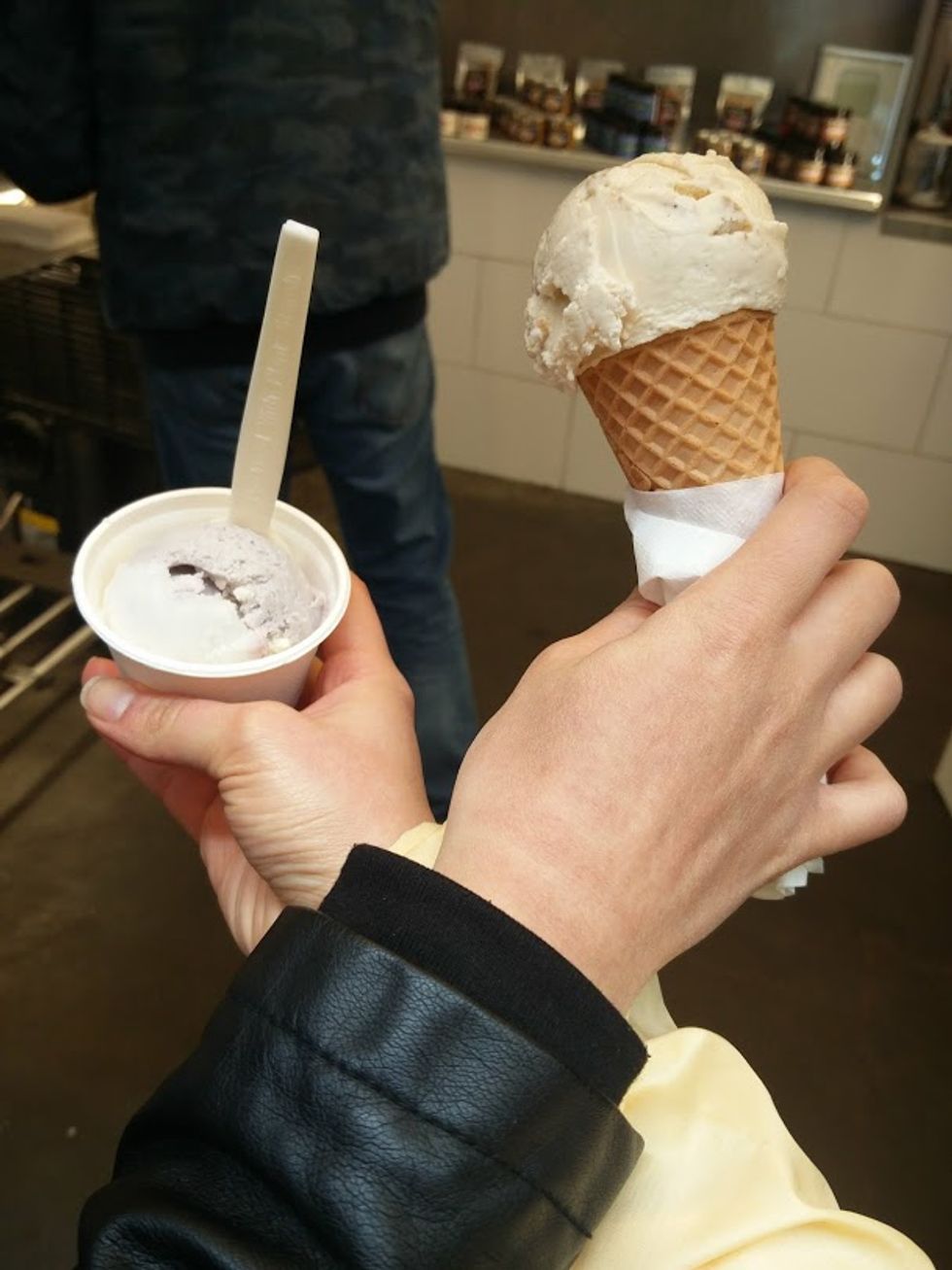 My friend even bought a mushroom cheesecake from a stand in the ferry building; supposedly, it tasted like caramel. The produce in California was so much different from the East coast that they even sold fiddlehead ferns. That is a vegetable I've only seen when I was living on a tropical island by the equator.
By Pier 39, we heard those languid sea lions barking up a storm while lying near each other. They were quite aggressive with other sea lions, pushing each other off the dock in between their naps.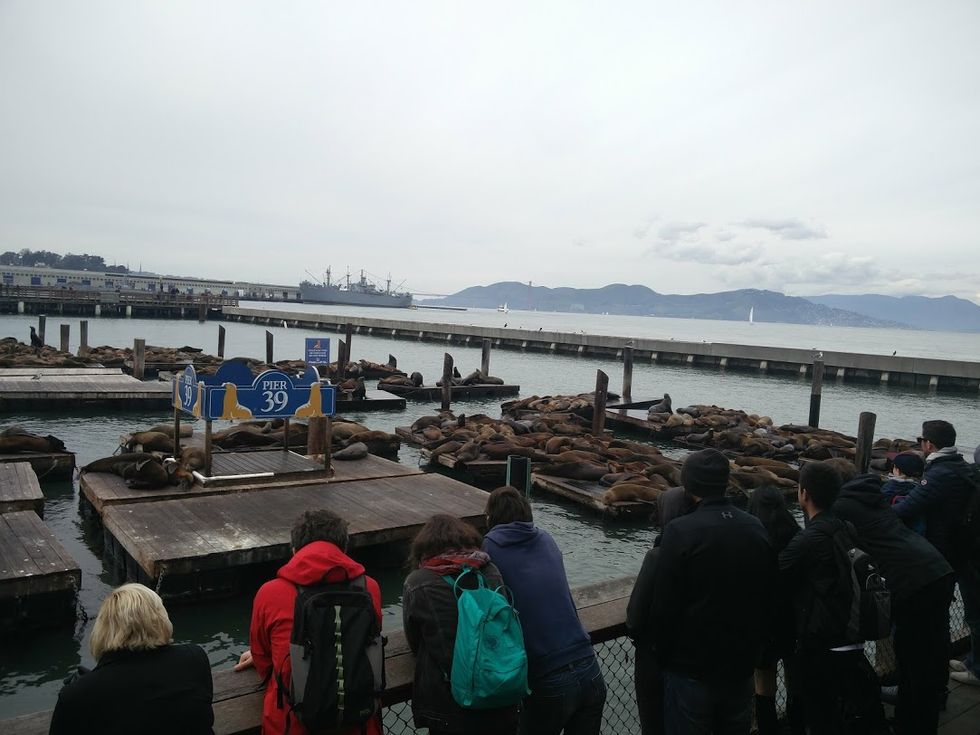 They seemed gleefully unaware, or perhaps, they already knew to ignore the tourists who were watching them with wonder from above. From here, we also caught a view of the Alcatraz, an abandoned prison, in the distance. I attempted to find postcards in the store right by the Pier 39, but later I found better postcard deals in the district at the price of four for $1.
Upon stepping into the Boudin Bakery, we were welcomed by a mouthwatering display of breads. They're known for their sourdough breads, so I purchased a miniature turtle form of the sourdough bread.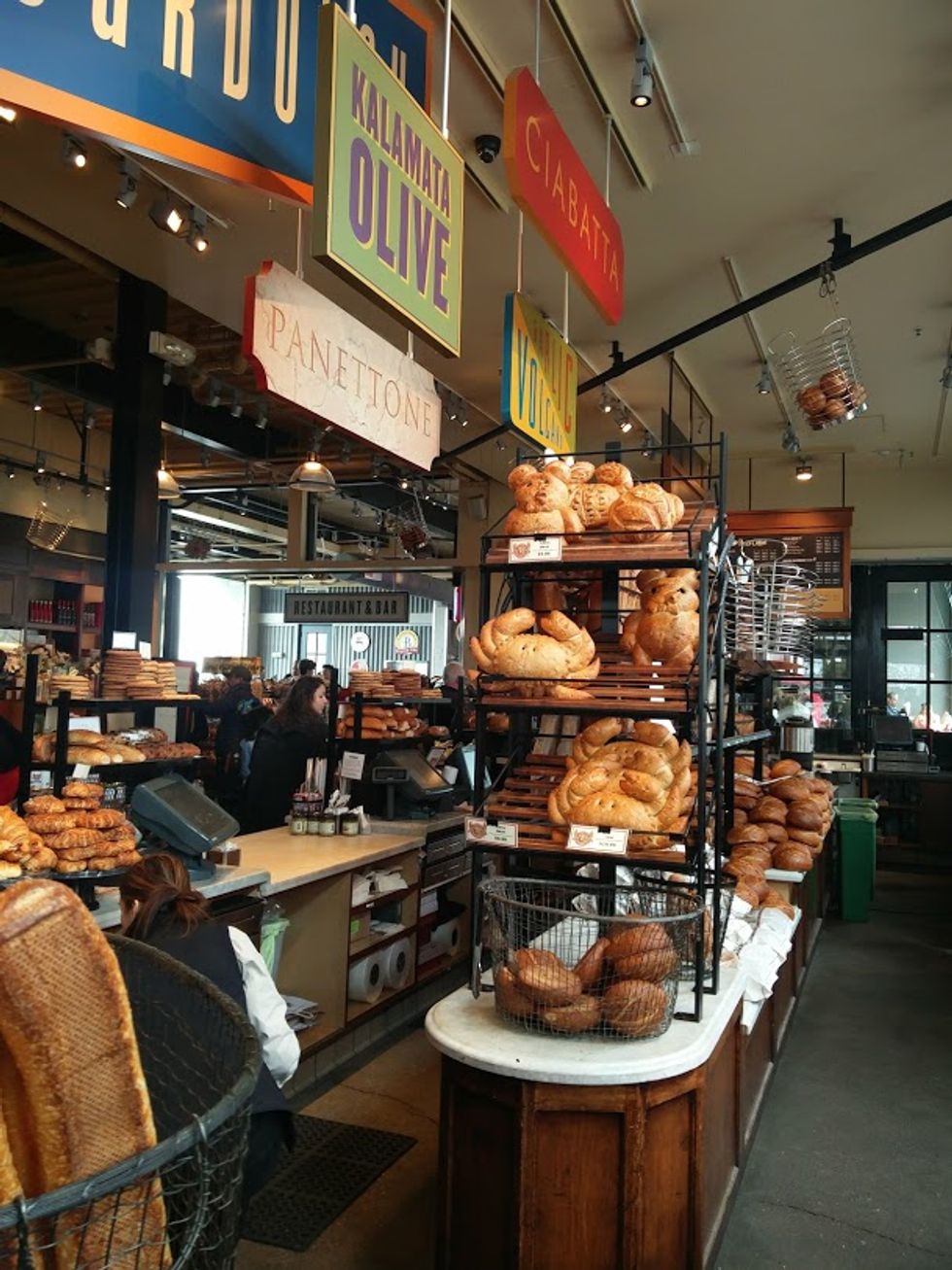 They had breads in shapes of crocodiles, koala bears, and so on. As if the displays on the shelves weren't enough to entice you to buy them, they had moving displays that circled above your head from the ceiling. This famous longtime bakery knows what's up! We didn't get to do a factory tour of it because of our timing, but they did offer free tours there.
We then walked toward Lombard Street, known to be the most crooked road in the world. We struggled walking up the slanted slope, but we were not the only ones braving this difficult path, so we made our ascent gradually and with persistence. Standing at the top of the winded road, we were rewarded with yet another stunning view of the city.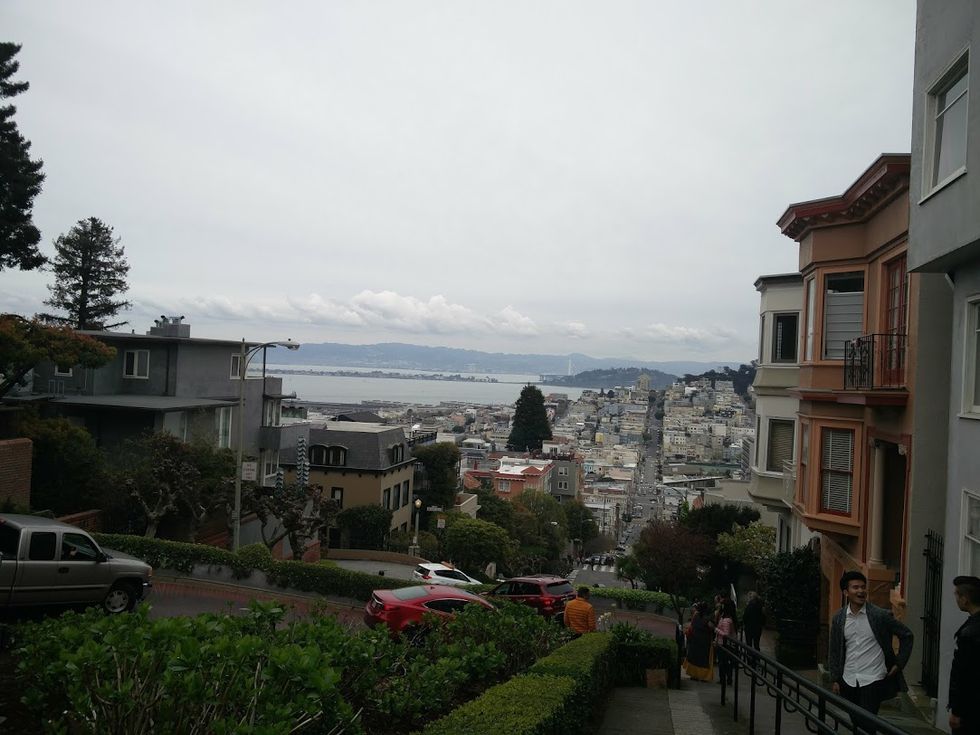 Continuing our walking grind, we decided to make our way toward Japantown. On the way there, my friend stopped by Bob's Donuts because she was determined to try out their famous flavorful donuts. They ran out of apple fritter donuts, but the owner sold her scraps for $2. The cinnamon taste was perfected. I can understand why they sold out of that flavor.
When we got to Japantown's Peace Plaza after a 30-40 minute walk, we walked into Daiso to buy household supplies. So, just to preface, Daiso reminds me of Muji, and we do have Daiso's on the East Coast. But this Daiso was extremely comprehensive. The West Coast just does it better. Oh, and it also reminds me of Target because we walked out with way more than we needed. Just for laughs, I walked out with gloves, and my friend walked out with a colander from a nearby store. I loved how the mall was decorated; you didn't even have to step in to know what each store was known for because they made their theme obvious and enticingly so. A wave of nostalgia came over me, as it reminded me of window-shopping in Asia. We were hoping to find Matcha Maiko Cafe, but unfortunately it was not open during the hours we visited. We opted to travel to our next location! On the way, we passed grand venues such as the Tours of Davies Symphony Hall and Opera House.
Our next stop was a vegan sushi place called Shizen Vegan Sushi Bar & Izakaya. Before you groan to hear about this, my non-vegetarian friend also enjoyed the dishes we tried, so I'm not completely biased about my review. They did not take reservations, only walk-ins, so it was an hour wait for us. Though we weren't enthused to hear about the long wait, we did what we know best; we used our time wisely by Lyft-ing to another location!
Twin Peaks was on our list, and the sunset was at 7:20 pm. We were in luck, as we timed it perfectly to be there around 7:10 pm, and as a result, we caught a view of the beautiful sunset. I could never get sick of seeing sunsets. Watching the sun set was enchanting, and it reminded me of the ephemeral quality of each day.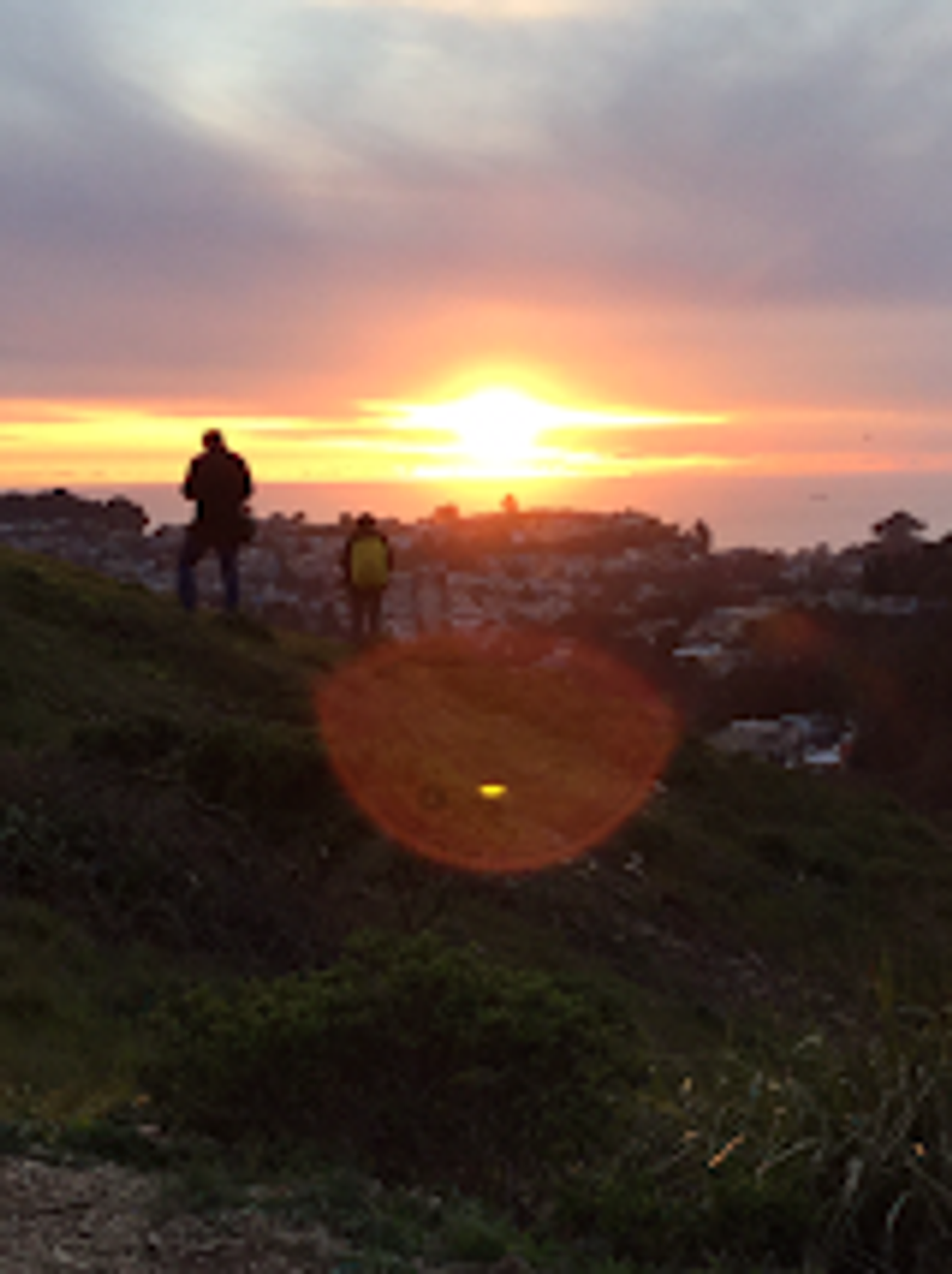 "One day," you said to me, "I saw the sunset forty-four times!"
from "The Little Prince"

After, we enjoyed scrumptious sushi with awesome names, one being Mistaken Identity and the other Secret Weapon. As for the more interesting ingredients, we were able to taste the tone of eryngii mushroom, jalapeño, and eggplant. It's difficult to make vegetarian sushi taste like more than just tofu, avocado, and cucumber. This restaurant exceeded both of our expectations. With the artful arrangement and plentiful amount of rice, we only needed three plates to feel full.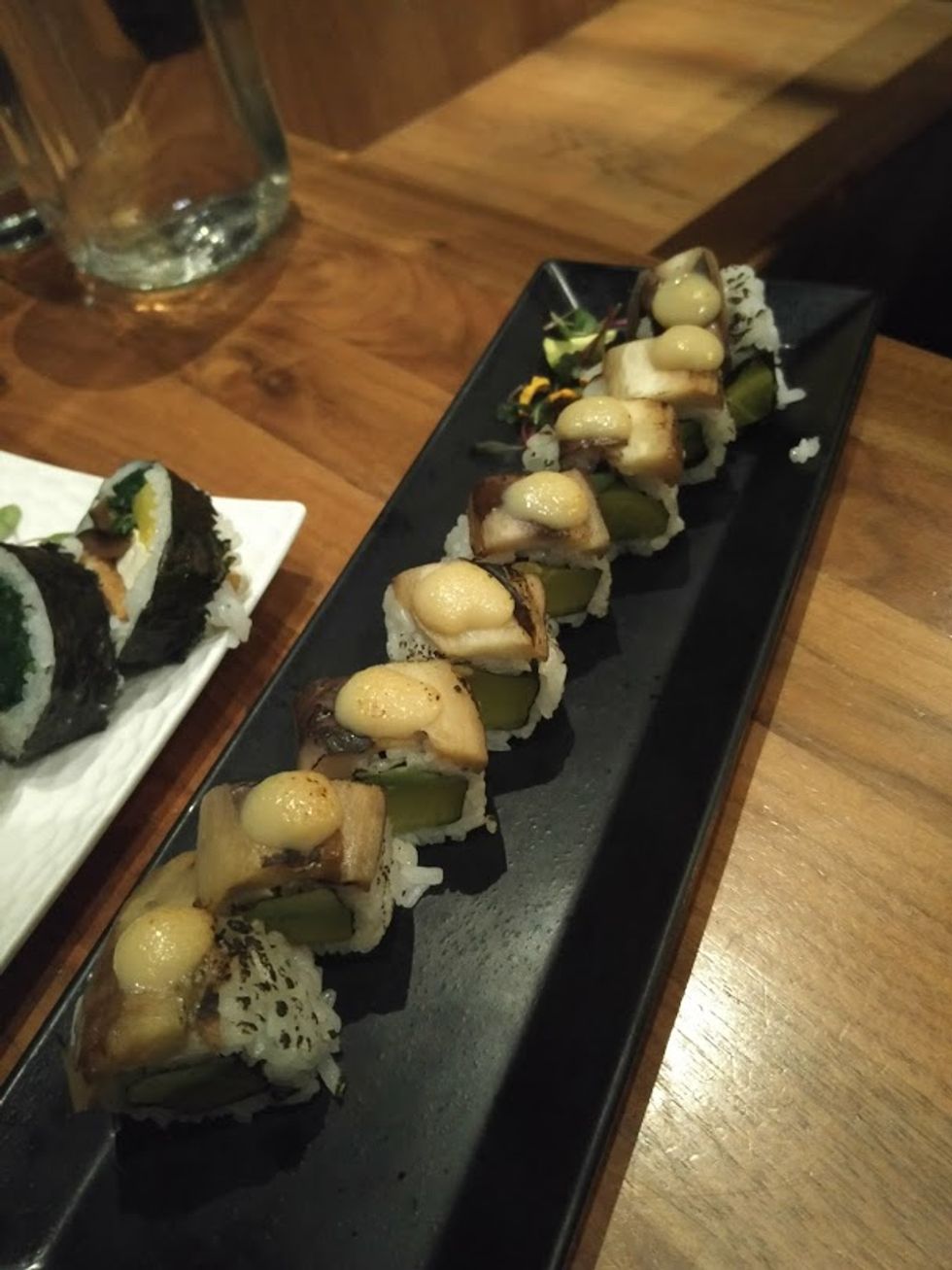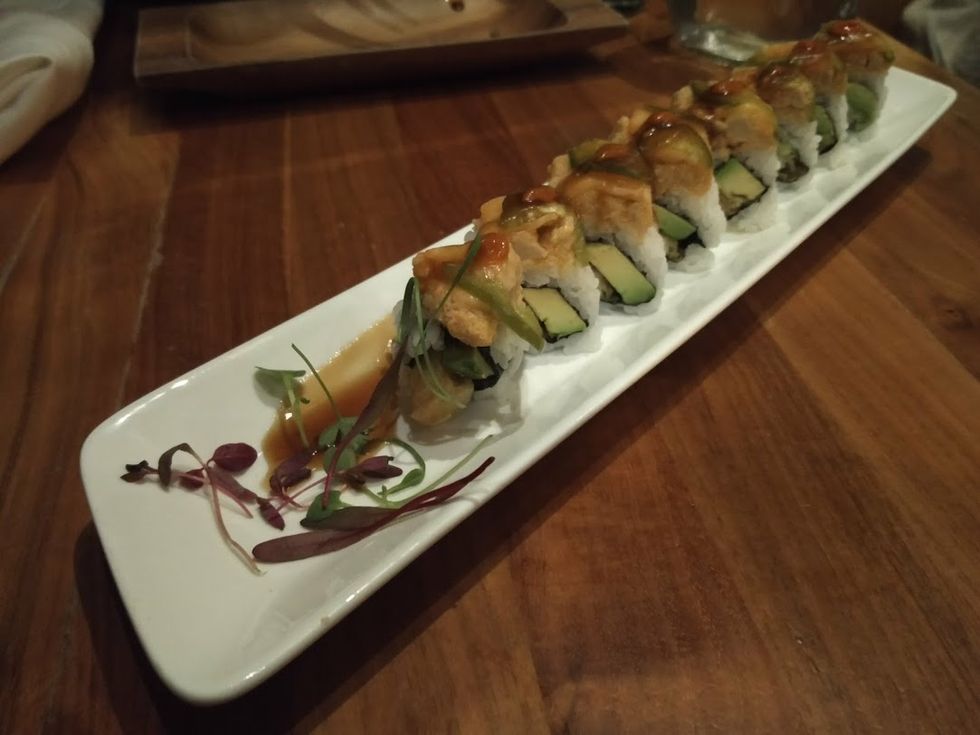 After sushi, we Lyft-ed to our next location called Taqueria El Farolito, which was known for their burritos.
We were fascinated while watching the workers expertly craft giant quesadillas, tacos, and many more tasty Mexican dishes. We were originally headed for La Taqueria, which is known for the best burrito in the nation, but it was closed by 9pm. It was already late when we got to El Farolito, but seats were full, and it seemed like business was booming since the line was endless. In fact, when we headed out to Lyft back to our Airbnb, it turns out three people were headed straight for this taqueria as well! I got a super veggie burrito to-go for the next day.
Day 3 (Monday, March 19)
We Lyft-ed to Tartine Manufactuary for breakfast. Our Lyft driver was explaining how he had a company in Miami and he was trying out living a few weeks in San Francisco to see how he liked it. He talked to us about the differences between New Yorkers and people from the South and West. The bluntness of people from Manhattan was noted in a short amusing recollection he shared. It's true that the relaxing vibes that San Francisco exuded was woven into the rhythm of the city life. He did also discuss how workers in the tech field seem to be overworked, and employers gave extra benefits at work just so they can keep them there longer. It seemed like San Franciscans had a different approach to work culture, but surely, there was more to it, right?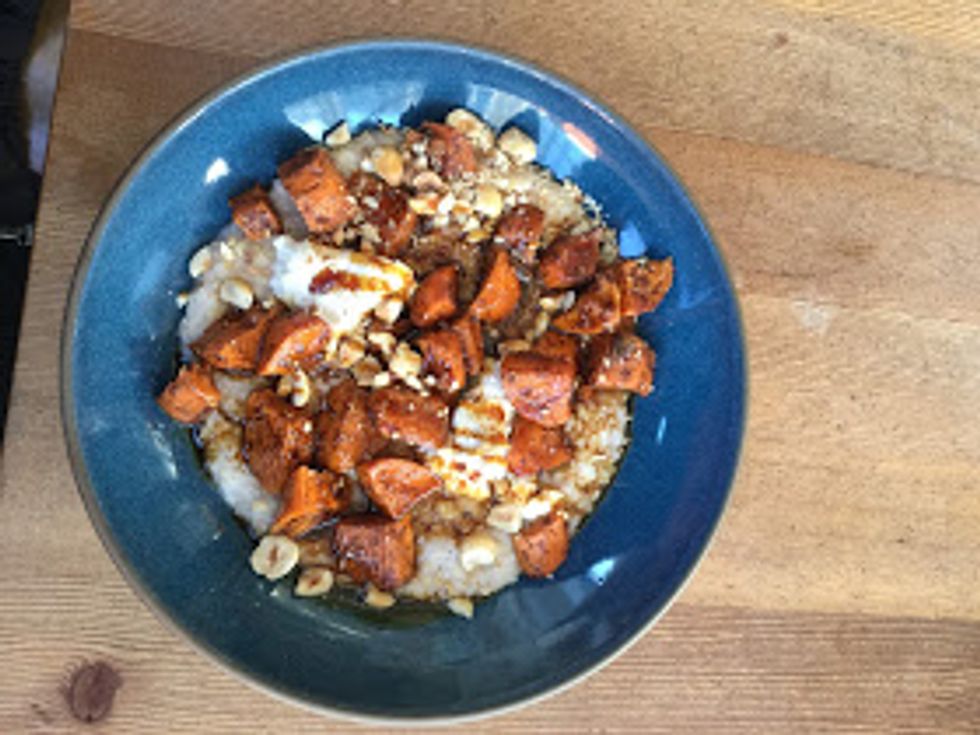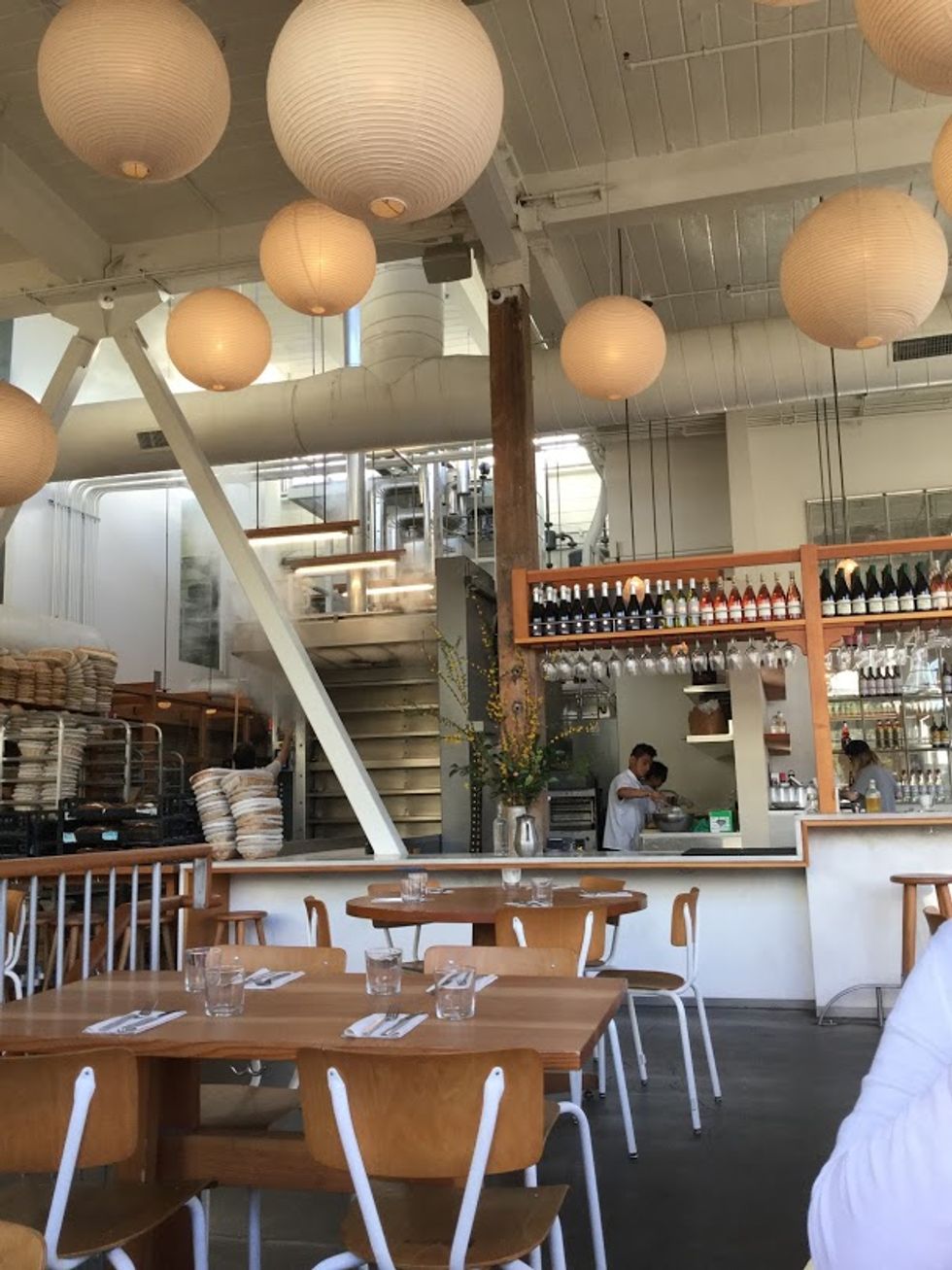 My review of this manufactuary was that breakfast was rather costly for the portion I received. While our waiter was amiable and rocked an awesome ponytail, I wasn't wowed by the taste of the dishes. Still, it was cool to see the workers in the background and how they utilized their facility space efficiently and took on a layout that connected the space of customers and workers.

In any case, we took another Lyft to get to Budget rental space. My friend had an employee discount that got us a rental car, and being 25, it worked out well. Apparently, 25 is the youngest age at which you are allowed to rent a car. We asked about why this was at another rental car center, and they joked that it's because they allotted time for us to wreck our own families' cars before taking on the responsibility of another car. Well, perhaps there's half-truth in every joke though. After signing a few papers, we took out a Ford Fiesta for a ride!
Our next stop was the iconic Golden Gate Bridge. Maybe because we saw it everywhere already, it wasn't as spellbinding as people made it out to be, at least from the distance. However, the redness of the bridge was striking and being that San Francisco is known for this major landmark, I'm glad we got to check it off our checklist. The view of the Bay from this area was also breathtaking. The waters were clear blue, and I'd say we caught a good weather day! Despite all of the news reports about it being rainy in San Francisco, we were blessed with sunny skies.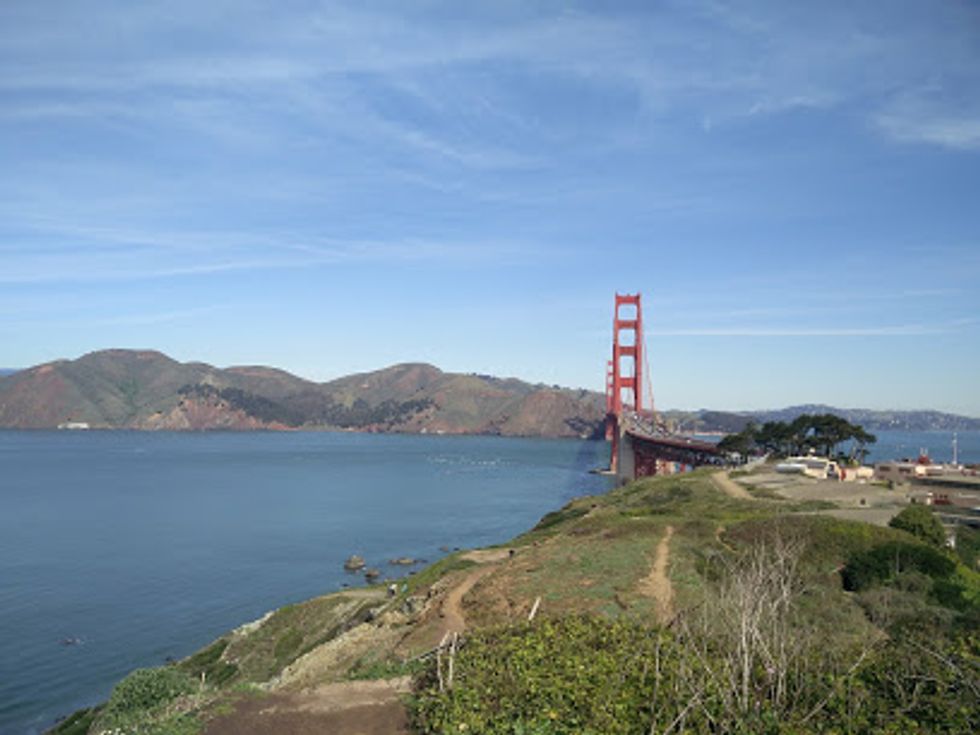 My friend drove us across the bridge as we headed toward Muir Woods (turns out driving on the bridge was more fun than seeing it from a distance). Muir Woods is not in San Francisco but it was only 11 miles away from the Golden Gate Bridge. I heard that taking a day hike there was an invaluable experience, which was why we rented a car. There are other modes of transportation to get there, such as a shuttle or the Sausalito Ferry, but with a car, we achieved more flexibility. Also, avoiding the weekend crowd was a great idea. Just a tip: Do reserve a parking spot. It gives you a 30-minute window to arrive to claim your parking spot reservation. It costs nothing to reserve. The entrance fee is $10.
Forest bathing at Muir Woods was easily my favorite activity in California. The famous redwood trees towering over us...Ah, yes this was an earthy wonderland. I was chewing Wrigley's peppermint gum throughout my time there, so I didn't get to fully take in the fresh air of the forest into my lungs. However, I was pleased by the serenity of the forest. Even though several others were also perusing the forest, we delighted in an easy hike around (1.5 hr loop). We even chanced upon a ranger giving a tree talk about the special quality of the tannin in the redwood trees.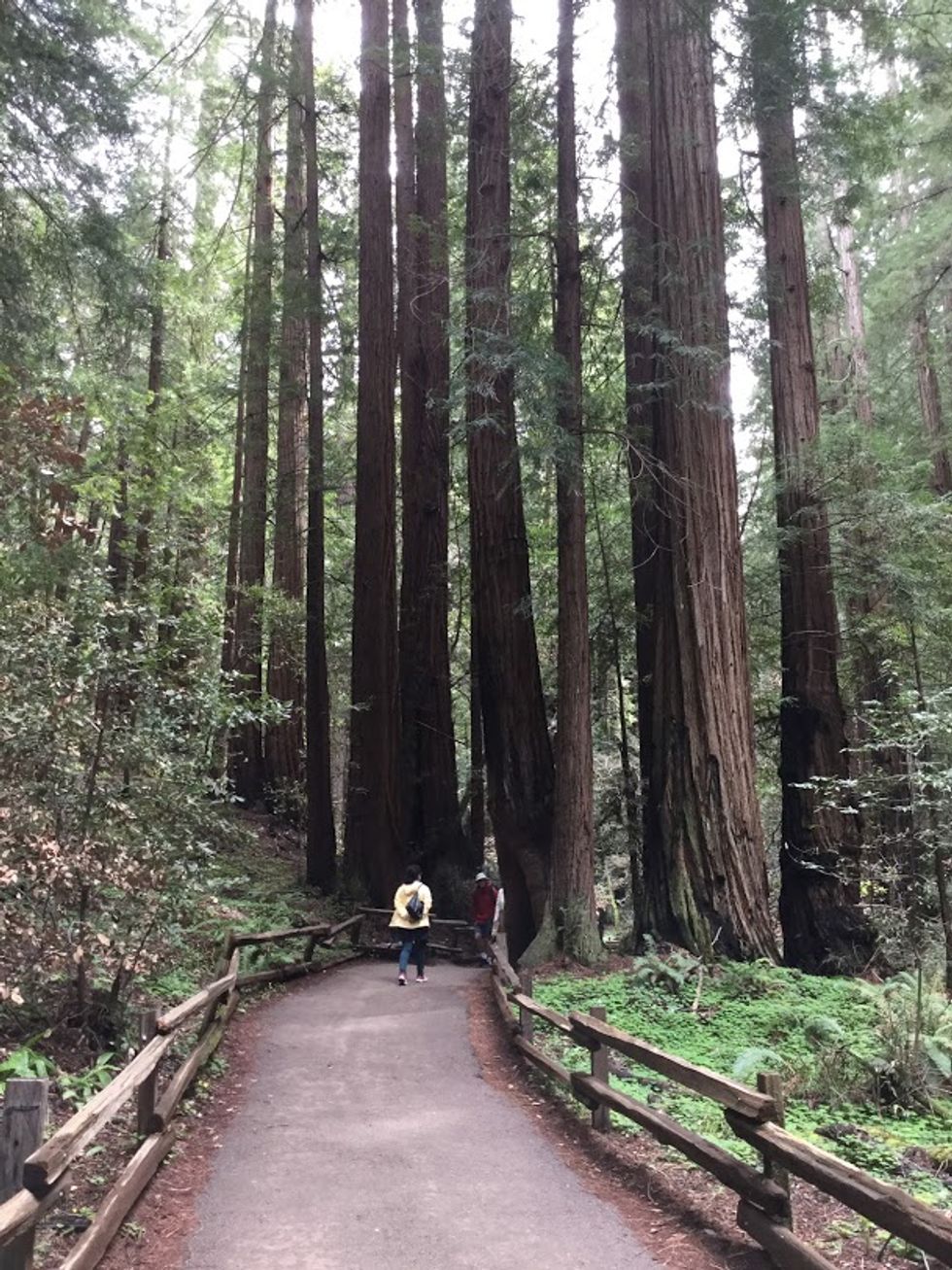 Redwoods form a supportive root chain system with other trees, helping their sick neighbors. In addition to this notable feature, they are also fire resistant and bug repellent. In other words, redwoods is high quality wood. If it weren't for it being difficult for loggers to travel to the Muir Woods back then, half of the trees there wouldn't have lasted thousands of years. I was amazed to hear about the history of these trees, how they came to be in existence, and how one of our presidents made them into a national monument.
Driving back from Muir Woods, we headed to the Tiled Steps at 16th Avenue. The mural and perspective was an interesting dichotomy. From bottom up, you see a dreamy perspective from the muralist, and then, when you walk from the top, it looks like any other staircase. Though in the distance, there is a view all the way across where you can see the sky meet the streets. It's a puzzle piece in itself.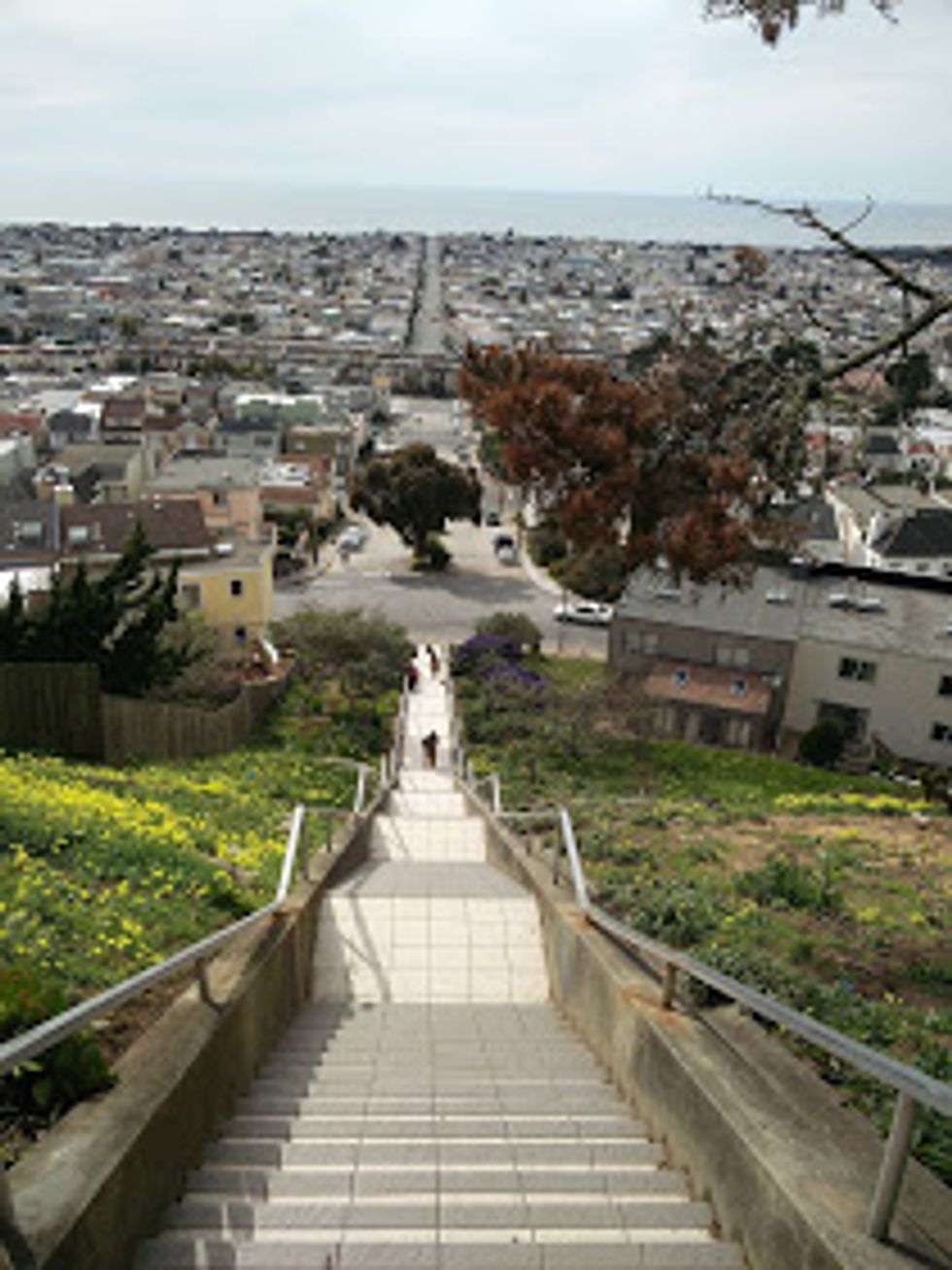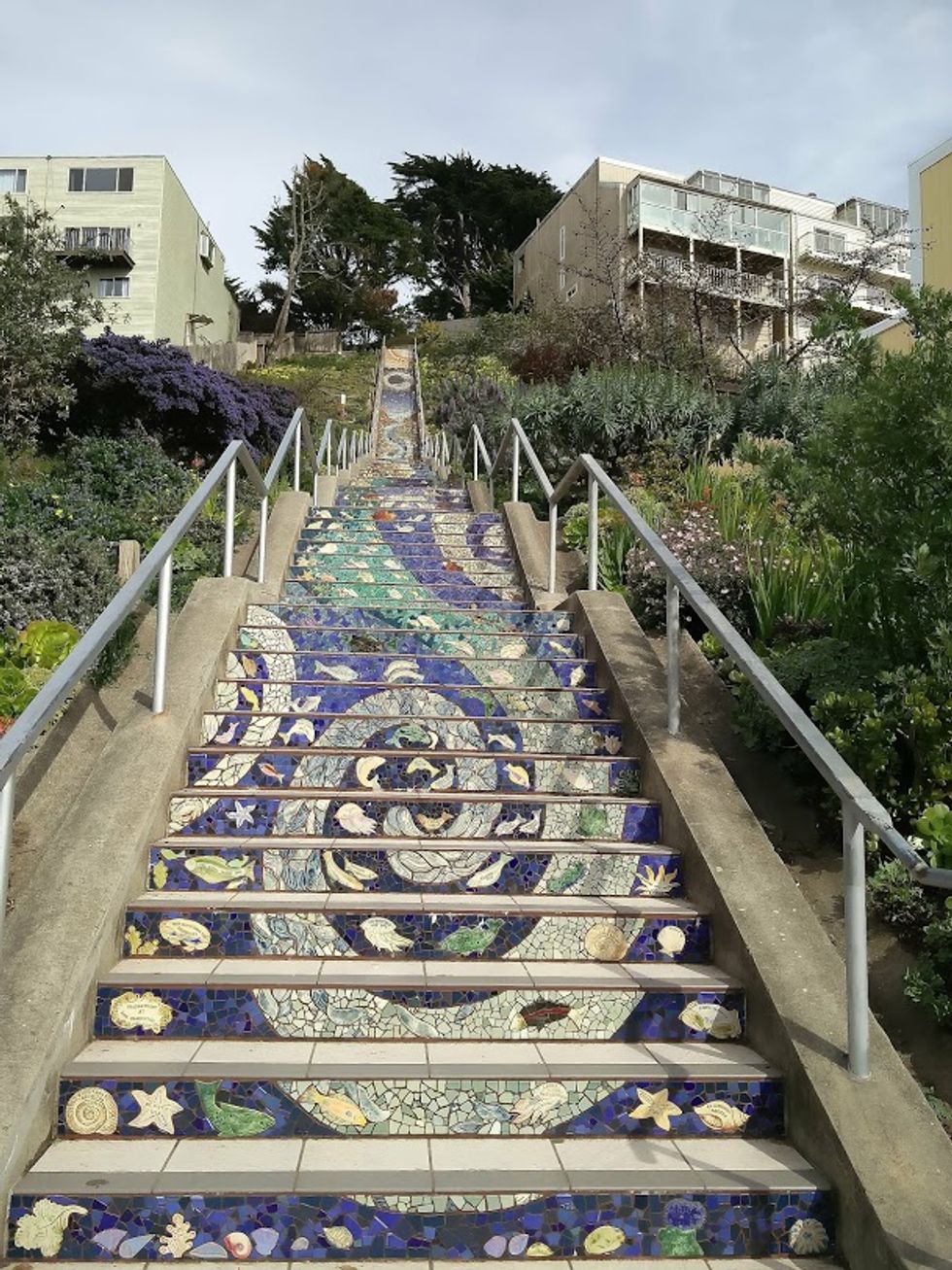 I almost felt like "Alice in Wonderland" here, because the difference in size and perspective of the things around me were so easily manipulated by where I stood, and so quickly, you could see that contrast by standing in different places on the staircase. On the sides, there were beautiful flora. We didn't stay very long here because the neighborhood was known for car robberies.
Before our stop at the SFO Airport, we went to get ice cream from Bi-Rite Market on Divisadero Street (which provided a few selections from the Bi-Rite Creamery by Dolores Park), also known for their ice cream flavors. I chose Boozy Irish Cream with Bailey's as my flavor in a cone, and my goodness--the West Coast knows how to make personalized ice cream. I was pleased that whiskey flavors were well-loved enough to be made into a popular ice cream flavor in California.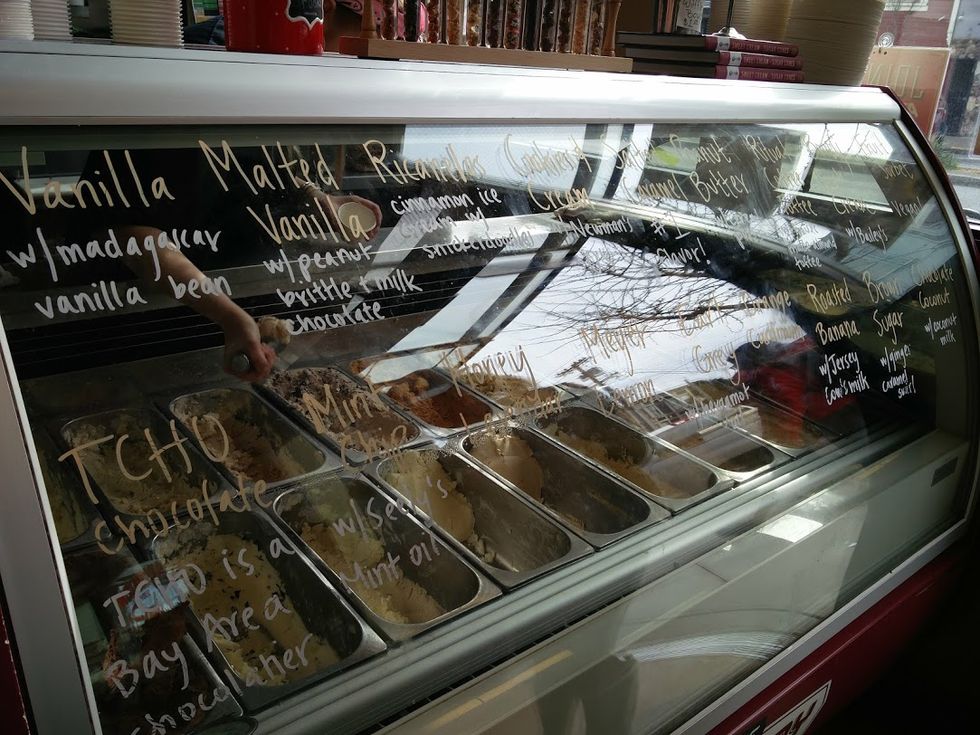 We then went to fill up our tank in our car to avoid the surplus charge on refilling the gas tank, and then saw more lines to get into the Costco Gas Station than I've seen at Mike's Cannoli store in Boston. When it was our turn to fill the tank, we were dejected to find that we needed a Costco card to use it, so we turned to the Valero Gas Station we saw on the corner.
When we made it to the airport, we were not surprised to see a designated space for a yoga room to the side. San Francisco is known for meditation and mindfulness, after all.
At the boarding gate for our flight with Virgin Airlines to LAX, I was not meditating, but I perhaps appeared so. I was sitting in a spinning chair overlooking the airport walkway in the night scene while listening to Kap Slap's "Hangover Love" on repeat. My resonant Wraith wooden wireless headphones delivered the beats that I was craving in anticipation of our next stop. I was listening to this track for a few days even before the trip, but I especially liked that they mentioned LA in the song too, if only for one line.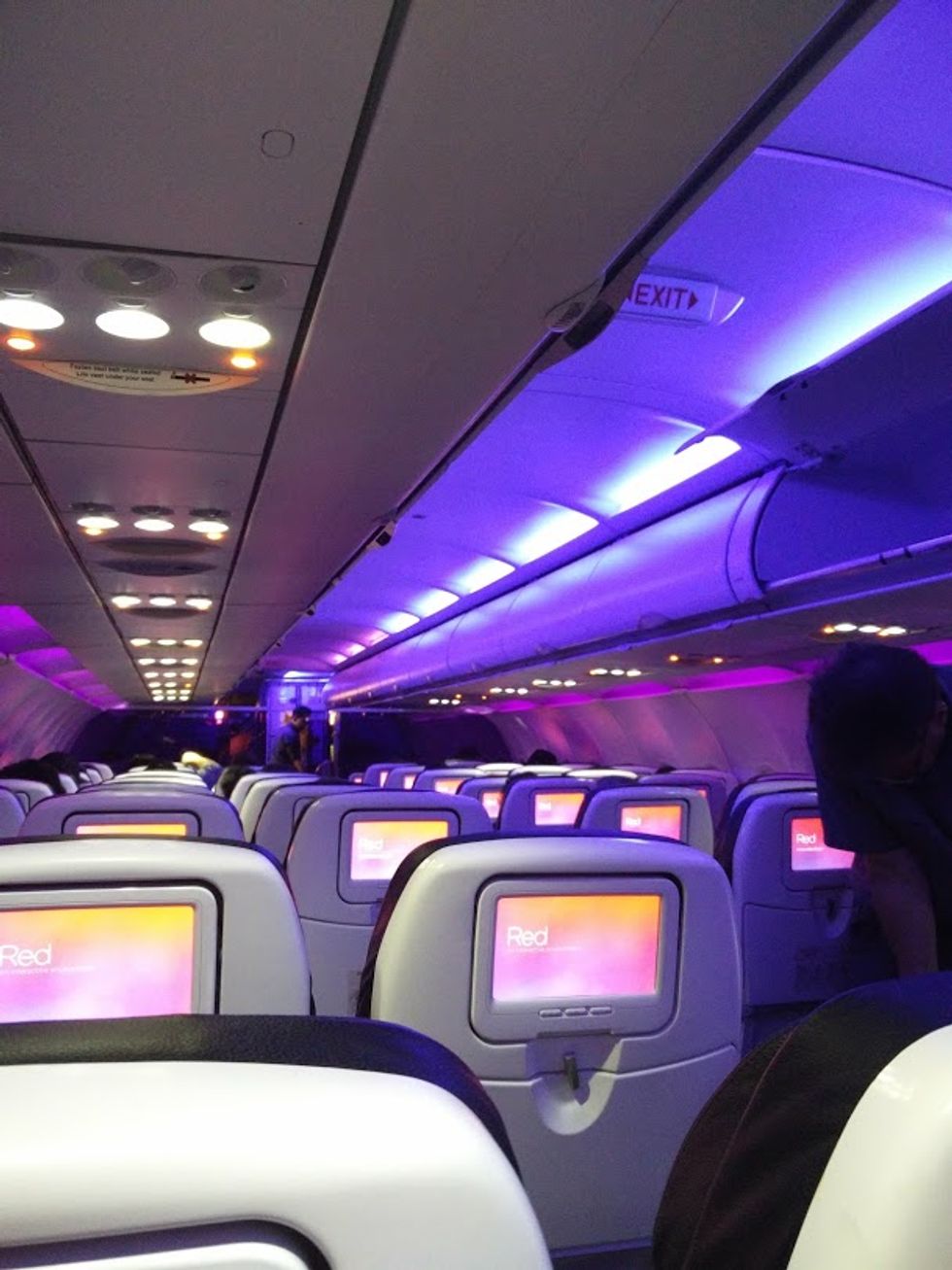 Virgin Airlines has a pink and purple theme going on in the cabin, which gave off a playful vibe. Their safety instruction video was also peppy and original, in the form of a song. I've seen countless airport safety instructional videos and none of them caught my attention like this one did. I liked their creativity.
It was rather late by the time we got back to our Airbnb via Lyft, so we stayed up late (like we did every night) planning what we were doing the next day! Procrastinators don't change even on vacations... (Day 4 and Day 5, to be continued in Next Stop: California Part Two)