This weekend I visited New Orleans, Louisiana for my FIRST TIME EVER!!! I had only ever been on school field trips to the museums, but this experience was completely different. The New Orleans culture is completely different than anything I have ever experienced, but it was so much fun and definitely worthwhile!
We drove into the city around 6:30 p.m. on Friday night, valeted my car, and quickly settled into the Hilton Garden Inn. I immediately noticed the different atmosphere I was surrounded by -- all one way streets, buildings, and people. My roommates and I headed up to our room to put on make-up and decide which outfit we would be wearing to the Red Eye Grill that night. We arrived at the bar around 8:30 p.m., ready to kick-off the weekend!
The Red Eye Grill was a smaller bar, similar in design to Matty's in Starkville, but filled with ALL of our friends. It seemed as though all of Starkville relocated for the weekend, giving me a little comfort in this new place. Even some of the football players were there, bringing even more excitement to the already exciting weekend! We socialized for a couple of hours before heading to...BOURBON STREET!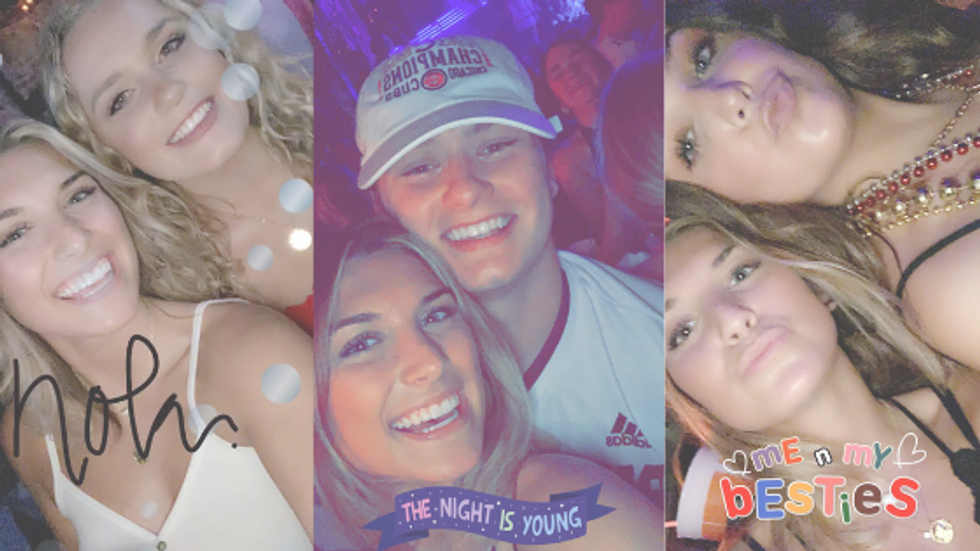 Of course I had to document my weekend on Snapchat!
After walking through the streets of New Orleans for 20 minutes, we finally found our next location -- Beach on Bourbon. The indoor/outdoor bar scene was much different (and hotter!) than anywhere in Starkville, but I loved every second of it. We found even more friends that were not at Red Eye Grill and hit the dance floor! By midnight, I was danced out. We grabbed a pizza on the way back to the hotel and called it a night. Little did I know...
At 5:30 a.m. the fire alarm started ringing and all hotel guests evacuated the building. Some people were in pajamas, while others had just made it in for the night. Either way, no one was happy. Thankfully, the building was not actually on fire, and we retreated back to our loving beds 45 minutes later.
I did not buy a ticket to the football game, although it was in the Mercedes Benz Superdome, because I wanted to have the chance to walk around New Orleans. My boyfriend, Bo, could not WAIT to take me to all his favorite spots! We walked down Canal Street and Royal Street until we spotted the cutest restaurant to stop and eat at for lunch -- Pere Antoine. Do yourself a favor and order their Spinach and Crab Dip for the best appetizer of your life!!
We filled our bellies and shopped at Bo's favorite store in New Orleans -- United Apparel Liquidators. I found a jacket and sleep-shirt, for $70 at this designer thrift store instead of the original price of $200. Afterwards we walked around the French Quarter. This was one of my favorite moments because of the artwork around the square! The artists used all types of mediums to create portraits, designs, paintings, and creations.
After making the have-to stops by H&M and Urban Outfitters, we headed back to the Hilton, took a nap, and got ready for another night of fun!
I enjoyed my first-ever beignet from Café Du Monde, AND IT WAS HEAVENLY!! We headed to Bourbon Street around 9:00 p.m. for more dancing and socializing. However, Bourbon Street was much more crowded and had many new sights than on Friday night.
There were the, what I call, "holier-than-thous" holding signs and screaming into a megaphone while standing in the middle of the street, the "live, breathe, die" New Orleans residents lining the street and crowding the "holier-than-thous", and of course countless Mississippi State fans of all ages everywhere in between. I have to admit...one of the highlights of the weekend was people-watching!
Once again, I was worn out (and tired of sweating!) by midnight, so we ate chicken tenders from Willie's Chicken Shack and ubered back to the hotel. I took a shower and crawled into bed, glad I had the experience, but ready to head home.
Although New Orleans was a fun weekend trip, it is definitely NOT a lifestyle I could maintain. I am thankful for my friends, normality, and routine here in Starkville, and I would not change it for anything! (P.S. My bank account and I are still recovering from this entertaining, yet exhausting weekend...)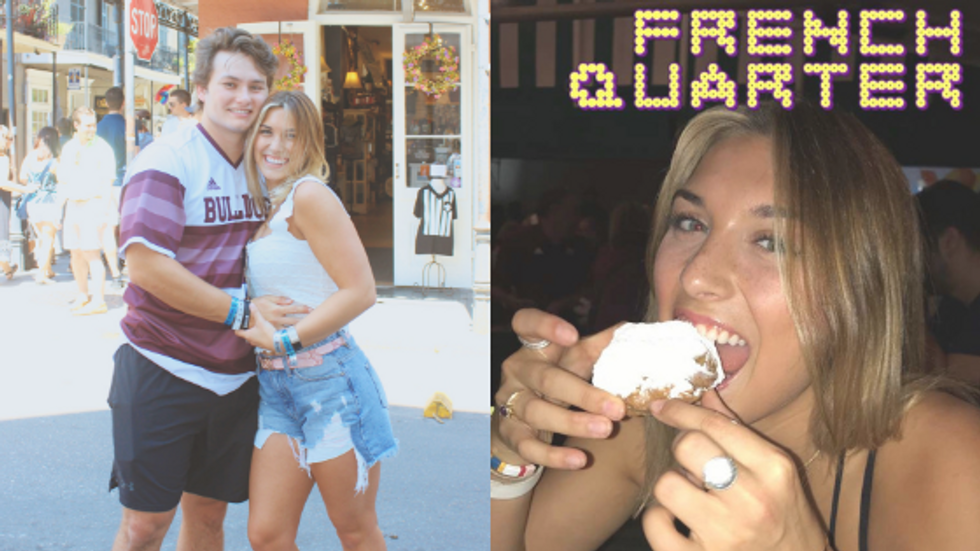 Bo and I enjoying our day in the French Quarter!