The question I'm asked most often is what camera gear I use. I find it pretty flattering honestly because that probably means you like the results. So, here it is! A complete list of all the equipment I use to make the magic happen!
Canon 5D Mark II
My camera body and the star of the show! I call it a beast because it's pretty bulky and heavy, but I will gladly continue to carry it around as long as it keeps helping me create such pretty images!
Canon EF 50mm f/1.4
This is my go-to lens for pretty much everything! It's wide enough to carry around when I'm traveling, but it opens up nice and wide giving you that nice blurry background and is perfect for every portrait session.
Canon EF 75-300mm f/4-5.6 III
I mainly use this lens for sports or events. It's a zoom lens which provides more versatility, but it only opens up to f/4 which robs you of that creamy background. It does the job, but I have my eye on an EF 70-200mm f/2.8!
Canon Battery Grip BG-E6
I use my battery grip at events or on long shoots to prolong my battery life and it works wonders! It definitely adds a lot of weight making the camera heavier, but it's worth the convenience of not having to switch out batteries. This grip is specific to the Canon 5D Mark II and has since been discontinued by Canon.
Apple MacBook Pro 13" 2017, 2.3 GHz, Intel Core i5, 128gb flash storage, no touch bar
Wow, that's a mouthful. I use my 13" MacBook Pro every single day. It's light enough to carry around with ease, but the computer is a powerhouse. I chose a MacBook Pro over the MacBook Air because it has the capacity to run programs like Photoshop, Lightroom, Illustrator and InDesign smoothly simultaneously. It has seriously enhanced my workflow and if you're a photographer or designer, it's a great investment to make!
WD- My Passport 1Tb External Hard Drive
Because I only have 128 gigabytes of flash storage on my laptop, an external hard drive is a must. No matter what, you should be backing up your photos/files on a reliable external hard drive. I keep all my session raws as well as edited jpegs backed up on my external hard drive.
Adobe Lightroom / Adobe Photoshop
Now for the fun stuff: editing software! As a design student, I pay for the Adobe student plan which gives me access to Adobe Creative Cloud software such as Lightroom, Photoshop, Illustrator, Premiere Pro and more. For photography, I mainly work in Lightroom and I use Photoshop for skin retouching, removing items, etc.
Sandisk Extreme 32 gb CF Card
The 5D Mark II came out in 2008 which is why it takes CF cards instead of SD cards. Here's the CF card I use for all my shoots! I own a few 16gb ones as well, but 32gb is my favorite.
Pentax Honeywell Spotmatic
I absolutely love my 35mm film camera! It definitely forces me out of my comfort zone, but I love the integrity of a photo caught on film. I have it paired with a 50mm f/1.4 lens and I love to use Fuji 400 or Lomography 400 film!
Having gear is great, but practicing, getting out there and shooting is even better. I started out with a Canon EOS Rebel T3 and a 50mm f/1.8- nothing too fancy! I worked, saved and practiced my skills before investing in the equipment I have now. You can make incredible art with whatever you have available to you.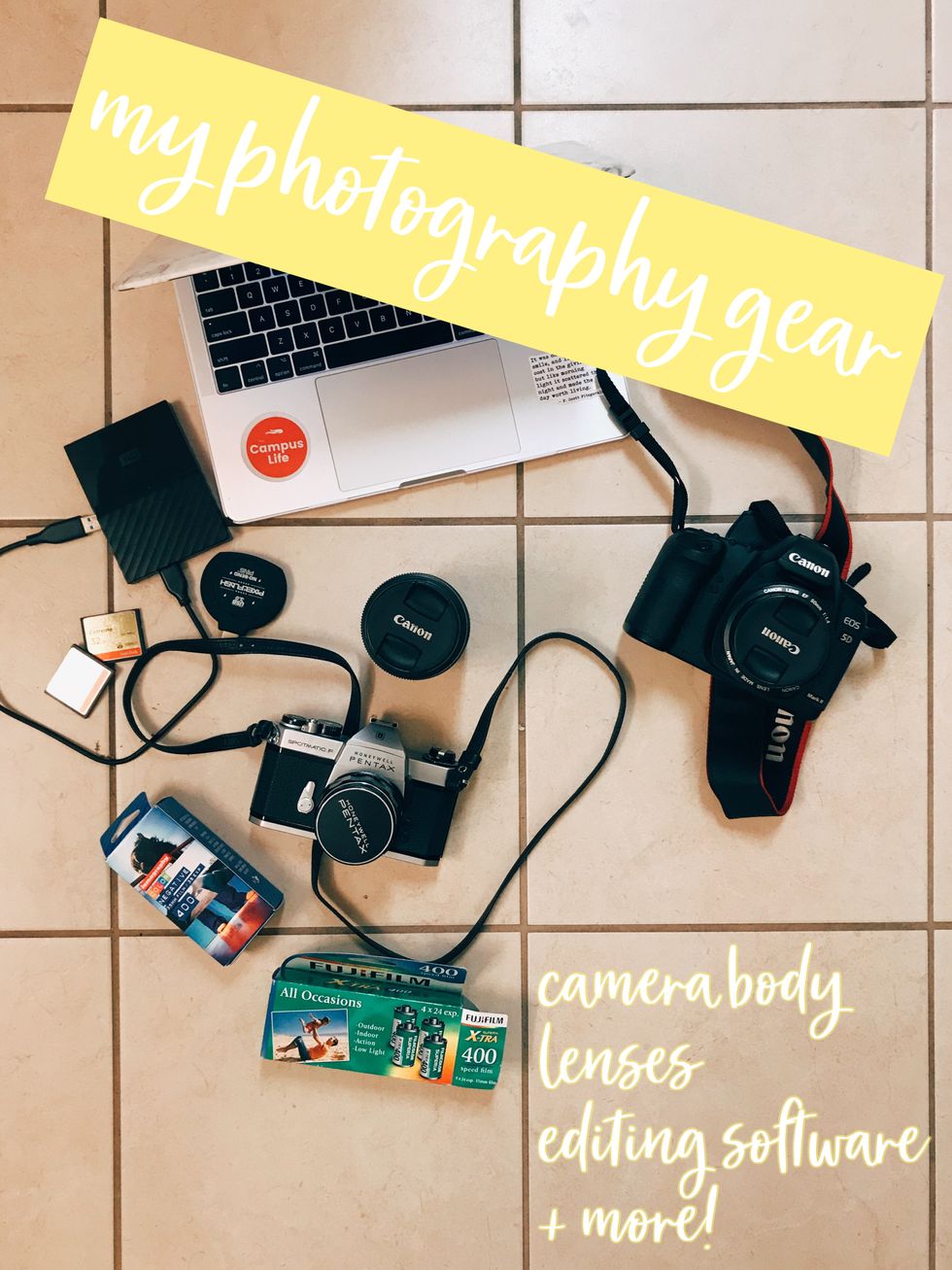 gracejicha.com