Making friends has always been a little rough for me. Scratch that, it's completely rough for me. I'm very antisocial; I'm an introvert who can sometimes break out of her shell, only to crawl right back into it. I have a very harsh tone of voice, I am very loud and come off sounding as cold, and my resting face always makes me look angry. Yet somehow I have always had friends.
I assume it's to the fact that I had a sibling, a twin, who could make friends at the drop of a hat. Wherever she was, I was, and when she made friends, most of them became my friends by default. Now when I saw that, I don't mean that they just put up with me because they were friends with my sister, no, I got to know them and they got to know me and we became friends, best friends.
There are some instances that I got friends on my own throughout middle school and high school, and it went along the lines of I've never talked to this person in my life to clinging to each other the next day, but those are rare. So I am capable of making my own friends, I just find it hard to do it by myself. My best friends from high school, Rachel and Erin, are proof of that. I love them with all my heart and we still remain close, even though we don't see or talk to each other every day like we're used to. And of course Naler, but she's been there since third grade.
However, my best friends in college were completely my own doing. College was a completely new experience for me, even though Cailey and I were there together, we weren't in the same classes and I was by myself in the color guard. For the first time in a long time, I was completely by myself when it came to putting myself out there and making friends. Granted it took almost an entire semester to make friends with Sherrie and by default, I met Ansley.
It was around the end of marching season by the time we all became friends and started hanging out, and then I introduced them to Cailey. Sherrie is fun and outgoing, and not afraid to speak her mind, which was exactly the type of person I needed to break me out of my shell during my first year. She was my first friend at JSU. Now, Ansley, she was timider than Sherrie. It took her a while to open up, she was very quiet and hardly spoke a word. But after a while, she opened also and now there's never a dull moment.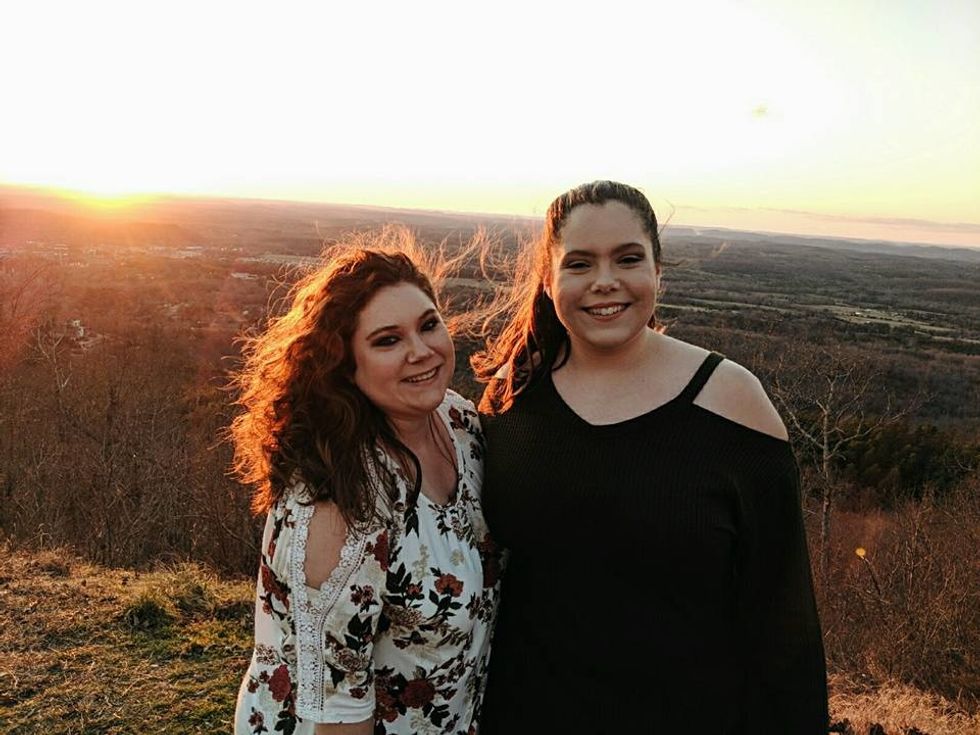 Sherrie
Then came Rebekah, she was also on guard with us, but the most we ever said to each other was "I like your shirt." We became friends in a completely awkward way. Let's just say I got sick after the trip to LSU and she very politely helped me out, when she could have said no.
This was still in band season, after that we didn't really talk and then during the spring semester we had English together and I basically followed her around. She then introduced us to her little Drey, and then we just all clicked together. It was like we had always been friends. Rebekah, Drey, Cailey, Naler, and I all have matching tattoos now.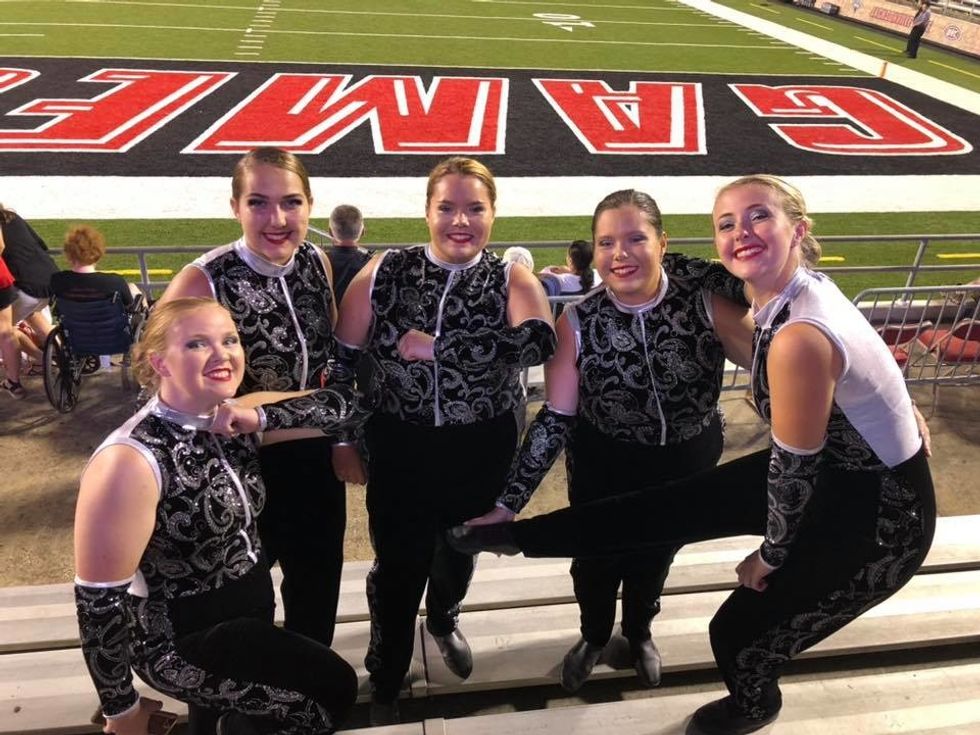 This is a recreated pose that we take showing off our tattoos. Far left is Naler, Drey, Cailey, me, and then Rebekah.
Sherrie taught me that it's okay to dance and be silly. Ansley taught me that it's okay to embrace my quirky, but awkward side. Rebekah taught me that two people who are basically the complete opposite, like Captain America and Iron Man, can have a great friendship. And I'm not using them as an example of we fight and argue but will always be there with help, but because we are two completely different people. She's a very soft-spoken and caring person who can have fun and get loud, and I'm a loud very harsh spoken person who has problems with showing people that they care.
Naler taught me that it's okay to be a complete fangirl. Drey taught me that it's okay to be awkward but to keep my head up as it got more awkward.
The point to this is that the friends I made in college, are the ones that I made by completely being myself. Even though half of us are completely opposite in personality, we all find a happy medium and we can be ourselves around each other. I've never had a friendship that I knew right off the bat that this was gonna stick, that these friendships were gonna stay.
These five (not including Cailey cause she's always been there) people are what make me excited for school or band because I know I get to see them. I know that I can go to them, no matter the problem. I've never had a friendship that gave me this type of security, that I usually find in the family. I love them with all my heart and I know they love me.
Making friends was always hard for me, and it still is because I really hate small talk and if I don't know you I will quite literally put on sunglasses so you can't make eye contact. These people taught me that no matter how I am or how I act there is always someone willing to be there for you and can love you no matter what because they've gotten to know who you really are. Someone is always willing to look past that mask you're wearing. And sometimes they're willing to help you remove it so that other people can see it as well.