Ever since skinny jeans became popular, I've really only worn tight pants, and I'm talking Jonas Brothers 2007 tight, like tight from my hips to my ankles. As a curvy girl, I feel like skinny jeans and jeggings, especially the high-waisted ones, accentuate and contour my body perfectly. They could be black, white, acid-washed, cropped or ripped, but if they weren't slim-legged I wouldn't even consider trying them on. I got so used to the tightness that it came to a point in which I felt awkward wearing a looser fit and I ended up convincing myself that any other denim style wouldn't look good on me. Baggy pants would just make my legs look bigger.
After graduation, I found myself reflecting as I packed my whole life into boxes. I put myself into a Marie Kondo state of mind and began to raid my closet. After almost half an hour of internal conflict (because, you know, letting go isn't that easy), I had three huge trash bags full of clothes ready to be taken to Goodwill. During this process, I realized my whole style had remained the same for years. So, I told myself it was time to spice things up. I needed to step out of my comfort zone for once and try new things. I thought of it as a post-grad glow-up. And as soon as I got back home, I hit the mall.
First on my list: jeans. I had to try on a different style of jeans. That way I would push myself out of my comfort zone rather than cautiously stepping out because if I could make myself wear a pair of jeans that weren't skinny, I could get myself to try on anything. There was one style in particular that I really liked based on how it looked on other girls and that was the "mom jean." They seemed like a more relaxed fit, yet still had the high rise I liked. That day I was determined to find the perfect pair.
I went to five stores and tried on almost six different types of "mom jeans." None were flattering. I was about to call it a day, but I decided to try one last store. Usually, when sales assistants ask me if I'm looking for anything in particular, I respond with a short and sweet, "no, I'm just looking around, thanks," but not this time. I walked up to the first lady I saw and asked if they had any "mom jeans." She made a face as if she was about to give me bad news. My hope plummeted right then and there. But after thinking it twice, she said, "you know, I think we have a couple of pairs left back in the sale section." We walked towards the back and there it was. The only pair of "mom jeans" left in my size; the soon-to-be love of my life, ready to be tried on.
There I stood in the dressing room, staring at myself in the mirror with the most ridiculous smile on my face. I had never been more shook in my life. Those pair of "mom jeans" fit me like a glove. They were high-waisted and tight around my hips; just the right amount of loose down from my thighs to my ankles; and extremely comfortable. They were perfect and I actually felt like I looked good. And the best part: they only cost me $12. Yes, $12. We love a good sale.
It's moments like this where I have to disagree with those who say that money can't buy happiness. It actually can! I mean, a little piece of happiness at least. My new pair of "mom jeans" makes me feel empowered. They have made me gain the confidence to wear other different styles of pants without worrying about looking "big." I cannot believe I had never given "mom jeans" a try. But also, I can't believe that for years I didn't give myself a try.
Move over, skinny jeans. We're making room for other jeans in the closet now.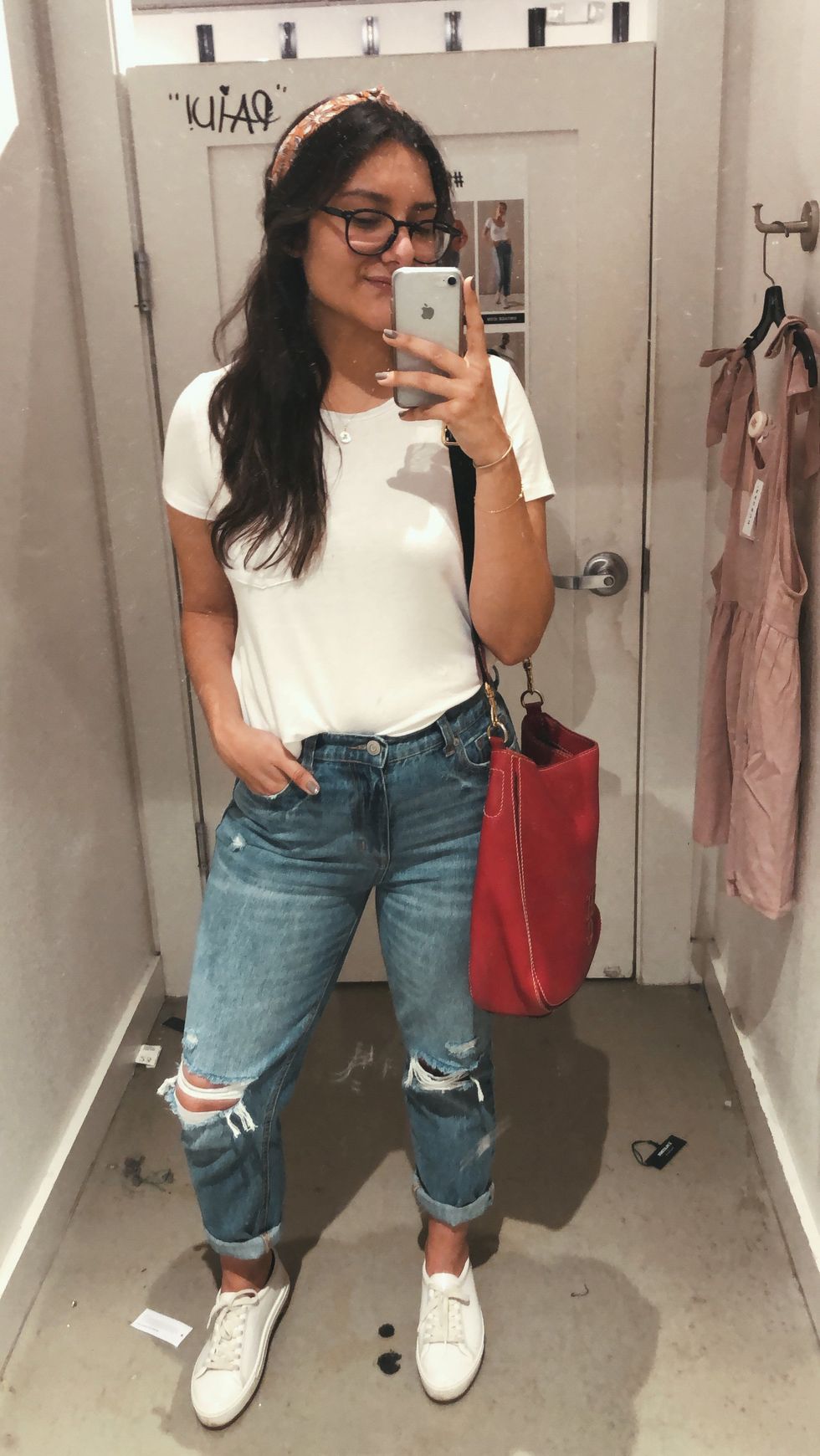 Gianna Alfanno