Millennials are known for their quests for self-discovery and their wanderlust. We are hard workers and dreamers who don't want to settle for the mundane.
And a lot of that comes from Disney.
The movie heroes and heroines that were adored growing up probably had a bigger influence on the generation than you realize.

Millennials are the generation of people who were born between 1981 and 1996. And the Disney Renaissance refers to the decade from 1989 to 1999 during which Walt Disney Animation Studios produced critically and commercially successful animated films. As the main target audience, millennials grew up with these movies.
Disney films, especially older ones, are well-known for typically having a love story for the main characters. However, in the renaissance period, the love plotline usually came on accidentally during the hero or heroines quest to find themselves. They actively go after the things that they want This is in contrast with movies such as Snow White and Sleeping Beauty, where the protagonists were very passive and even spent part of their screentime comatose.
The Disney Renaissance films are different, but many of the protagonists are seeking a common goal: to understand themselves and to find adventure. Each Disney Renaissance protagonist even has a song where they define their goals, and these songs are well-known by many people. This is reflected in the millennial generation as well, as many are seeking self-acceptance and understanding and adventures out in the world.
During the Disney Renaissance, the main characters were all given a driving motivation that launches them on their journeys. It varies, but they all mainly want the same thing: a sense of belonging, adventure, to find their place in the world, and to accept their responsibilities while being true to themselves. Many of them, such as Aladdin, Jasmine, Mulan, and Belle, also want to break the rigid rules and expectations of the societies they live in.
These are things that most millennials want out of life too. That, and a more affordable cost of living...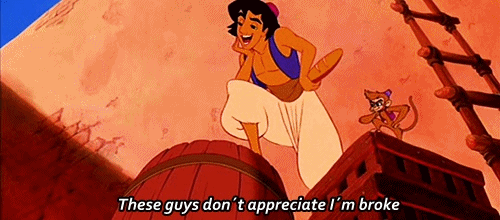 "One Jump" cdn-images-1.medium.com
With all the beautiful imagery in these films of the protagonists running into fields and chasing sunsets, it's no Cave of Wonders why millennials are chasing these same dreams.