Welcome to the third installment of 'Meet the Reporter,' Thanksgiving edition!
(*Cranberry sauce not included)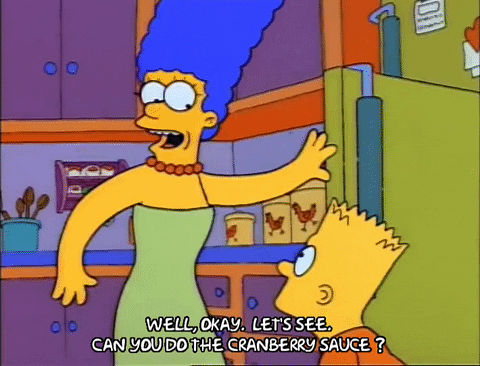 Giphy
During this holiday season, the reporters at ASU Odyssey want you to get to know us, and this time around, it revolves around what we're thankful for this time of year.

This is going to quick (and mostly painless) listing off of the things I'm thankful this year, and if nothing else, allows me to reflect on the good things I've gotten to experience over the last years. So, let's get started!
I'm thankful for my family.
My mom, dad, and brother Ryan have always been supportive to me, but especially in the last few years as I finished up college. They're the ones telling me everything I needed to hear when looking for jobs, the ones who tell me not to panic when my car battery dies, and yes, remind me to call my relatives whenever I can. But more than that, they support what I do and help me continue to do the things I love the ways they believe I'm best at doing, and I can't thank them enough for all of that.
I'm thankful for my friends.
Specifically, I'm thankful that I have the friends I do at this point in my life. Between my old friends in Orange County, my new friends in Phoenix, and those that have spread out all over the world, I've been lucky enough to know a lot of amazing people, some in just the last year. It's not just pleasant people I get along with, but also friends who don't let me get away with saying stupid stuff, who keep me on my toes, and legitimately care about me being a good person.
I'm thankful for my job...or job(s) as it were.
Getting the offer to joing KTAR came out of nowhere in my post-college job search, but I was more than happy to stay in the city that had housed me for four years, and work for a pretty great station in the process. I acknowledge how rare it is to find a job right out of college that one enjoys, has the possibility of future opportunties, and can provide a roof over my head, and I'm grateful to be in the position I have, as both a board operator and a proper radio producer.
Thanks to Eric, Joe, Alonso, Pablo, Connie, BT, Taylor, Kevin, Luke, Quinn, Kat, Tom, Bryce, and Robbie among others for dealing with my nonsense, my overabundance of questions and ill-conceived ideas, and just being available for the new guy.
In addition, I have to count my work here at The Odyssey Online as part of that work flow. I had plans for where I wanted to keep up with my entertainment coverage and writings in general and, like KTAR, The Odyssey basically came out of nowhere. But now, I can't imagine not being a part of it, and the freedom and encouragement I've gotten from the site has given me so much more than I thought. Lauren, Mitchell - thanks for being such great editors, hopefully one day I'll meet you guys in person!
I'm thankful for my music.
I've been in a lot of bands over the years, but my current project, Cablebox, feels like the most stable, engaging, and all-around fun project I've done in awhile. Again, rehashing the phrase I can't think of any other words for, Vaughan Jones, Dhinesh Nagarajan, Lauren Rho, Nick Fosse - along with our far-away member Nick Frias and our social media manager Keagan McKinney - have become like family over the last year. I don't always seem like the most open person, but I truly appreciate every minute I get to spend with these guys, and I can't wait for all the exciting things that seem to be in the pipeline.
*Side note: thanks to everyone who came out to Blaze Fall Fest recently, not just to see us, but also donating a whole ton of canned food for St. Mary's Food Bank; you guys are helping a lot of people this season, and we thank you so much for doing that.
*Side of the side note: Follow us @cablebox_music on Instagram and @cableboxmusic on Twitter. What? This is 2019, of course I'm going to shamelessly plug things in my Thanksgiving article.
I'm thankful for having had the opportunity to go abroad for the first time.
Last Summer, I had the opportunity to go to Israel on Birthright with ASU Hillel, and I had a fantastic time. I'm thankful because I managed to squeeze in a big old Summer Abroad trip in that short period between graduation and going into "the real world." I explored cities I never knew existed, attempted to learn about my own Jewish heritage, and examine the often complicated distinctions that come with Israel in regards to that heritage. I knew one person going into the trip, and now I'm part of 40+ person group that have become dear friends that I still get to see on the regular.
There's more I'd like to get to, but I think that pretty much sums up the most important things. Hope everyone has a great holiday, and we'll see you when we get back!
____________________________________________
Want to follow me on social media? Follow me on Twitter and IG @TheMovieKing45