Another day, another mass shooting in America. I want to say I'm surprised and shocked, yet I'm not. Ever since I was in elementary school the violence in America by Americans has become the norm for me and everyone else around me. It's something I've become desensitized to and it shouldn't be that way. It shouldn't be something that happens so often that I'm no longer affected by it. I shouldn't watch the morning news and not be fazed by the fact that 26 people are dead because of one man with a gun.
How many more people have to die before we realize that there's a problem? How many more kids have to die before we realize our gun laws aren't working? The youngest victim of the last mass shooting was under 2 years old. Let that sink in. A baby is dead because people didn't do their jobs.
In the latest mass shooting the shooter, who I'll keep unnamed because he doesn't deserve any more press, got his hands on the guns he had because people failed to do their jobs. The government should have done their jobs. You read the right, the government, the United States Air Force didn't do their jobs right and they are the reason this monster was able to get his hands on guns. The shooter is not the only one to blame for this, those who didn't properly do their jobs are to blame as well.
Let's look at numbers: Since 2000 there have been 64 known accounts of mass shootings in America. Since 1982 there have been 95 mass shootings in America. Between the years 1982 and 1999 there have been 31 known mass shootings, which means between 2000 and 2017 there have been 64 know mass shootings. In the 17 year span of 1982 and 1999, the mass shootings were half of what it is now. 2000 to 2017 is still a 17-year span yet has a mass shooting number that's over doubled the amount of what it had in the past.
I can guarantee you those numbers will only go up in the next year, if not the next month.
And no, you can't pull the "bad guys will always get guns" argument.
According to Mother Jones, the shooters obtained their guns legally more times than illegally.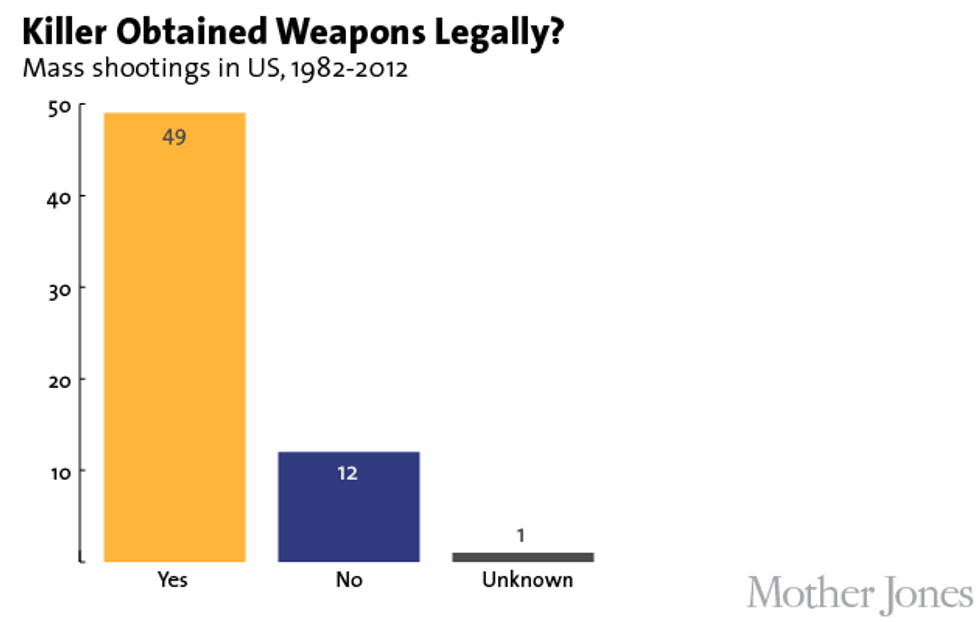 Stop blaming these mass shootings on mental illness. Stop demonizing mental illness. I'm so sick of it. Start treating these people how you treated the person who went on the rampage in New York. Just because the color of the Texas shooter's skin doesn't match your definition of a terrorist doesn't mean that he isn't one. Stop blaming a group who already struggles with how they are viewed. People with mental illness are not the problem. People with guns are. People who allow easy access to guns are. Trump signed a bill recalling the bill that Obama passed to restrict those with mental illness from getting guns.
If it were as easy to get help for mental illness as it was to get a gun America wouldn't have this problem. If I didn't have to jump through hoops to find a therapist and psychiatrist that I don't have to pay thousands of dollars for, it would be easier to treat mental illness.
Note: Since I've started writing this piece and researching it 18 school shootings have happened in 2018 alone. This means the numbers have changed and became larger.
Focusing now on the latest (and yet another) school shooting. On February 14th, 2018 (that's right, Valentine's Day) a lone shooter entered Marjory Stoneman Douglas High School with a semiautomatic A-15 rifle. 17 innocent students lost their lives that day and countless more were injured and scarred for the rest of their lives. 17 families have to figure out how to continue living without their children. Again, I'm keeping the shooter unnamed because he doesn't deserve any more press, was reported to the FBI before the shooting yet nothing was done.
Just a few weeks ago the schools by me were shut down because there was a man with a gun having a shootout with police. There have been 18 cases of school shootings since January 1st but only 7 of those school shootings ended with someone either dead or injured.
Thoughts and prayers aren't going to do anything. They're not going to solve the problem that America has. There have been 18 school shootings since the new year started. Let that sink in. 18 in the last month and a half. If you don't think there's a problem, there's something wrong. Yes, "thoughts and prayers" are nice but they don't do anything. Actions do. It's time to take action against this problem America has.

I don't think anyone who is a danger to themselves or others should have access to a gun - which unfortunately mentally ill people are normally a danger to themselves before they are to anyone else. It just goes to show that despite the regulations put up to stop this type of thing from happening it still happens. Unless the people breaking the law by selling guns to people who shouldn't have one in the first place are held accountable, nothing is going to change.

I want people to stop dying, I want people to understand that we need stricter gun control. I'm not saying we need to take away all guns, I'm saying that we need better control. Fixing the system is what I️ mean when I️ say we need to be stricter with our gun laws. We need to be stricter on those who give them out and make sure they're following the laws and guidelines put in place so things like this happen less often.
---
For those of you who would like to help there was a gofundme set up for the victims of the shooting. I know most of us are college students but even a dollar will help.