Being the huge foodie and frozen dessert junkie that I am, I've recently seen this recipe for mason jar ice cream surfacing on my social media accounts a few days ago.
To my complete surprise, this recipe was published over two months ago and I was shocked how it didn't reach me until this past weekend.
The minimal ingredients and the overall simplicity of this recipe seemed too good to be true and I knew what I had to do: try it out myself.
However, noticing that the primary ingredient the ice cream called for was heavy whipping cream, I decided to add my own dairy-free twist to the recipe, and substituted it with coconut cream instead.
I also swapped out the normal, granulated sugar with coconut sugar, giving my sweet confection an extra, tropical flavor.
The Ingredients: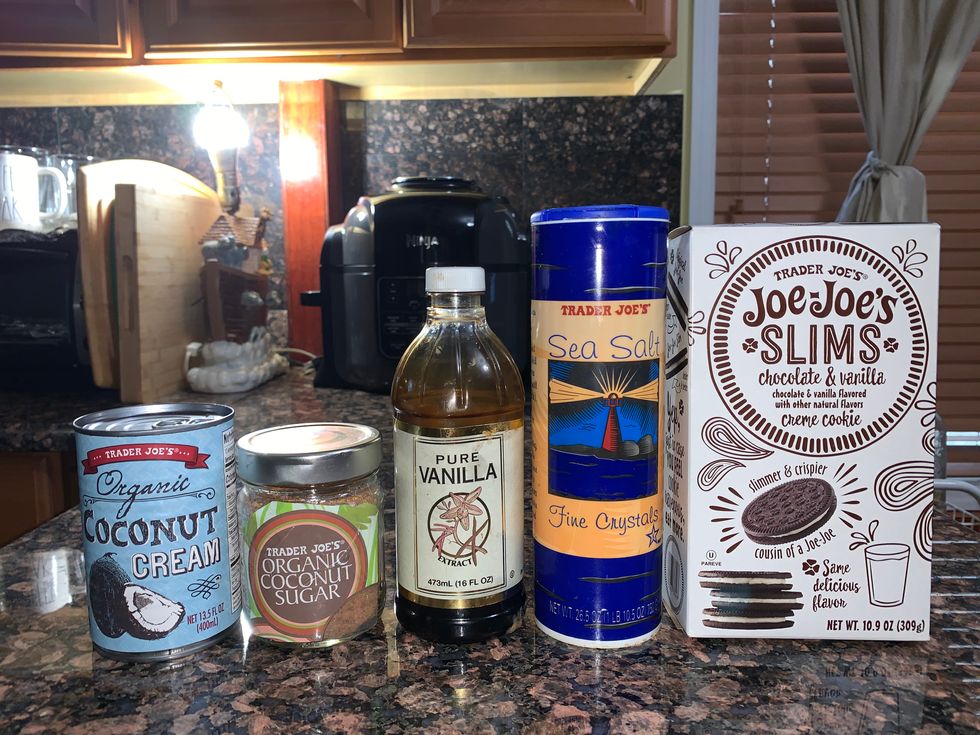 Taylor Huang
I didn't even realize how I used only Trader Joe's products for this recipe, but you can purchase these ingredients from any supermarket!
I used:
1 can of coconut cream
1 and a half tablespoons of coconut sugar
1 and a half tablespoons of vanilla extract
A pinch of salt
Crushed Oreos or similar generic brand (I used TJ's Joe-Joe's Slims)
The Process:
After lining up my ingredients, I added my coconut cream, coconut sugar, vanilla extract, and salt into my obscenely large Mason Jar (I used a 32 oz one, but one in the 16 oz size would totally work too).
Then, after giving my ingredients a good mix with a metal spoon, I then proceeded to shake the Mason Jar for a little over 5 minutes, to make sure everything was well combined.
Next, I crushed and added in my sandwich cookies and tightly sealed the lid.
I then popped my mason jar into my freezer overnight, so it would be ready for a midday treat the next afternoon.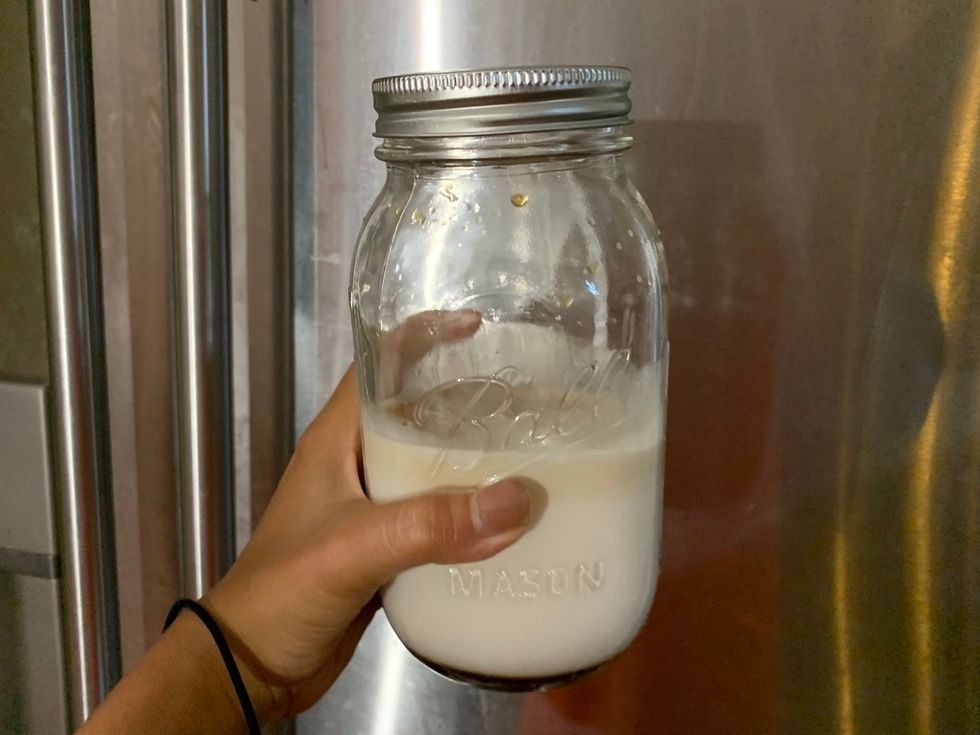 Taylor Huang
The Final Verdict: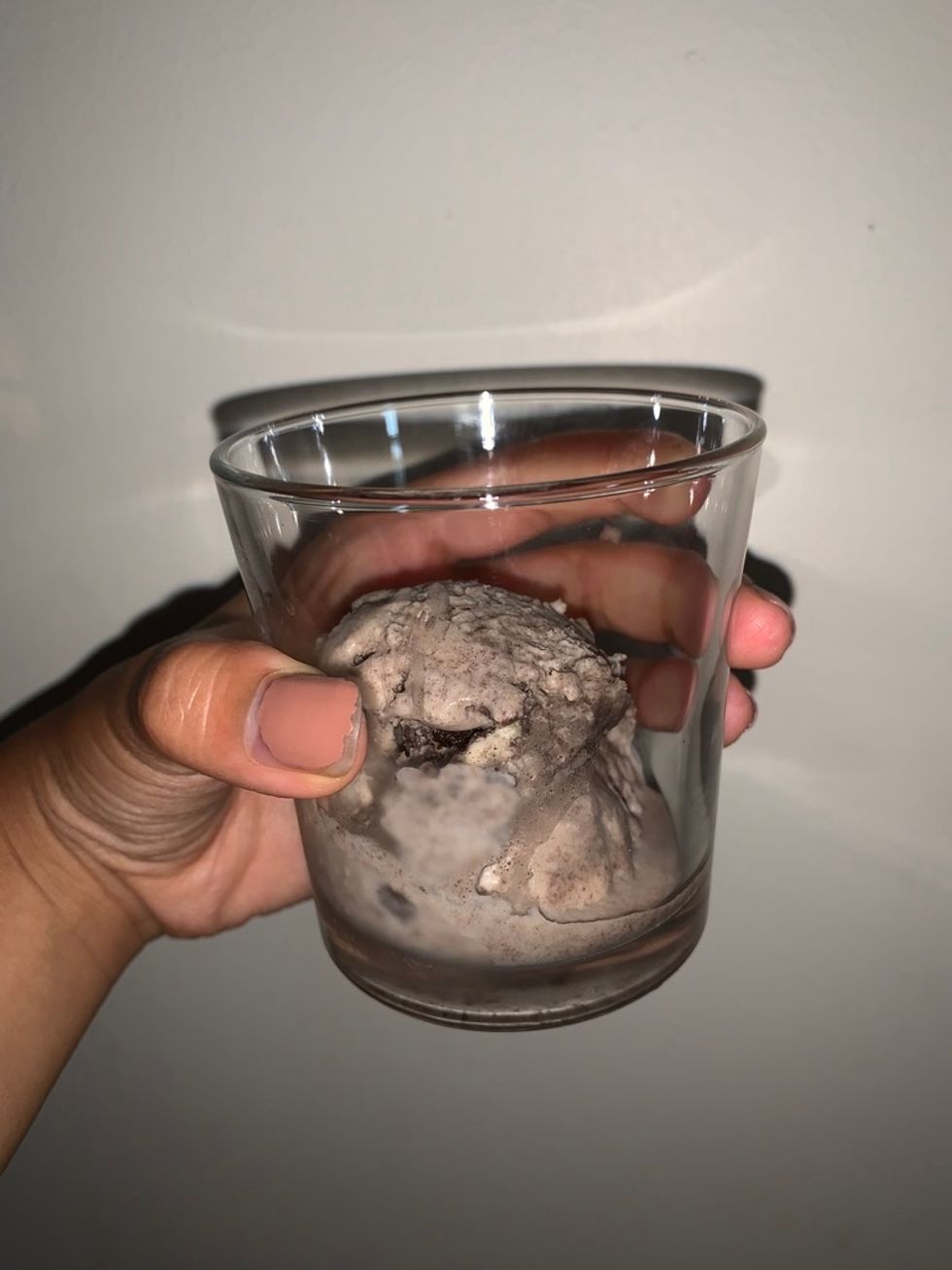 Taylor Huang
This mason jar ice cream was truly spectacular. Upon taking my mason jar out of my fridge, I was truly surprised by how easily I just made ice cream with just five ingredients and a mason jar.

It was sweet, thick, and extra creamy.
For this trial, I made mine cookies-and-cream, but now I'm planning to remake this recipe in all of my favorite flavors, ranging from rich chocolate, to mint chocolate chip, to peanut butter twist.
Of course, there was also a little bit of a coconut taste because of the coconut cream substitution we made, but I didn't mind it. However, if that is something you are more sensitive to, you might want to keep that in mind, or you can make the original which I'm sure is just as delicious.
Either way, you've just saved $6 on a pint of ice cream you would have gotten at the supermarket. You're welcome.