12 inmates of Estrella Jail near downtown Phoenix wake up at 3:45 a.m. and are transported to the 4th Avenue Jail where they wait in a holding cell until detention officers escort them through underground tunnels to arrive at their job — a routine they repeat six days a week.
These inmates report for job duty at the Maricopa Animal Safe Haven (MASH) unit at 6 a.m. sharp. They face a 12-hour workday but waking up at 3:45 a.m. feels like a treat when greeted by a building full of animals excited to see them, Jennifer Groleau, former inmate and program participate said.
Groleau was sentenced to eight months at Estrella jail for drug charges and worked with the unit for four and a half months.
"The best part of every day is getting off the elevator and hearing the dogs bark because they knew we were back," Groleau said.
Animal Inmates
The unit was founded in 2000 by former Maricopa County Sheriff Joe Arpaio and runs completely off donations. The shelter's biggest donor is PetSmart, although many necessities such as beds, toys and blankets are brought in from local residents, program detention officer Troy Palomino said.
The shelter houses abused and neglected animals seized during Maricopa County Sheriff's Office (MCSO) investigations in the old First Avenue Jail in downtown Phoenix.
The three-story concrete structure built in 1962 is big enough to house 500 inmates but is now a safe haven for hundreds of animals. Each dog is given their own cell — a space much larger than a typical shelter kennel detention officers said.
The walls of the shelter are covered in bright murals similar to what you might see in an elementary school. Painted cats and dogs running through tall grass under sunshine and rainbows — all painted by former inmates when the shelter was opened.
Before the program was created, hundreds of animals a year would have fallen victim to the abusive homes the unit has rescued them from, detention officer Palomino said.
"The inmates have a lot of responsibility caring for these animals, they have to turn these abused and neglected dogs into adoptable pets and that takes a lot more than a cozy bed and food," Palomino said.
Inmates must complete 23 courses on how to properly train and care for the animals. According to the unit's detention officers, these courses teach basic skills on how to feed, clean and bond with the animals.
"These animals are going through trauma and they have feelings just like we do, so we try and socialize with them, and a lot of these animals that come in have been abused or neglected and don't know that there's a better life for them, so we try and initiate that to them before we put them on the adoption list," Palomino said.
Dogs who become adoptable only stay in the shelter for an average of three to four months and none of the animals have been brought back, Palomino said.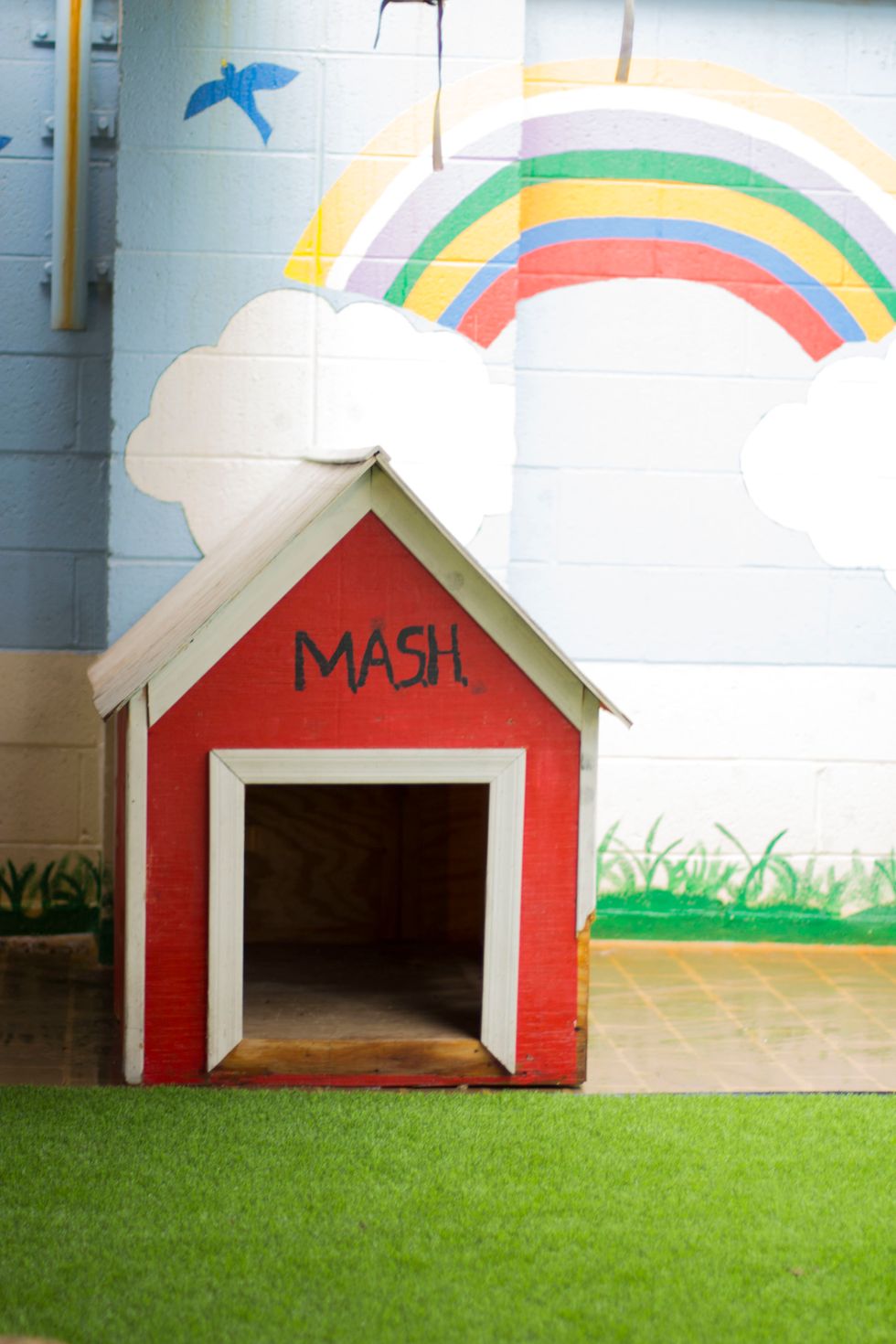 Avery DeHaven and Ane Pulu
Inmate Rehab

The program has not only become a safe haven for animals but for the inmates who care for them too. The shelter provides a therapeutic experience for inmates and shelter animals, who both leave in better shape than when they arrived unit officers said.
Shantel Poisson, a 23-year-old Estrella inmate serving time for robbery said the program has motivated her to change her life for the better.
"I want to be able to show that I'm learning from being here and that there is more than to just not care about life," Poisson said. "I wake up happier than I have ever been, even though I am in jail I love what I get to do here."
Palomino said the program looks at inmates' jail behavior record before considering them for the job.
"They want people who are able to follow directions and work well with others," Poisson said."It's hard to get into this, you have to be doing good and showing that you're changing your life."
According to detention officers said the program positively impacts inmates as they learn patience and build self-confidence in both themselves and the animals they work with, enabling them to address their own emotions and conflicts.
"You're able to see the full 180 that both the animals and inmates go through and it's a really great thing," Palomino said.
According to a 2015 study on prison-based animal programs by the University of Northern Colorado, programs that combine inmates and shelter animals have proven to be beneficial to not only the inmates but to the correctional facility and community as well.
Ashlee Simpson, an inmate serving time for second-degree burglary has been working with the shelter for a little over two months and said it has taught her to feel at peace with herself.
"Being here and working with the animals has been very therapeutic for both me and the animals, I have learned to become more in touch with my emotions instead of trying so hard to hide them," Simpson said.
Prison-based animal programs have become a form of therapy for inmates by helping treat common mental illnesses associated with prisoners that could lead to a happier and healthier lifestyle once released.
Viviana Deltoro, a former inmate sentenced for possession of narcotic drugs worked for the program for six months and said it helped her overcome addiction by reminding her what it feels like to love and be loved in return.
"Working with MASH made me realize that I don't need an addiction to survive, working with the animals makes you feel so loved and changes your whole mindset," Deltoro said.
"You feel like you're making a difference, they make you feel like your whole life is worth living for."
The pairing of shelter animals and jail inmates has created a solution for problems that correctional facilities didn't know existed by changing mental states and attitudes of inmates, program detention officer Palomino said.
"There is a noticeable change in the inmates after they leave the program, a few of them I have seen outside of work and they tell me all the great things they are doing with their life and I can tell they have truly changed," Palomino said.
Prison-based animal programs have bridged communities and correctional facilities together by allowing the public to see the positive work inmates are capable of, as reported by the study done by the University of Northern Colorado.
"What it means to help an inmate could be interpreted in a variety of ways by different people, but one of the primary goals of many programs is to reduce recidivism," Koushmaro said.
Inmates who had the opportunity to participate in the shelter leave happier than what is expected for those serving time in a correctional facility, detention officer Palomino said.
"We see everything that happens from the beginning to the end as far as the whole turnaround and it's awesome to see," Palomino said.
Former inmate Deltoro said she completed 26 classes during her time at the shelter and is now pursuing a career in animal welfare at the Arizona Hume Society because of the skills she learned during the program.
"It changed my life completely, they don't treat you like an inmate there, they treated me like a human being," Deltoro said. "It made me feel important because those animals needed me, but I didn't realize how much I needed them too. Because of them, I am going down the right path for a better life."