After much deliberation in an attempt to secure the most beneficial players at the best price, the Atlanta Braves have finally secured their 40-man roster for the 2019 season. This long process ended with the Braves striking a $4 million, one year deal with golden-glover Nick Markakis. Markakis was a strong defensive and offensive player for the Braves last season, but many people were less than happy with this move by the Braves.
Many fans and analysts believe that the Braves could have made better moves with the money they had remaining, and they also believed that Markakis could have secured a better deal for himself. However, Markakis has no issues with the deal he secured with the club.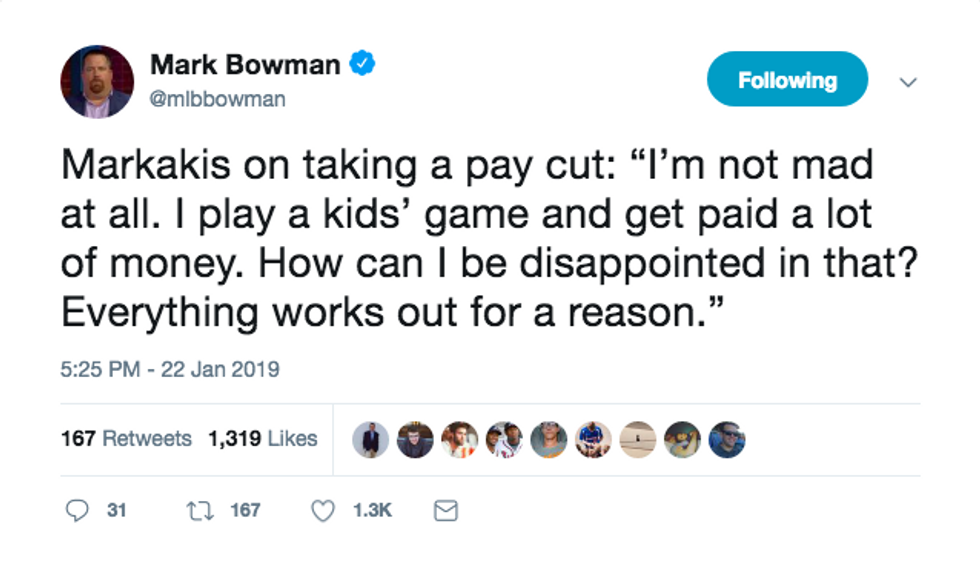 @mlbbowman on Twitter
The above tweet contains a direct quote from Markakis after he was questioned about his decision to take a hefty pay cut in order to remain a part of the Braves organization. This short and simple quote shows the value of Markakis, not only as a player but a teammate. He is aware of the extreme privilege of his job and recognizes the real reason that he plays this game.
In the sports world today, each and every move made is rooted in the money. No matter the sport, the player, or the position the number one priority is the paycheck. This is reasonable due to the high amount of money these athletes make, but often they lose sight of why they still play their game of choice. Markakis seems to go back to his roots here and realizes that this organization has given him so much opportunity and it remains the best fit for him as a player.
Having Markakis finalized on this Braves roster paves the way for a high scoring season for this offense. Their lineup is composed of some of the highest producing hitters in the league and fans should look forward to an exciting season.