Mardi Gras. It's synonymous to Bourbon Street, downtown, and the French Quarter. Well, it is to those not from NOLA. As a local myself, someone who's been through 18 Mardi Gras, I've never gone downtown to watch a parade. I've watched it along St. Charles Avenue between two streets called Napoleon Ave. and Louisiana Ave. So, while you may be inclined to run straight for that hand grenade and the 5-cent bead on the ground, here's a little bit about how I, a local, celebrate one of the most festive holidays of the year.
1. Parades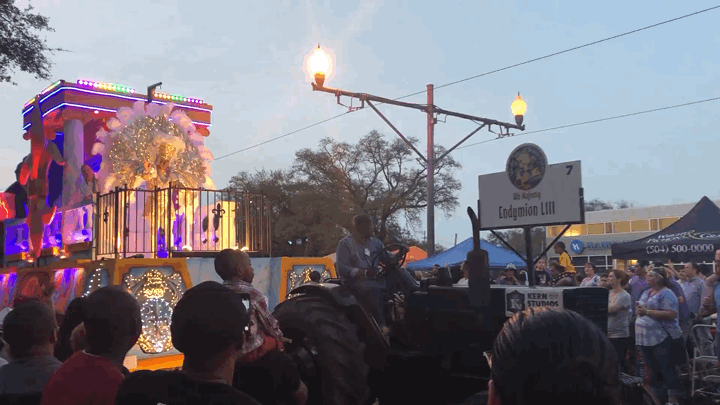 Lauren Chestnut
While every parade is good and fun to someone not from NOLA, the best of the best are the weekend before -- from Thursday to Sunday — Mardi Gras Day. My personal favorites are Muses, Krewe D'Etat, Thoth, and Tucks. And, do shout throw me something mister/miss, but do not shout anything raunchy at the floats. They normally don't hear it, but that's not gonna make them throw you anything better than a 5-cent bead. Also, while talking about beads, I can spot a tourist straight away if they dive to the ground to pick up a bead they didn't catch -- there will be more thrown, and the ones you catch are better than the ones in the party gravy (don't ask, it's a local term).
Here's a list of the parades:
https://www.mardigrasneworleans.com/parades/
. The best ones are Uptown, and, if you show up anywhere else, don't say I didn't warn you.
2. Location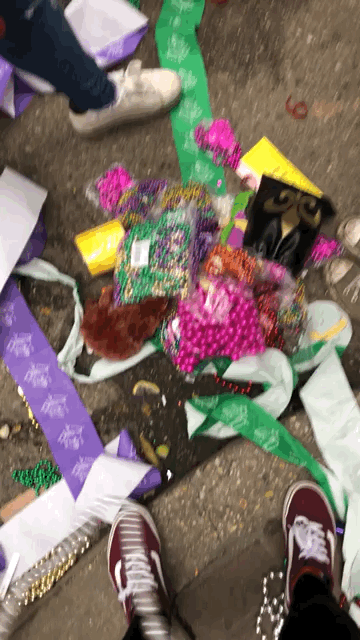 Beads on beads
Elizabeth Gainey
You need your camp. Your home base. Somewhere to come back to after your eight miles of walking around. Wherever you set up, you're gonna want at least a few folding chairs, and maybe a couch you don't mind leaving on the route after the weekend has ended. Maybe splurge for a canopy for the rain and sun. And, I would use some of those Styrofoam coolers while you're at it. The main key is to bring stuff you don't care about in case they get destroyed. While downtown is the most popular spot for tourists because of its proximity to Bourbon Street, I personally like St. Charles Avenue on the other side of the Garden District (neutral ground side!). There's good local food, lots of people, and the same amount of craziness, but a better atmosphere, in my opinion. Also, there are no barricades, so there's that little bit of danger when you inevitably get pressed up against a float by a stranger. But if you're there for more than one day, maybe try out a few different spots.
3. Attire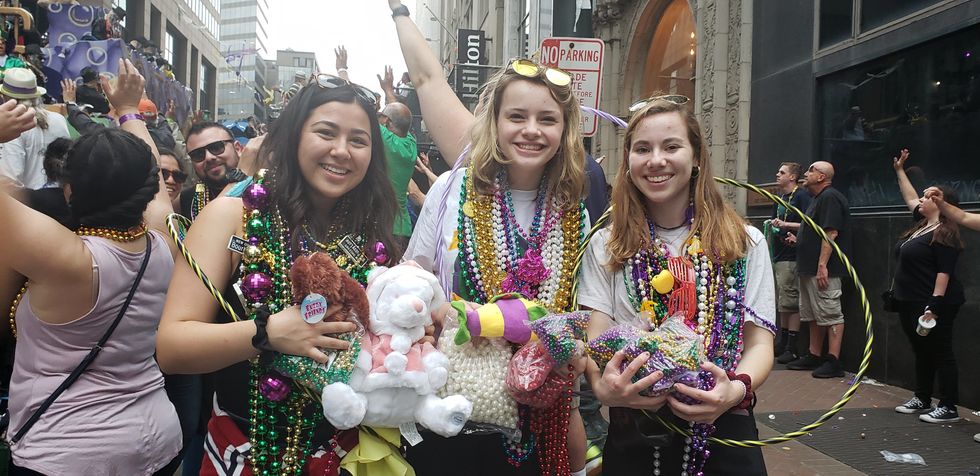 Elizabeth Gainey
Have fun with it! While most tourists are over the top with wigs and sequins, etc, it's the most fun time of the year, so you can have fun with what you wear! Although, while neon colors are popular, you can never go wrong with the classic purple, green, and gold look. However, always bring a raincoat and or jacket, because it gets cold at night. Some years Mardi Gras is in 80-degree weather, and others it's in the 40s, so check the forecast and plan accordingly! Also, don't wear your best shoes. Think walking shoes and frat shoes in one; you want something you can walk around in and something you don't mind getting muddy, so leave those nice heels at home. Also, the more beads the better! You better have about two whole bags-worth on at all times.
4. Food
Do not, and I repeat, do not go to a chain or a janky restaurant Downtown or in the French Quarter unless you at least looked it up on Yelp. If you wanna venture out of the tourist trap that is Canal, here's a few options of places I love. R & O's on the lakefront for seafood/Italian, Bear's or Parkway Bakery for a famous po-boy (although, everyone's favorite spots for one of these bad boys differ), or Willie Mae's (or even Popeye's, a parade route staple!) for some good fried chicken. And, bring some food and water for the parade route, because sometimes you just want to snack in the middle of a parade, and if you didn't bring anything you're gonna have to wait on one of the float's throwing you a Moon Pie or bag of Chee Wees.
5. King Cake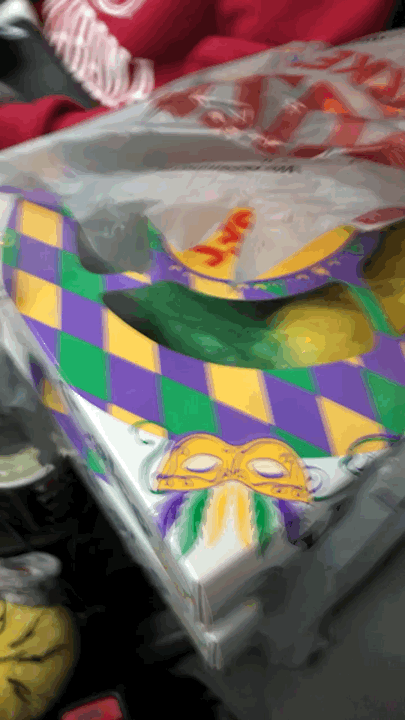 I don't think this is enough king cake...
Elizabeth Gainey
This part of Mardi Gras is so important it needed its own section. Please do not go to the nearest supermarket (Rouses or Walmart) to get a king cake. If you wanna feast like a local, head to Dong Phoung, Haydels, or Manny Randazzo's to get the best of the best. Not gonna lie, though, even Rouses has decent king cake, especially in a pinch.
Here's a comprehensive list of some of the local favorites: https://nola.eater.com/maps/best-king-cakes-new-orleans-nola