No tears with today's "This Is Us" news!

Supermom Rebecca Pearson is going to be a mom IRL! Mandy Moore and her husband Taylor Goldsmith shared the news on their Instagrams Thursday afternoon!
"Baby Boy Goldsmith coming early 2021!"
The two tied the knot in November 2018 in a dreamy backyard wedding at Moore's home in Pasadena.

"This Is Us" co-stars Susan Kelechi Watson, Niles Fitch, and Hannah Zeile commented on the post and celebrated Moore's happy news. Ellen DeGeneres was quick to chime in with a joke, "Congratulations! I love that you already know the sex...and the profession."
If Moore is anything like her character Rebecca Pearson on "This Is Us," she is going to be one powerful momma. In the show, she is a first-time mom who handles the loss of one triplet during childbirth, adopts Randall, grieves the loss of her husband, raises three teenagers on her own after his death, AND loses the family house during a fire that ALSO took her husband. She is a queen. She is strong. She is brave. She is a role model.
Poking fun at her real-life pregnancy and TV show pregnancy, Moore posted a fun, behind the scenes photos on her Instagram story today with on-screen hubby Milo Ventimiglia. Today's first day of filming only means one thing...we are getting closer to welcoming the Pearson's into our family rooms every Tuesday!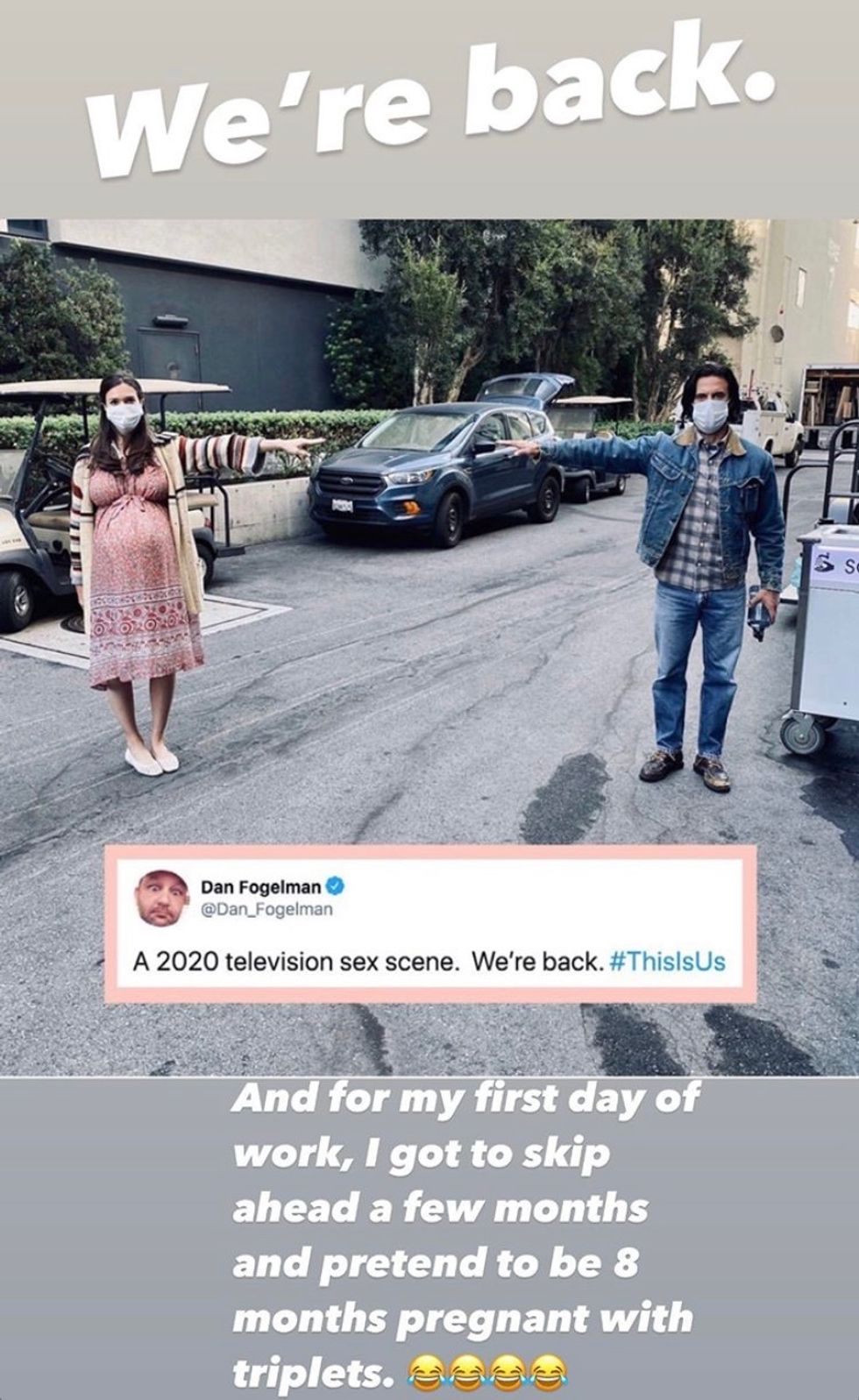 @mandymooremm
The show announced today they are returning to our TV screens two weeks sooner than originally expected. You can catch the two-hour season five premiere in just four weeks on Tuesday, October 27!

[instagram https://www.instagram.com/p/CFh70NAn-8i/​ expand=1]