Today, I finally experienced the much-anticipated new hot spot in Waco: Magnolia Table. I'm a huge Fixer Upper fan, and my expectations for this restaurant were through the roof, but I can honestly say that Chip and Joanna's newest project didn't disappoint. Despite the fact that Magnolia Table is only available right now for its soft opening, the brunch spot is still packed with visitors — I arrived at 7:15 to be safe!
Here's some of the best aspects of my Magnolia Table experience!
1. The Food

My friend and I started off our time at Magnolia Table with lavender lattes.

We ordered a "Kind Breakfast" (eggs with greens, toast, and avocado) and a "French Toast Breakfast" (french toast with strawberry butter, eggs, sausage, and tater tots).

It seems like an obvious thing to say, but the food at Magnolia Table was genuinely incredible. My friend and I ordered the "Kind Breakfast" (eggs with salad and avocado) and the "French Toast Breakfast" (French toast served with strawberry butter, eggs, sausage, and tater tots), along with two lavender lattes. The food reminded me of a home-cooked meal, and most of the produce comes from Chip and Jo's own garden. The spot also serves other breakfast and lunch options and has coffee and pastries to go!

2. The Decor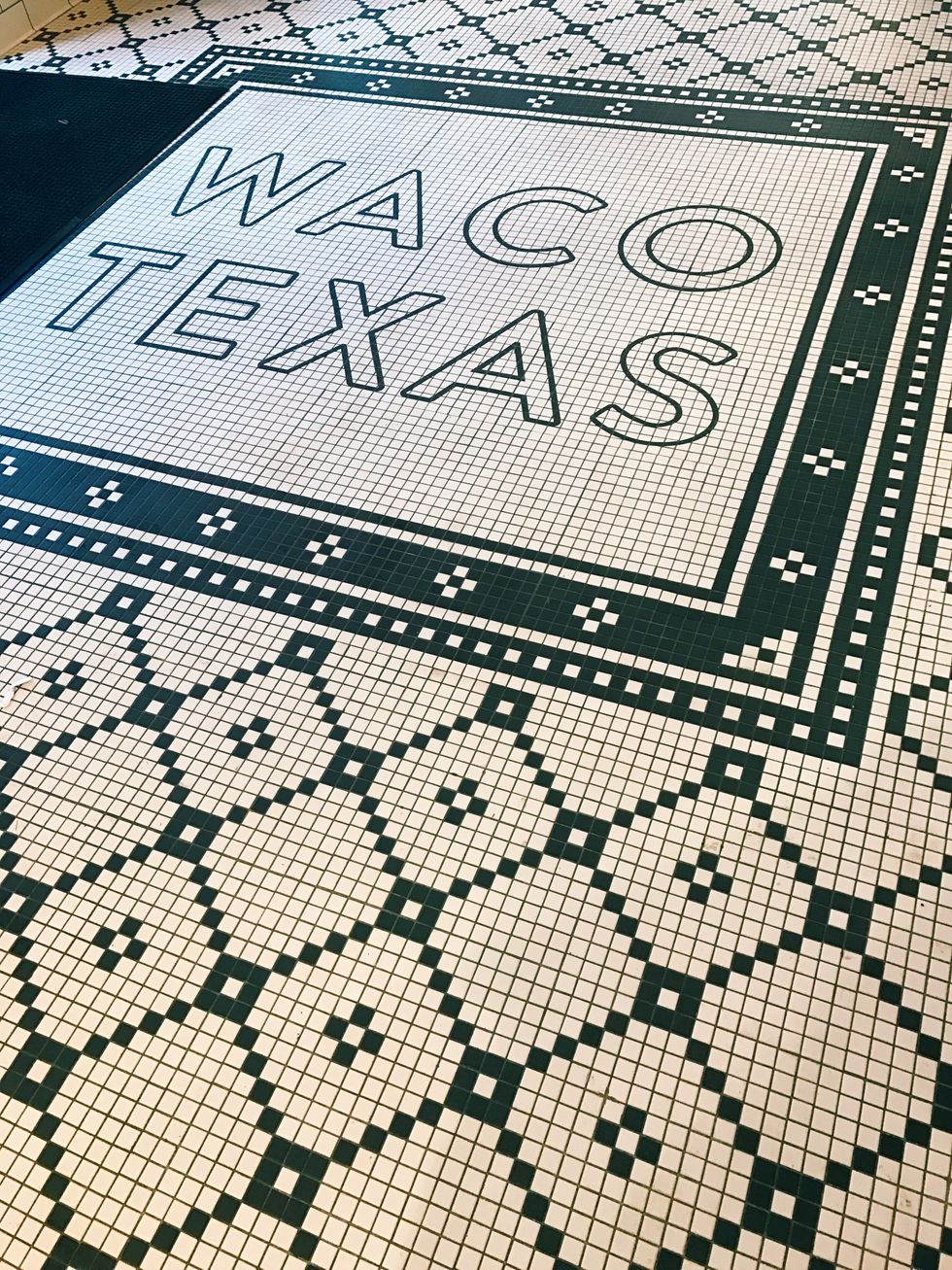 This black-and-white tile mural is located on the floor, and makes for a great photo-op.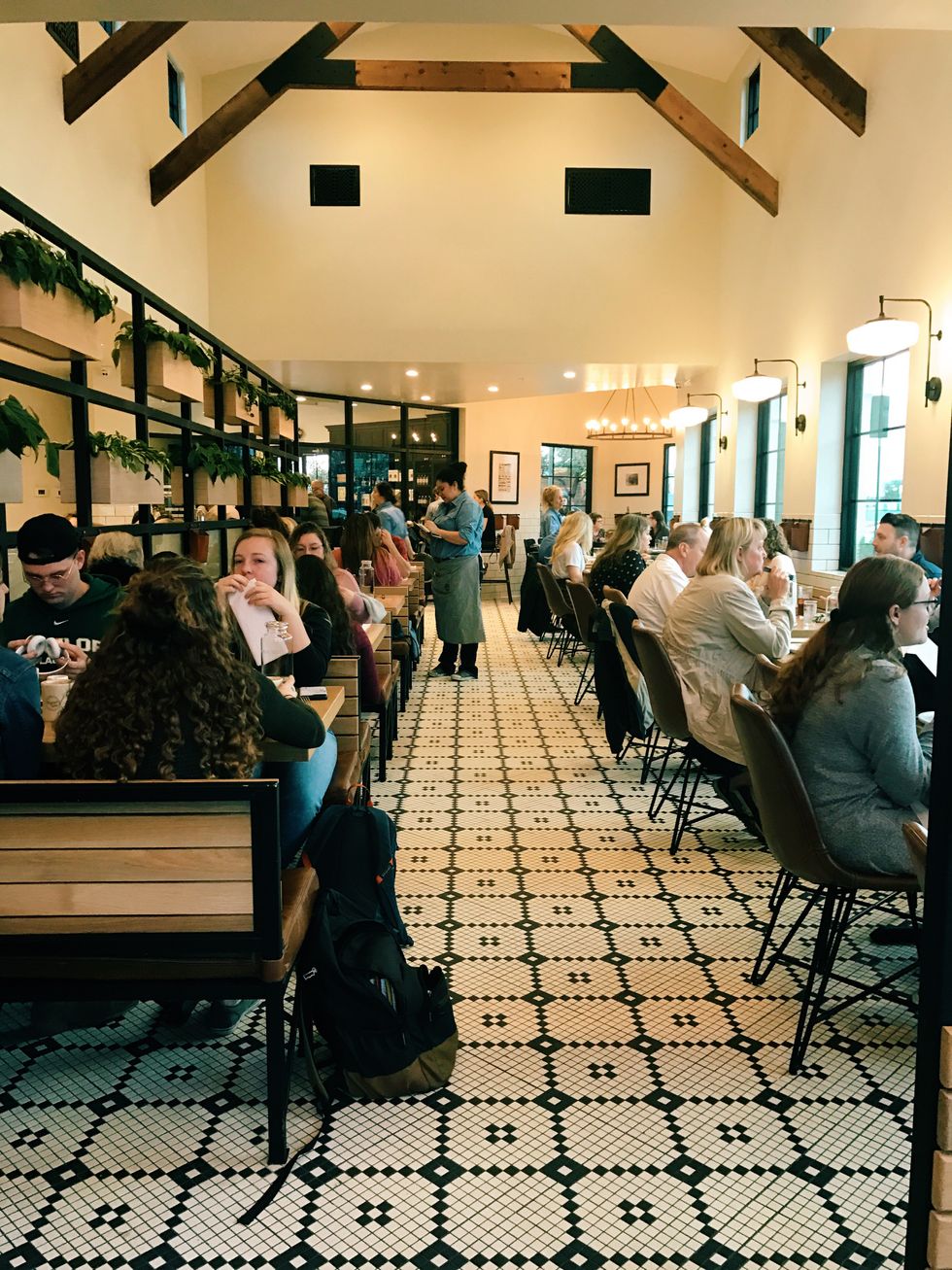 There's a variety of seating options at Magnolia Table- along with tables and booths, faster seating is available for those willing to sit in bar stools or at the community table.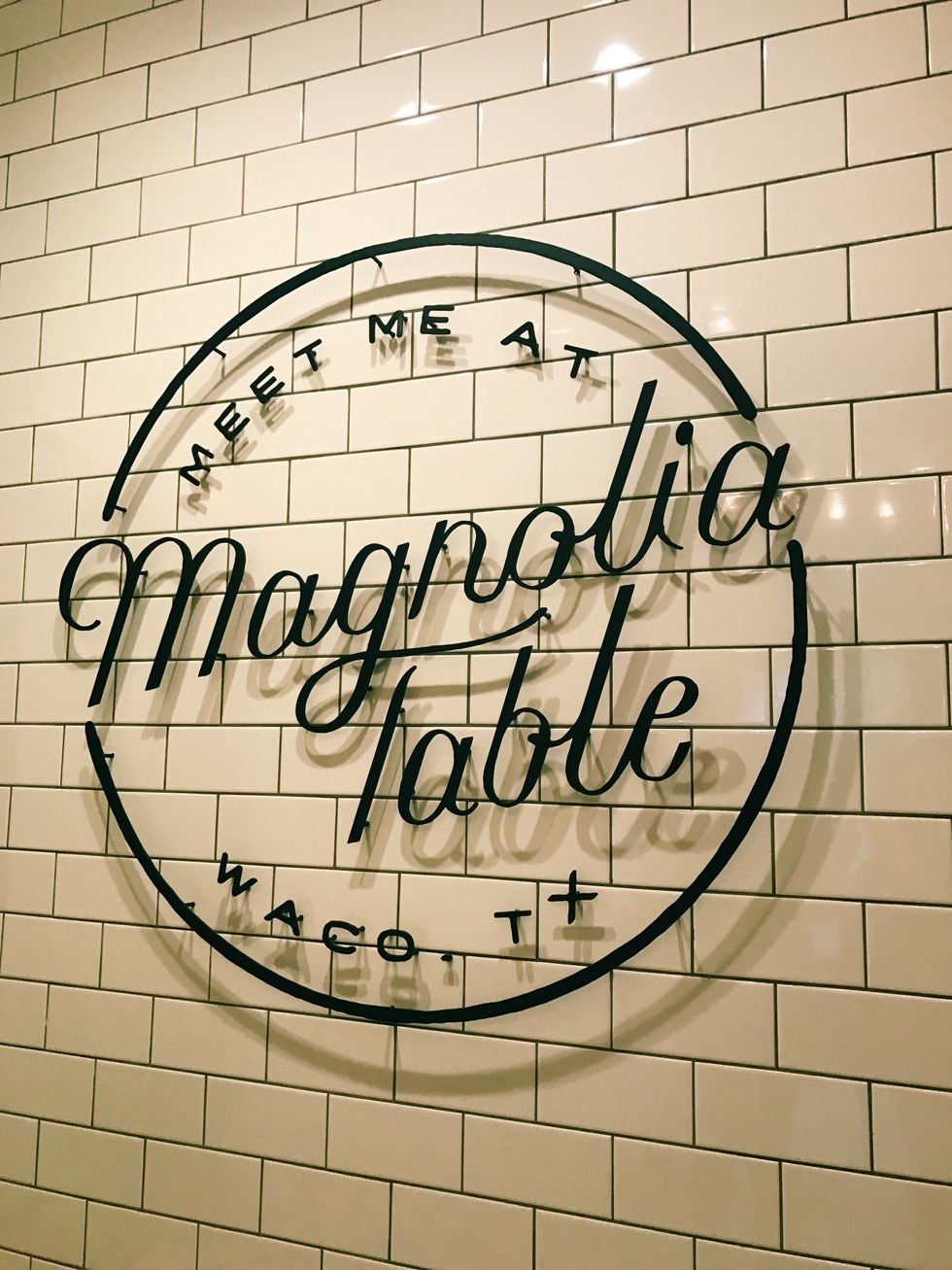 Based on all of the houses that Chip and Jo renovate on Fixer Upper and the look of Magnolia and the bakery, it was safe to say that Magnolia Table would be done up in a similar fashion.The restaurant floor is covered in black and white alternated titles, and the spot is full of decorative murals with phrases like "Waco Texas" and "Breakfast Served Daily." There's also an outside courtyard for waiting covered in vines and a smaller to-go coffee station.

3. The Service and Location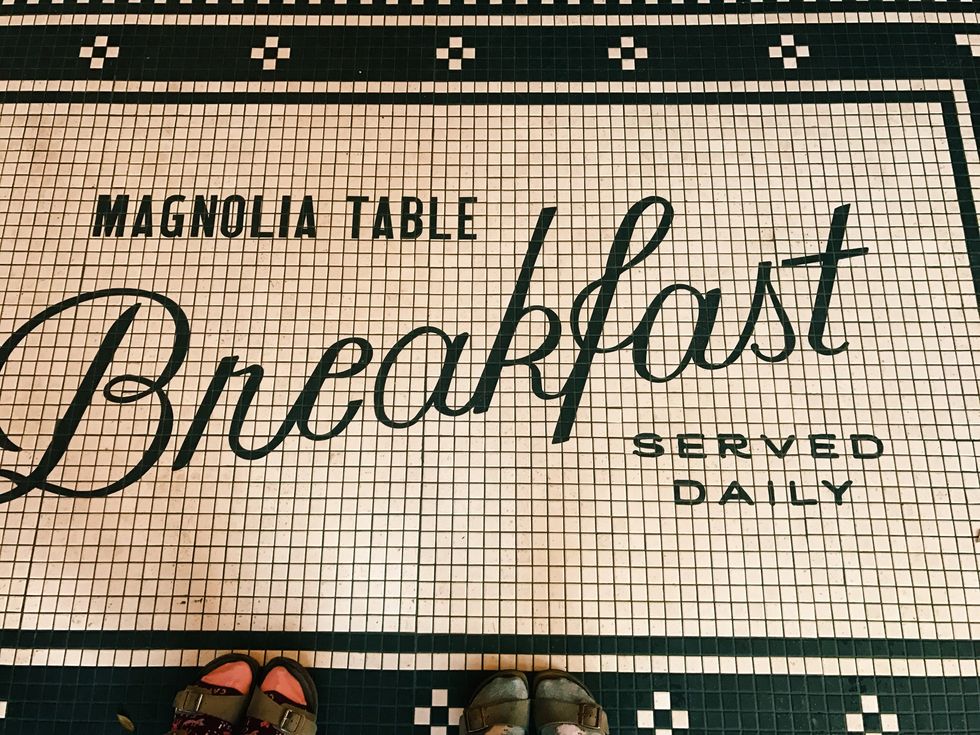 Magnolia Table serves all-day breakfast, along with sandwiches and soups for lunch and a variety of desserts.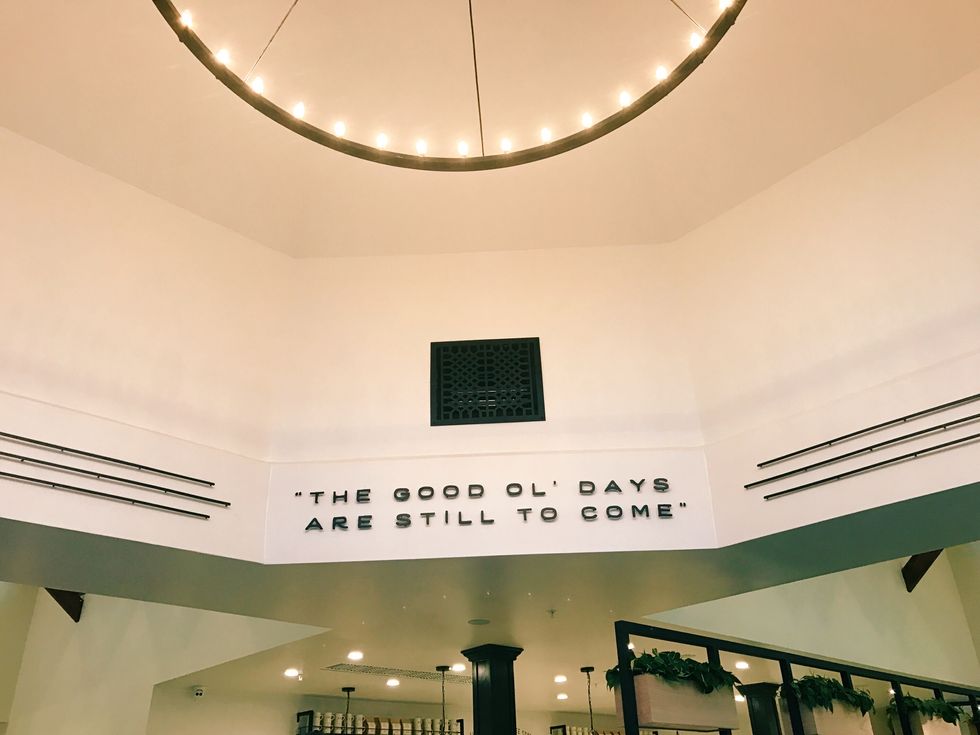 The restaurant is full of creative signs similar to those used to decorate clients' houses in Fixer Upper!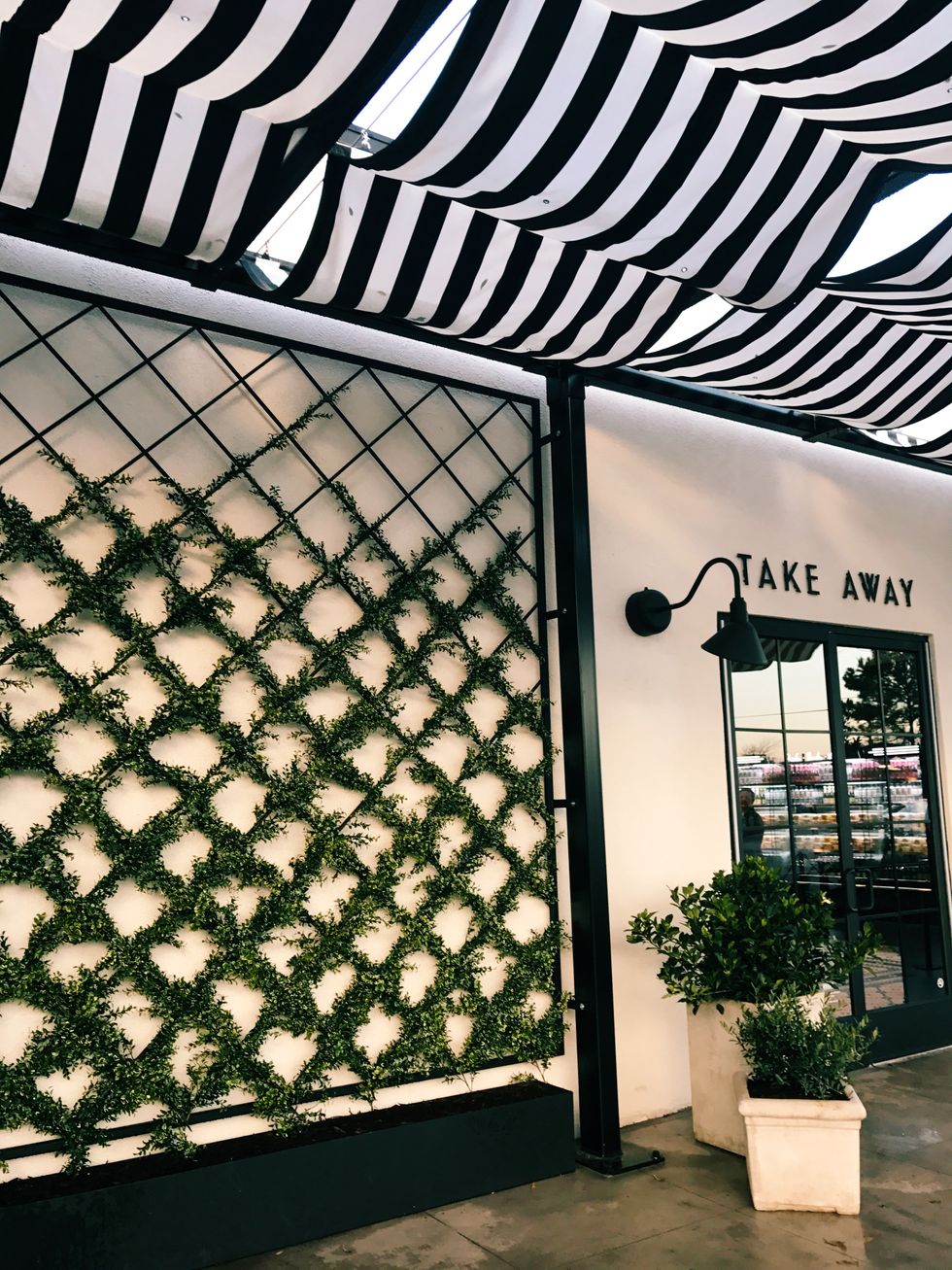 The service was top notch, with multiple workers checking in on us with friendly conversation. They even give you free caramel candies with the check! The location is also prime as a Baylor student, being only around a 5-10 minute drive from campus.
* * *
So if you're considering trying out Magnolia Table, I would highly recommend! It's Chip and Jo at its finest, and it will serve as a great asset to the Waco community. Just make sure to get there early!