When I found out that Lizzo, the Queen of Body Positivity herself, was vegan and had started posting "What I Eat in a Day" videos on TikTok, I knew what I had to do.
For a whole day, I followed exactly what Lizzo ate in a day based on the first TikTok video that she had posted of this kind, and afterwards, I must say, the queen killed it and I will be making some of her meals again.
Breakfast: 10:00 AM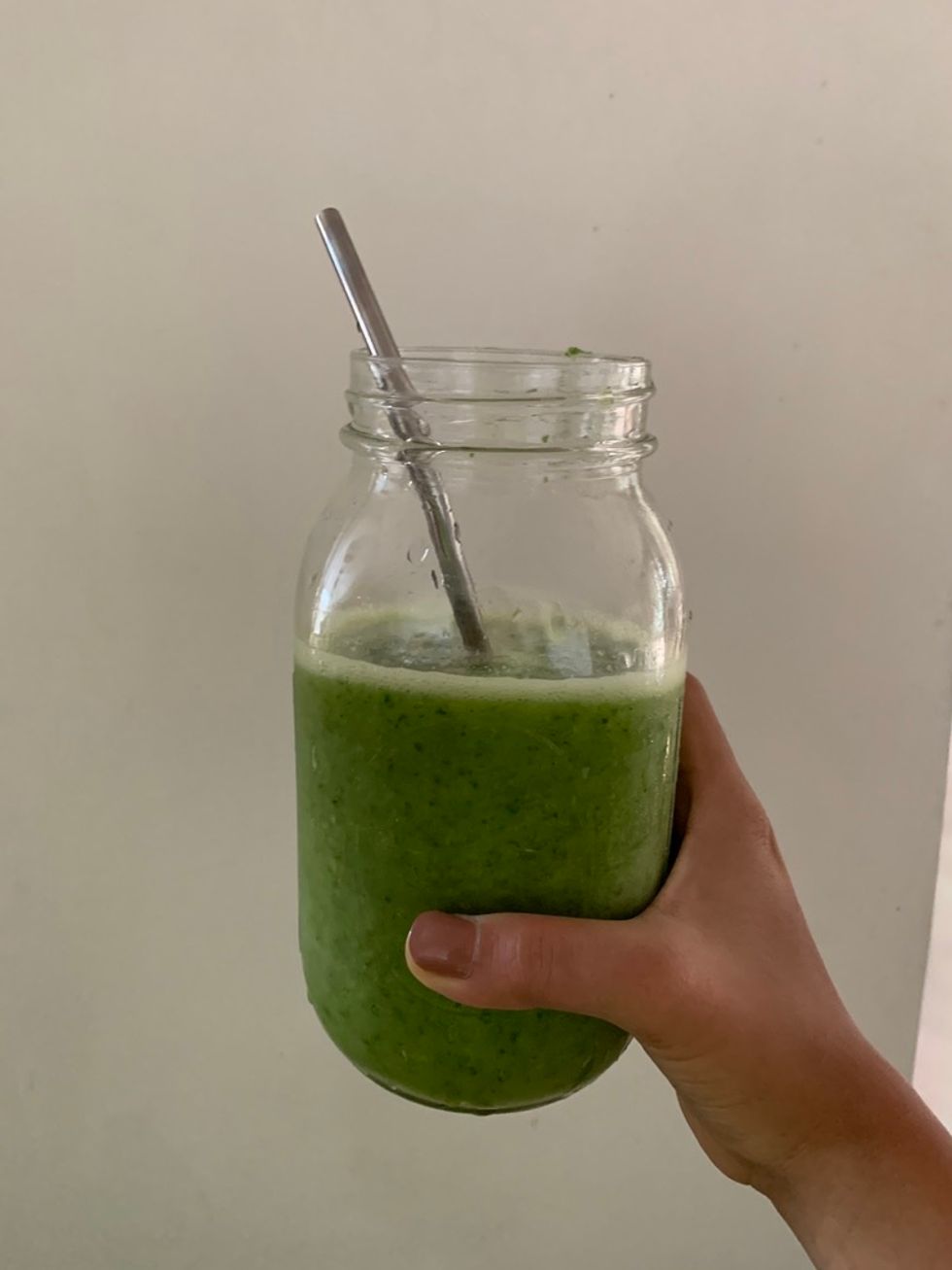 Taylor Huang
On TikTok, Lizzo says she starts out her day with a green smoothie. This is actually something I usually do, too, and I usually use nearly the exact same ingredients: frozen fruit, some greens, and coconut water.
I also like to add in half of a banana for extra thickness and spirulina powder as a source of protein and iron, but other than that, I already have Lizzo's breakfast smoothie down to a T! It was super easy and refreshing.
Lunch: 12:00 PM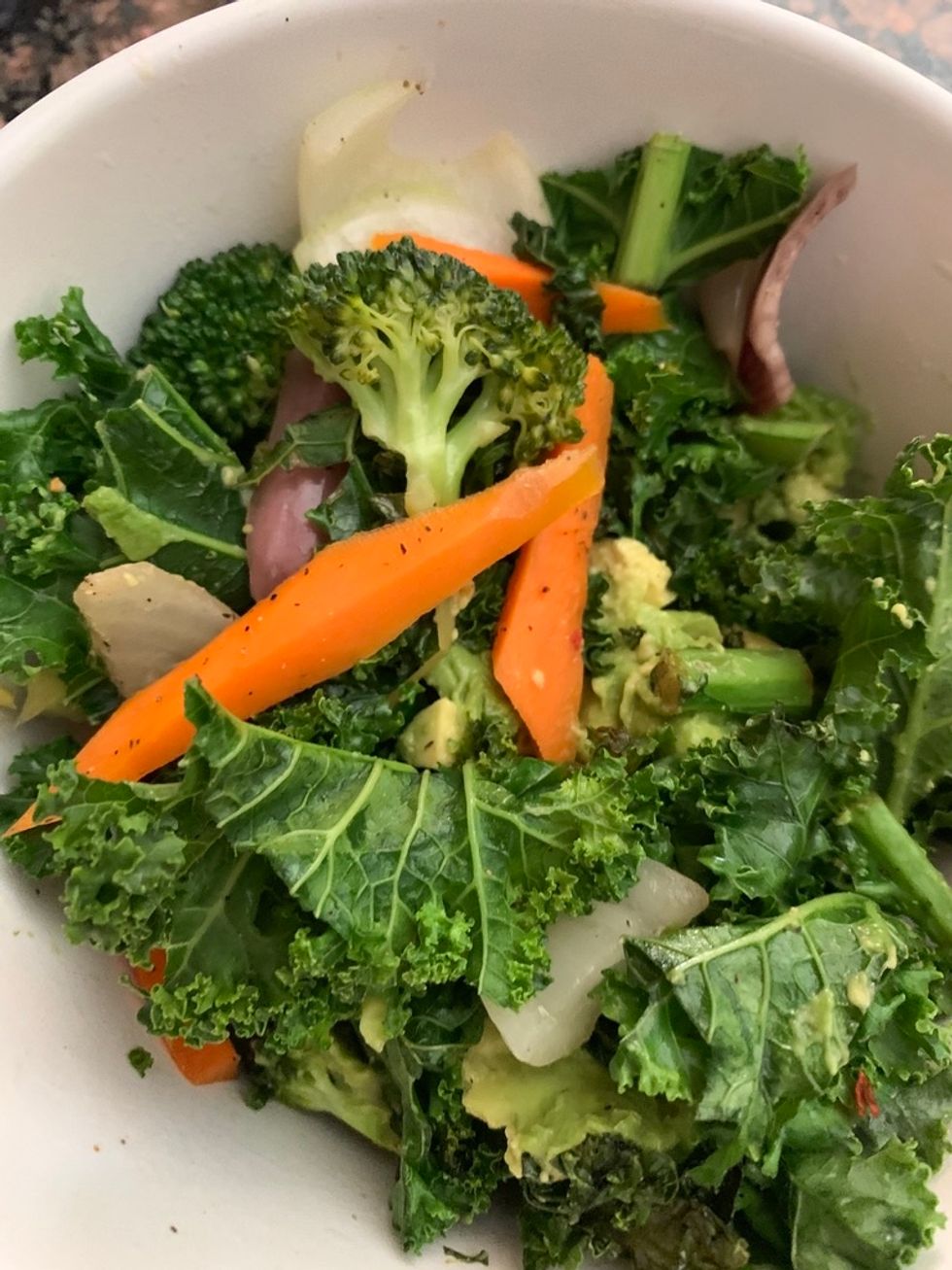 Taylor Huang
After finishing morning yoga, I decided to fix myself up the kale salad Lizzo included in one of her TikTok videos.
I stir-fried some kale in a pan with olive oil, along with some broccoli, white onions, and some carrots. I also cut up and avocado, but instead of putting it to the side as Lizzo did, I diced it up and added it to the rest of the salad out of personal preference.
It was still super tasty and I had a lot leftover so I stored the rest in my fridge for dinner, as she had.
Snack: 2:00 PM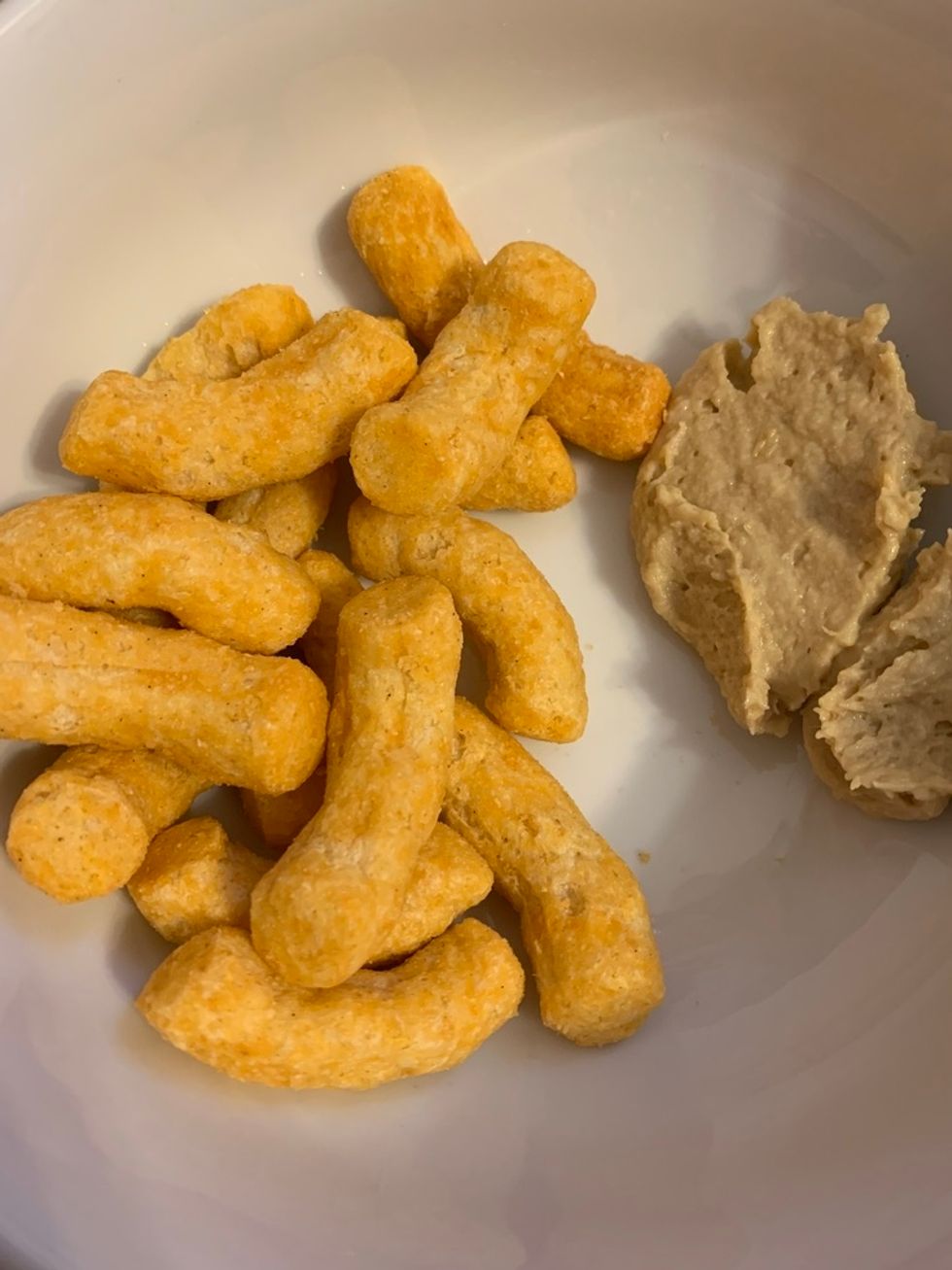 Taylor Huang
I admit, I was still a little bit hungry after only having that salad, so I prepared myself a snack at around 2:00, after I had caught up on some work for my summer classes. I decided to go to my pantry to look for an afternoon snack.
I didn't have the keto corn puffs that Lizzo showed in her TikTok, but I did have these vegan Hippeas Chickpea Puffs in the flavor "Nacho Vibes" which I thought were similar enough. I poured myself a serving's worth in a bowl and dipped them in some hummus, as Lizzo did with her snack.
I actually really liked this combination! The airiness of the puffs and the smoothness of the hummus did not immediately replicate the taste or texture of a Hot Cheeto, which was what Lizzo said she used this snack to replace, but it was still super tasty and was also a quick and healthy way to get in some protein!
Dinner: 6:30 PM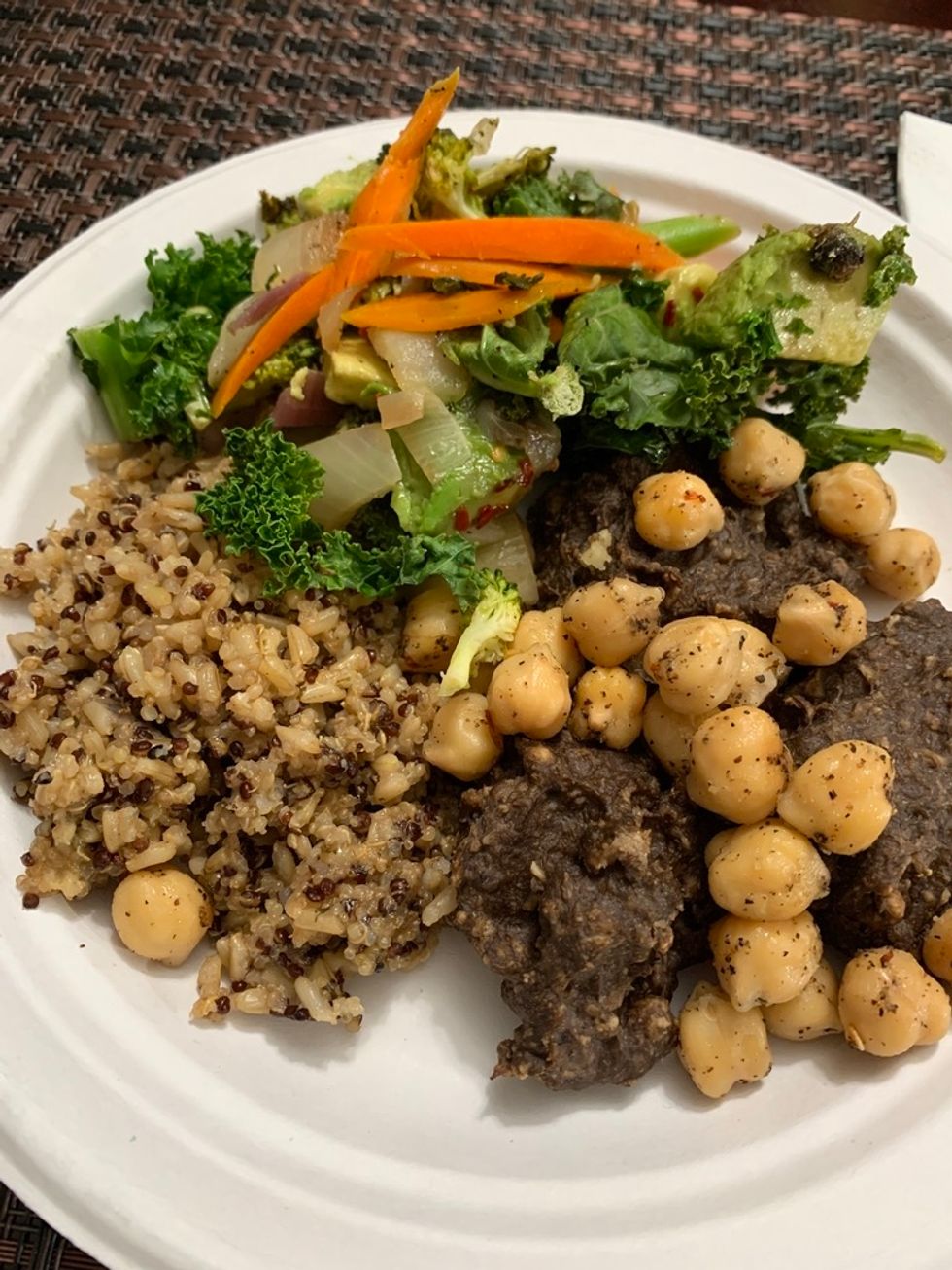 Taylor Huang
I didn't have the mushroom balls that Lizzo showed in her video, so instead, I decided to make my own! If anyone is wondering what recipe I used, I chose to use this one. They weren't perfectly shaped, as you can probably tell from the pictures, but still tasted delicious!
I also took the salad I had made earlier out of the fridge, and cooked up some chickpeas and quinoa to add to my dinner plate.
Dessert: 7:30 PM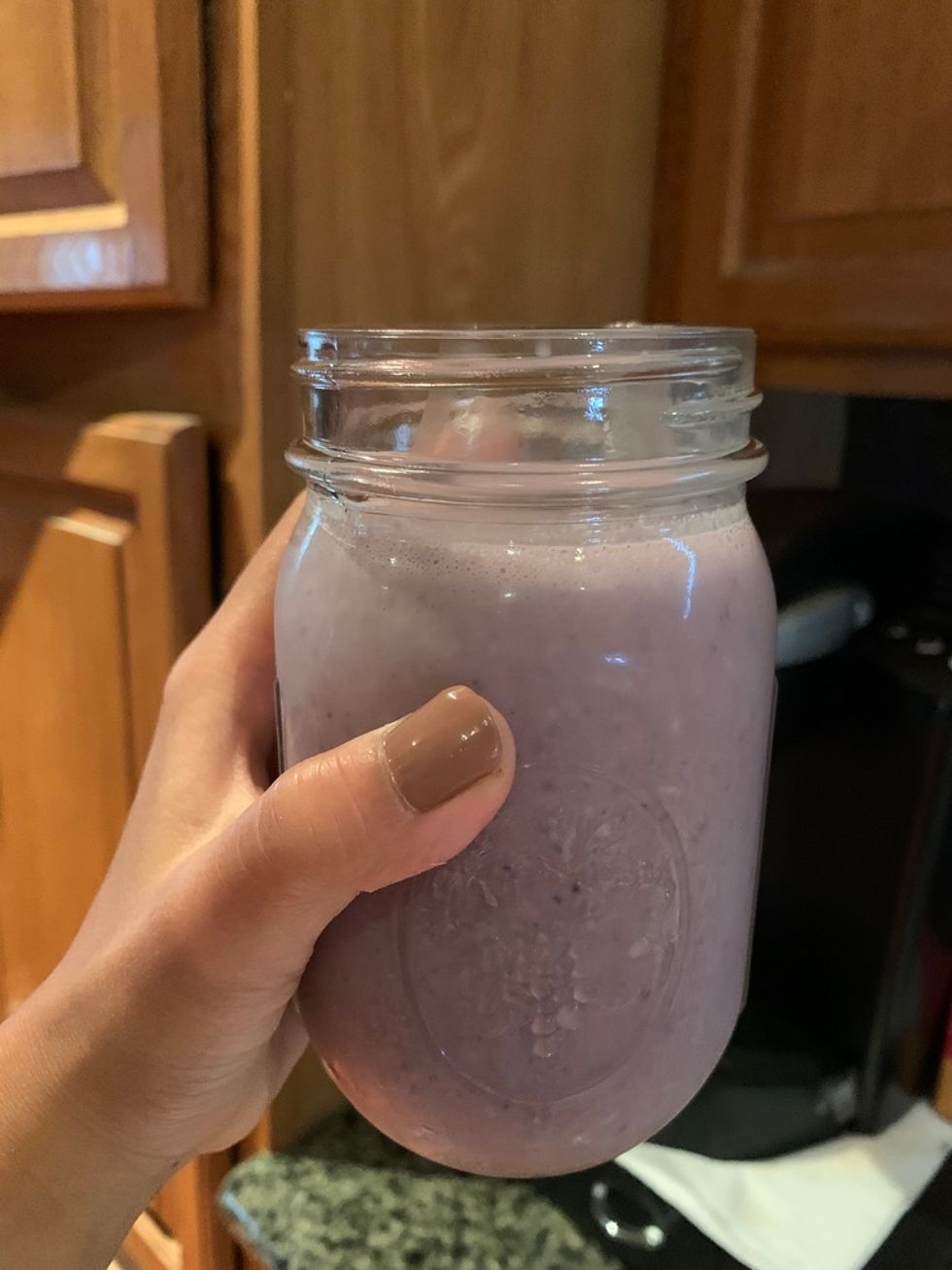 Taylor Huang
Before hopping on a 7:45 Zoom meeting for an organization I am a part of at school, I decided to make Lizzo's peanut butter jelly smoothie because I too, was craving something sweet.
I added peanut butter, a few frozen mixed berries (I didn't have just strawberries like Lizzo did), oats, oat milk, and vanilla protein powder to my Vitamix and blended it all up.
This actually tasted so amazing and not only did it make a killer dessert, but I could definitely see myself making this again as a post-workout snack.
Final Thoughts:

Lizzo was already an inspiration to me before this challenge and I adore her music, her message, and the confidence she radiates.
Doing this little challenge was actually something I found to be super fun because I kind of had all my meals set up for me in advance, and it just helped that they were super delicious and I didn't really need to modify anything!
To quote Lizzo herself, I felt "very lit and full."