2019 has already proven itself to be a monumental year for the Disney company, with releases like Captain Marvel and Avengers: Endgame becoming #1 Internet trends and breaking the box office. However, Disney has also entered an age of revivals of some of their more classic features, but re-done in the style of "live action." We've already seen this with the likes of Cinderella, Beauty and the Beast, and the Jungle Book, but another premiere is slowly approaching. On April 10, 2019, Walt Disney Studios released the official trailer for The Lion King, and frankly, there is something to be desired from it. I'm often questioned on why I hold such disdain for this movie, so today I'm going to dive into the main 4 reasons I believe this movie shouldn't exist in the first place.
1. It's another Disney remake.
Disney has seemingly gotten comfortable now in this era of "The Disney Remake." As a matter of fact, almost all of the upcoming releases from the company fit into one of two categories: remake or sequel. This is not necessarily a "bad" thing more so than it is a "lazy" thing. The issue with this is quite simple: because Disney is profiting well from these remakes and sequels, they're inclined to keep producing them. The downside to this? A severe lack of original Disney features. The 1990s is considered the peak of originality known as the "Disney Renaissance" in which some of their most popular and critically-acclaimed films were created, The Lion King is one of them. However, this new "Renaissance" is less originality and more retelling stories in a fashion deemed "better." But the real question is, is it really better?
2. "Live Action," I think not.
Another issue this movie has is that it tries to pass as a "live-action" movie when it clearly isn't. It's simply updated CGI animation. Now while some may argue that it's obviously not live action but that it just looks more realistic, there are a few issues with that in itself. Animation allows the possibility to portray emotions and character shifts in ways that cannot effectively be translated to the likes of realistic CGI. It overall lessens the complexity of characters and some of the original moments become lost in translation. I guess the princess movies get a pass because the protagonist is, in fact, human and the CGI is more supportive, but that doesn't always make it a good idea. So that begs the question, why did Disney choose this movie to be re-made?
3. It's a money thing.
It's a money thing. With this current era, it always is. It would be one thing if Disney's main motivation behind these remakes was creating them in an attempt to reinvent and heighten their original stories. But it is more than evident that it certainly isn't the case with the recent line of movies. I mean just take a look at the cast behind The Lion King 2019: Donald Glover, John Oliver, Beyonce. This is celebrity culture at its finest, and its a trend we're seeing more and more in modern movies. Disney has obviously seen that audiences are paying to see these classics remade and that in turn signifies to them that they're onto something. So it's partly our fault as consumers that this is what we're getting.
4. And don't even get me started on scar…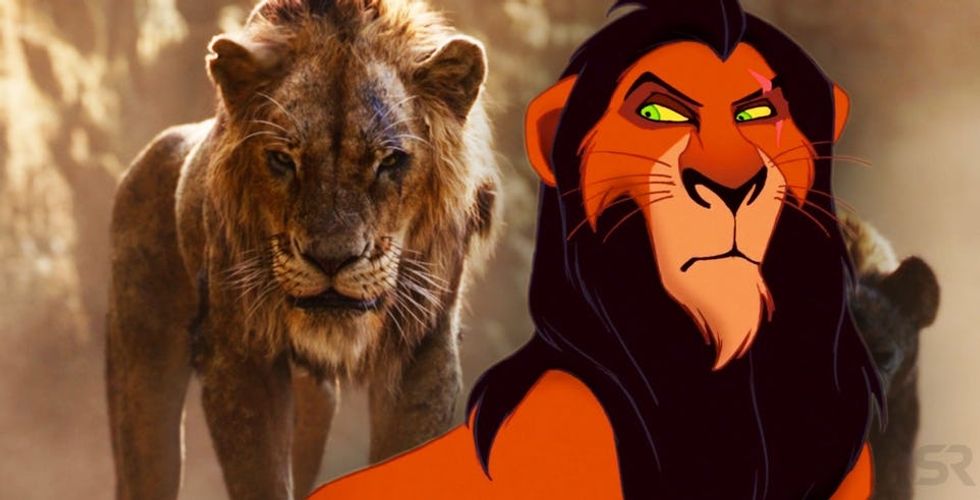 The 2019 Scar redesign alongside his 1994 counterpartscreenrant.com
As odd as it seems with my prior assertions, this BY FAR is my biggest issue with this new Lion King movie. In the original 1994 classic, Scar is depicted to be this menacing, dark enigma that reeks of mystery and malintent. He is truly an example of the epitome of Disney villainy in that he succeeds in his plot to overtake the Pridelands and even holds this power for a considerable time; long enough to watch the ecosystem he rules perish around him. He looks the part of such a character, with a dark full mane and that unsettling scar surrounding his right eye.
Hopes were very high to see what Disney would do to translate this. But instead, we got a lion that looks like he's spent his entire life living inside of a New York City drain pipe. He looks ratty at best, and that's not even to speak for his lack of stature and intimidation that he holds in the classic. It is often argued that Disney "couldn't make an orange lion with a black mane," and that's not what's being asked here. Rather, if he is supposed to be Mufasa's brother/counterpart, have him be as strong and structured as his brother, just in a darker fashion. It would seem like a novel concept, but based on Disney's execution, it was less novel and more flash fiction.
The Lion King doesn't release for another few months, so it'll be interesting to see how Disney continues to approach its marketing. But with the flop of Dumbo and the currently mixed reception of Aladdin's marketing, Disney may finally have to face the end of this era they've built for themselves. And as they put it best:

It's The Circle Of Life.