With the utterly unsurprising reelection of Vladimir Putin, the ever plummeting approval rating of alleged Kremlin puppet Donald Trump, and accusations of Russia poisoning a double agent in the UK, Russia has been put in the crosshairs of western politicians and media outlets yet again. Not since the McCarthy era have Americans been so worried about Russians meddling in American affairs. Everyone from Jill Stein to Donald Trump has been accused of colluding with (or at least being supported by) Russia. Democratic Party outliers, third party candidates, Republicans of all stripes, and plenty of randos on the internet are more and more being tied to Russia with little actual evidence. What do all these people have in common? At some point, they went against the Democrat Party.
Let's not mince words, Russiagate is birtherism for liberals. It was ridiculous to suggest that Barack Obama was born in Kenya. It's ridiculous to suggest that, as Huffington Post columnist Robert Kuttner put it, "Trump literally became president in a Russia-sponsored coup d'etat." Here's why.
According to Advertising Age, political campaign ads in the 2016 presidential election cost a whopping $9.8 billion. Meanwhile, the Russian propaganda that's apparently destroying American democracy cost about $100,000 in a span of years to put up on Facebook. These ads were little more than memes, grainy stock photos with misspelled captions. "Hillary is Satan!" "Sharia in America!" "Democrats for open borders!" "They'll kill patriots and Christians!" It was nothing different than what right wingers have whispered for years and been made fun of for. Not exactly Russia's best work...
But what of their tactics? Former Hillary Clinton press secretary Brian Fallon told the Washington Post, "It seems like the creative instincts and the sophistication exceeds a lot of the US political operatives who do this for a living." So what did they do exactly? Well, they tried to target disillusioned Bernie Sanders supporters, workers in Middle America, and anyone in battleground states. Ignoring the fact that Trump himself said that was his strategy, all they managed to figure out was that some voters were more persuadable than others. I honestly don't understand how people aren't embarrassed to suggest that thirteen dudes with an okay grasp of the English language ran a better campaign than a former secretary of state and her team of moneyed professionals.
By far the most disturbing aspect of the Russiagate scandal is that liberals have proven themselves to be just as bad as conservatives. Every liberal in America felt disgust and amusement as conservative zealots blamed climate change and gun violence on Black Lives Matter and George Soros, alluding to some vast communist conspiracy. Now they're doing the same thing. Where conservatives saw Muslims controlling Obama, liberals see Russians controlling Trump.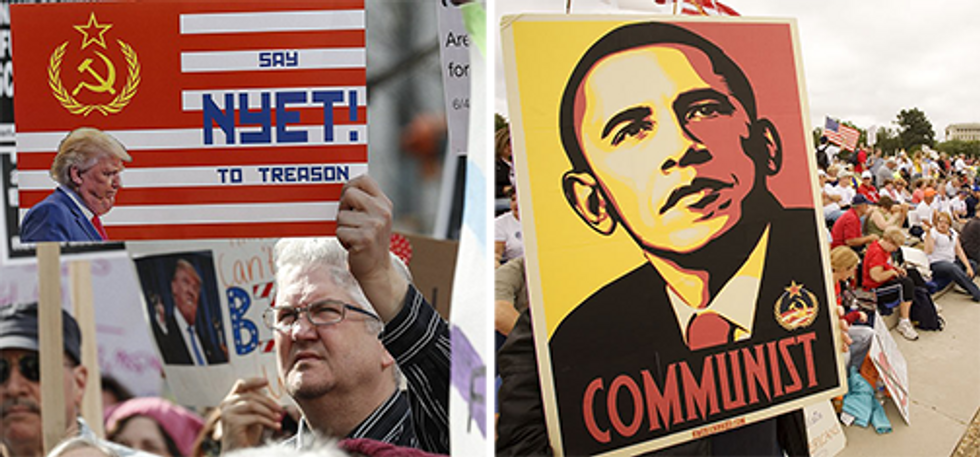 Guess which sign was made by a liberal and which was made by a conservative.
This is all too familiar and shows us the hard truth about the Cold War - it never ended and it was never about ideology. Sold as a battle of -ism's, the Cold War was only ever about controlling the eastern European and Eurasian markets. Putin likely would not be president today if the International Monetary Fund didn't facilitate the pillaging of the former Soviet Union by western corporations, creating the perfect conditions for a strong man to take power and challenge US and NATO imperialism. Though the Russian Federation is unabashedly capitalist, their foreign policy motivations have remained nearly unchanged since 1949. When we see the conflict in Ukraine and Syria, when we see spy dramas play out in real life, when we see Americans (and Brits) across the political spectrum being called Russian or communist agents, this is simply a continuation of the Cold War. Russiagate and all related controversies are just more battles in our war of words. And the blatant Russophobia goes back even further.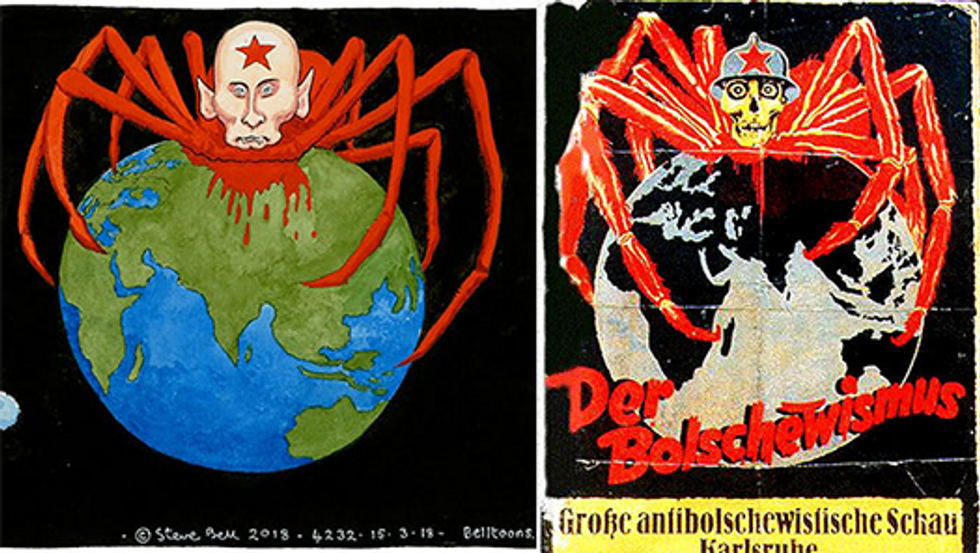 Left: cartoon by Steve Bell, 2018. Right: Nazi anti-Bolshevik propaganda, 1935.
Liberals, stop it. Conspiracy theorism is a bad look. But it's so much more than that. Actual injustice in America, the exact things so-called progressives should be outraged over, are being dismissed as hoaxes, fabricated stories made by Russian operatives.
Take the continued controversy surrounding the Dakota Access Pipeline. Violating a treaty with Native Americans, having had five spills after only six months of operation, and having Trump's express approval, this should be a huge rallying point for environmentalists, civil rights activists, and Democrats across the country. The violence against protesters by the police alone should inspire the same kind of outrage Black Lives Matters was able to harness.
And for a brief moment it did, Obama actually blocked the pipeline before leaving office. But this only forced Trump to make the politically unpopular move. Fortunately for him and the oil companies, the entire controversy was forgotten about, chalked up to a conspiracy popularized by Russian trolls.
But that's nothing compared to the shameless hypocrisy of crying at the possibility of a foreign power interfering with American politics while supporting violent regime change in Syria, Venezuela, and the Democratic People's Republic of Korea. Just during the Cold War the US attempted to change at least 72 governments, most of which were democratically elected reformist governments. Democrats have stood right beside Republicans during all of it. Whether it's Vietnam or Iraq, going to war has been almost exclusively a bipartisan effort. Hillary Clinton herself was an outspoken war hawk, supporting military intervention in Iraq and Afghanistan, the overthrow the government of Libya, and military intervention in Syria and Yemen. Though less outspoken about it, President Obama only increased US military presence in Pakistan, Syria, and especially Africa.
Liberals, if you actually want change and progress then you have to stop it with the conspiracy theory nonsense which has so isolated the Republican Party and embrace principled resistance to the right wing. Return to the anti-war platform. Return to social justice. Stay away from baseless accusations and xenophobia. You're only hurting yourself (and all marginalized peoples, the working class, and the world).