I don't know about you but, I love tacos - Taco Tuesday is my night! The word "Taco" means "an often crispy fried tortilla folded over and filled, as with seasoned chopped meat, lettuce, tomatoes, and cheese." Mouth watering yet? Mine is. I mean honestly, who doesn't love tacos? There are so many different kinds of tacos you can make that don't even have to include meat. I figured since so many people do love tacos, including myself, that I'm going to share a variety of tacos you can make! So, let's taco bout it!
1. The Original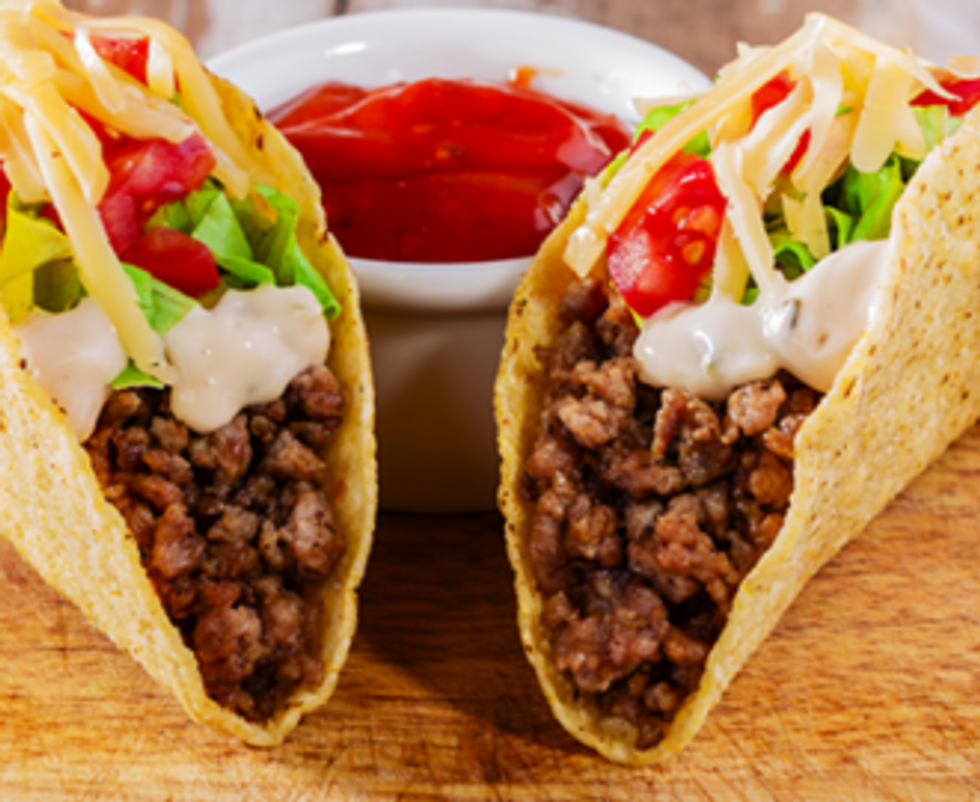 Not too difficult but just simple enough to enjoy! You have your seasoned beef and you can add lettuce, cheese, sour cream, tomatoes, salsa. It is the traditional quick and easy Tuesday night taco!
2. The Cheeseburger Taco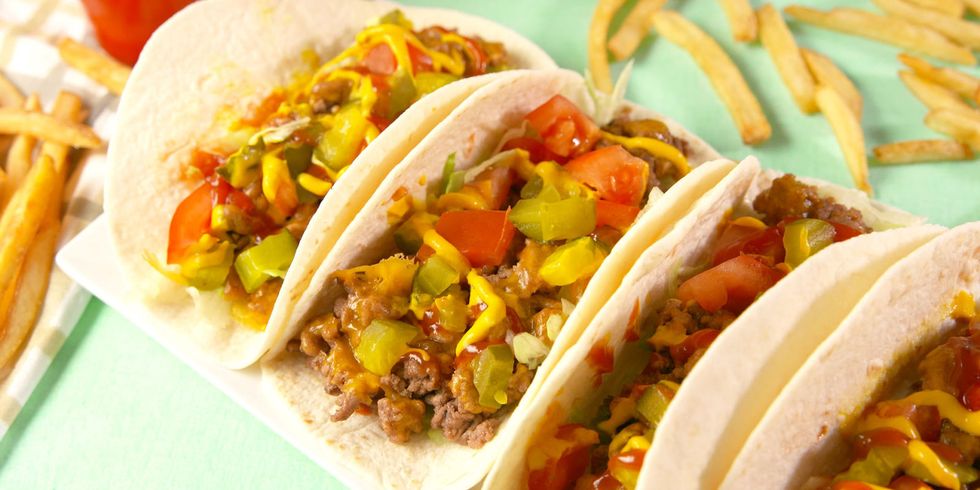 Cheeseburgers are about as American as you can get; why not stuff them in a nice soft tortilla shell as well! Honestly, there are not too many different ingredients from a normal taco... You still need your beef, some cheddar cheese, chopped tomatoes, chopped pickles, put it all on a nice and warm tortilla and garnish with some ketchup and mustard or whatever you desire.
3. Spaghetti & Meatball Tacos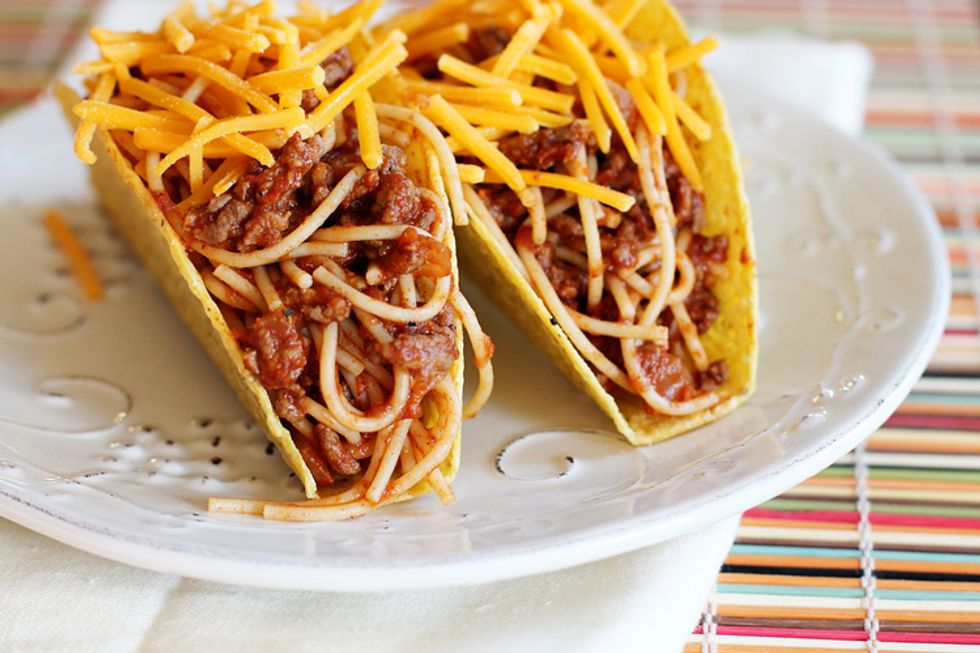 I saw these first on an episode of iCarly back in the day and I forced my mom to make them for me. They were surprisingly not that bad. I would recommend using a hard taco shell - it would be easier than just smushing everything all together and making a mess. Just make your spaghetti and meatballs as you would normally, stuff it all into a shell, and enjoy!
4. Waffle Breakfast Tacos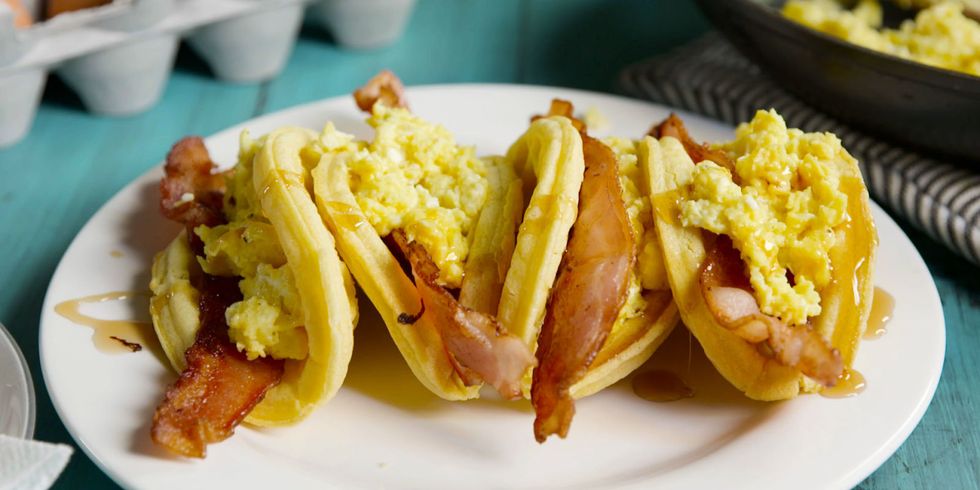 As you can see, there is basically a taco for every meal of the day. So, if you wanted, you could eat tacos all day long. For these, you can use frozen waffles or make your own. Make those waffles, cook up some bacon, scramble some eggs, even add some sausage if you want. Oh, and don't forget the cheese - whatever kind you want. Drizzle with some warm syrup... Good Morning!
5. Hawaiian BBQ Chicken Tacos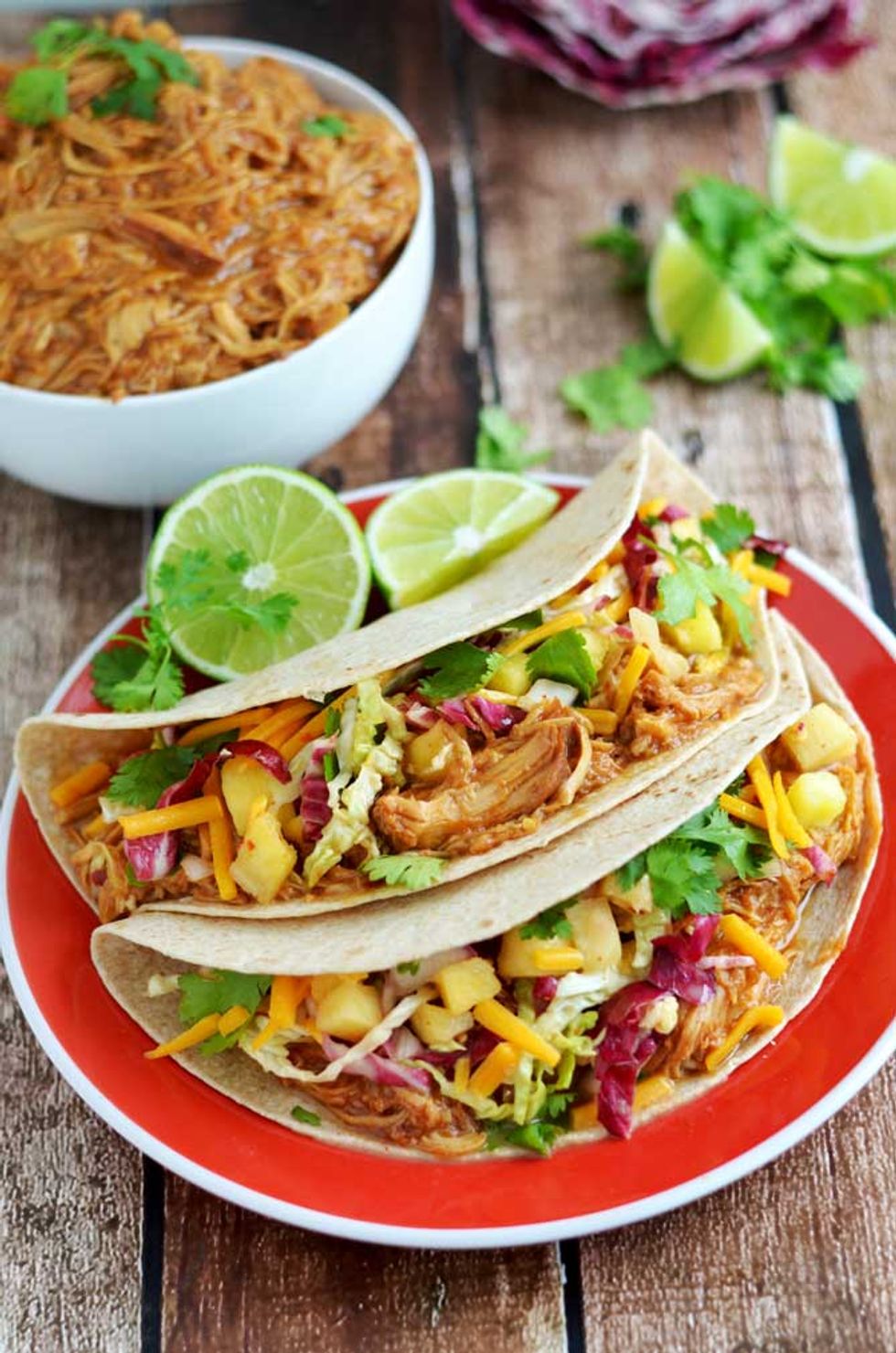 If you're feeling a little tropical, these are the way to go. You need chicken, chopped pineapple, honey BBQ sauce, and cheddar cheese all on a tortilla shell. Just looking at this picture makes me want to go make them.
6. Banana Split Taco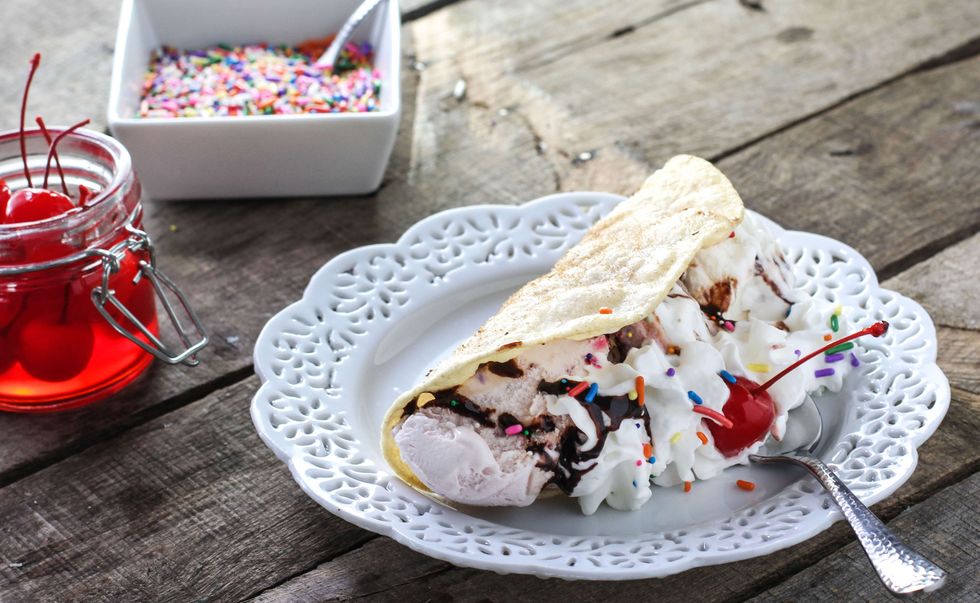 You will need some hot oil to basically deep fry your tortilla - no complaints from me about that. Then, whatever ice cream you want... All one kind or three different kinds. Lay your banana in the shell, top with three scoops of ice-cream, add some sprinkles, whipped cream, a cherry, chocolate... However much you want to load up on your taco sundae.
This is no way near as many taco recipes that are out there. I'm sure there is a lot of things you could just make into a taco. Tacos are amazing - there should be a wide variety of ways you can make them. You can find a lot of these recipes anywhere online or go to Delish.com - that's where I get my recipes, sometimes.
While you are eating some of these amazing tacos (or any taco), here's a quick tip that could save you: If you start off with the hard shell taco, have a soft tortilla on your plate while eating so when the inside starts to fall... BAM! Another taco pre-made for after! I hope you try some of these!