"We just decided to go for it," says Sam Tuten, Junior here at the University of Georgia and member of the Athens-based band, The Tuten Brothers.
His brother and bandmate, Walker Tuten, right by his side, chuckles and laments that he first remembers the spark he felt for pursuing music at an open mic night at local coffee joint, Hendershots.
Whatever the question, these brothers and their friend Connor McAdams, have a hold on to something good, and that something good is the country-rock bonafide soul that resides in their music and their band, The Tuten Brothers.
Originally from Macon and Roswell, Georgia, The Tuten Brother's sound strives to tap into the musically inclined spirit that Athens brews and bring it to the main stage. The boys say they started from humble beginnings, playing in the church passion band and singing along to 90s country music in the car with their dad. Their influences reflect that sweet country beginning, starting off the bat with Eric Church.
"He just writes really good lyrics and he is really real," said Walker, "we want to do that and be that 'real-ness' while also making a name for ourselves."
Along with Mr. Misunderstood, other top chart country artists have made an impact on the band including Needtobreathe and The Zac Brown Band. I was lucky to get to sit down with two of the three members of the Tuten Brothers and here is what they had to say:
What was growing up like?
ST: We grew up with our dad singing, he has a great singing voice and plays the guitar a little bit, that would be our main musical influence I would say. We also both love Jesus a lot and go to church, we usually did a lot of playing at church and at chapel.
WT: Yeah that's pretty much how we both started playing music in front of people. We started with church stuff and then, I remember in high school playing a one or two open mics and that was really it. Soon it just snowballed into the idea that--hey, we can do this outside of church and it will be awesome and a lot of fun.
What do you want the genre of this band to carry?
ST: We definitely want to stay in the country music genre, if you listen to our music there isn't a direct connection to religion. We don't intend to be a Christian band per say, but rather guys who are Christians playing in a country band.
How did the band begin or come together like it has?
ST: It was really just something that came together, we have both always loved to sing and we knew we wanted to do this for real.
What was the highlight of your year for the band, since its beginning?
ST: We actually got the chance to go to Nashville and record our single "Southern Sunrise." We had a producer, an [audio] engineer and all that, so it was really great but at the same time we learned so much about the music industry and what it is like, and what the people are like--the in's and out's of it. It was a really good experience in that regard for us, totally doing something different and outside the box, we literally just showed up in Nashville.
WT: We're here to record some music! We actually bummed on a girl's couch for the week, vaguely knew this girl but she was the only person I knew living in Nashville at that time this summer and it all worked out.
ST: Other than recording, we probably spent less than $100 dollars for the whole week!
What can your fans expect on this upcoming EP?
WT: We have four new songs, none of which will be Southern Sunrise. We're gonna start releasing stuff off of that real soon and we are gonna release the 4-song EP on Oct. 25th.
(check out the album art below)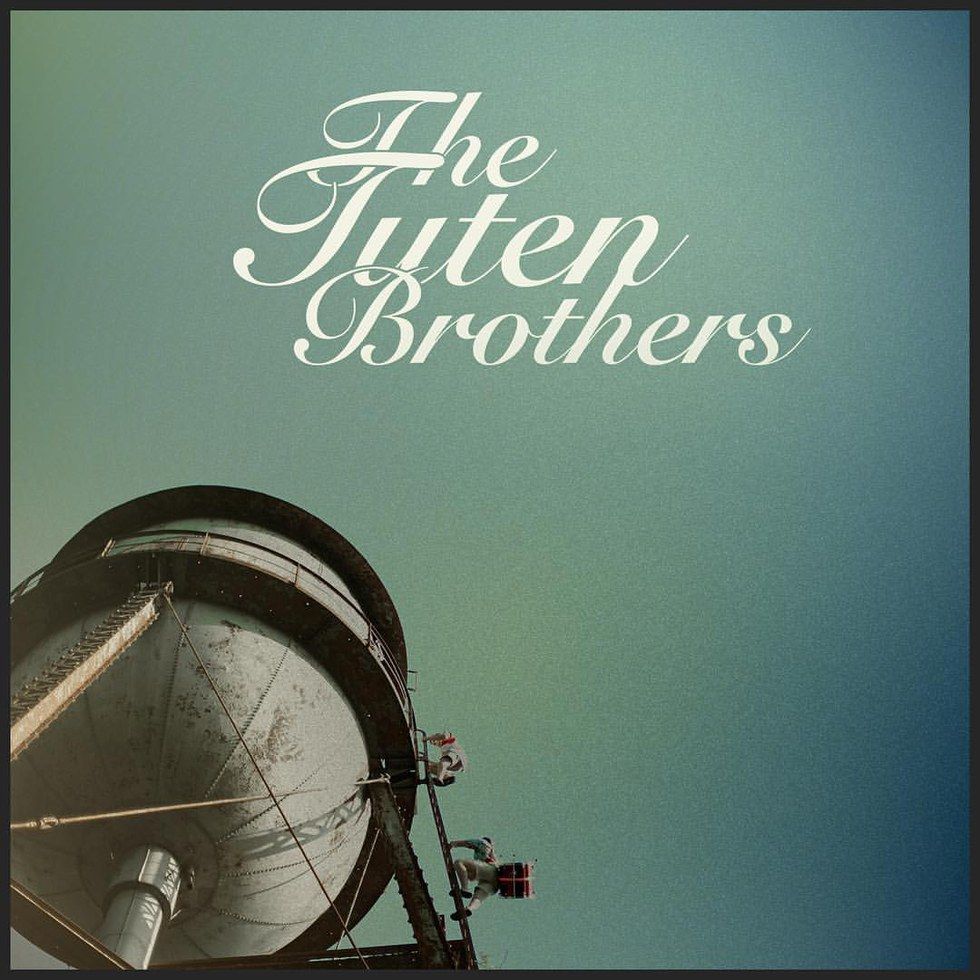 What are your plans or goals for the future of the Tuten Brothers? Anything on the currently on the horizon?
ST: Should we talk about the show...or no?(looking towards his brother for the OK)
WT: Well, you get the breaking news! So literally two hours ago we just booked a show at the Georgia Theatre for November 15th. We are extremely excited and blessed to have that opportunity
ST: Yeah, it is the first we are headlining, before we opened for the band Mosaic. This headline at the Georgia Theatre is huge, so we are definitely getting to check that off our bucket lists.
WT: We would like to get out of Athens a little bit too, we love love love Athens and love playing in Athens, but we feel like it's time to maybe start expanding to some different places as well. We might try to play in Atlanta some, maybe Milledgeville.
As our conversation came to a close, I couldn't help but note the charismatic connection these brothers had with each other, their music and their journey. After seeing the energy that radiates from the music video of their original song, Southern Sunrise, (which you can watch here) it is clear that they have the right momentum--a hold of something good. These boys are the Kings of the Golden Hour and most definitely the soundtrack to your next summer.
Just like any other band these days, you can follow the band through their various social media platforms--and I highly suggest you do.
And don't forget to look into purchasing tickets for their next show at the Georgia Theatre, November 15th!