I've been saying this the entire season -- Jayson Tatum has been playing like he's a five-year veteran that's been to the playoffs four out of his five seasons, and it's absolutely insane.
Last Wednesday, Tatum was recognized properly for his successes thus far by being named a Rookie of the Year finalist along with Utah Jazz's Donovan Mitchell and Philadelphia 76ers' Ben Simmons.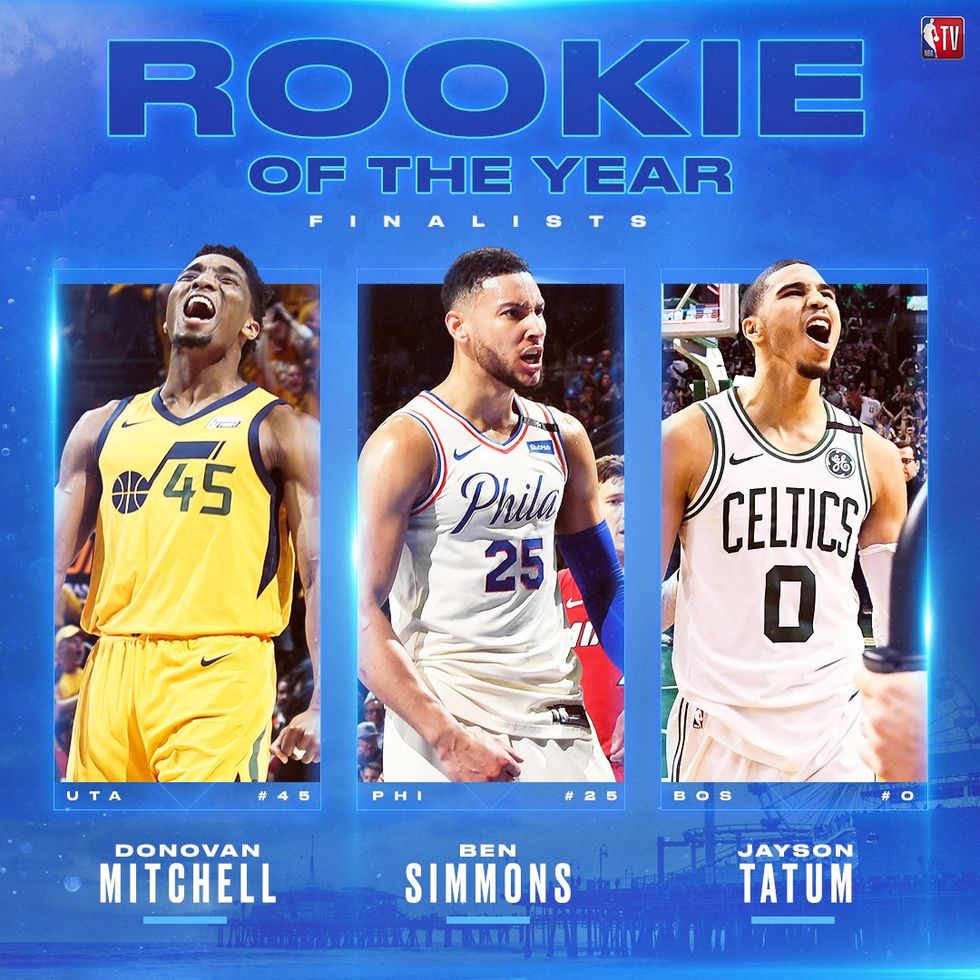 Of course, Tatum's fellow candidates have had insane stat sheets all season, especially Mitchell--basically--single-handedly taking down Russell Westbrook and the Oklahoma City Thunder and Simmons dominating side-by-side with Joel Embiid, but Tatum has really been showcasing his talents throughout this post-season, and people are noticing.
Unlike Mitchell and Simmons, Tatum's team is still thriving in this playoffs season. He's also averaging a solid 13.9 points, 5.0 rebounds and 1.6 assists.
According to Patrick Redford of Deadspin, Tatum "gave the Celtics everything they needed":
Boston's problem all year has been scoring at an elite level. Without Kyrie Irving, the thinking went, they were screwed when they ran up against an elite defense like Philly's in the playoffs. But after a season of steady scoring, Tatum kicked it up a notch against Philly, scoring all over the court, breaking down their defense, and going into Embiid's chest.

He resembles a young Kevin Durant, all limbs and swagger, creating wonderful little angles and going at anyone who's supposed to stop him. His 39 percent free-throw rate in the playoffs is in the range of a foul-drawer like DeMar DeRozan, and it indicates how he's elevated his game in the playoffs.

Tatum was, of course, great throughout the regular season, leading the team in minutes and shooting 43 percent from three, but nobody would have blamed a player his age for deferring a bit in the postseason. Instead, Tatum gobbled up even more responsibilities, and looked eager to have the ball in his hands at the most crucial moments of the series.
Moreover, the fact that he is able to help his team remain dominant against LeBron James and the Cleveland Cavaliers--as much as I hate to refer to the Cavs' as "LeBron's" team.... it's kind of true--is absolutely insane how this young team is able to maintain the tempo to compete at such a high level against this overall veteran team.
I, personally, don't care much about who wins ROY because all of these young players have truly defied all odds and they all deserve it.
But if I had to choose who I wanted to win...it'd be this guy.