At only 16 years old, Brooke Adee has taken the reality competition show "The Voice" by storm. Within the first few notes of her "blind audition" performance, both Adam Levine and Blake Shelton turned their chairs to then battle over which coach she would choose to be her mentor throughout the competition. Since choosing Blake Shelton, she has gone down an exciting, stressful, but overall rewarding path by taking part in the show and is optimistic to see the outcome of her journey. Here is a clip of the audition that started it all:
This past week, I was fortunate enough to sit with Brooke in her home in Tampa, Florida to discuss the show, her personal life, and some interesting things people may not know about her. Although she grew up mostly in Atlanta, Georgia, she moved to Florida less than a year ago, but has had little time to spend worrying about the transition since being on "The Voice." Along with this transition, she has witnessed many changes as a result of being a part of this incredible competition.
Q: How has your life changed since the blind auditions?
A: People that have never talked to me before are all of a sudden reaching out to me which I find funny. But positively, that means more friends! Also, I am way more busy now with flying out to Los Angeles to film the show and keeping up with online classes. Since I am a contestant, I have been advised to maintain a positive attitude on social media, so it actually has made me a much more positive person overall.
Q: Was Team Blake the best choice for you?
A: Yes! Team Blake was definitely the best pick because he is really motivating and makes everyone feel like family. He is really family oriented.
Q: What has been the most rewarding part of being on the show, other than the musical aspects?
A: Being able to meet people from all around the world with the same ambitions as me has been really inspiring. We all know how far each other [has] come to even be a contestant on the show so that has been really cool to be a part of.
Q: What has helped you most on the show?
A: Early on, I decided I would remain genuine and real with all of the people involved in the show. A lot of the contestants think it's all about impressing the coaches only but I chose to always be friendly and take the time to talk to the producers, cameramen, stage hands, and anyone that could help me when I need it.
As Brooke expressed to me, the show has had many positive results, but there are also some negative consequences that have come from her success. Although tough to handle at times, Brooke tends to be laid back and easy going. She believes all the struggles are worth it if she can be doing something she enjoys for the rest of her life.
Q: Do you feel you are missing out on anything, being so young and beginning a music career?
A: Missing out on high school experiences, no football games, and little time to hang out with people. The show is a true job, and none of my friends have a demanding job that makes you travel and takes up so much time, so I can't just drop everything to go hang out or do something fun with them like most teenagers can. It's stressful sometimes.
Q: What is the hardest part of being a contestant on the show, besides the hectic schedule?
A: Befriending people then competing against them. Also, watching people go when they are cut. We genuinely all are rooting for each other.
Q: Do you ever experience "haters" on social media? How do you deal with them?
A: Yes, all the time. On Instagram and Twitter there are hate accounts and comments on my own posts judging me which is really cowardly since they are hiding behind a computer. But, they don't bother me and I usually will reply to comments with something clever or funny. Being emotionally strong is everything in this business.
Q: How do you feel of the possibility of becoming a celebrity? Would you ever call yourself one?
A: I would never call myself a celebrity. Never. I'm too awkward of a person to be a famous celebrity. Plus, I don't think people should idolize a human being, it's just wrong.
While the show may become her sole image, Brooke is a grounded person and doesn't pay much attention to the media attention she has received. As many of us know, an image isn't everything about a person, and everyone has quirky and unique traits the world may not know about. Brooke is an extraordinary individual with many talents and hobbies.
Q: If you did not pursue music, what career path would you choose?
A: Definitely something in writing. Either poetry or some kind of literature. I'm also really good at analyzing songs and anything lyrical or poetic for their metaphorical meanings, so maybe something like that.
Q: How would you describe your sense of fashion?
A: Very unique. My closet ranges from sweatpants to ball gowns, and my shoes from stilettos to jelly shoes. I never search to fit any kind of certain fashion image. When I go shopping, if I like it, I wear it. I don't really care what people think about my clothes.
Q: How did you get into doing makeup?
A: When I was home-schooled during seventh grade, I would sit on my computer watching makeup tutorials on YouTube and got really into it. It's really fun and it's what I spend most of my money on.
Brooke described her experience on the show as being completely different than what people would expect. She has taken more than half a dozen trips to LA by now, and has spent days filming that begin at 4:00AM and end late at night. Her dedication to her success in the music business without a doubt will pay off. People are fascinated by her unique indie style and are excited to see her go far on the show. The competition may be overwhelming at times, but it has been an unforgettable, enjoyable and educational experience for Brooke and her family.
Her family is consumed with excitement and optimism to see her music career develop from the time she was a little girl with a big voice. She has been singing publicly since she was 13 years old through various gigs and show bookings, but also through an online YouTube channel where she covers popular songs and performs original work. Throughout her entire life, she has always found that her family is the source of all of her strength, success and dedication to chase her goals.
Her mother, Teresa, said, "I am so proud and excited for Brooke. She is a talented, level-headed, hard working girl. She has been nothing but a blessing for me. So grateful to have such an amazing daughter."
It is no secret that she will inspire people with her amazing and rare talent. Her genuine, kind, and unique personality will make her success grow that much greater. Good luck on your journey to the finales, Brooke!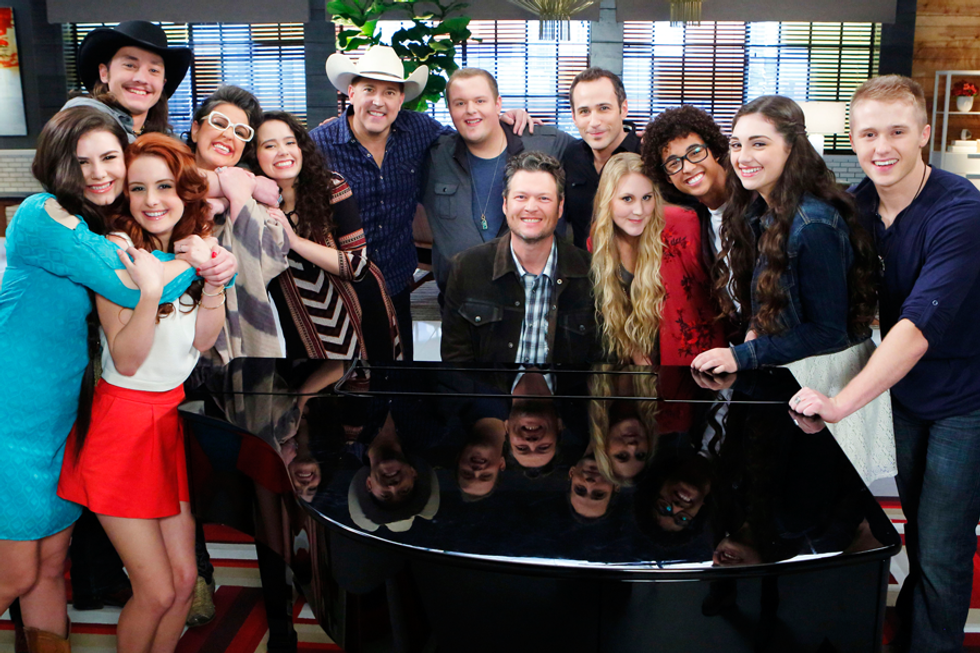 ---
Fun facts about Brooke!
"I have a pet chinchilla named Yoshi I got when I moved to Florida, so I could have a friend here. I named him Yoshi because I'm kind of nerdy and like video games, especially Smash Brothers and anything with Mario Kart. And, I didn't think Mario was a cute name for a pet."
"My favorite place I have ever visited was Cozumel, Mexico because it was so completely different from where I lived."
"Everyone thinks my glasses are fake because I don't wear them on the show, but really, I need them a lot."
"I learned how to play guitar so I could write songs. But, you'll never see me playing guitar on the show, I'm much better at singing."
"I think it's funny when people think that it's so cool that I live in Florida, because I'm not even that close to the beach or anything. And the weather is honestly not even that great. I miss the cold in Georgia!"
---
Be sure to download Brooke's audition clip from iTunes, and keep an eye out for her YouTube channel for new original songs and covers!
https://itunes.apple.com/us/album/skinny-love-voic...