Just about everyone has a band or singular musician that captivates their interests and inevitably is considered their favorite. Maybe they were introduced to you by an old friend, maybe they helped you through a rough time, maybe you just like their sound or lyrics, for whatever reason you have, you adore them.
Personally, I usually take a liking to certain songs and care less for specific groups. However, that outlook changed a little over three years ago when I was introduced to, at the time, The Eden Project.
Jonathon Ng is from Dublin, Ireland. He began releasing tracks independently in 2013 as The Eden Project. Ng has experimented with multiple alternative styles of music including electronic/electronica, indie/indie pop, and dubstep.
In 2015, he announced that The Eden Project would be discontinuing with the release of "Final Call" which was his last EP under the alias. After the release of his final song "Times Like These," the alias was changed to EDEN.
The first EP to be released under EDEN, "End Credits," was released in August of 2015 and has amassed over 14 million plays and streams. Shortly after his End Credits tour, he announced a new EP, "I Think You Think Too Much of Me," would be released August 19, 2016 and two months prior to this date, the first single, "sex," was released which featured a greater focus on vocals and instrumentation. September 17, 2016, Ng decided to release a second music video for his song "drugs" which was a 360-degree video in virtual reality, the video gained itself 1.5 million Facebook views in the first week after release. This same date, EDEN began promoting the new EP with the Futurebound Tour.
His most recent album, "Vertigo," was released January 19, 2018 and was followed by the Vertigo World Tour which began in March 2018, ran for eight months, and concluded just recently on November 27, 2018.
Ng has released six EPs, two albums, and over 70 songs and remixes as The Eden Project, and as Eden, he launched his own record label, MCMXCV. This soon to be 23-year-old has made himself known worldwide to people of all kinds that all relate to him. He has won over the hearts of audiences with a sound that is like none other that I've heard before and his lyrics have true thought and meaning. On his website, he showed his gratitude towards his fans by sharing this photo, thanking everyone for coming out in support of his latest tour: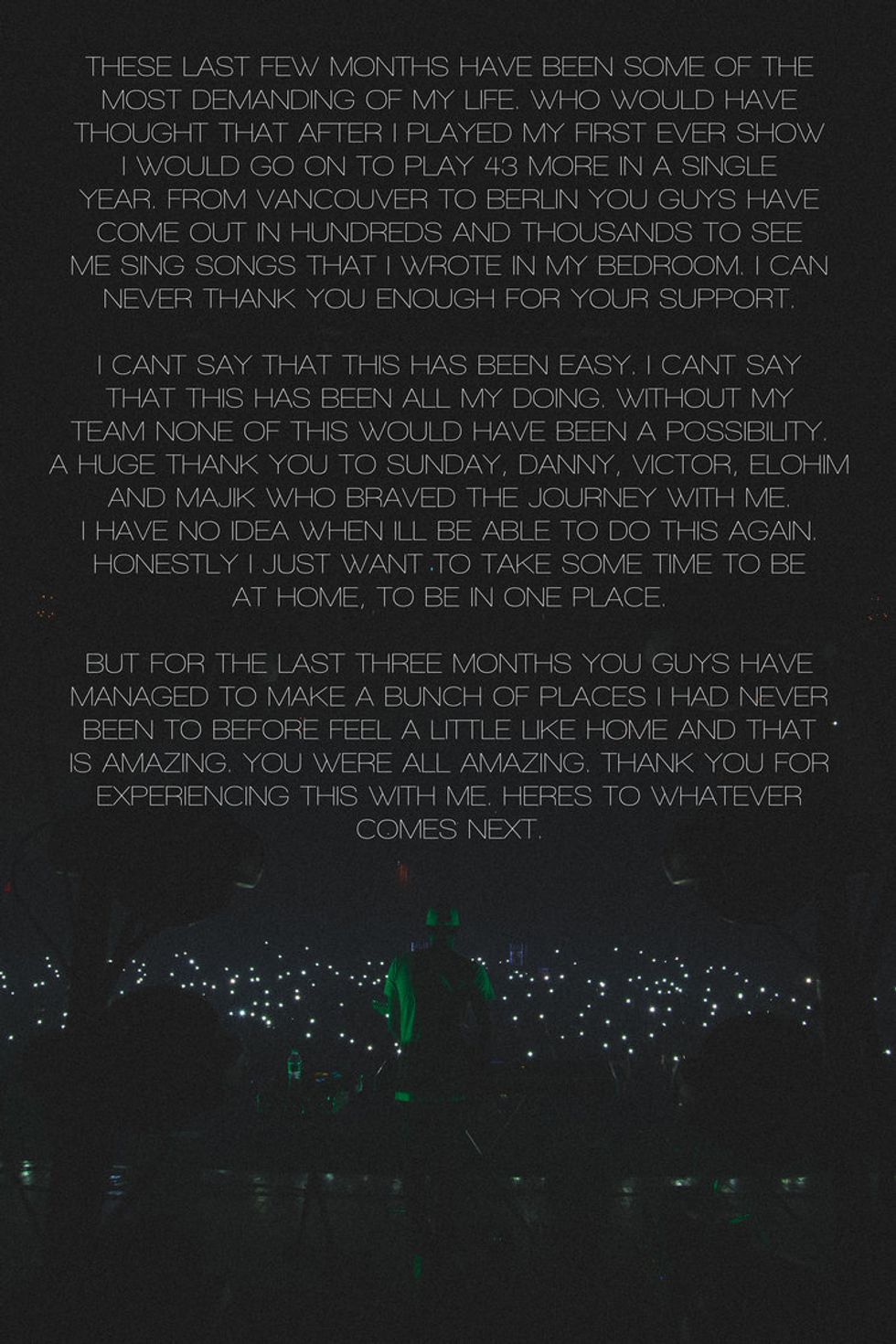 If you're looking for something new to listen to or are just curious after hearing about him, I highly recommend giving EDEN a listen even if it isn't the usual style you listen to. Of course, I have my favorites, but why don't you figure out yours and share them with me.
Albums, EPs, and Remixes:
EP: I Think You Think Too Much of Me (2016)

EP: all you need is love (2018)