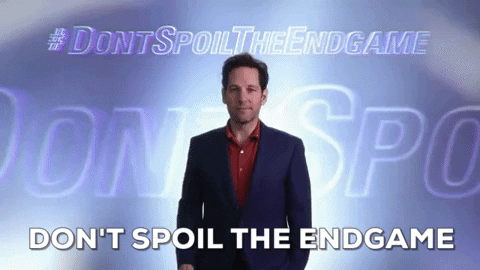 media1.giphy.com
(Don't be a Mark Ruffalo)
The Marvel movies have been around for 11 years, a total of 23 movies, all movies were 3000 minutes. All of these movies have had a special meaning to the world. It has impacted all of us in some way or another. Having this be the end of the marvel movies makes it very heart breaking to the world.
All the movies in chronological order goes as follows:
1. Captain America: The First Avenger (2011)
2. Iron Man (2008)
3. The Incredible Hulk (2008)
4. Iron Man 2 (2010)
5. Thor (2011)
6. The Avengers (2012)
7. Iron Man 3 (2013)
8. Thor: The Dark World (2013)
9. Captain America: The Winter Soldier (2014)
10. Guardians of the Galaxy (2014)
11. Guardians of the Galaxy Vol. 2 (2017)
12. Avengers: Age of Ultron (2015)
13. Ant-Man (2015)
14. Captain America: Civil War (2016)
15. Spider-Man: Homecoming (2017)
16. Doctor Strange (2016)
17. Black Panther (2018)
19. Avengers: Infinity War (2018)
20. Ant-Man and the Wasp (2018)
21. Captain Marvel (2019)
22. Avengers: Endgame (2019)
23. Spider-Man: Far From Home (2019)
The endgame was full of meaningful messages to tie everything together over the years, I believe.
I just would like to thank everyone over the years who have worked on the Marvel movies. This was an amazing production of a series that has touched so many people. It gave me great joy to go and see every movie, and of course when Spider-Man Far From Home, will enjoy that too. It definitely was not easy watching the end of Endgame, watching a true legend come to an end. But obviously it was only right to have it end the way it did, it was a noble death and showed us what true sacrifice and love truly was. Thank you for a fun and eventful movies that will be enjoyed for the rest of eternity.
"I love you 3000"