Recently, I've tried to go zero-waste. Of course, being zero-waste in a dorm-like setting is super hard because almost everything we consume isn't reusable. For my New Year's Resolution, I challenged myself to become a minimalist while going zero waste. I basically sold or gave away anything I didn't use anymore, I've been thrifting for new articles of clothing I may want, and I've been trying to reduce my waste as much as I can.
One of the biggest things I've found out in my minimalist/zero-waste journey is the number of pads and tampons I use within a month... it's a lot, and I don't even have a heavy flow.
So I've decided to opt for an alternative for when it's that time of the month: a menstrual cup. I was between getting a Diva Cup and a Lena cup because those are the two brands I've learned the most about. I didn't know which one was better (hell, all I knew was that the Lena cup was $10 cheaper), so I decided to research. I ended up going with the Lena cup because there were too many horror stories for the Diva Cup (leakages, the silicon material that was "too soft" and the length that was "too short") and because it was $10 less, haha.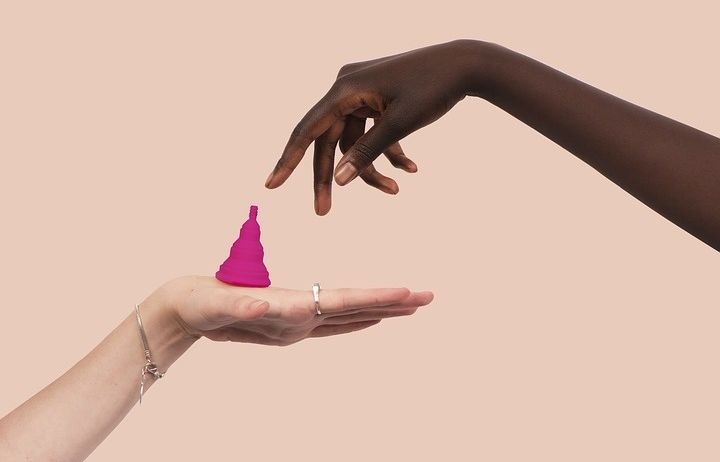 Pixabay
On the first day, I was ECSTATIC to finally use my Lena Cup. My cycle started a bit late, so as soon as I felt the tiniest amount of blood, I immediately popped Lena in. Well... it was more complicated than that. I think I really underestimated the learning curve on the cup itself. It's easy to just pop a tampon in, but for menstrual cups, it required more diligent and careful insertion. I found that the method that worked best for me was the C-fold, while standing up. Unfortunately, it did make my cramps a little worse, but I think my body just had to get used to it, because, after the first day, my cramps were completely gone. There was also A LOT of leaking on the first day, but I think it's because I didn't really insert it correctly on the first day.

By the second day, I felt like an absolute pro. Inserting it and taking it out became a breeze, there was no leaking, and my cramps were basically non-existent. What I liked most about the cup is that I can literally see how much menstrual fluid accumulates throughout the day (and night), which was really fascinating to see because pads and tampons don't give you a clear indication of how much blood you're losing.
If you're thinking about getting a menstrual cup I highly recommend it. From my past experience this week, here are some tips for those who are on the fence.
1. If you're scared, just GO FOR IT!
2. Make sure you boil your diva cup between cycles and wash it every time you take it out to dump out the menstrual fluid
3. If you find yourself struggling to take the cup out, just take a few moments to relax and try again! What also works is going in the shower and trying to take it out/put it in there
4. Try to understand the anatomy of your body to see what works best for you to prevent leakages and unwanted pain
5. If you fail the first time, that's OK! Trial and error is the key to learning how to use a menstrual cup