Toby Herald, a member of the Kentucky House of Representatives has recently proposed House Bill 242 to consolidate Kentucky counties and schools from 175 to 55. This would cause the Counties to be renamed and the existing school boards to be abolished. The bill is proposed in response to the budgeting issues to fund all of the counties separate local governments and school districts. This is a problem that needs to be solved, but consolidating the counties is not the answer, and I'm here to tell you why.
I always laugh when people ask me where I'm from. Nine times out of ten, I know that it's a conversation that will leave them shocked. If you're from not from Kentucky, or even if you are from Kentucky, you have probably never heard of my hometown, Brandenburg. Brandenburg is the County seat of Meade County and has a population of less than 30,000 people.
Right now you're probably projecting all of the Kentucky stereotypes onto Meade County. For some of them, you'd probably be right. While we do, in fact, wear shoes, we are undoubtedly a little "redneck." The closest Wal-Mart is in Indiana, which is about a 25-minute drive. Our go-to student section theme for any basketball or football game is camo. Camo is easy to come by, because everyone here does some type of hunting. I grew up frog gigging, which is just as weird and gross as it sounds. People don't have house parties; they have parties in their barn/shop. We have one high school, Meade County High School, and yes, everyone literally knows everyone.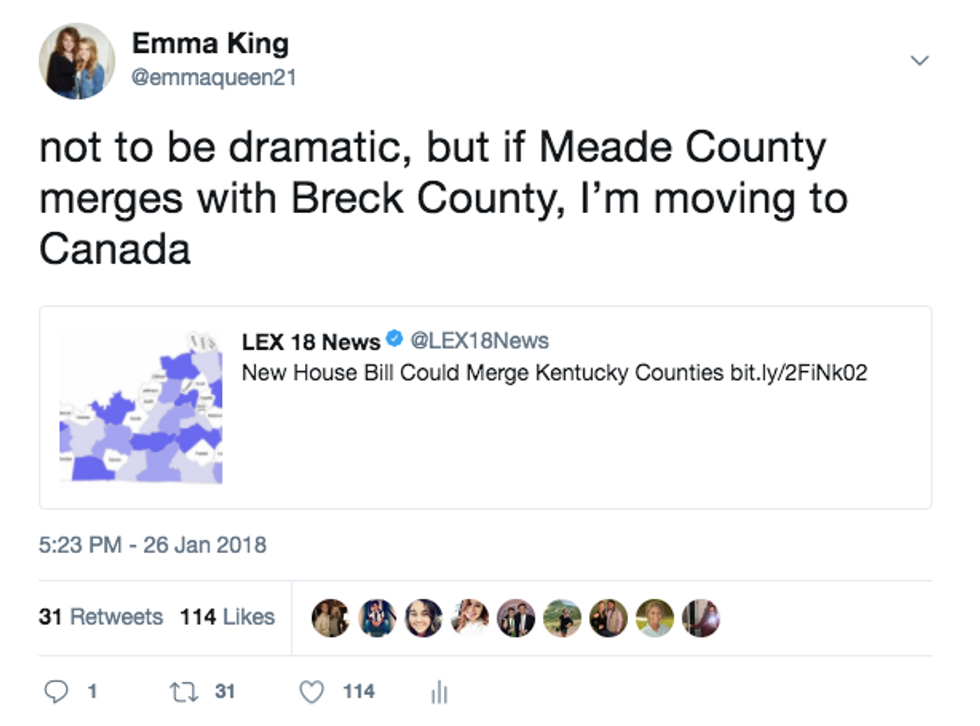 Despite all of these things, I wouldn't have wanted to grow up anywhere else. There is no closer knit community than Meade County. I am a proud "redneck," if that's what you want to call us. The people here support each other through thick and thin. There's a social stigma that hanging out with people you went to high school with means that you peaked in high school, but I'm not afraid to say that I do. Two of my closest friends in the world are from Meade County, and I have the most fun when we have mini Meade County reunions. These are my people, and hanging out with them doesn't mean I'm not thriving. I'm still doing big things, and I still love meeting new people, but I know that my Meade County crew will always have my back no matter what.
Meade County made me who I am today. It is attached so closely to my identity, that I can't imagine calling my home anything else. Changing the layout of Kentucky isn't just about drawing lines on a map or renaming a few buildings. This bill means new school districts, new local governments, and destroys the communities that Kentucky is centered around. I'm sure people from other rural counties will agree with me in saying that the passage of this bill will tarnish the history of Kentucky. We are one of the only states that so closely identifies with their counties, and I think it has made our state better, not worse. The bigger the counties are, the less personality and more impersonal they become. Every county has their own unique history and traditions that have come about precisely because of their small size. I want to be a Meade County Greenwave forever, and I want future generations of Greenwaves to experience Meade County Pride the way it always has been. I'm begging the House Senators to think carefully about this bill and advocate for other ways to solve the budgeting issue.