1. St Patrick's Day Puzzles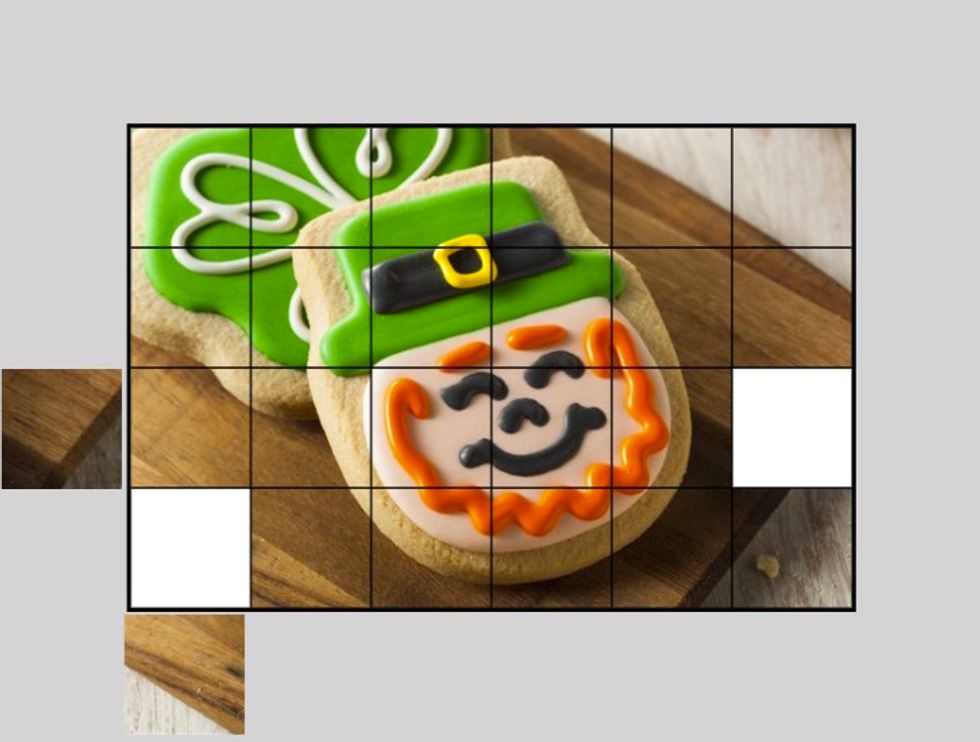 St Patrick's Day Block Puzzle is a click and drag puzzle game. There is more than 10 different St Patrick Day scenes that can be put together. Most of the images are parade scenes but a few of them are cookies and people who dressed up for St Patrick's day. You can either start with the scene it gives you or move on to the next one via the double arrow "fast forward" button on the screen. If you hit the cog/mechanical gear looking button on the screen, you can change the difficulty of the puzzles. Its a fun free game but my only complaint is that it lacks sound or music. My suggestion is to open up another tab to youtube and listen to some fitting St Patrick's day music to complete the experience.
Shamrock Slide Puzzle is a tile sliding game where you rearrange the pieces to make a picture. There is 12 pictures to choose from for the player to solve and even offers the option to load in your own image to be puzzle. I tested this option out with a leprechaun picture that I downloaded from the internet and it worked. Out of curiosity I refreshed the page to see if that image would stay in the game and it doesn't. So since the image doesn't stay in the game, you don't have to worry about random strangers getting access to your pictures or your kids possibly playing a puzzle that has an inappropriate image. The game also offers different difficulty levels. There is 3x3 easy, 4x4 medium, 5x5 hard, and 6x6 expert. And as an added bonus, you can have the numbers appear on the tiles to help solve where each title should be.
Live Jigsaws Luck of the Irish is a puzzle game that has 20 different scenes of animated art to choose from and the option to customize both the puzzle piece style and the number of pieces. You can choose between 4 pieces all the way up to 713 pieces! This game even has 3D effects.
Live Jigsaws Luck of the Irish - Android
2. Hide And Seek With A Leprechaun?
Remember in the 90s when point and click games where a big trend in computer games? Everything you clicked on either made a noise, said something or had some wacky fun animation. Putt Putt, Freddi Fish, Pajama Sam, and the Living books games were well known computer games that used this trend to maximize the fun. To a much smaller degree, you can relive this point and click fun with Leprechaun Hunt. You goal is to click about the screen trying to find where the leprechaun is hiding, kind of like a game of hiding go seek. However, unlike that other games I mentioned, there isn't random funny animations, but it still gives off 90s point and click inspired vibes. Instead of wacky animations, you are greeted by images urging you to try again if you click on a spot where the leprechaun isn't hiding along with occasionally getting laughed at by children or a yee-ha. If you do find the Leprechaun, you are awarded with a pot of gold. The leprechaun changes hiding spots so the game is replayable if you so wish to do so.

3. Collecting Gold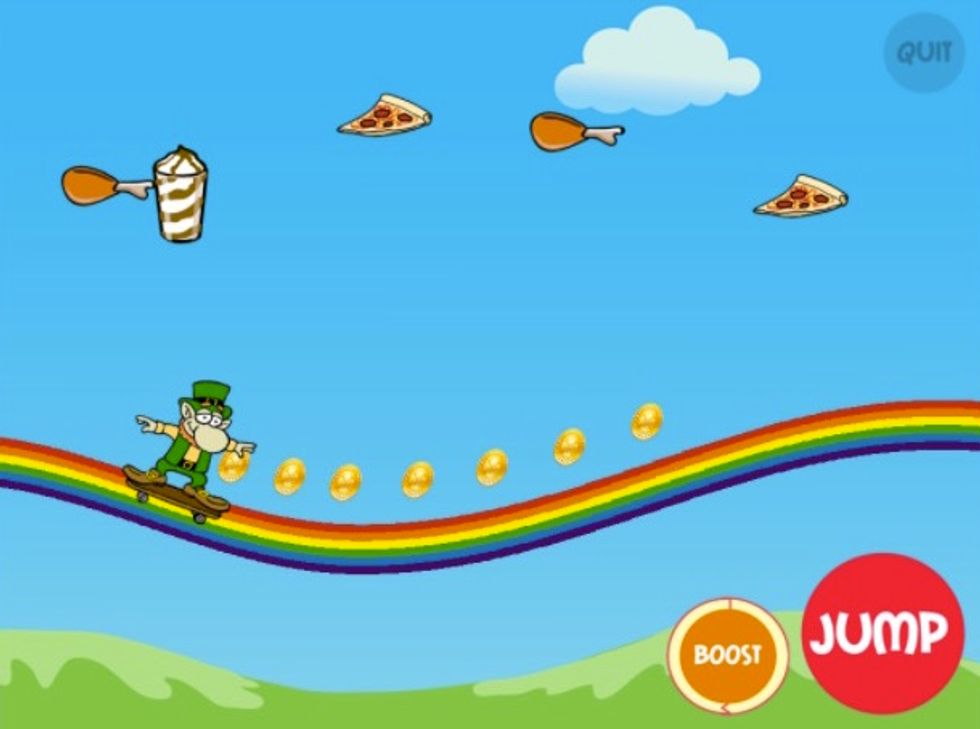 In St Patrick's Gold, you control a leprechaun who has to find his gold that has been scattered across the land to put it back in the gold pot where it belongs before time is up. To control the leprechaun, you use the mouse. Sometimes it feels like the leprechaun is fighting you when you try to make him go in the direction you want but for a free game, I can't complain too much. Besides its still pretty playable despite that issue. It will just take awhile to get used to the controls.
O'Conners Coins is a game in which a leprechaun runs around bouncing a clover on his hat to hit the clover into the air to try to get bags full of coins. Once the bag is hit, it will drop its treasures for you to collect but you can't let the clover hit the ground. If the clover hits the ground three times, you lose.
Coins are falling from the sky in St. Patrick's Coin Catcher. Try to catch as many coins as you can but watch out for the bombs!
St. Patrick's Coin Catcher - Android
There is a second game called St Patricks Gold. In this one you use a claw to take coins, gems and diamonds out of the ground.
St Patricks Gold - Iphone & Ipad
In Leprechaun's Luck, the player controls a leprechaun on a journey though a 20 level adventure in the fae land. Help your leprechaun to gather gold and gems while avoiding bees, lady bugs, and ants.
Leprechaun's Luck - Android
You found the leprechaun's gold! How much can you collect before the Leprechaun sees you? Gold is falling down your screen for you to collect. You can either collect it by tapping on the screen or by using motion controls; tilt the phone to move the hand on screen being used to chance the coins.
Pot of Gold - Android
Move the leprechaun around the forest to collect all the gold. while moving about, watch out for water because the leprechaun can not swim. Also some areas on the map need a key to access them so strategy is needed. There is 30 levels in this game. Can you beat them all?
The Leprechaun: Puzzle Game - Android
Sky Ryder is a leprechaun skate boarding game in which a leprechaun skates on a rainbow to collect gold and food. If enough food is collected, it can be used for a boost. while boarding, watch out for storm clouds which could shock Paddy the leprechaun.
Sky Ryder - Android
Leprechaun Run is a game with simple looking graphics in which a leprechaun runs to collect gold. While trying to collect gold the leprechaun has to avoid bombs.
Leprechaun Run - Android


Coins are falling from the sky. Help the leprechaun collect the gold but watch out for falling objects that could hurt him.
Leprechaun Drop - Iphone & Ipad


Shamus the leprechaun has hidden all his gold inside four leaf clovers. Touch the four leaf clovers to get the gold but do not touch the three leaf clovers or you will loose. The more coins you get, the more badges you will get. There is 14 badges total.
Shamrock Shenanigans - Iphone & Ipad
4. St. Patrick's Makeover Game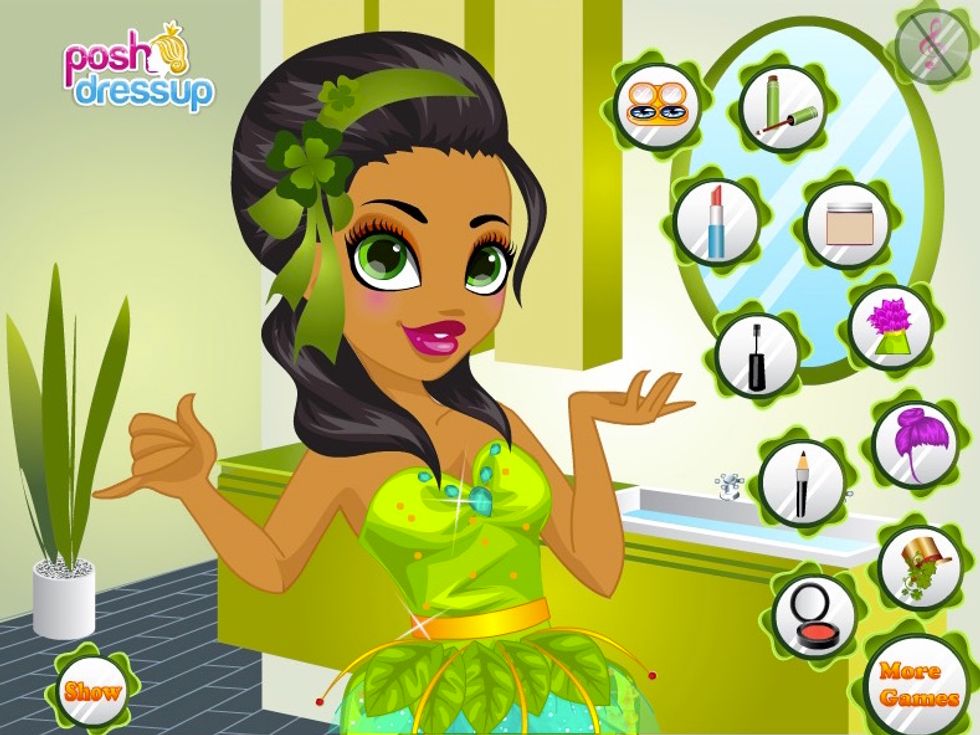 Help this woman get ready for St Patrick's day from start to finish. First step is to use some magical soap to get rid of pimples. Then we put a yellow face mask on that has random 4 leaf clovers on it , because you know, St Patrick's day and all that. After a bit of plucking, it make up time which is the fun part since you can finally choose things for yourself. You can change her eye color, give her eye shadow of any color of the rainbow, choose between 8 different lip stick colors, and pick from 8 different blushes. You can also change her eye brows here which makes the plucking step from earlier pretty pointless. And you can change this girl's skin tone. I don't know if I should feel happy about racial equality and everyone possibly feeling included or feel weirded out that we can basically make this woman get some sort of skin tone adjustment surgery because somebody isn't happy enough with the race that she already was. I'm sure this option wasn't put there for any malicious reasons. but I was still surprised it was there none the less. Other than makeup, there is different hair, outfits, and accessory options to choose from. Above is a picture of the woman I made. Shes all ready for a party or to drink or go to a parade. Who knows where the night will take her. The game never explains so I guess its all up to your imagination.

St Patrick's day is a dress up game where you dress up a doll looking boyfriend and girlfriend couple for St Patrick's day. That guy's face can't be natural. Hes either a doll or had some plastic surgery work done. There is 5 pages of outfits and accessories to choose from and when you find something you like for them to wear, just click on it. My favorite is the mugs not drugs shirt. It fits the holiday but at the same time it is laughable. Being an alcoholic can be just as bad as being a drug addict. In little amounts, sure alcohol over drugs is the better choice in most cases, but honestly having too much of anything isn't good for anyone. And if someone is upset at you for having an unhealthy drinking habit, responding with at least it wasn't drugs, isn't a good response or way of thinking.
St Patrick's day couple dress up

Do you prefer alternative fashion and life styles? In St Patrick's Day Emo Fashion, you can help an emo girl get ready for St Patrick's day via the power of click and dragging.
Another fun dress up game is St Patrick's Day New Look. This game has a lot of unique hair styles and outfit to choose from including a st patrick's day beer girl outfit, corsets, heels, cargo pants, and much more.
St Patrick's Day New Look - Android
St Patrick's Day New Look - Iphone & Ipad
Do you like dressing up stuffed animals but can't afford the high prices at build a bear? In St Patricks bear you can dress up a stuffed animal teddy bear for free. With 15 different outfit and various different accessories, you can express your self and spoil this little bear.
St Patrick 2009 is a dress up game that was likely made in 2009. In this game you can change the woman's eye color, face shape, skin tone, hair, make up and outfit. The outfits vary from t-shirts, tank tops, dresses, skirts, pants, and st patrick's day style costumes. There is also jewelry, hats, glasses, shoes and other accessories. You also can do odd things like give this woman red, orange and purple eyes or purple, pink, red, teal and blue eye lashes or purple eye brows. While unnatural colored eye contacts isn't unheard of, the rest of this seems pretty odd.
Help an entertainer get ready for her show in St Patrick's performer. You can choose from dresses, skirts, many different tops, hats, ribbons, shoes, leggings and glasses. All the outfits are out there is a fun and crazy sort of way.

There is also a dog dress up game if you would prefer to give a makeover to a dog vs a person. Its called Happy St. Patrick's Day. There is 6 dogs that you can choose from to dress up. From there you can put 7 different kinds of wigs, 7 hats, ribbons and bandannas, clothing and shoes on this pup.
Happy St. Patrick's Day Dog Dress up

While most of these dress up games have st patrick in the name or have green outfits for you to change the people into, this game has an actual leprechaun to dress up. You won't get more st patrick's day themed in a dress up game than a dress up game that has leprechauns.

Another mythical dress up game is Jamie Joy. In this one you dress up a fairy, probably named Jamie or Jamie joy, to get her ready for St Patrick's day. Unlike most of these dress up games, its not a click and drag game. You click on the category to scroll through your different options and stop when you find the option that you like.
5. St Patrick's Day Celebration
Help a toddler named Baby Hazel and her friends celebrate St Patrick's day by decorating a room, making leprechaun traps, finding leprechauns and taking part in a parade. This simple free point and click game will give you minutes of fun.
Baby Hazel St. Patrick's Day - Computer
Baby Hazel St. Patrick's Day - Android
Baby Hazel St. Patrick's Day - Iphone & Ipad
6. Matching Game
Flip over the St Patrick's day themed cards and try to find a matching pair. How good is your memory? Do you remember where the leprechaun, Irish flag and pot of gold is?
Flip over these clovers and try to match the St Patrick's day themed symbols from the convenience of your smart phone.
Memory St. Patrick's Day - Android
Do you want to play a card matching game on your apple device for free, this game might be for you.
St Patricks Day Card Match - Iphone & Ipad
7. Cake Baking Game
Its St Patrick's day and Maria needs to make a cake for he St Patrick's Day party and she needs our help. So to start we help Maria make a cheese cake fallowed by 2 green velvet cake, and frosting. After all the pieces are together, you and Maria put the cake together for her party.


8. St. Patrick Brawler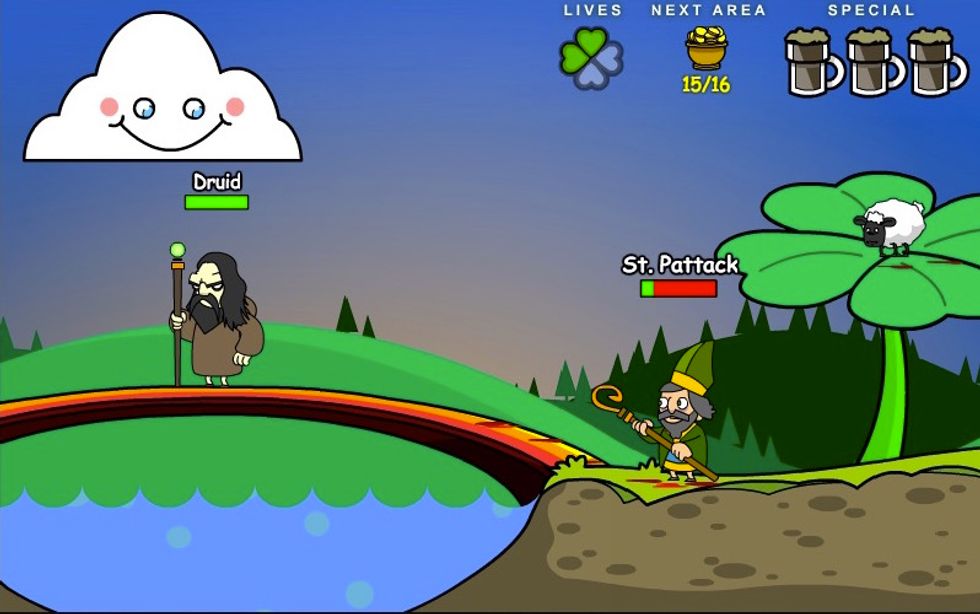 In St. Pattack you are an action hero named St Pattack who has come to Ireland to save the land from violent leprechauns and snakes by attacking them with your staff. The enemies drop important items like gold coins which you can use to go to new areas, potatoes for more health, and beer for more powerful special attacks. If you need health but no enemies are dropping potatoes, you can kill a sheep for stew which can also be used for health. There is also boss battles with druids, and giant leprechauns. I only played to the second level but it was lot of fun. I will for sure be playing this more later on. This game was given a Teen rating for blood, violence and alcohol so unlike most of these games on the list, it might not be acceptable for everyone to play. Out of every game on this list, this one was my favorite.
Goat headed creatures known as Fomorians invaded the forest looking for a pot of leprechaun gold. Instead, they find a magical artifact that protects the forest from evil. Iris, protector of the artifact is taken along with the artifact by the Fomorians. Now evil creatures are invading the forest. A team of leprechaun siblings, Lucky O' Gold and Carrie, go off on an adventure to save Iris and bring back the artifact.
Leprechaun The Rainbow Seal - Iphone & Ipad
9. St. Patrick's Day Shooter
If you would rather play a shooter than a brawler, Leprechauns Vs Bears might be your game. No leprechaun is safe from these evil bears and the only way to survive is to shoot them all! Another plus is the charming old school graphics. You can play this game on Windows, Mac, and Linux.
Another St Patrick's day themed shooter is Shamrock Shooter. In Shamrock Shooter you aim and shoot leprechauns with the computer mouse to hit bags of money. As you play, the levels get more difficult; moving platforms, objects in the way, buttons, ect. I was only able to make it to level 12. Can you beat my score?
10. Pass The Pint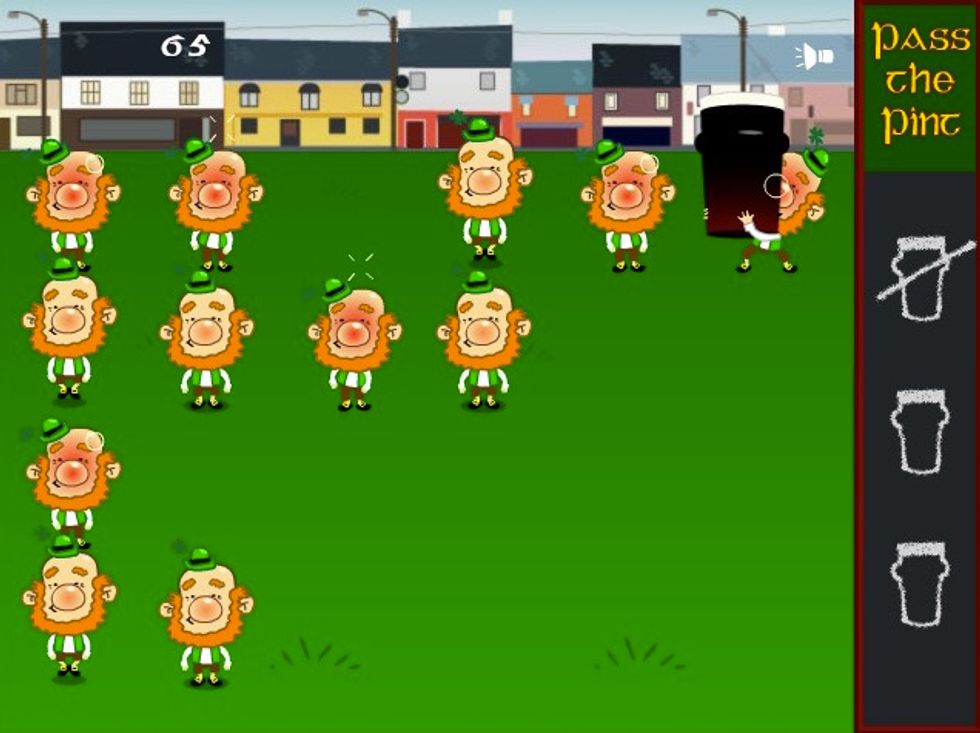 Pass the Pint is a skill/chance game in which leprechauns pass a pint around. The goal is to get the pint to every leprechaun on the screen but some of them will disappear after they pass it which could make it unable to pass the pint to leprechauns that are far away that would of needed that leprechaun to complete the pass. The game goes on until there is only one leprechaun left which would be a win or until it isn't possible to pass the pint on which is a loss.

11. St. Patrick's Day Platformer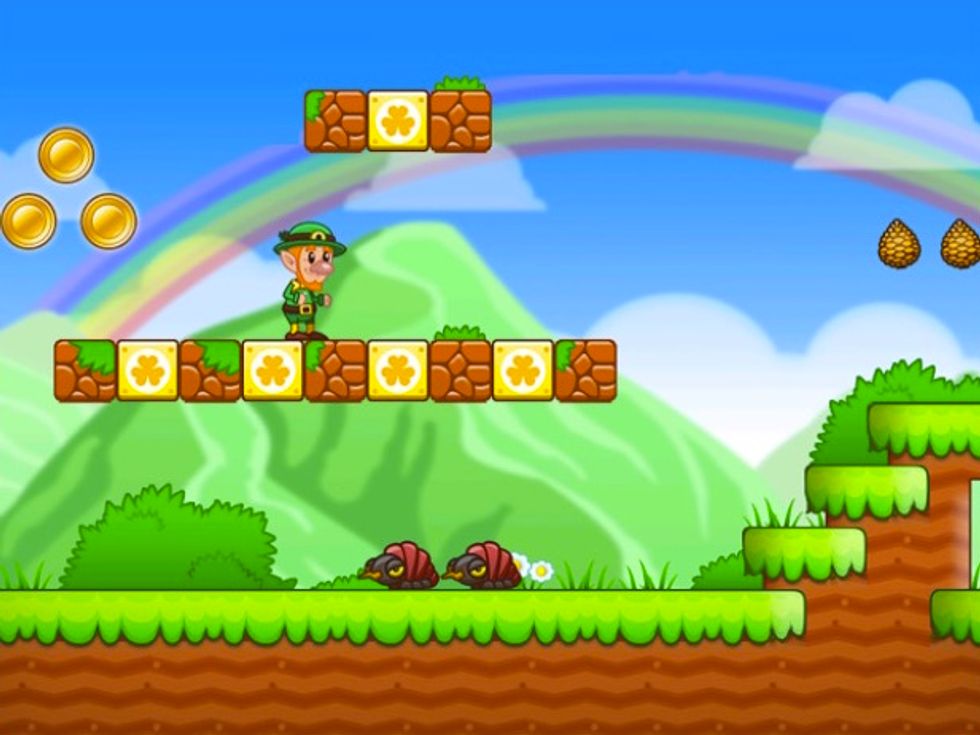 Little Leprechaun's Greedy Grainne is 3D puzzle Platformer game that was made for children 5 to 13 years old according to it's creator Emerald Eye. The game is about a leprechaun that was imprisoned by her own father for 33 years! So why did he imprison her? Fador is ashamed of his daughter Grainne because of her love of gold and magic marshmallows. To prove him wrong, Grainne escapes and goes on a journey in Leprechaun Land.
Have you ever wanted to play a Mario game as a leprechaun? In this Mario bros clone game, you are a leprechaun who collects coins, and jumps over objects that are in the way. There are 80 levels and 4 different worlds. There are also power ups. If you eat a lolly pop you will turn into "Super red boy" and you will be able to throw fireballs. Magic Potions make you bigger instead of the mushrooms. There is even bricks that can be destroyed.
St Patrick's Day Adventure - Android
In Fun Run Patrick adventures you control a Leprechaun child who is on an adventure. With 3 difficulty options and over 100 levels, this game could give you hours of fun!
Fun Run Patrick Adventures - Android
Ted the Leprechaun has had his treasure stolen and he needs your help to get it all back. Ted has to run on top of rainbows and jumps rainbow to rainbow while avoiding clouds and crows. To help Ted jump, tap once or tap twice for a higher jump. To avoid the clouds, crows and any other enemies, simply tap and hold to pass under them. There is also beer in the game which can make Ted Drunk. This fun game can be played on Android for 99 cents.
Ted Leprechaun Run St Patrick - Android
Lep's world is another Leprechaun Mario game clone. Lep has lost his gold and has to journey across the land to find it all. This game has 136 levels, 6 different worlds, clovers that game more health, and the option for multiplayer game play. Currently there are three of these games in the Lep's World series. The second game has boss fights, and 10 items & abilities added to help Lep get through the game along with new levels. Lep's world 3 has 4 different characters to choose from, high resolution graphics, 120 levels, boss battles and power ups.
Lep's World Plus - Iphone & Ipad
Lep's World 2 Plus - Iphone & Ipad
Lep's World 3 Plus - Iphone & Ipad
Legend of Leprechaun's world is a platformer game with the ability to upgrade the character. Another unique thing about this game is the gamepad support and multiple language options via google translate.
Legend of Leprechaun's World - Android
Help the leprechaun jump from pot of gold to pot of gold. Watch out for the boiling cauldron.
St. Patrick's Day Leprechaun Leaping Over Gold Pro - Iphone & Ipad
Job the leprechaun has had his friend kidnaped by an evil witch. With your help in this plaforming adventure, he can save his friend. this game has more than 30 levels, retro style pixel art, controller support, and fun side kick characters.
12. St Patrick's Room Decoration?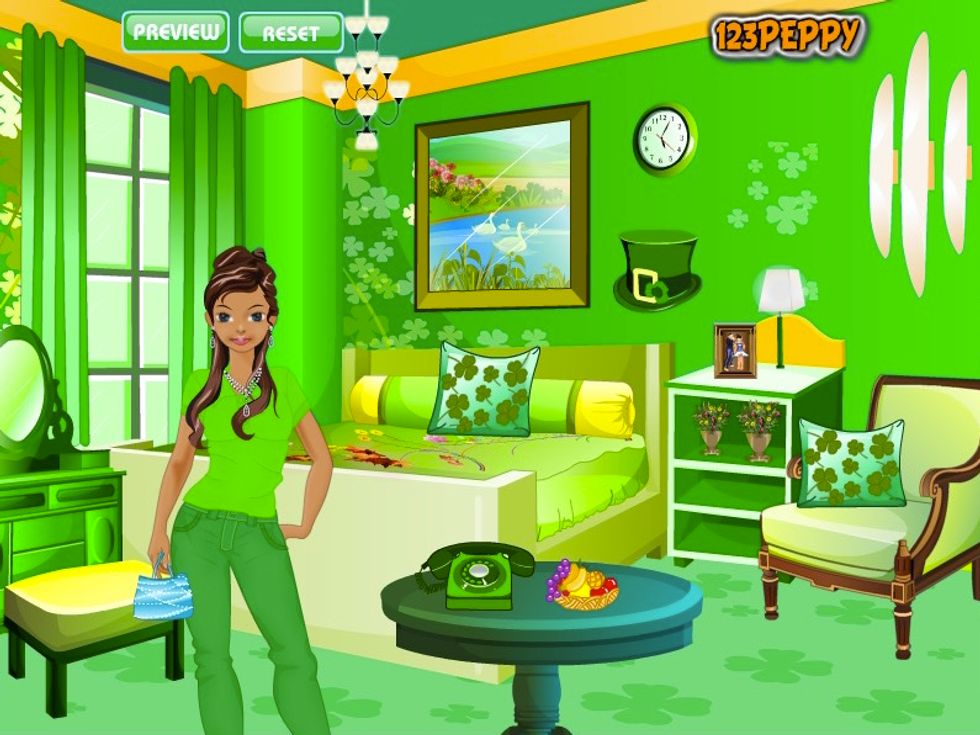 Click and drag the furniture and decor in this room to decorate it for St. Patrick's day while some random woman stares at you. I don't know why she looks so annoyed and I don't know whats with her face. I'm just trying to help you decorate your room lady...
13. Spot the Differences
Do you like spot the difference games? What about free to play game? In Ultimate Leprechauns, a group of leprechaun friends are put into crazy situations for your entertainment. In the two pictures shown, you have to find what is different between them to move onto the next picture. A good thing about this game is that the differences aren't obvious and there are many different levels to play.
Difference: St Patrick's day has over 100 levels in it's game and includes artistic pictures that will fill your eyes with beauty. The fastest you solve the level, the more coins you will earn, which you can use to unlock more levels. You can also zoom in for a better look at the picture.
Difference: St Patrick's Day - Android
Hidden Difference Irish Luck has 100 levels to play, and multiple different ways to play. You can casually play which has no time limit. There is the traditional way to play that has time limits to find the differences. In this game, however, you can change the number of differences and change the time limit via the difficulty mode. If you need help solving, you can zoom in to see better or use the "Cauldron Of Wisdom" to guid you through the level.
Hidden Difference Irish Luck - Android
14. Kiss Me, I'm Irish
A teenage couple is out on a date on St Patrick's day. They decide to kiss in public but this apparently bothers the other other people. Help this couple kiss without getting noticed in public areas like a park, movie theater, and cafe then kiss at the house without the other's family finding out. Three times caught and you lose.
15. St Patrick's Day Solitaire?
Do you love solitaire? My dad likes solitaire and if you do too, this game might be for you. St patrick's Day Solitaire offers 1 card solitaire, 3 card solitaire, freecell, Spider solitaire, spider 2 and 4 suit solitaire games, Scorpion solitaire, wasp solitaire, and Yukon solitaire. Each game has St Patrick day themed cards.
St. Patricks Day Solitaire - Android
St. Patrick's Day Solitaire - Iphone & Ipad
Lucky Solitaire has St Patrick's day themed cards and customizable backgrounds.
16. Catch The Leprechaun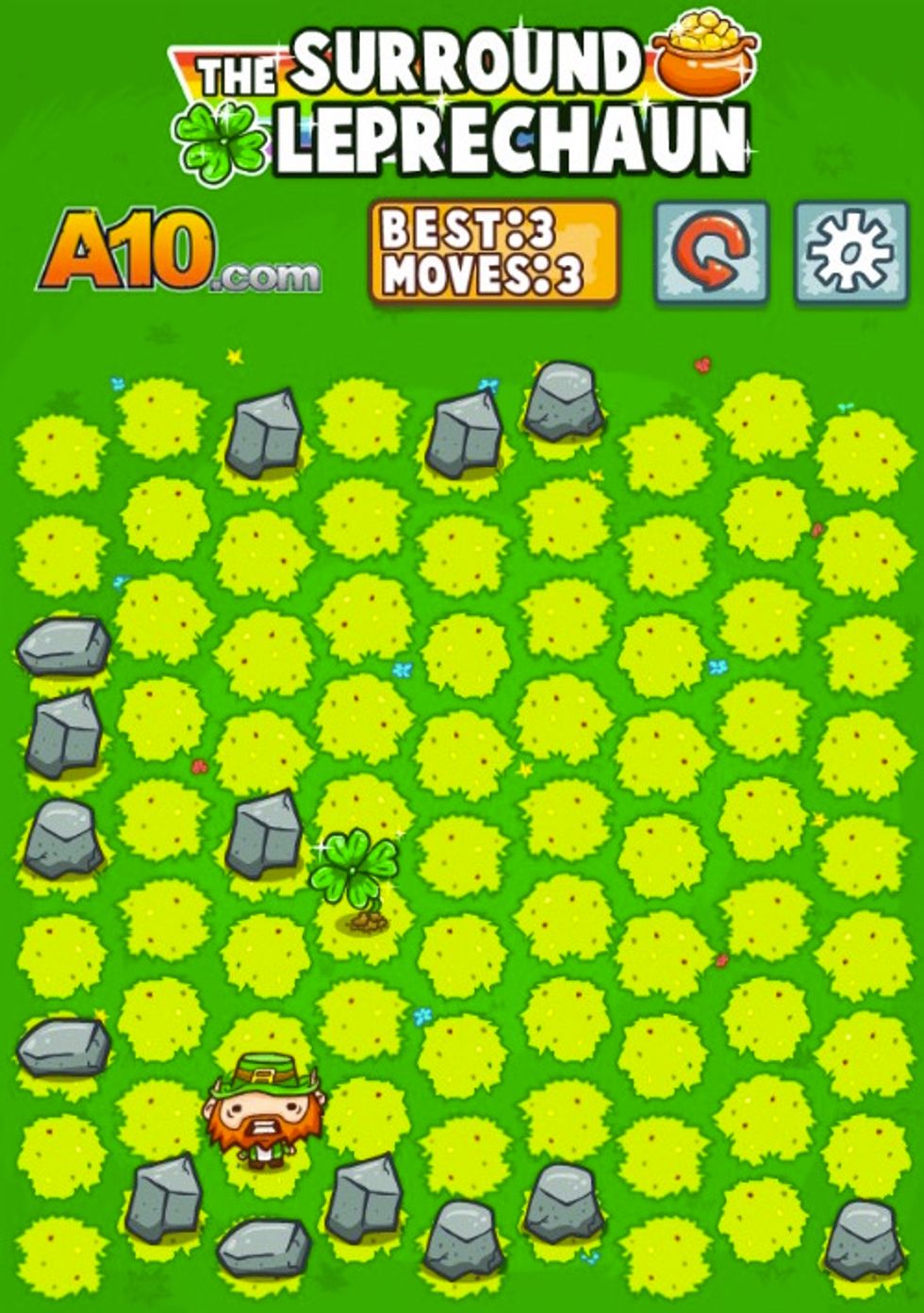 In Surround the Leprechaun, you try to prevent a leprechaun from escaping by blocking him in with rocks. Each turn, you put a rock down and the leprechaun tries to run away. Hitting the clover will make the leprechaun dizzy and make it able to put more rocks down before he moves again. Surround him with rocks and you win his pot of gold. Be careful, this game is kind of addicting.
There is a similar game called Trap The Leprechaun. Other than graphic differences, you trap the leprechaun by raising up blocks from the ground to create walls instead of putting down rocks.
17. St Patrick's Day Themed Mahjong
I don't know the rules for Mahjong so I didn't test this game out but if you would like to play a mahjong game on your android device that has St Patrick's day themed tiles than this might be the game for you.
St Patrick's Day Mahjong - Android
St Patrick's Day Mahjong - Iphone & Ipad
There is a second Mahjong game with St Patrick's day tiles. There is also 21 St Patrick's day themed levels. This game has a free play mode and a career mode. Best of all, its ad free.
Mahjong St. Patty's Unlocked - Android
18. Hangman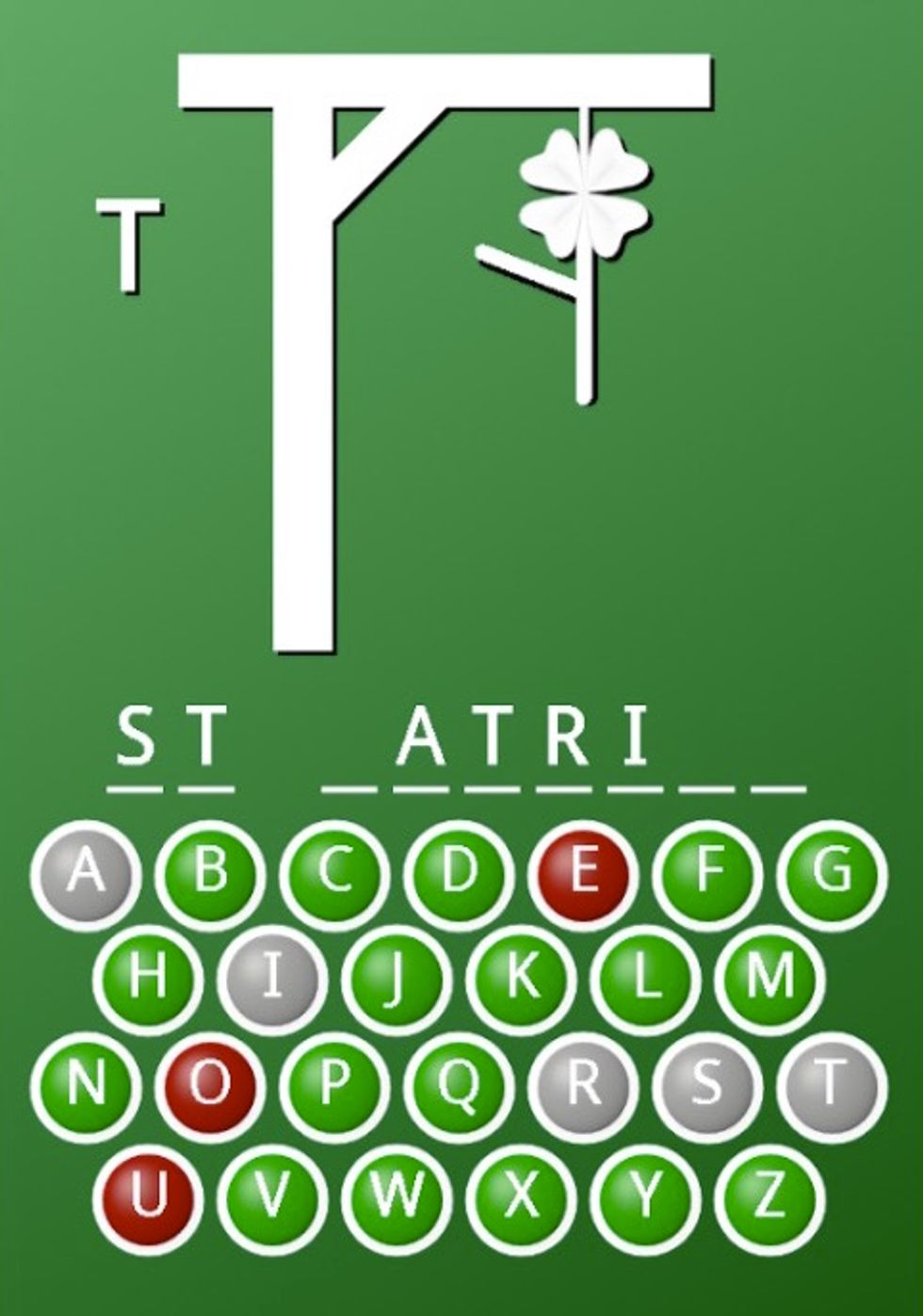 Guess letters to figure out these St Patrick's Day words and phrases. There are hundreds of different words and phrases in this game so it is highly replayable. There is also leaderboards that keep track of each player's monthly score and all time best scores. Can you place in the top 1,000? What about the top 100? Only one way to find out. Its free to play and all you need is an android to play!
St Patrick's Day Hangman - Android
There is a second St Patrick's Day themed Hangman game called Irish Hangman. However, this hangman app can help teach the player Irish. The instructions are in English and the gameplay is in Irish.
Irish Hangman - Android


19. Drunk Leprechaun The Game
This leprechaun drank way too much and needs your help not falling over. Tilt your phone to keep the leprechaun upright.
St Patrick's Day: Drunk Leprechaun - Android
20. St Patrick's Day Word Search
Do you like word searches? What about free word searches? This word search has words that are connected to St Patrick's day and had a custom word wheel. It also has a leaderboard that has 7 day scores, monthly scores and all time scores. Each word you find counts to increasing your position on the leader board. sound like fun? You can download it for your Android devices.
St Patrick's Day Word Search - Android
21. Casino Slots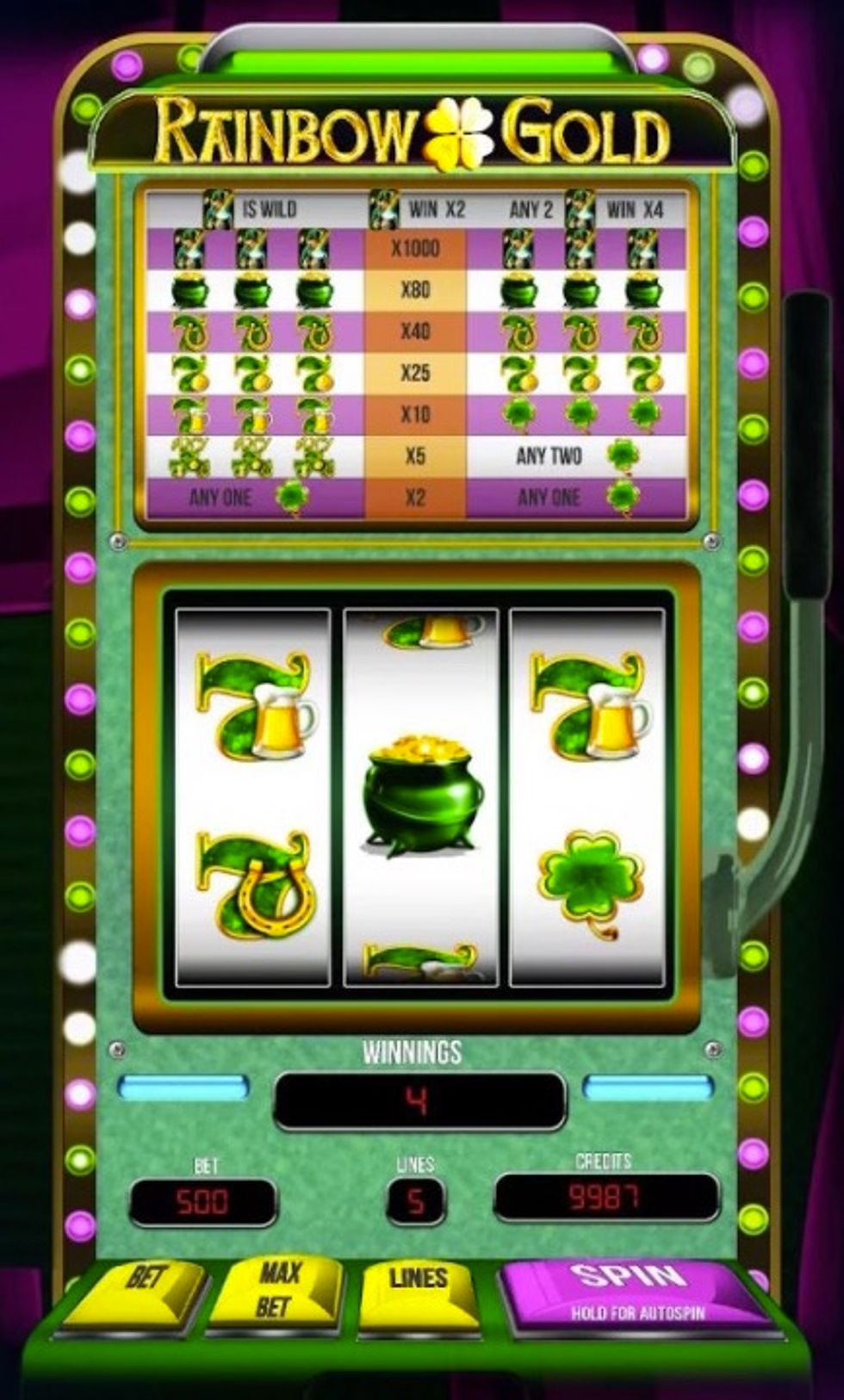 Would you like to play a slot machine for free? In St Patrick's Day Free Slots, you never have to buy coins to play in this app.
St Patrick's Day Free Slots - Android

Rainbow Gold Slot Machine is a classic 3 reel slot machine that is St Patrick themed. In this game you can choose up to 5 bet lines. There is also an auto spin feature and multi language options.
Rainbow Gold Slot Machine - Android
Casino Slots: Fortune Clover is another slot machine game but with a few differences. For one, the app is multi lingual which makes it more friendly for many people who might not understand english well or would prefer to play it in their native language instead. It also has HD graphics and pays out bonus coins every four hours. Fortune clover even gives you more free coins, extra lines and higher levels of maximum bet the longer you play the game.
Casino Slots: Fortune Clover - Android
Does no in app purchases and bonuses every few hours sound good to you? Test out your luck with this 100% free St Patrick's day themed slot machine!
St Patricks Day Slot Machine - Android
With so many slot games out there to play, I'm sure it can be tough for slot lovers to choose which one to try out next. However, this slot game gives out $200,000 free chips at the start and will give you free chips every 30 mins as well as hourly free bonus points. You can even play this slot machine both on your smart phone and on Facebook after connecting your account to sync your coins, gems and progress.
St Patrick Free Slot Machine - Android
In Lucky Green Slot Machine Free, you can compete against your friends by trying to beat their scores in the Google Play Leaderboard. The machine also has HD graphics.
Lucky Green Slot Machine Free - Android
Pfff... HD Graphics? Quite a few slot machines offer HD Graphics so is that really a selling point at the this point? Now 3D graphics... That would be quite something! Well, if you are feeling this way, I have good news for you! This free slot machine app has 3D effects and animations.
3D St Patricks Day Slots - Android
Can't decide whether to play a slot game or a matching game or a slide puzzle? Golden Shamrock Lucky Lines is a slot machine game that has multiple mini games included.
Golden Shamrock Lucky Lines - Android
St Patrick's Slots Jackpot has HD Graphics, is free to play, and has 12 different slots in this app via unlocking them over time.
St Patrick's Slots Jackpot - Android
Irish Slots: New Slots 2017 starts out downloaders of their app with $10,000 in game money and self proclaims to be the highest paying slot machine. Its also a free game and needs no internet collection to play.
Irish Slots: New Slots 2017 - Android
Slots 2017: Irish Slot Machines starts the player out with over 6,000,000 coins, and has a bonus wheel that you can spin every hour.
Slots 2017: Irish Slot Machines - Android
My Lucky Leprechaun is another slots game that has mini games in it. These mini games include; Lucky Pick, Match 3, and Sliding Puzzle. This app is free to play and has no in app purchases so its 100% free.
My Lucky Leprechaun - Android
Mega Irish Slot Machine will give you 2,000 coins just for downloading and is free to play. This slot machine has HD graphics, real casino sounds, and will give free bonus slot coins every 2 hours.
Mega Irish Slot Machine - Android
Golden Riches Slots gives the player free bonus coins every four hours, HD graphics, and is multilingual.
Golden Riches Slots - Android
Leprechaun Slot has HD graphics, free spins, auto spin option and mini games.
Leprechaun Slot - Android
Lucky Irish Slot Machines is a slot machine with HD graphics, animations and free updates.
Lucky Irish Slot Machines - Android
Lucky Irish 4 Leaf Clover Slot has HD graphics and free bonus coins & spins every day.
Lucky Irish 4 Leaf Clover Slot - Android
This slot machine has HD graphics, bonus coins every 4 hours, and three bonus games; Scratch Cards, Choose a chest & bet on a card to multiply.You can also choose up to 20 lines to bet.
Leprechaun golden clover slots - Android
Chasing Gold is a slot machine game that has trophy achievements that can be earned, shop items, and free spins.
This slot machine has HD graphics and is free to download. It also has daily bonus chips, daily bonus chips, and an option to connect to facebook.
St Patrick's Day Slot Machine Casino - Iphone & Ipad
22. I Spy A Leprechaun
Hidden Object Irish Luck is an I spy game in which you find St Patrick's day items. This game has free play and a campaign mode. You can zoom into the picture and pan to help find the objects. There is also mini games within this game and coins that can be won to unlock even more content.
Hidden Object Irish Luck - Android
Hidden Object St. Patrick's Day has over 35 levels, 3 game modes; Traditional, Chill and Adventure, zoom option, and time challenges.
Hidden Object St. Patrick's Day - Android
Hidden Object St. Patrick's Day - Iphone & Ipad
23. Shamrock Sudoku
St Patrick's Day Sudoku offers 4 different levels; easy, medium, hard and expert and has thousands of different sudoku games to play at each level. Needless to probably say, its also St Patrick's day themed.
St Patrick's Day Sudoku - Android
24. Lumber Jack St Patrick's Game?
St Patrick's Day Wood Cutter is a cutting log game?... Yea, I don't know why this exists.
St Patrick's Day wood Cutter - Android

25. Catch The Shamrock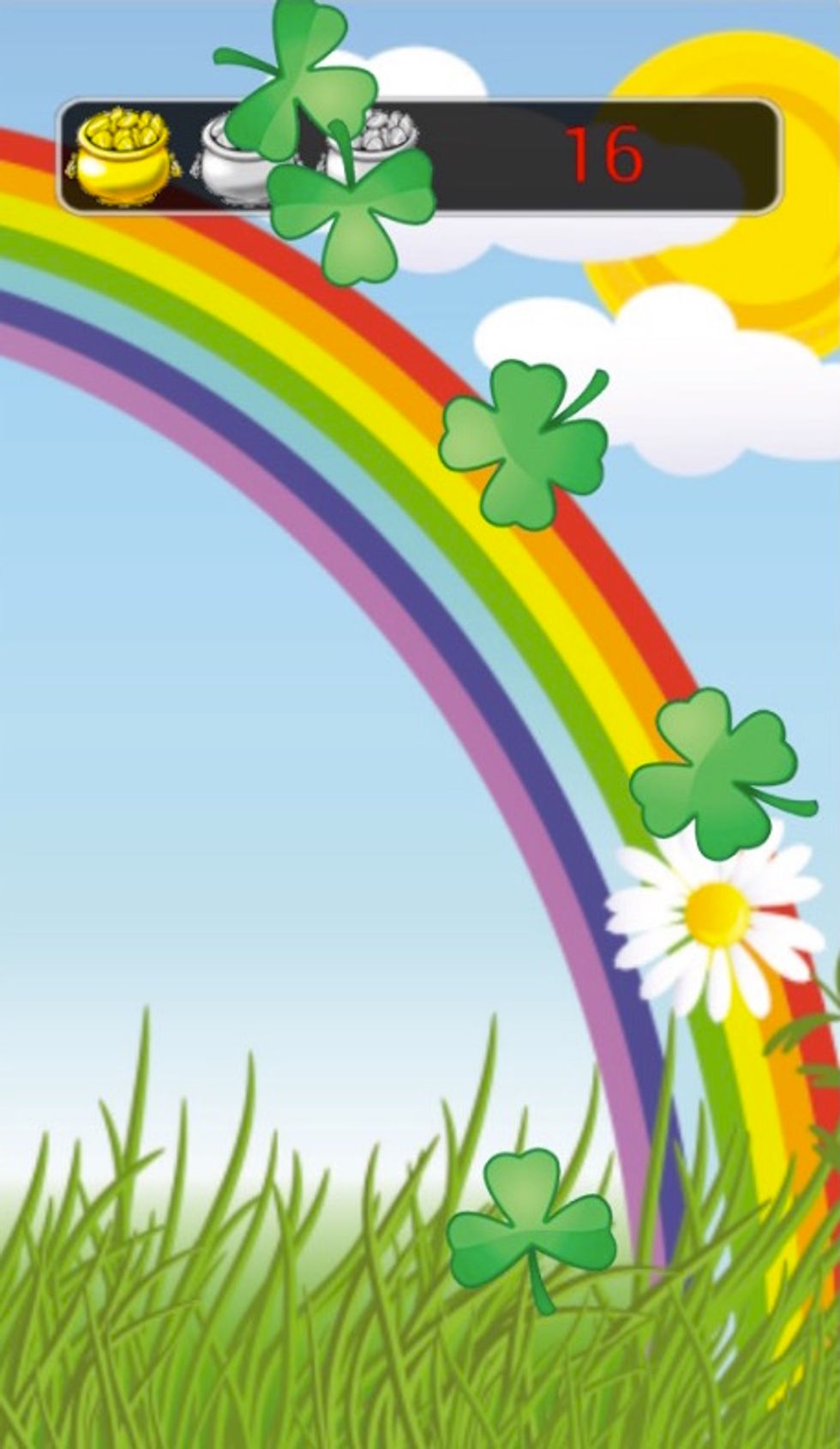 Shamrocks are falling for some reason and it is up to you to catch them all... Its a simple game that pretty much any one could play easily. Even your can could probably play this game. Next viral animal video on youtube any one?
Shamrock Drop - Android
26. Truth or Dare Drinking Game
This is an adults only game of truth or dare that has a new update which includes St Patrick's day themed questions and actions to. For hours of fun over the holiday or any other day of the week, all you have to do is download and play! You can even input the names of you are your friends to make the game more personalized. And this app would for sure be a great hit at your next party!
Truth or Dare Drinking - Android
27. St Patrick's Math Game?
In this smart phone game, you choose three numbers to make logical math problems. The first 2 numbers are the problem and the third is supposed to equal the sum of the previous numbers. If the sum equals more than 10, only the last digit will count. This game offers two different ways to play with 3 different levels each. There is practice mode which is not timed but has a limited number of moves that you can make. Each combo that you swipe is counted as a move wether it is correct or not. Challenge mode is timed version in which you have to quickly pick the correct combos. You can see your scores on the leader board and use the power of mathematics to increase your way higher up the score board. Wait... So what makes this St Patrick's day related? Well, there is clovers, gold, the color green and leprechauns so it still technically fits in with the theme.
Leprechaun Gold Puzzle - Android
28. Virtual Reality Games
Leprechaun VR is a game in which you find leprechauns to get their gold. You can play in Virtual Reality as the name claims but you can also on your phone if you do not own a virtual reality head set. While most of the virtual reality set ups are expensive, google's cardboard virtual reality head set would be compatible with this app and can currently be bought for $15.
Leprechaun VR - Android
29. Patrick's Poker
St Patrick's Millions is a poker game with St Patrick's day themed graphics. Could the luck of the Irish help you with your poker game? Only one way to find out!
St Patrick's Millions - Android
30. Blackjack
Would you rather play Blackjack instead of poker? BlackJack is a quicker paced game after all. In blackjack all you got to do to win is have your cards equal 21 or have the highest number without going over 21. Having over 21 is known as a bust or busting or breaking and its a loss. Irish BlackJack has shamrock cards and the developer of this app is located in Ireland so it does technically fit in with the theme.
Irish Blackjack - Android
St Patrick's Day Blackjack is a free blackjack game for your apple devices that has free chip offers.
St Patrick's Day Blackjack - Iphone / Ipad
31. St Patrick Dice Games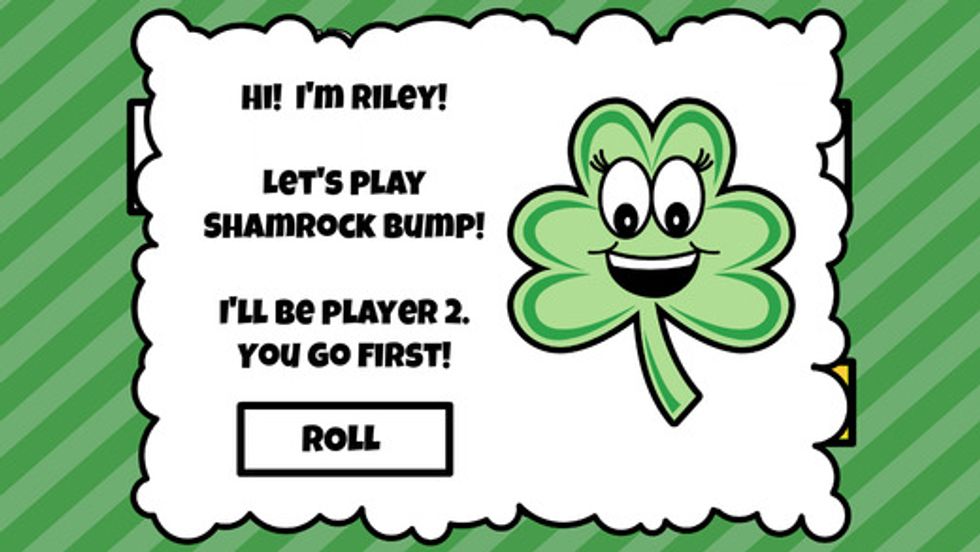 I personally have never played Farkle before but thankfully this game helps you out by teaching you how to play and will keep track of your score for you. The player rolls the dice and tries to get the most amount of points in 8 rounds. Some times dice become unscoreable so they are removed and if no dice are scoreable, you get a farkle which means you loose all your point for that round. If you win a level in this game, you unlock an image. There is 30 total images that can be unlocked.
Farkle: Luck Of The Irish - Android
Shamrock Bump is a simple dice game that relies on simple math so pretty much anyone can play. There is one player and two players gameplay options. Dice are rolled and the player figures out how much the dice numbers equal when added together. Click the square in which it equals. If your dice equals the same that the other player's equals, you can bump the other person from that square and the square will now count towards your total. If a player gets the same square twice, the square will lock and display a shamrock which prevents the other player from bumping you from the square. The first person to have control over 5 squares wins. If you choose to play a one player game, you will play against a shamrock AI named Riley.
32. Bejeweled / Candy Crush Game
Leprechaun Jewels is a 100% free bejeweled style game where the player lines up 3 or more jewels to get rid of them to make points. There is 3 different modes to play; Classic, time, and infinite. If you get stuck, there is a help button.
Leprechaun Jewels - Android
Leprechaun Luck is another game in which you line up 3 or more of the same symbol to get points. Play against the clock and see how many points you can make.
St Patrick's Leprechaun Luck - Iphone & Ipad
Here is a second symbol matching game that can be played for free. Line up as many of the same thing together to get the most points.
St Patrick's Lucky Match Mania - Iphone & Ipad
33. Bingo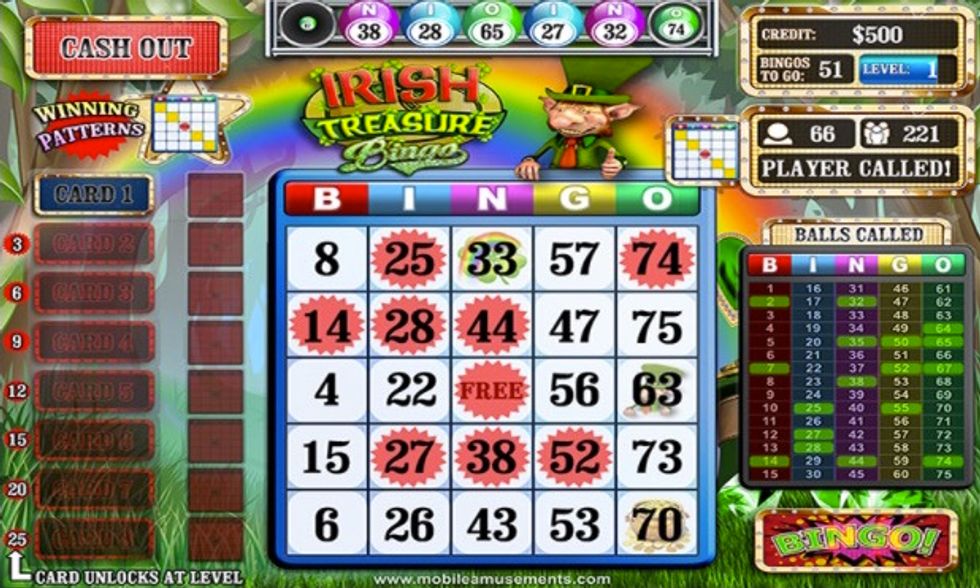 Did you know that you can play bingo on your smart phone? This Irish themed bingo game with the ability to play 8 cards at once, prize bonus rounds, customizable dabbers, and unlimited free credits.
Irish Treasure Rainbow Bingo - Android
Leprechaun's Bingo World is a bingo game in which you can play multiple cards has unlockable rooms, and has daily bonuses.
Leprechaun's Bingo Word - Iphone & Ipad
Leprechaun's Bingo World Pro - Iphone & Ipad
34. St Patrick's day rpg game
Leprechaun RPG is an adventure game quests, coins, and buyable items. You can play in English or Portuguese.
Leprechaun RPG - Android
35. Irish Dancing
Cedric the leprechaun likes dancing but his hat puts him off balance. To help him dance, move his body to the left and right and just try to keep him upright.
Dancing Leprechaun - Android
36. Shamrock Clicker
Shamrocks are on your smart phone's screen. If you tap them, they will pop. How many can you pop before time runs out?
Shamrock Pop - Android
37. Leprechaun Hunter
Why hunt deer or ducks when you can hunt a leprechaun?
Leprechaun Hunter - Iphone & Ipad
38. Connect The Dots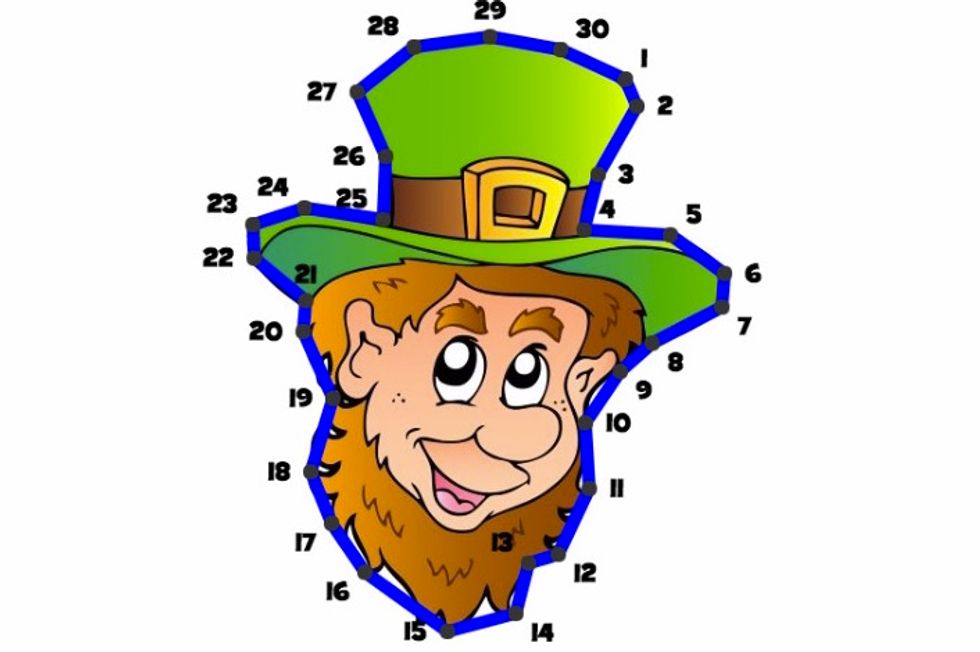 Connect the dots to make leprechauns, clovers, horseshoes, rainbows and much more.
St Patrick's Day Dot to Dot Puzzle