My alarm went off at 7:30 am, if you know me then you know that for me that's basically like 5:00 am. I seriously contemplated falling off my bed just to injure myself so I wouldn't have to go on this hike.
After I read the customary "Good morning beautiful" text from my loving boyfriend, I knew I had to put my big girl pants on and suck it up. This hike was going to happen and I had an hour and thirty minutes to mentally prepare myself for whatever the day had planned. I stopped and got a bagel from the student union and we were on the road headed to Sedona.
The drive was faster than I expected and before I knew it we were driving past windows the read, "Psychic" and "Find your inner peace here." Sedona is known for being in an energy vortex where visitors can come to recharge and meditate in order to find healing and relaxation. A little strange, but to each their own. I was here to prove a point and I wasn't going to let anything (even a vortex) come between me and that mountain.
I somehow convinced my boyfriend to let me look in all the souvenir shops (my favorite part of any trip) first before the hike. I was on the hunt for the perfect hydro sticker and I was convinced that sicker would make it all worth it. Downtown Sedona has a small-town feel with a gorgeous view of the iconic red rocks. There are a plethora of Indian jewelry shops and probably my favorite, the Cowboy Club restaurant.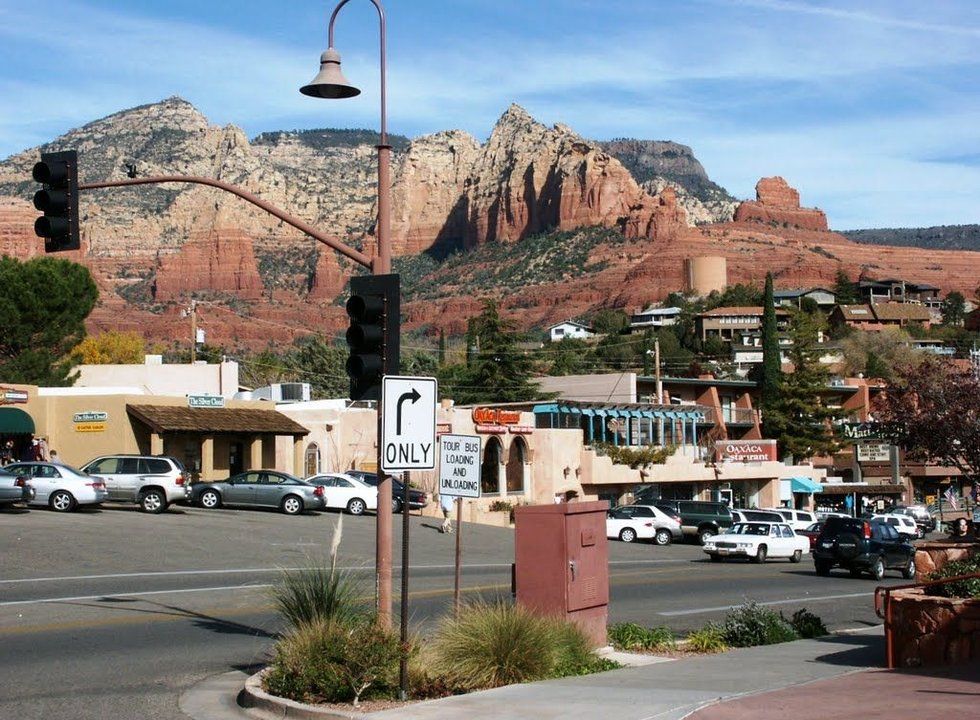 Downtown Sedona Pinterest
After I got my sticker we headed to the trails. After a 15 minute drive, we arrived and thank God we got a parking spot close to the trail because it was packed. Who knew so many people were willing and even skipping to get to these long stretches of dirt road.
Immediately I realized that I should've dished out the extra cash to take the Pink Jeep Tour that I laughed at when we were downtown.
"Why pay money to ride in a jeep if you can just walk for free?" I thought to myself and boy, was I humbled. It wasn't more than five minutes before I said:
"So where exactly are we going..."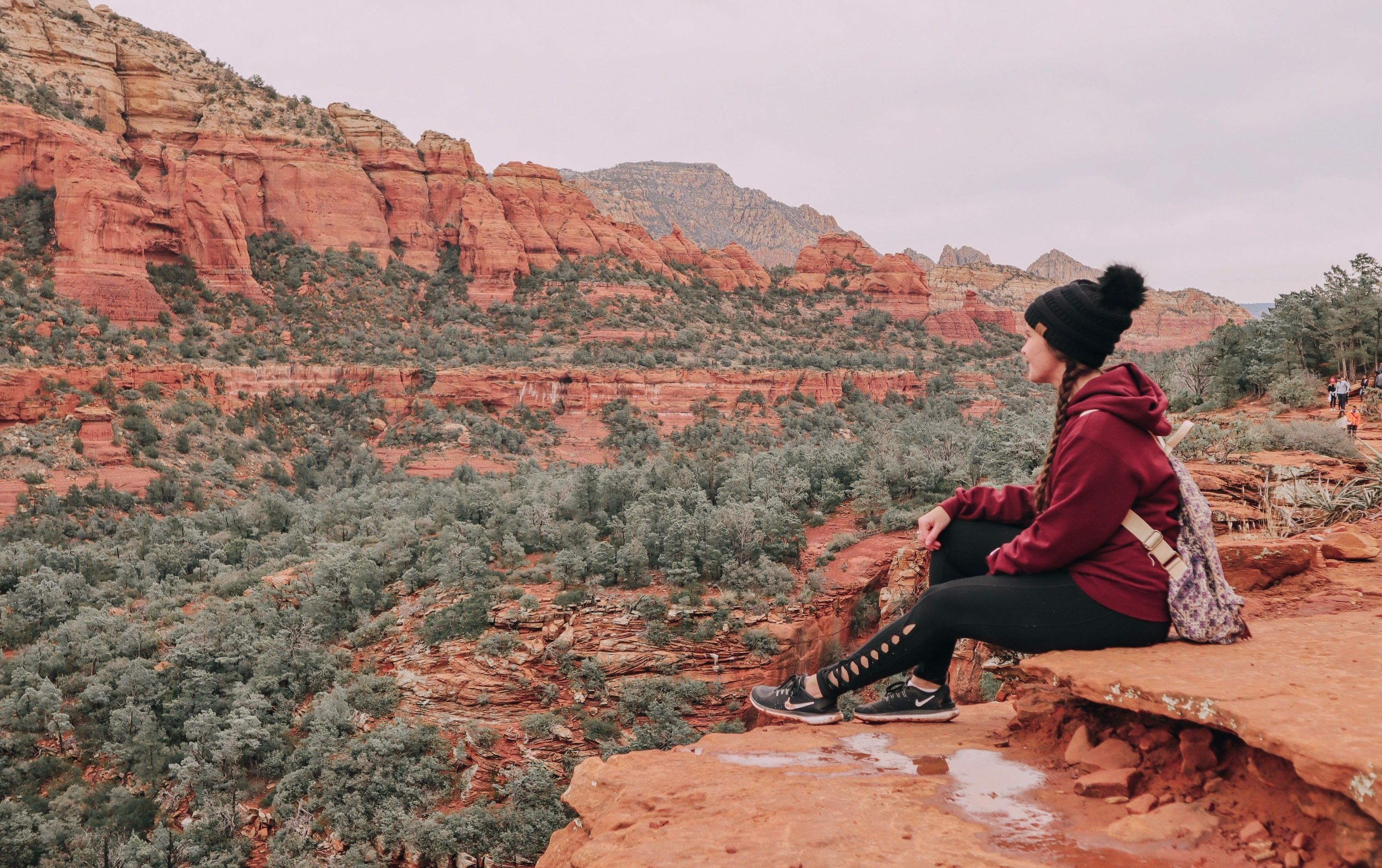 Views of Sedona Red Rocks
We were on the hunt for Devil's Bridge, a natural sandstone arch located in Sedona. The hike features breathtaking views of the Red Rock Country that surrounds the trail. One thing I wasn't quite prepared for was the chill in the air that day.
I learned that leggings aren't the best hiking attire. So make sure you plan ahead and dress warmly, especially if you're hiking when the sun isn't out.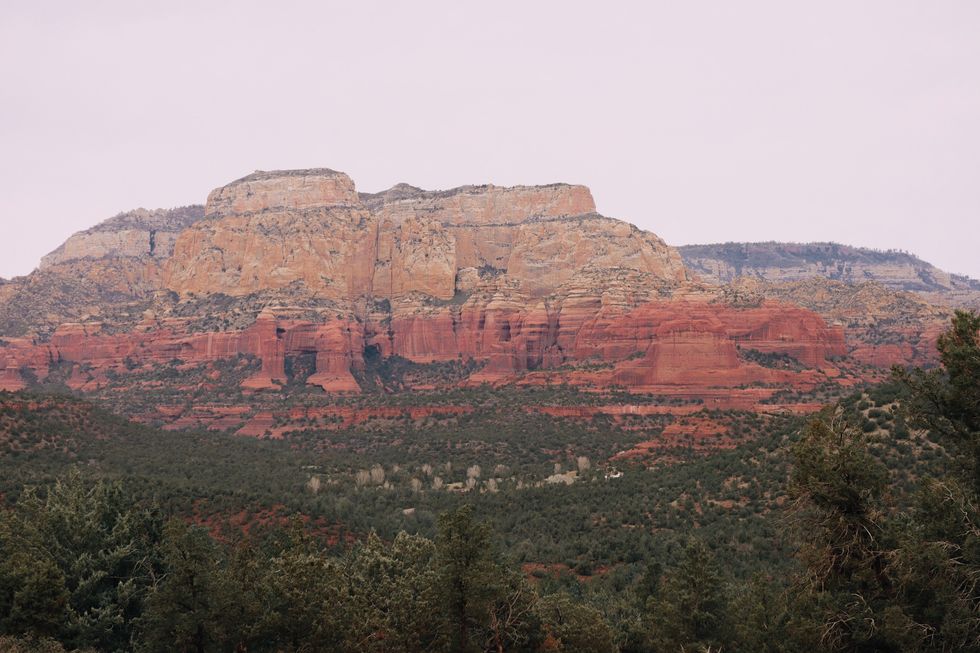 Sedona, AZ
I did not expect to see so many old couples hand in hand walking the trails. I was convinced that if these 70 to 80-year old sweethearts could successfully make it up and down this mountain, then you better bet that my 21-year-old butt could too.
However, let me tell you about the absolute best part of this hike and I'm sure many others. Dogs. So many dogs. This trail does allow dogs as long as they remain on a leash. With every turn or hill, there was a different dog and I couldn't help but think God was motivating me to keep on going.
Also, be prepared to get a little dirty. *wink* There was no lack of mud puddles and dust storms on the trail. That being said, don't wear your brand new pair of Nikes unless you're ready for them to be unrecognizable.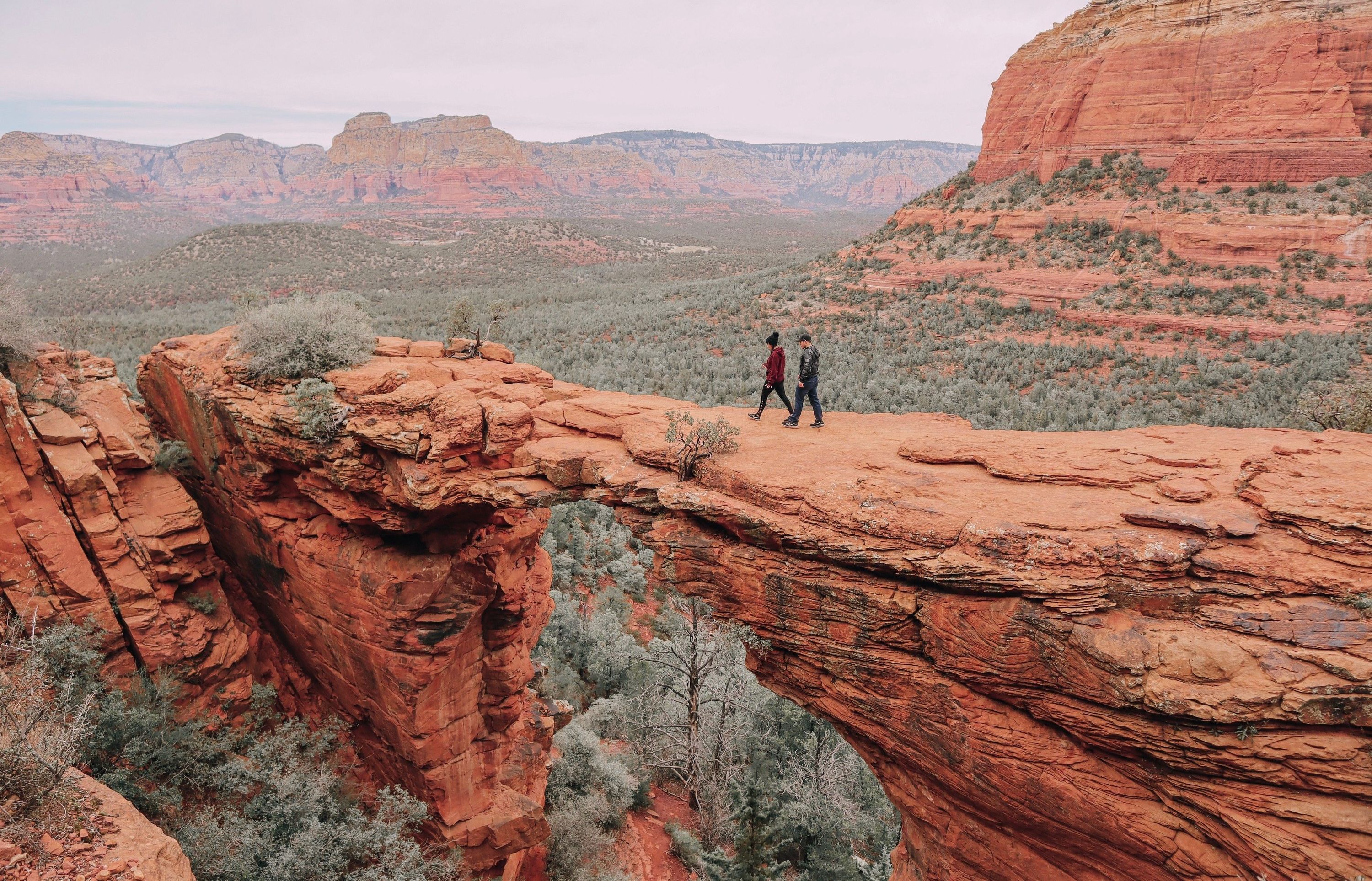 Devil's Bridge, Sedona AZ
After taking a few (okay maybe a little bit more than a few) rest breaks, we made it to our destination. Let me say, every second of this four-mile hike was SO worth it. There is something about standing on top of a mountain and looking out that is truly spectacular. You feel accomplished and ever so grateful for the nature that encompasses your surroundings.
Going on this hike not only tested my physical strength and endurance, but it gave me a moment to be truly stunned by our Creator and His amazing creation. Words can not even begin to describe the talent and creativity that God possesses.
With that being said, do yourself a favor and go take a hike.