Harry Styles is not afraid to wear any suit... ruffles? Sequins? Jumpsuit? Kilt? Yes, a Kilt.
He has worn them all, and he's only on his 22nd show. Harry Styles live on tour kicked off the third of March in Basel, Switzerland and ends on July thirteenth in Los Angeles, California.
Styles has shown that he isn't afraid to put on his custom (emphasis on custom because literally everything he has worn is made for him and only him) suit and look like a rockstar. Taking inspiration from Elton John, David Bowie, and Prince.
Fashion stylist, Harry Lambert, and Fashion Editor at 10MEN has taken on the challenge of dressing Styles every night in a different suit. Lambert has also taken to giving sneak peeks of each suit before Styles performs on stage. To find those sneak peeks follow him on Twitter or Instagram .
From Gucci, Saint Laurent, Givenchy and current fashion student Harry Reed. Styles has proven he isn't afraid to wear anyones designs. If it's good...it's good.
We can't wait to see what he continues to wear through the next leg of the tour. More articles on suits will definitely be coming in the future. We have a lot of suits to get through so sit back and enjoy the show that is Harry Styles suits.
But if you need constant updates, I highly recommend following Harry Wore What on Twitter. For the latest updates and inside scoops on his latest looks.
These are listed in the order he wore them, but a personal favorite is the Charles Jeffery LOVERBOY 'Appleyard Jumpsuit' he wore in Dublin, Ireland.
1. Basel, Switzerland - custom Gucci
The best look he could have given us on the kickoff of his world tour.
2. Paris, France - custom Saint Laurent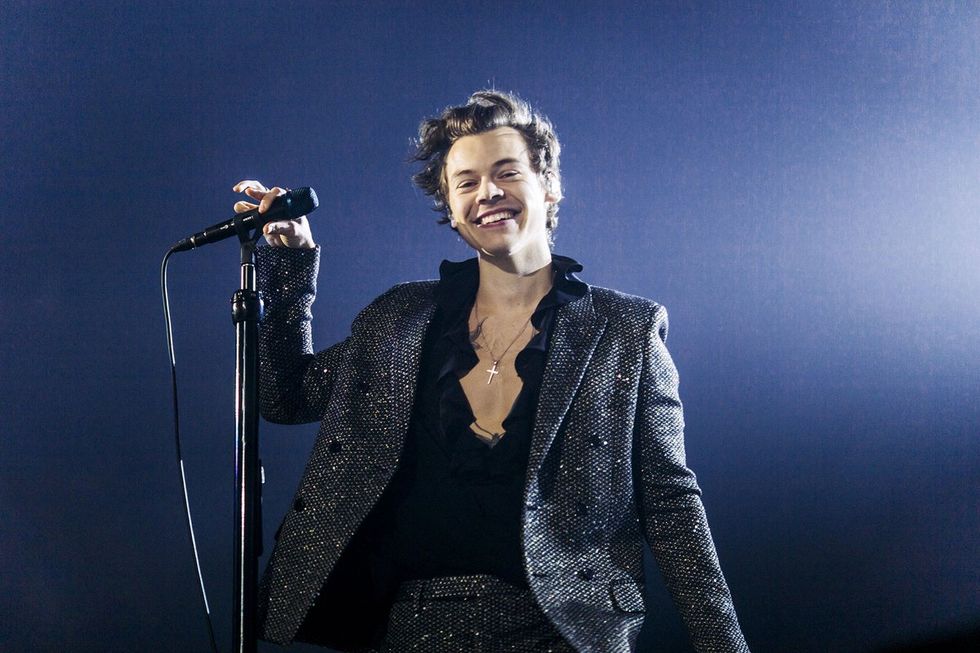 One of his most worn designers and now they have added him to the "custom" Saint Laurent family.
3. Amsterdam, Netherlands - custom Harry Reed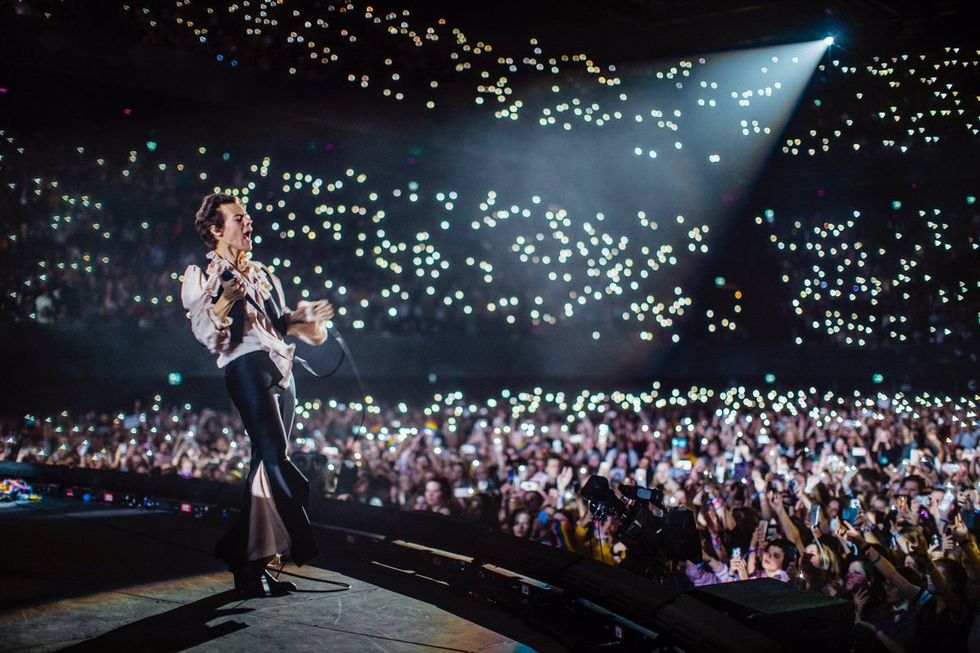 Harry Reed still being a college student and having Harry Styles wear his designs on a world tour is a dream come true for anyone.
4. Antwerp, Belgium - custom Alexander McQueen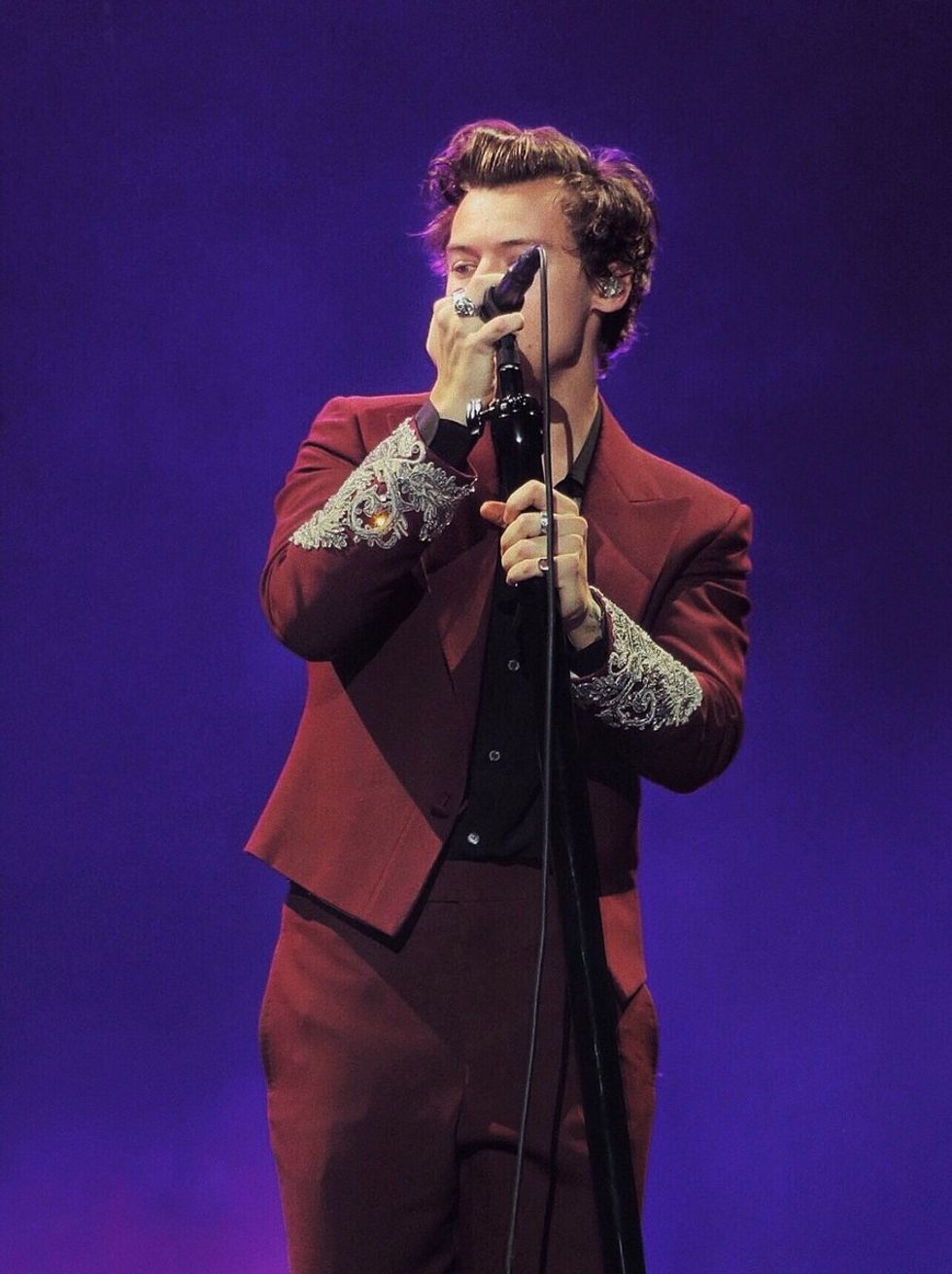 A burgundy suit with embroidered sleeves is what we all wanted.
5. Stockholm, Sweden - custom Calvin Klein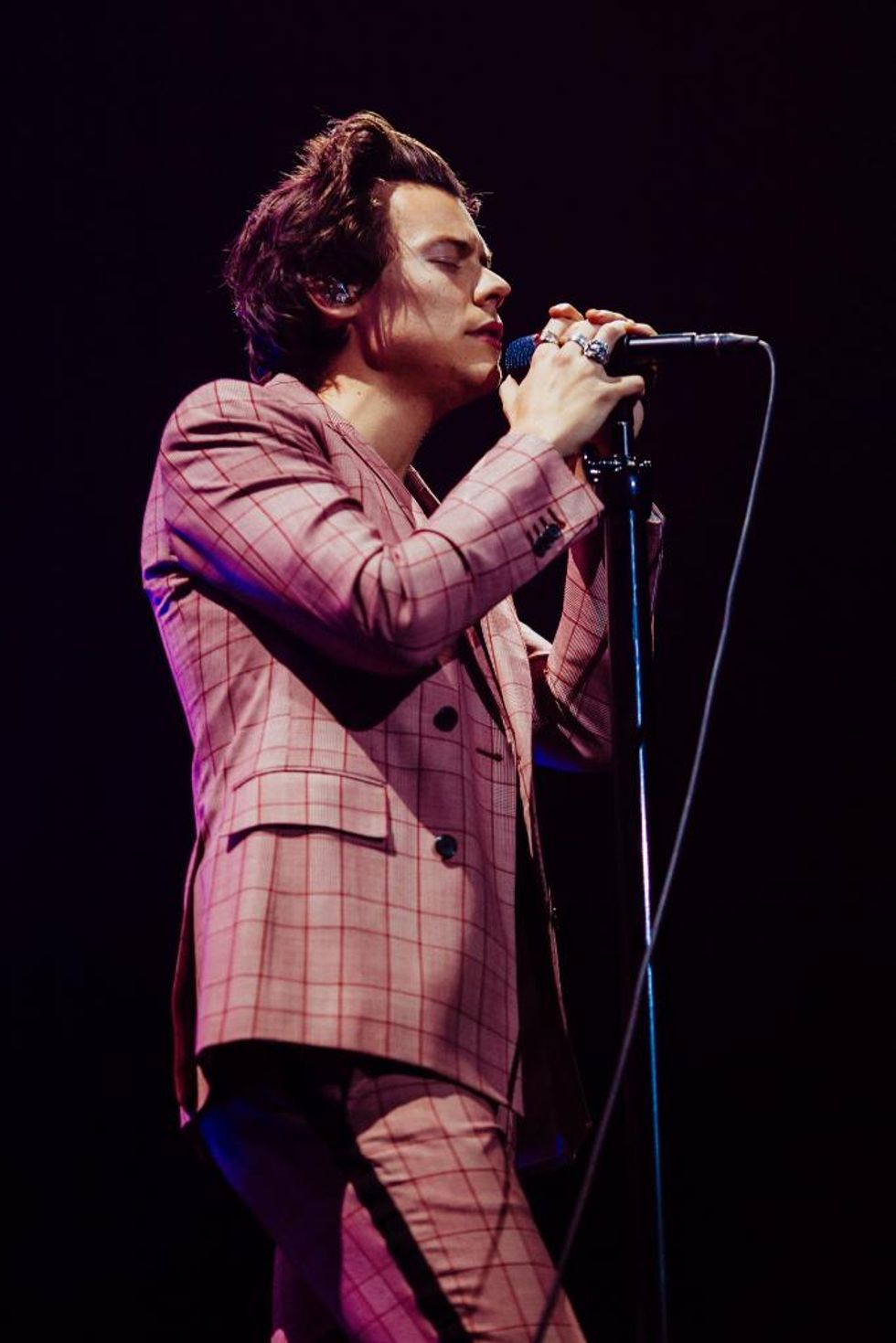 Red and white wool on a stage for 2 hours with bright lights beating down on you and not a drop of sweat? A pure rockstar.
6. Copenhagen, Denmark - custom Gucci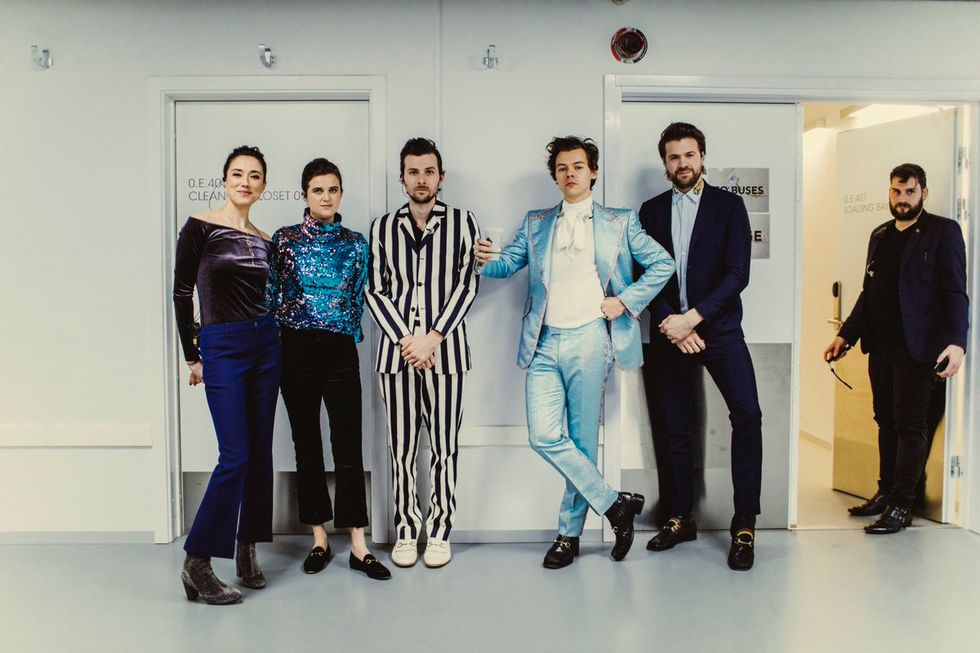 A lurex jacquard suit with an oversized peak lapel jacket and a silk self-tie blouse. Try saying that 3 times fast.
7. Oslo, Norway - custom Alexander McQueen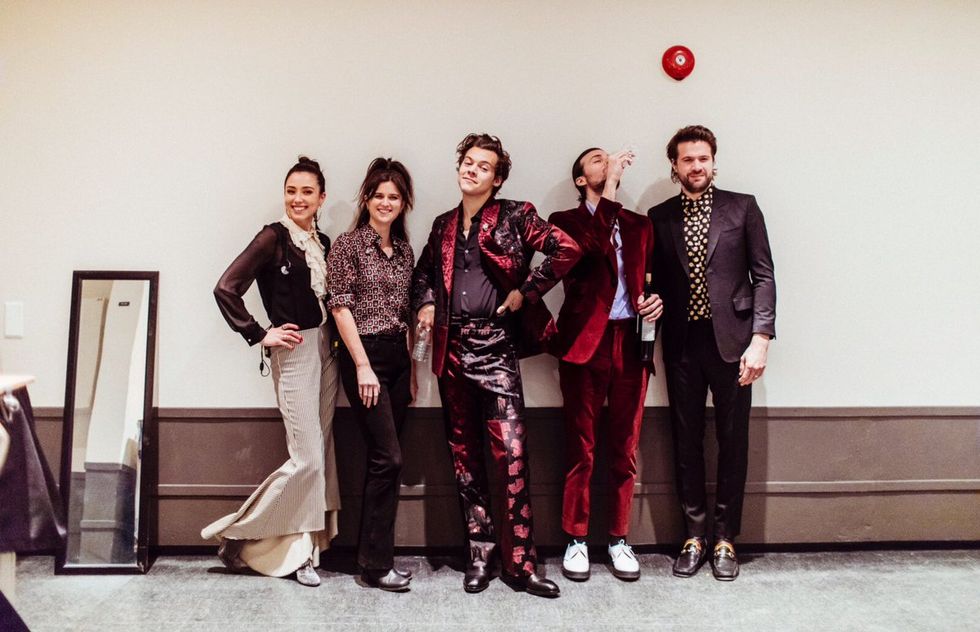 True band goals, I relate to Mitch the most drinking the wine.
8. Oberhausen, Germany - custom Givenchy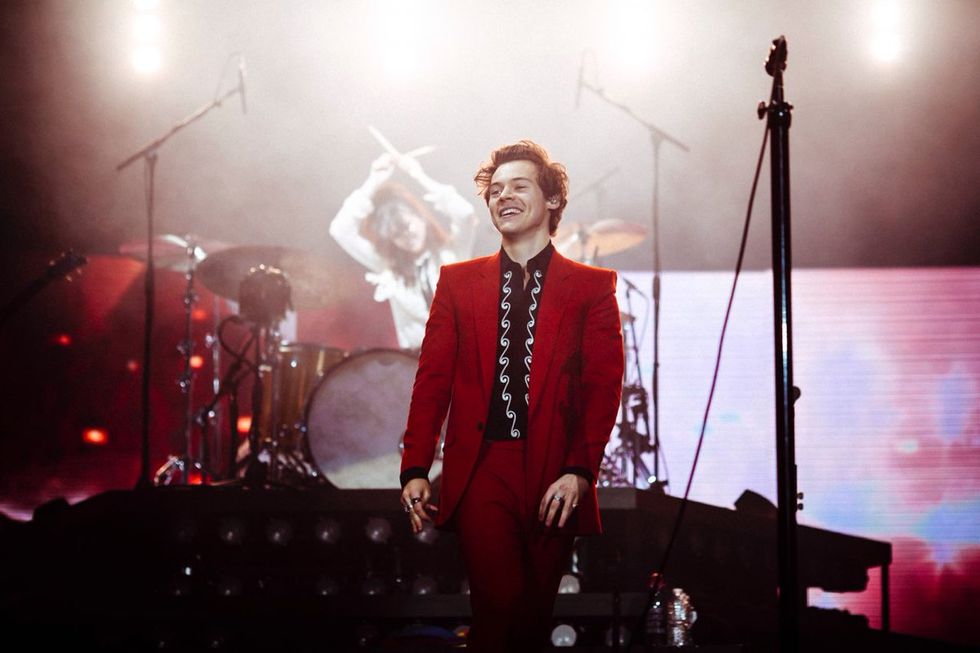 "I'm so reckless when I rock my Givenchy SUIT (styling')." Channeling his inner Beyoncé in Oberhausen, Germany.
9. Hamburg, Germany - custom Gucci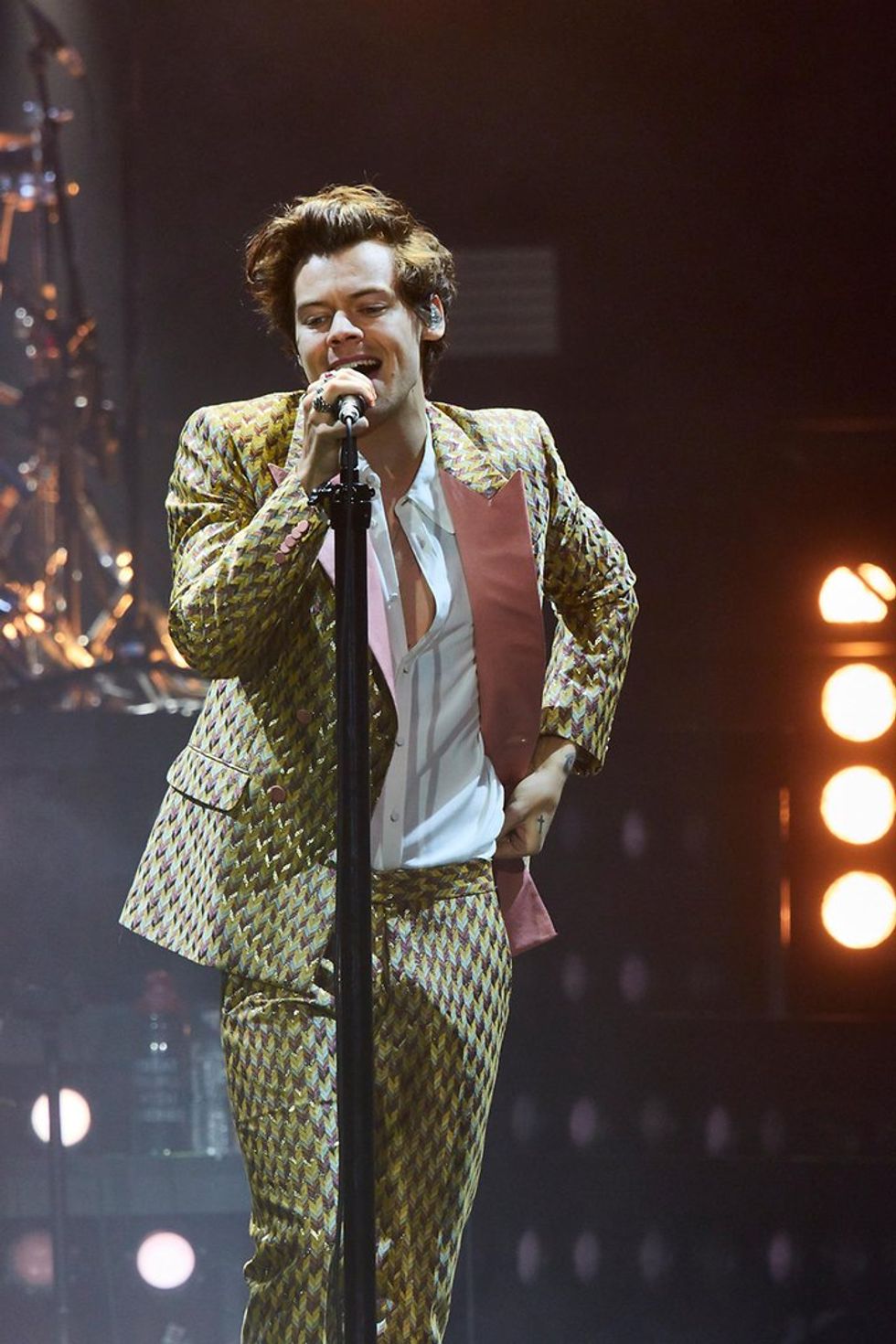 How many custom Gucci suits will he pull out this year? Stay tuned.
10. Munich, Germany - custom Calvin Klein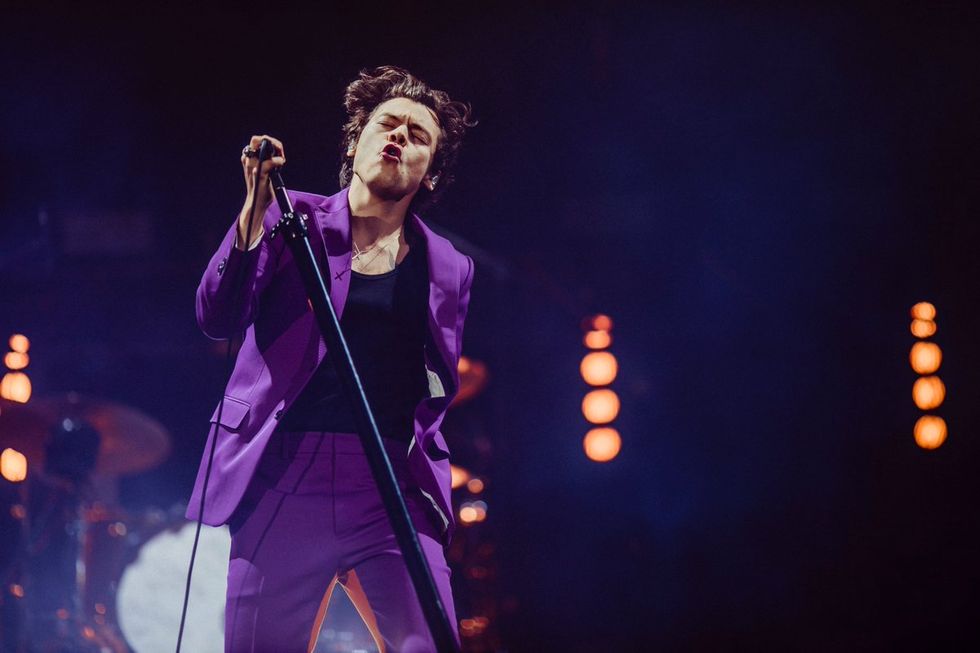 I'm getting very strong Daphne from Scobby Doo vibes in this custom Calvin Klein. But then he turns around it's a total Velma outfit.
11. Barcelona, Spain - custom Palomo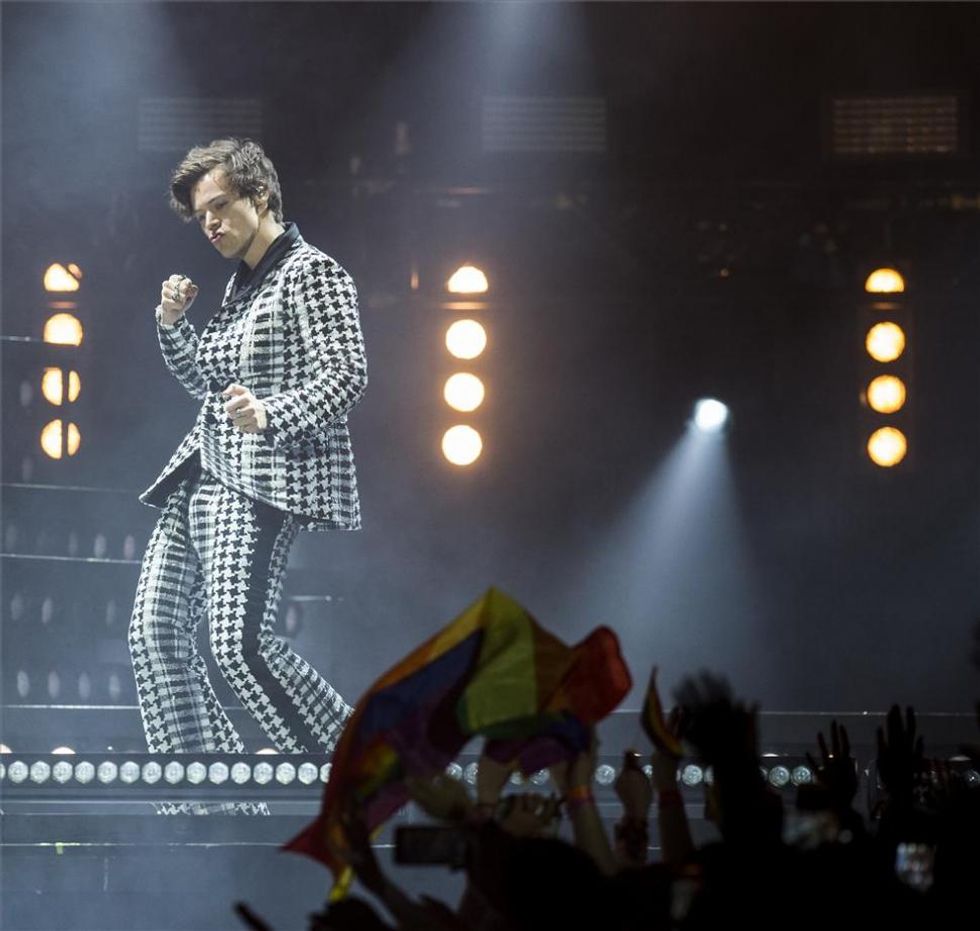 He looks like he's wearing a grandmothers coat but in such a beautiful way. What are his secrets for making this look so good?
12. Madrid, Spain - Palomo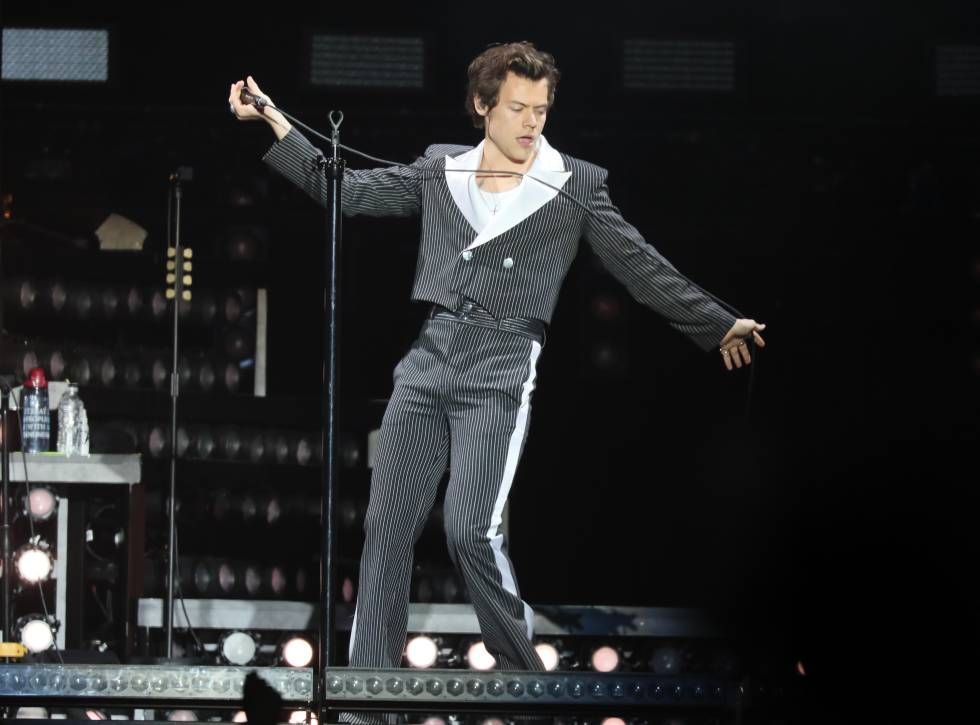 One of his best looks so far, also, the tank top under it is custom Calvin Klein with his saying "Treat People With Kindness" embroidered on the left side near his ribcage.
13. Milan, Italy - custom Gucci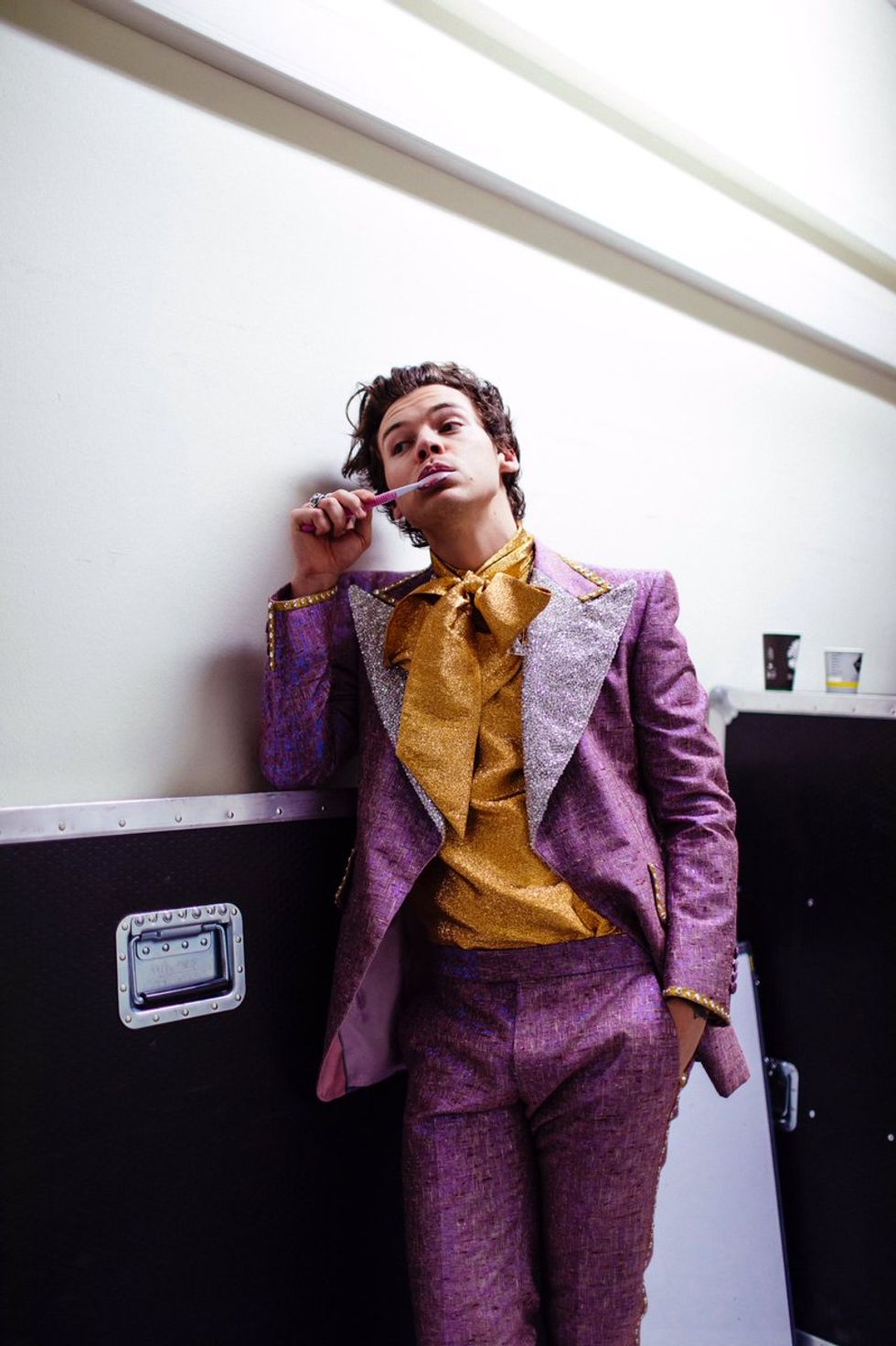 Dazzling in a suit that looks like a Christmas bow.
14. Bologna, Italy - custom Gucci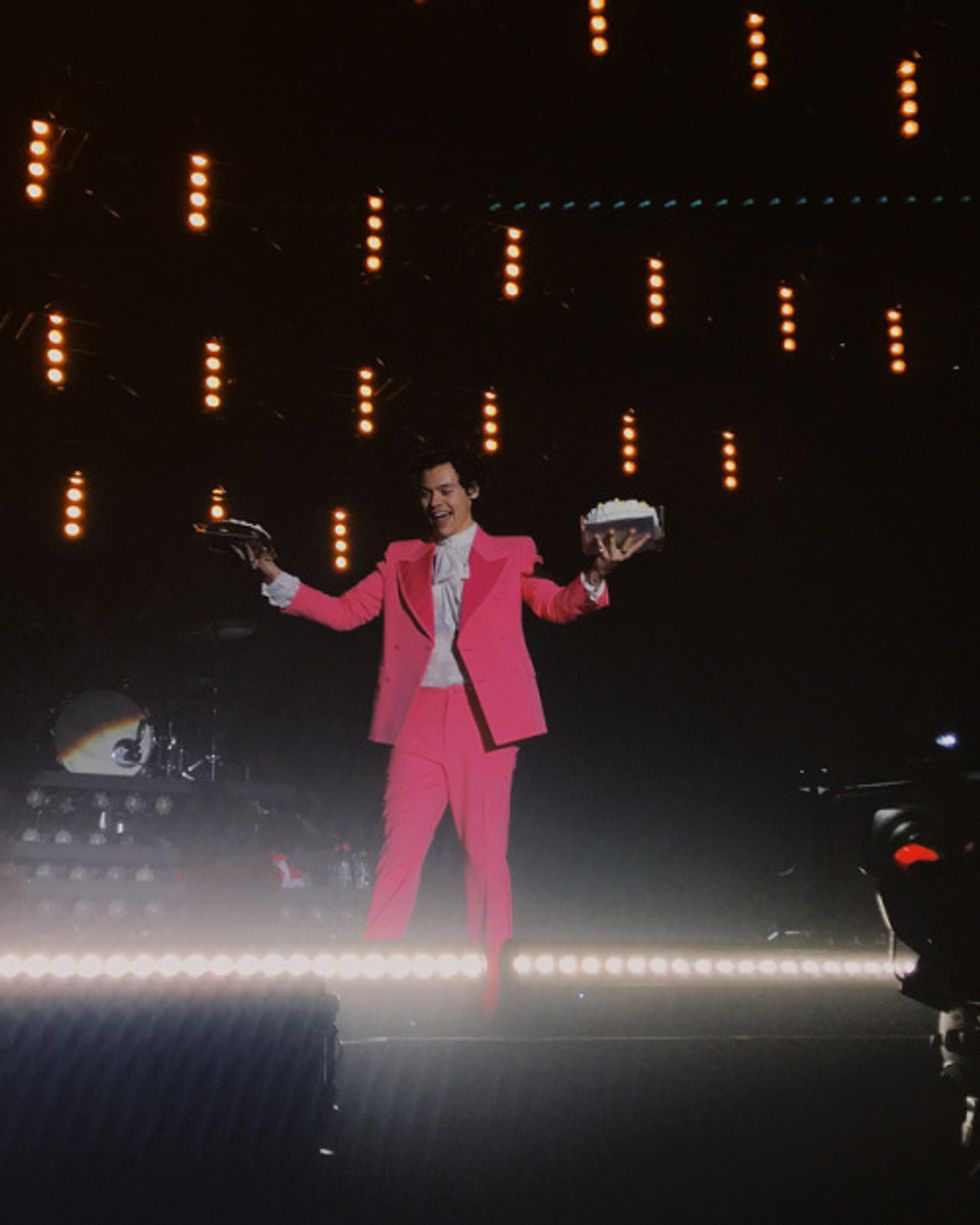 On world tours, we wear custom pink Gucci suits.
15. Mannheim, Germany - custom Charles Jeffery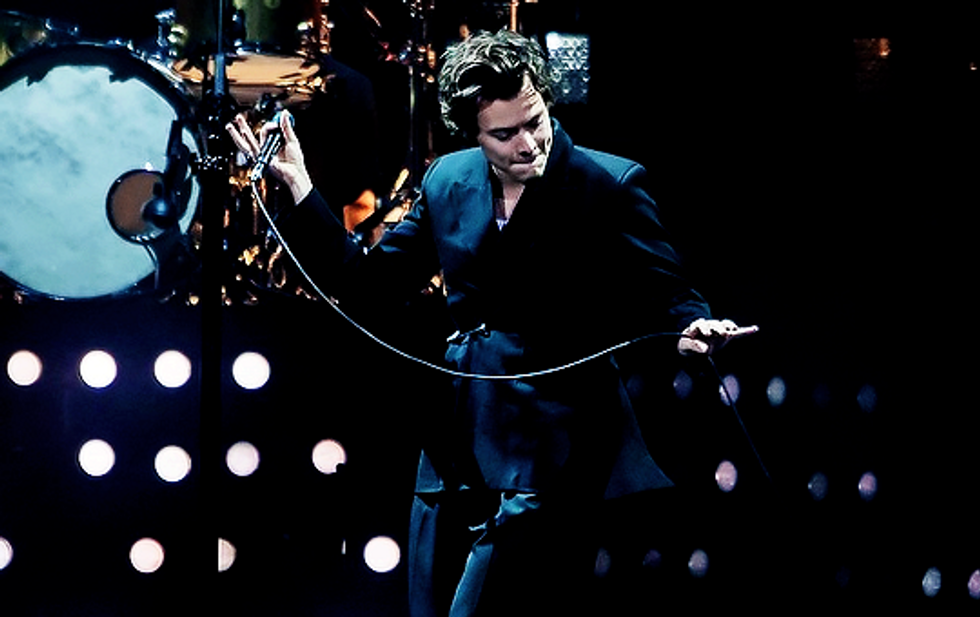 Wearing a custom Charles Jeffery LOVERBOY suit. This suit was perfectly named for Harry.
16. Birmingham, UK - custom Calvin Klein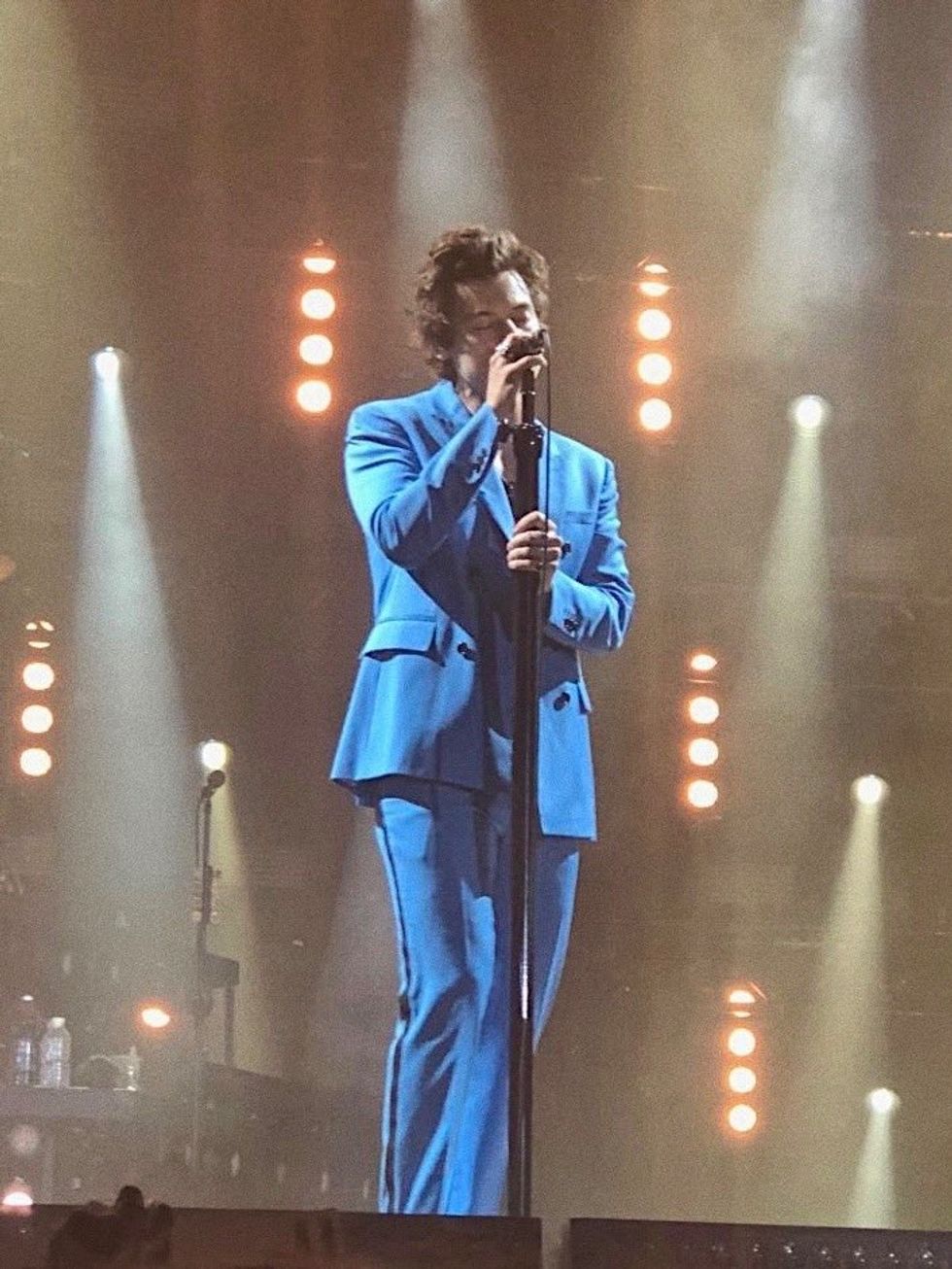 His suit game is strong but not pictured is his Spring 2018 Calvin Klein boots. So... shoe game strong too.
17. Manchester, UK - custom Alexander McQueen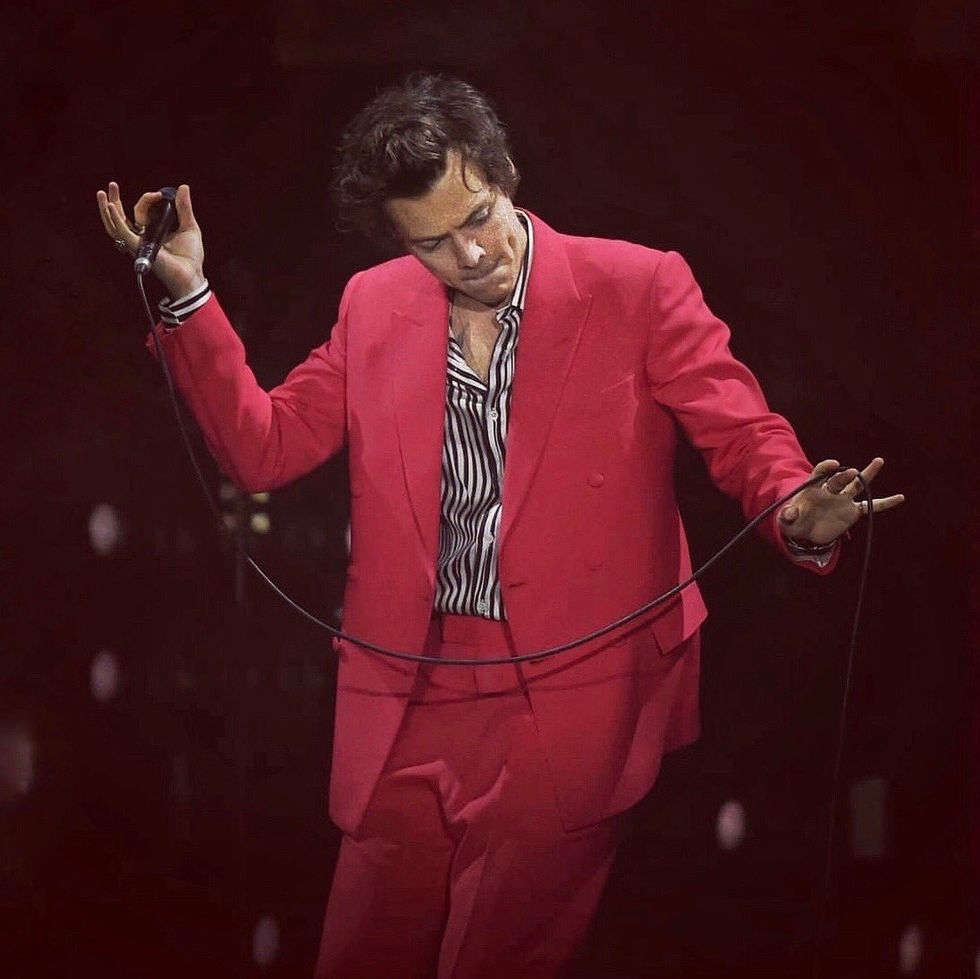 The perfect homecoming suit, performing in an arena he grew up going to.
18. London, UK (NIGHT 1) - custom Gucci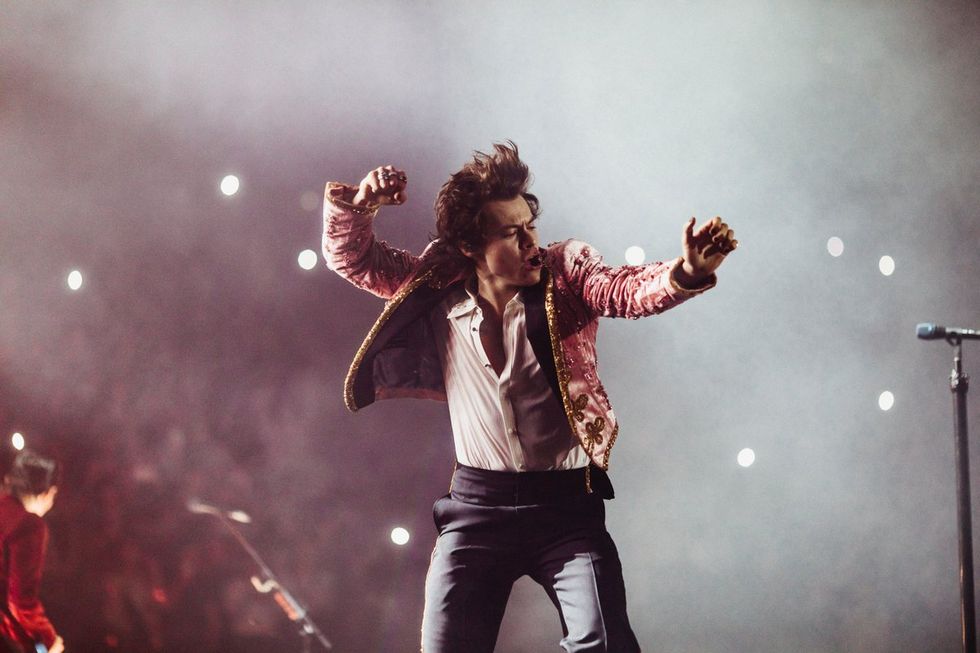 You knew he was going to go big for his first night in London. Pink velvet, embroidery, and sparkled custom suit designed by Alessandro Michele .
19. London, UK (NIGHT 2) - custom Alexander McQueen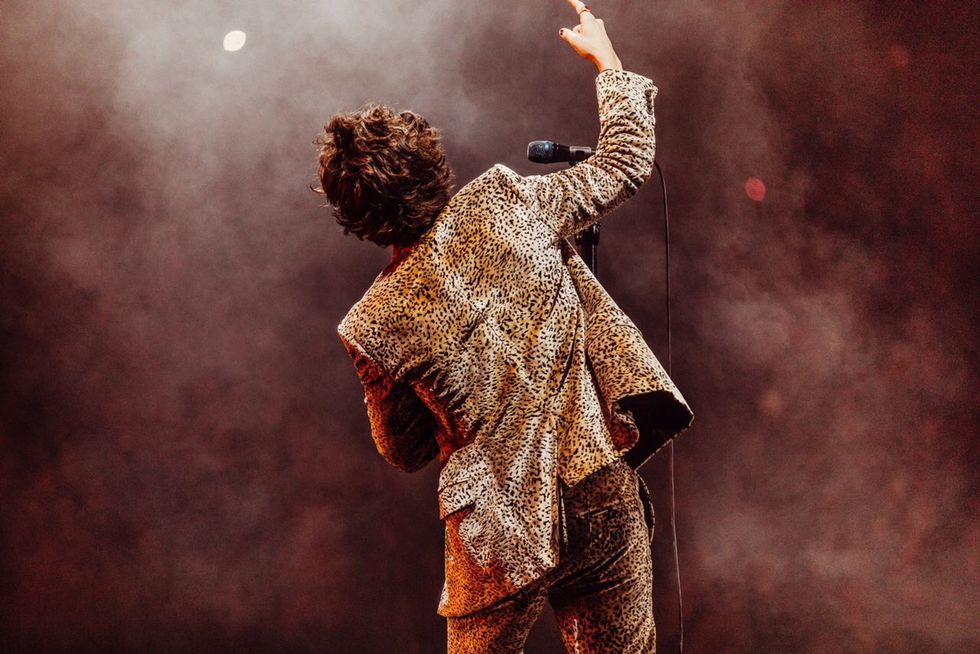 "LET'S GO GIRLS!" Definitely channeling his inner Shania Twain.
20. Glasgow, UK - Scotland Kilt Company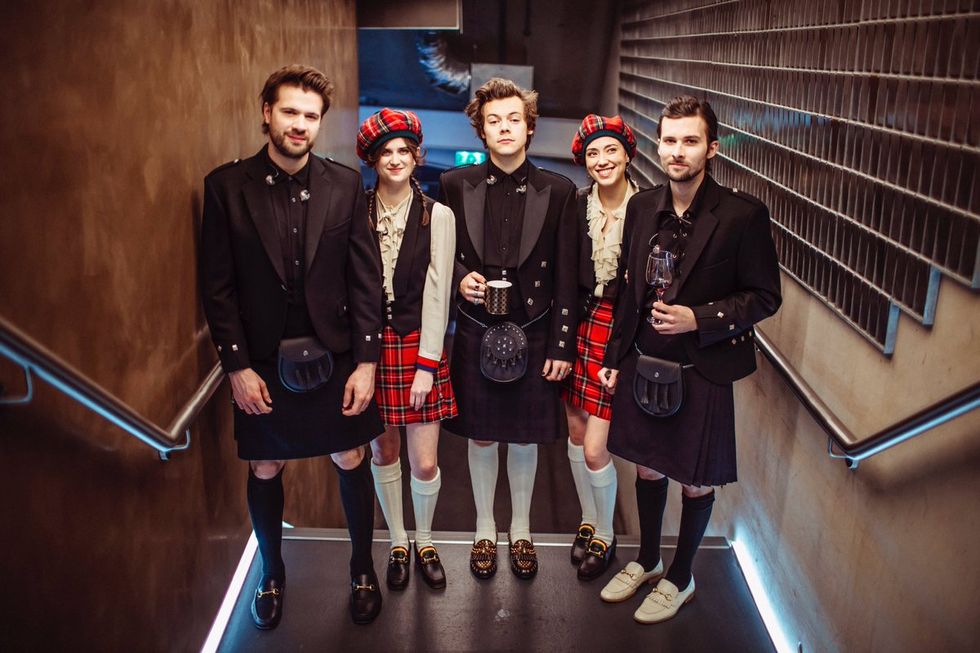 He promised he would wear a kilt next time he was in Scotland and he delivered. Wearing a 'Black Isle Tartan Prince Charlie Jacket Dress Kilt Outfit.' He's wearing a kilt and is still killing the fashion game. How?
21. Dublin, Ireland - Charles Jeffery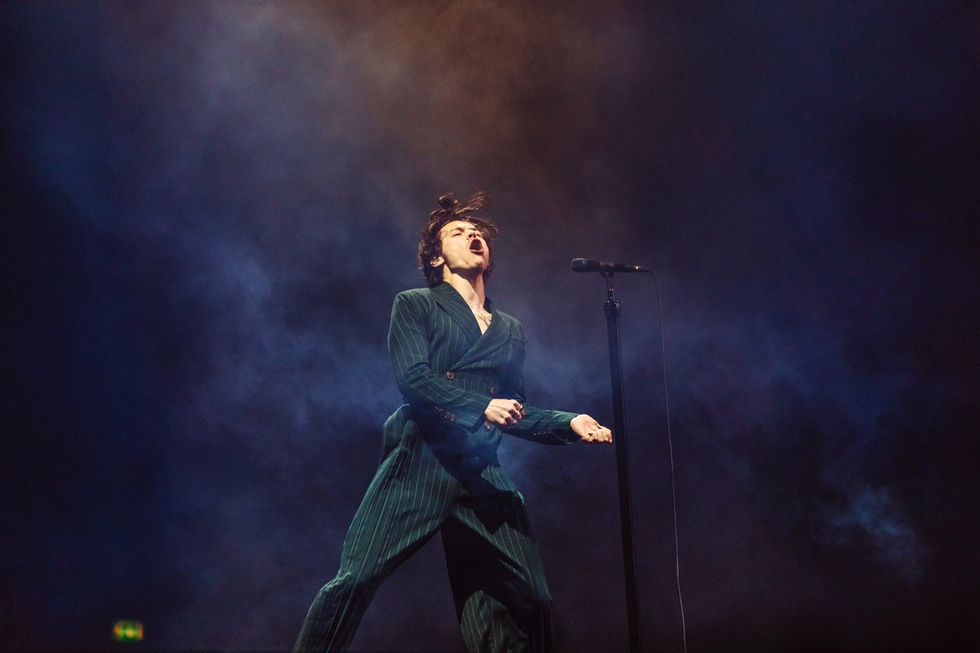 Back by popular demand. Previously wore this on the Late Late Show with James Corden for a performance. His best look so far and that is a fact.
Yes, this took a lot of research and time. I'm not even mad about it.