For those of you that don't know what a grace story is, it is your story about your personal walk with God. How and when you found him, the trials and tribulations, the wonderful things that you experience. It is also about where you currently are with the Lord and what your plans for the future with him are like and how you are going to keep growing in his undying love.
I grew up in a Catholic household we went to church every week, twice a week for as long as I could remember. I know a Catholic mass like the back of my hand like many do because it is so structured. I grew up loving going to church I was an altar server, I was in the youth group, and volunteered with many of the events we hosted. Even though I did all this and I loved God I didn't know what it was like to know him on a personal level.
My house changed my 6th-grade year and we lost my grandfather, my mom had a falling out with God and we weren't going to mass every Sunday anymore and my brother completely lost all faith in God. This was hard for me because I really enjoyed going to church and hearing stories from the Bible, even if I wasn't really understanding it I felt safe there. This was how it was for a while just going whenever my mom would wake us up and take us which was usually only twice a month.
The summer after my Sophomore year of high school I attended a Christian conference, the first one I had ever been to. We did a lot of scripture and worship, growing up as a Catholic made all of this seem weird and I wasn't able to take much out of it other because I was to focused on how different it all was. Although, on the last night we did Adoration and that was the first time I had really felt the Lord's presence and it was such an amazing experience looking back on it now I'm not really sure if I truly knew at that moment that I was feeling his presence, now I know that that's exactly what I was feeling.
The next April I attended another conference with my friend Kelly and her youth group, I walked into this conference with an open heart and I'm so glad I did. During this time I was struggling with the beginnings of what is now a very long road of depression, I was cutting and suicidal it was hard. I remember one of the nights they did an alter call and I can't remember exactly what they said, I just know that at that moment I felt God tug at my heart to go down there so I did, and I am so glad I did!
This was such an amazing moment for me, I got down there and I broke down and told the Lord I was laying it all down at his feet and leaving it there my friend's brother was next to me and he started praying over me and I just remember feeling such a great presence of the Lord and I think for the first time truly ever I felt his undying love for us and I was overcome with love.
After that happened I went back to my old ways, I was going to church less and less. I really had lost God there for a while. My depression got really bad and I tried to commit suicide for the first time during that time. I just really wasn't following the Lord at all, I was just going through life not listening to him and doing things the way I wanted to. I heard the Lord talk to me a lot through those times, I would just always ignore him and keep doing what I want. That April I went back to that same conference and I talked to one of the pastors and told him about my struggle with my depression, self-harm and suicide.
This was the first time I told anyone about it, my friend learned about it when I told him about it. When I attended this time I didn't have the same experience as the first time. It was amazing and full of Jesus' love and I could feel that every time we were together. After this nothing really changed in my faith I was saying I was Catholic but I wasn't living in the way of the Lord I was still really just doing me.
September 4th, 2018 I tried to commit suicide and I was so close to it working, at first I was so mad at God because I didn't want to make it through. I was in the hospital for 10 days and every so often God would send in little reminders that he loves me and has a plan for me, some days volunteers from the church would come pray with you and I would receive communion. It was on the last day of my stay that God really spoke to me, one of the nurses came to talk to me because she saw I was leaving and she asked me why I did it and we started talking and she just kept telling me that God loved me and he has so many better things planned for me. I know that God sent her to me so I could find my way back to him.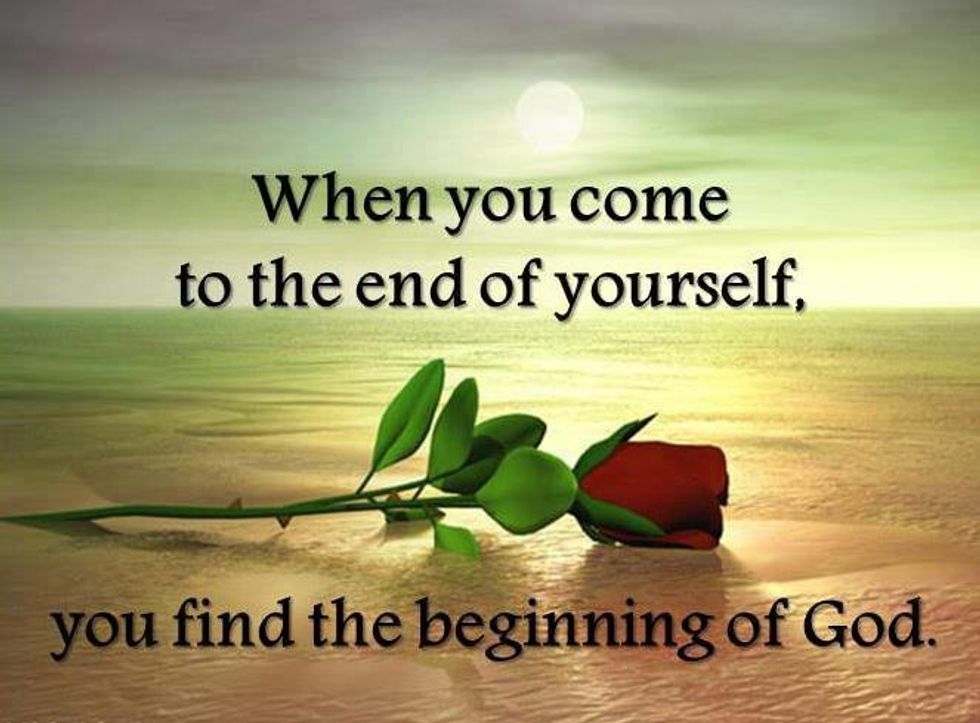 Ignite and I even did my first Spring Weekend which was so amazing and loving. I'm learning how to have a personal relationship with him, how to start reading his word more and learning how to live my life in his image. Camille really opened me up through a whole new world and has given me so many wonderful experiences and helped me grow so much with the Lord, she has really been there with me in my walk and I can't thank her enough!
Four weeks ago I meet David at Ignite we had both only been a couple time and the people I normally sit with weren't in the row and so I ended up sitting next to David and we started talking and I learned that he lived in the same area as me and that he was Christian. I knew that I wanted to get to know him better and being the girl I am I found him on Facebook and Instagram so I could see if we had mutual friends and we did, one of them happened to be one of my best friends, so I talked to her about him. It took me two weeks to build up the courage to finally message him and I am beyond happy that I did.
David and I have been talking for the past 2 weeks and in just the last week he has helped me grow so much in my walk with the Lord. He talks me through things I don't understand, he talks to me about his story and it helped me write this and better understand mine. Last night he prayed over me and I couldn't hear what he was saying I was just able to feel the Lord at the moment flooding over me and calming me down. I know that the Lord put him in my life for a specific reason and I can't wait to see where the Lord takes us.
This is where I am at I am learning to read his word and I have finally been able to start understanding some of it and I can't wait to get into more of it and see how reading it and applying it to my everyday life changes my life completely. I am learning how to just talk to God whenever I feel like I need to, I use it now as my main anxiety coping skill and it is working so well. I am putting my relationship with God first and I know it's going to change my life in wonderful ways. My next step in my faith is getting baptized and I am so excited to publicly declare that I will live my life for the Lord and follow in his footsteps.