It can be hard to find the perfect books for your small spooky spawn. Most of the books people would recommend are ones about Halloween. But Gothic children's books don't have to be condemned to only ever being about October. There are plenty of gruesome books to give to your growing baby bat to make them into a bibliophile.
1. "Dracula: A Baby Lit Counting Primer" by Jennifer Adams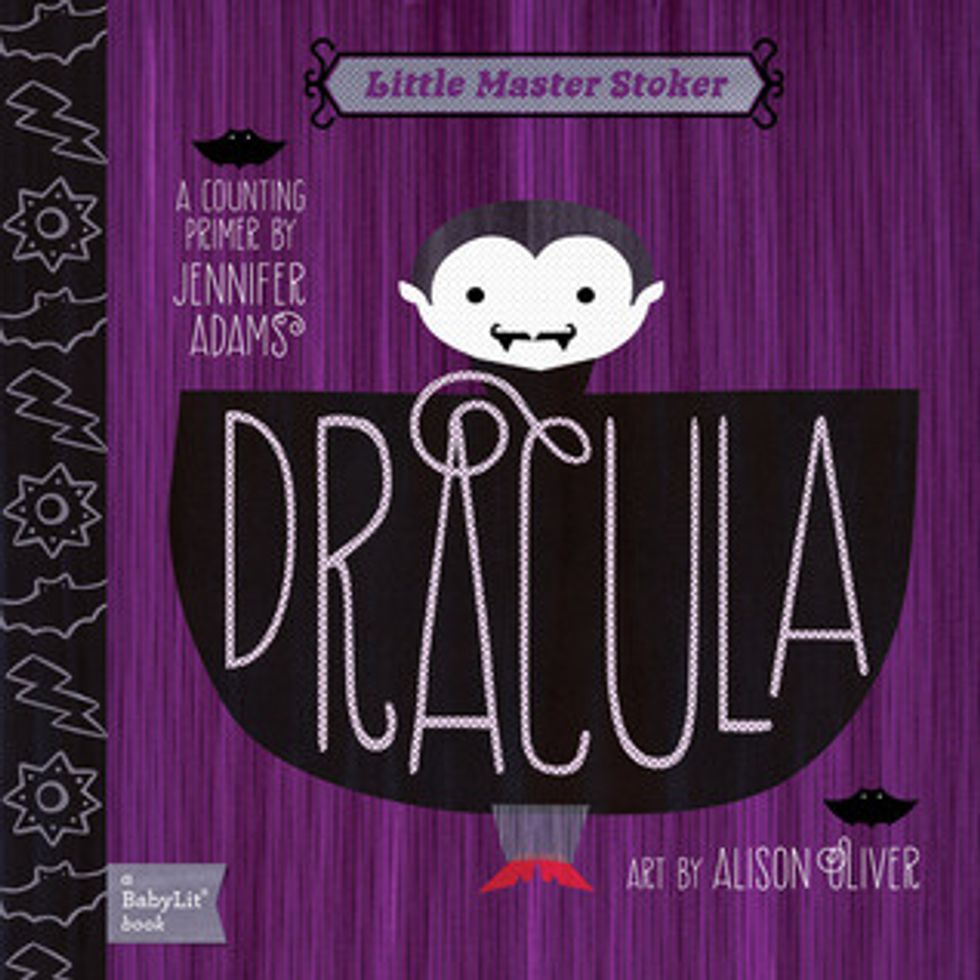 https://www.goodreads.com/book/show/15792467-dracula
Blurb: "Meet 2 friends, Mina and Lucy, and the 5 heroes who try to save them from the dreaded Count Dracula in Dracula: A BabyLit Counting Primer. Make sure you're wearing a necklace of 10 garlic flowers as you count wolves, ships, tombstones, and boxes full of soil in this witty retelling of Little Master Stoker's classic Gothic tale."
Kids have to learn how to count somehow, so why not teach them by counting castles and wolves and heroes? This board book is sure to be a hit for the baby bat in your life.
2. "Frankenstein: An Anatomy Primer" by Jennifer Adams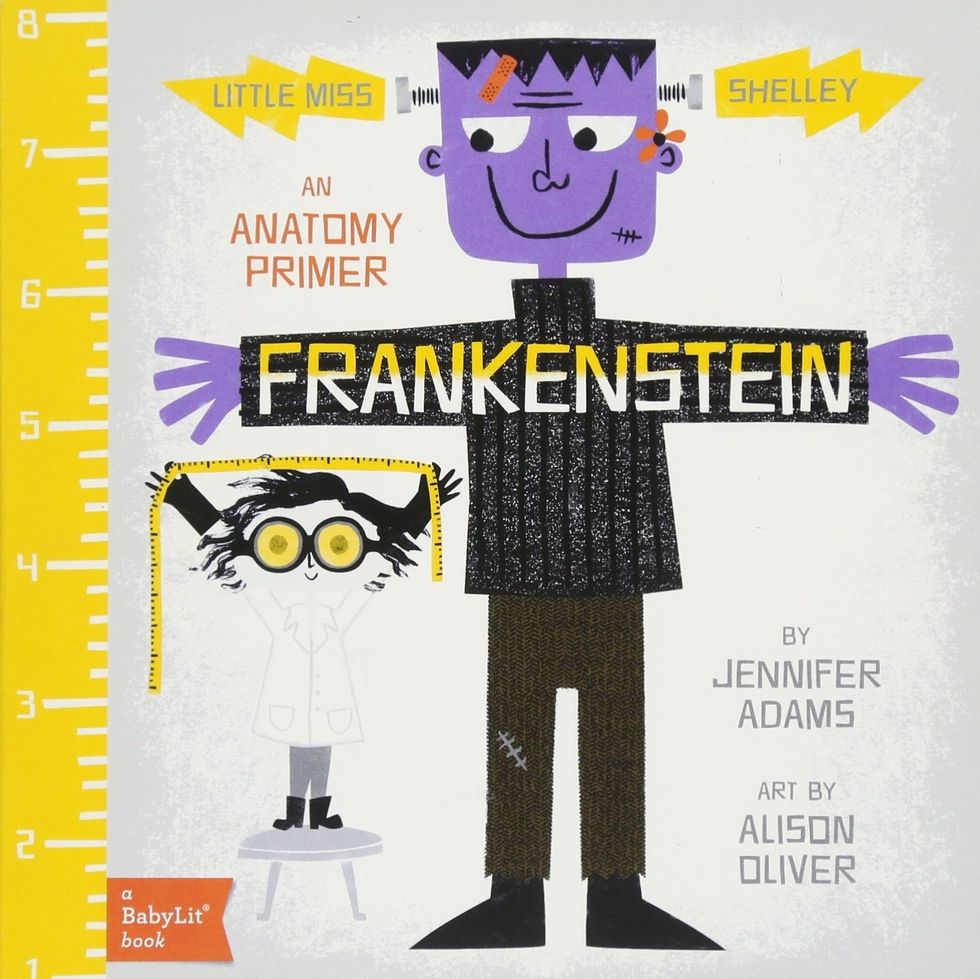 https://www.goodreads.com/book/show/21457017-frankenstein
Blurb: "BabyLit® is a fashionable way to introduce your toddler to the world of classic literature. With clever, simple text by Jennifer Adams, paired with stylish design and illustrations by Sugar's Alison Oliver, these books are a must for every savvy parent's nursery library."
You've heard the song 'Heads Shoulders Knees & Toes.' Well, this is that, but better! Why not learn about your feet with Frankenstein's monster!
3. "Five Little Pumpkins" by Dan Yaccarino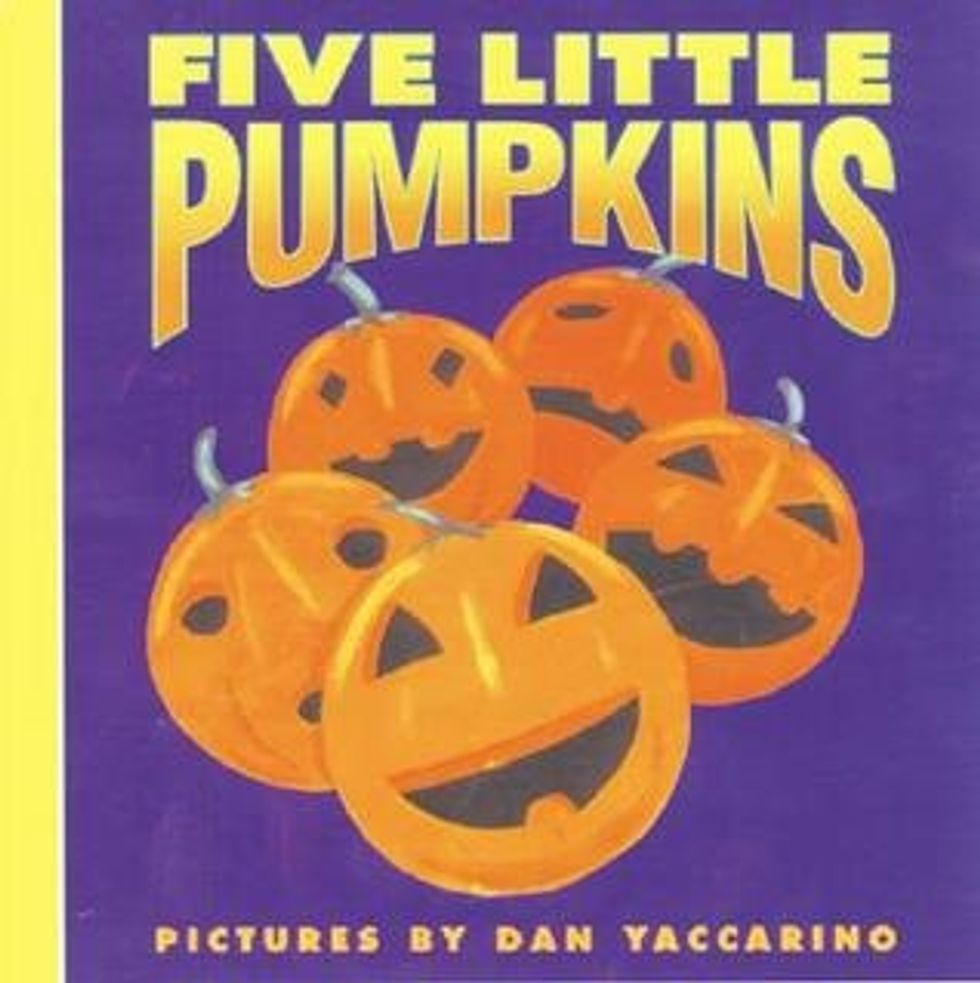 https://www.goodreads.com/book/show/1012180.Five_Little_Pumpkins
Five Little Pumkpins, and Five Little Pumpkins Came Back
Blurb: "With bouncy, rhyming text in verse from the classic nursery rhyme and bold, dynamic illustrations from acclaimed author-illustrator Dan Yaccarino, "Five Little Pumpkins" is a must-have Halloween board book! Roll along with the pumpkins and their spooky friends as they get into some spirited Halloween fun. The perfect gift for little pumpkins everywhere."
A parody of 'Five Little Moneys Jumping on the Bed,' this book is sure to teach your kids to count and be safe.
4. "Peek-a-Boooo!" by Sandra Magsamen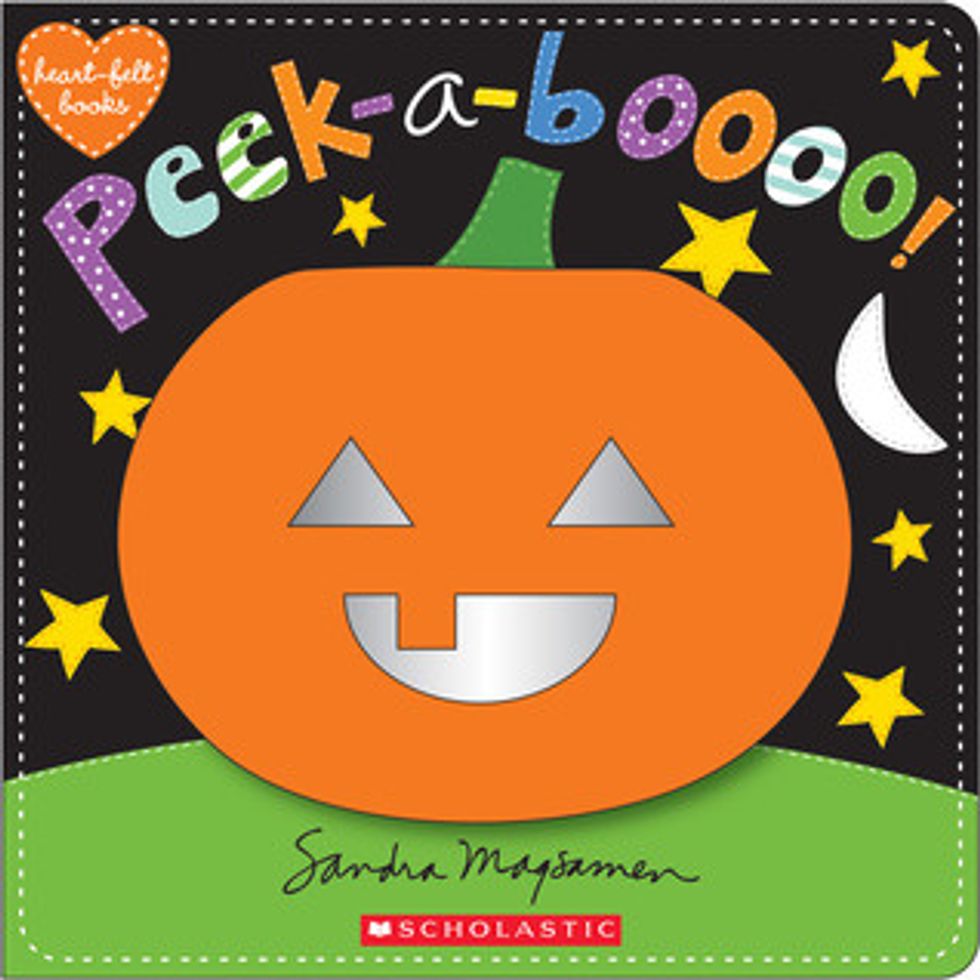 https://www.goodreads.com/book/show/36127324-peek-a-boooo
Blurb: "Little ones will love this adorable new Halloween novelty book from the bestselling baby and toddler brand creator, Sandra Magsamen. They will adore the die-cut felt pumpkin on the front cover, and the peek-through mirror on every page is sure to entertain as they try on a wide variety of costumes and ultimately discover who is loved most of all! A perfect book for cuddling up with your little pumpkin and celebrating the Halloween season."
Kids love books with textures to touch and holes to have pages peek through. Find the best costume for your little fiend!
5. "Spooky Pookie" by Sandra Boynton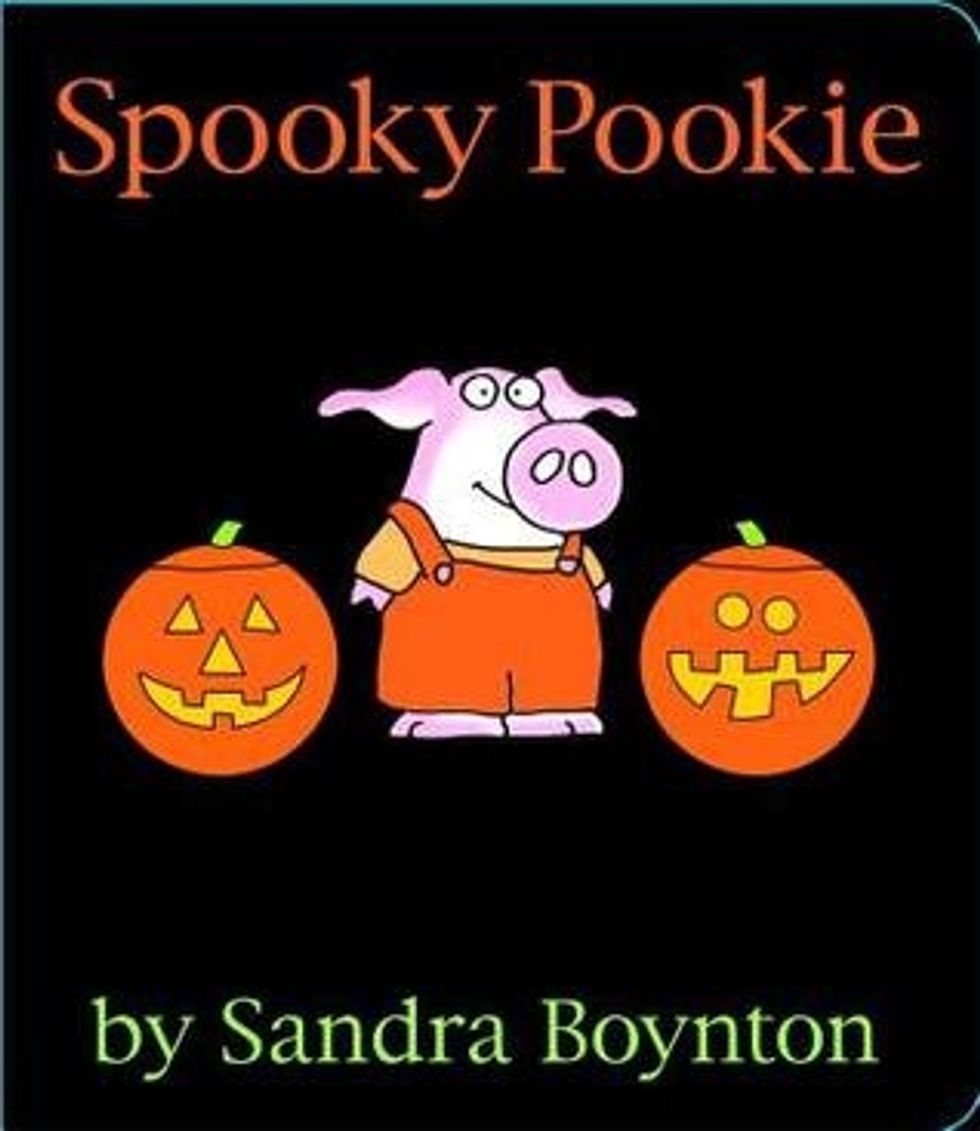 https://www.goodreads.com/book/show/23528366-spooky-pookie?from_search=true
Blurb: "It's Halloween! What will little Pookie decide to be this year? Pookie tries on costumes one by one, but somehow can't find just the right thing. The resolution to Pookie's dilemma will delight toddlers and their caregivers alike. Told and illustrated with Sandra Boynton's celebrated charm and pizzazz, "Spooky Pookie" has all the makings of a beloved Halloween classic. Boo!"
Sandra Boynton was a staple in my childhood, and Pookie is a beloved recurring character. Your kids will love watching Pookie try on costume after costume, finding the one they like best.
6. "Eek! Halloween!" by Sandra Boynton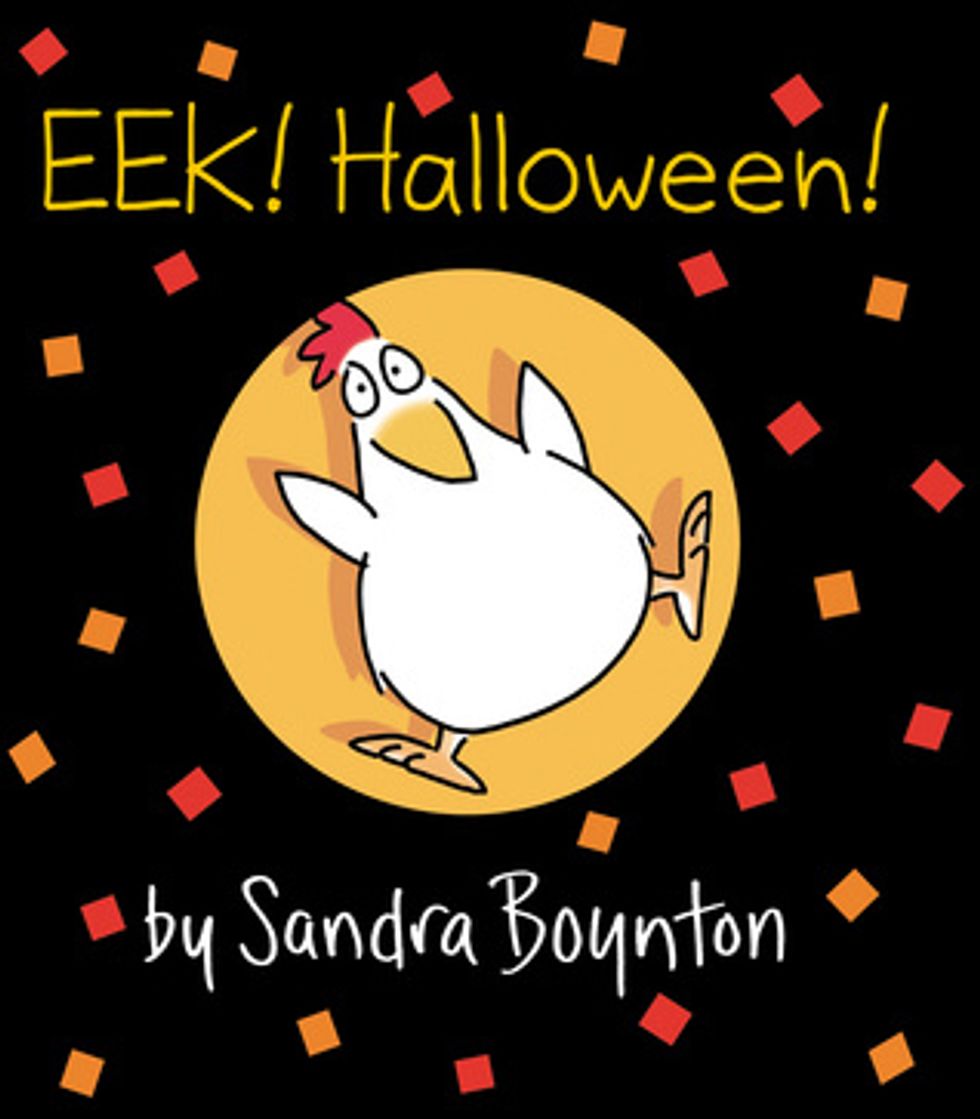 https://www.goodreads.com/book/show/28110897-eek-halloween?from_search=true
Blurb: "It starts with an uh-oh—the chickens are nervous! Strange things are happening. One chicken saw a pumpkin with flickering eyes, another spied a mouse of enormous size. They all saw a wizard and a witch, and a spooky robot. 'WHAT'S GOING ON HERE? WHAT DOES IT MEAN? Relax, silly chickens! It's HALLOWEEN!'"
Time for all the kids to learn the most fun things about Halloween in this silly story of the holiday. Don't be a scaredy cat, or chicken!
7. "Goodnight Goon: A Petrifying Parody" by Michael Rex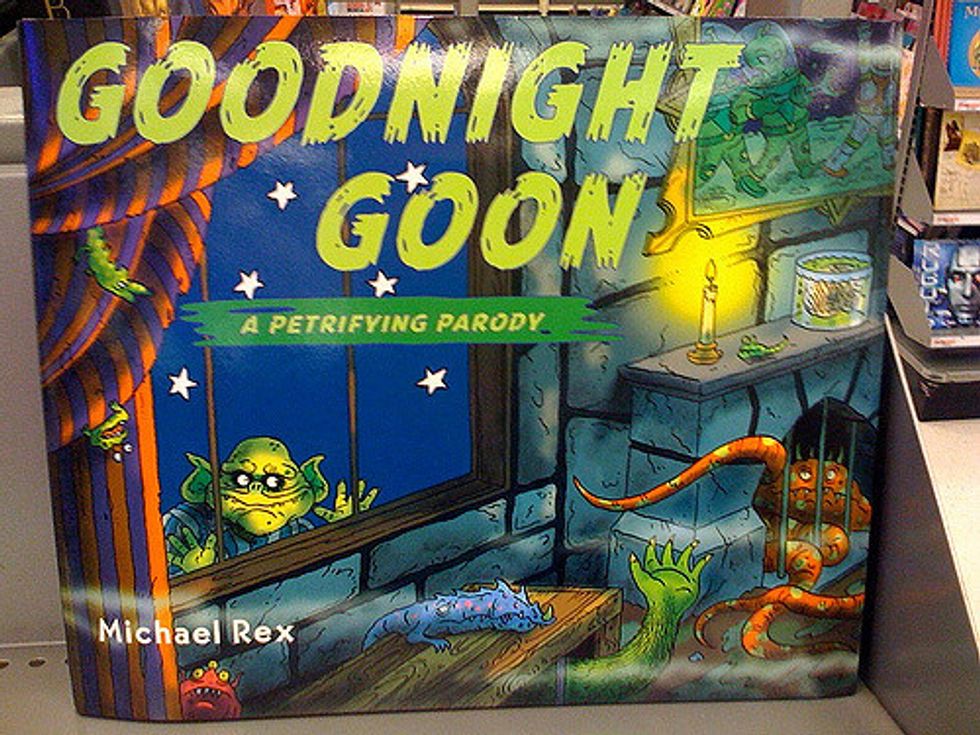 Blurb: "Goodnight tomb. Goodnight goon. Goodnight Martians taking over the moon. It's bedtime in the cold gray tomb with a black lagoon, and two slimy claws, and a couple of jaws, and a skull and a shoe and a pot full of goo. But as a little werewolf settles down, in comes the Goon determined at all costs to run amok and not let any monster have his rest. A beloved classic gets a kind-hearted send up in this utterly monsterized parody; energetic art and a hilarious text will have kids begging to read this again and again."
Better than "Goodnight Moon" is "Goodnight Goon," a spooky and silly take on a classic tale. What's a better bedtime story than a story about monsters at bedtime?
8. "The Monster at the end of this Book" by Jon Stone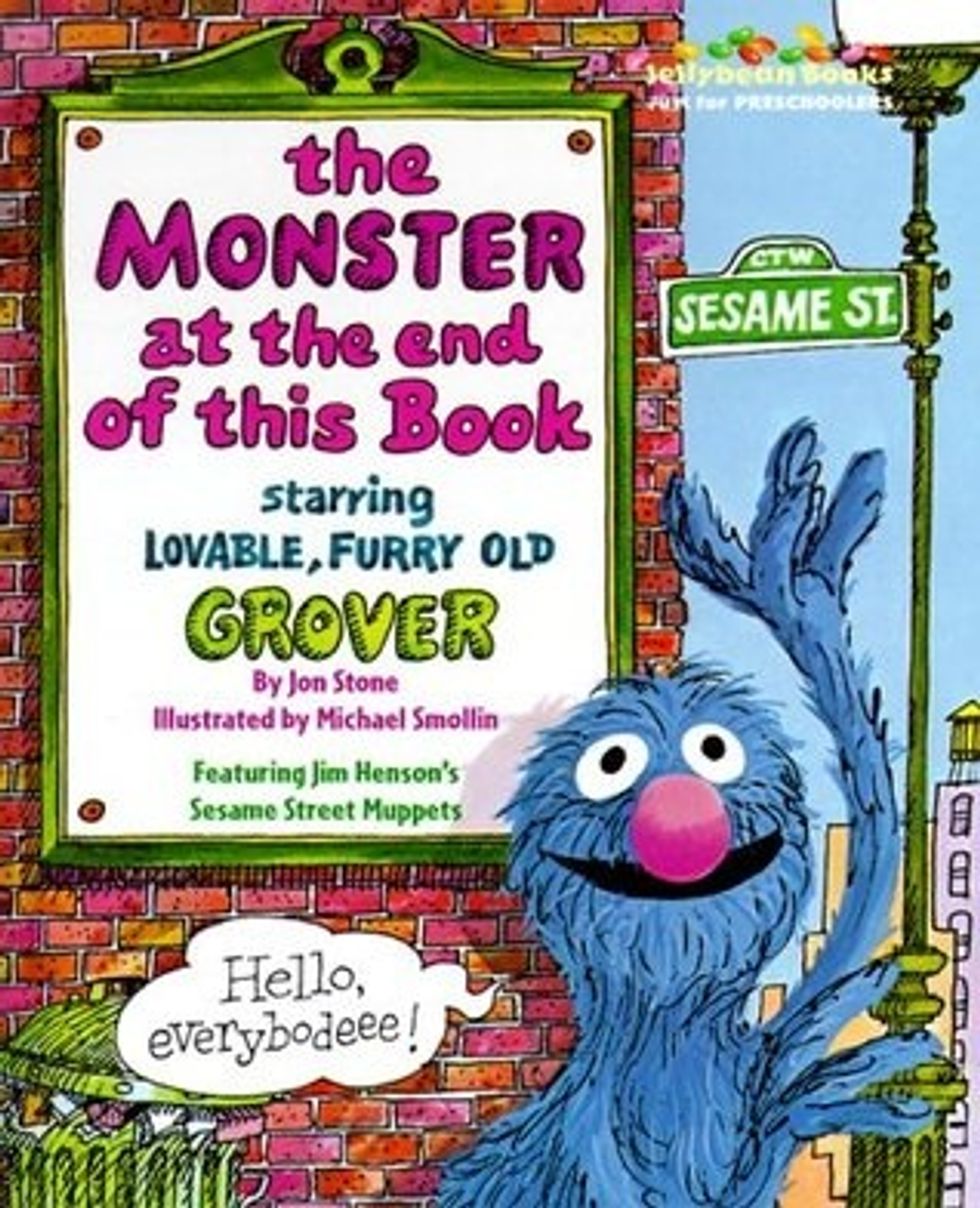 https://www.goodreads.com/book/show/44186.The_Monster_at_the_End_of_this_Book
Blurb: "Lovable, furry old Grover is distressed to learn that there's a monster at the end of this book! He begs readers not to turn the pages, but of course kids feel they just have to see this monster for themselves. Grover is astonished — and kids are delighted — to discover who is really the monster at the end of the book!"

Make your child feel powerful as they turn the pages despite Grover's best attempts to stop them. A Sesame Street favorite, this book will have your child squealing with laughter at the surprising and heartwarming ending.
9. "Who's Inside the Haunted House?" by Courtney Acampora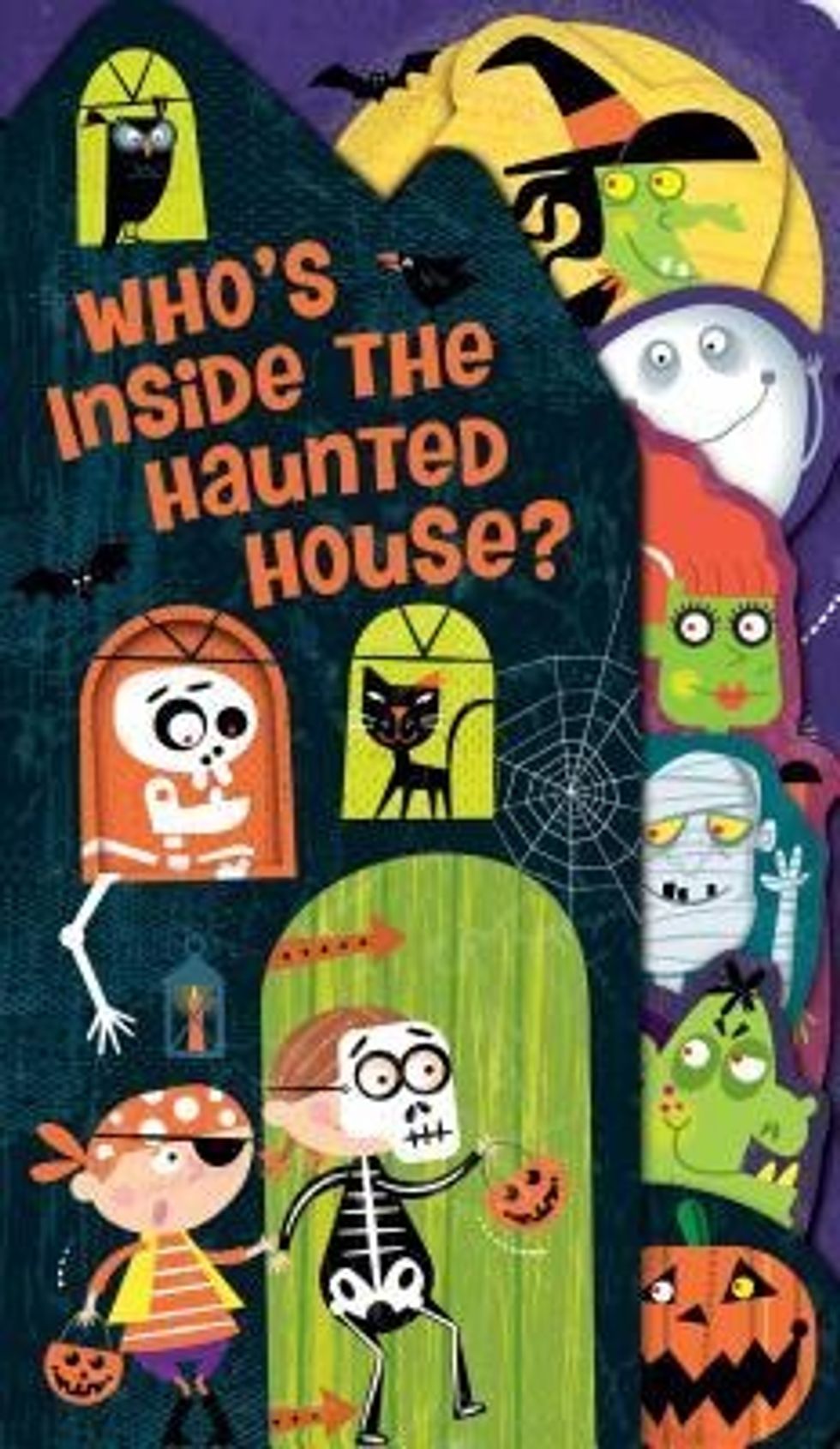 https://www.goodreads.com/book/show/34507413-who-s-inside-the-haunted-house?from_search=true
Blurb: "See who's inside the Haunted House in this Halloween adventure! Peek inside the spooky house and see who's inside in this haunted Halloween adventure! Sturdy shaped pages invite readers to meet friendly Halloween characters on every spread. The sweet rhyming story and bright cheerful illustrations make the book just the right amount of fun and fright. So who's inside the haunted house? Come inside and see!"
Meet all the guests at the haunted house as you trick-or-treat your way through charming renditions of well-known Halloween monsters.
10. "How To Catch A Monster" by Adam Wallace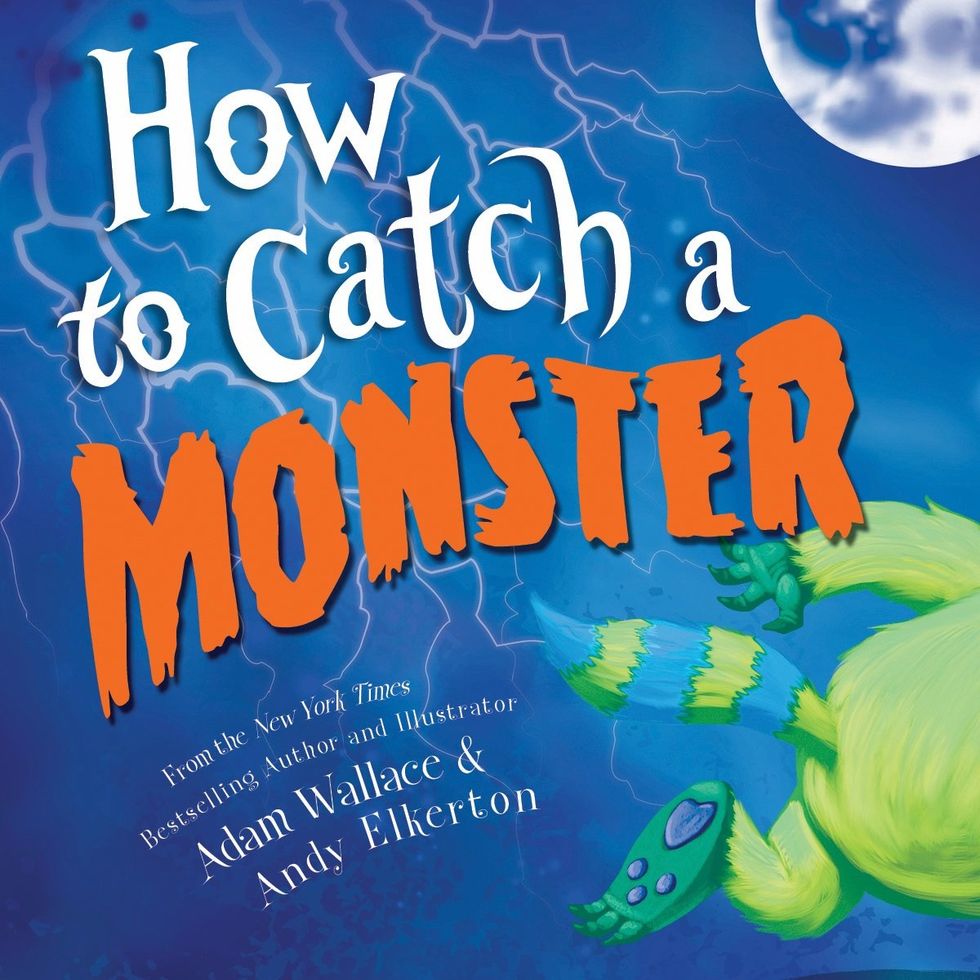 https://www.goodreads.com/book/show/34006773-how-to-catch-a-monster
Blurb: "Get ready to laugh as a young ninja heads into the closet to meet the monster that's been so scary night after night! But what if things aren't what they seem and our monster isn't scary at all? What if our ninja hero is about to make a friend of strangest sort? If you dare to travel beyond the closet door and into the land of the monsters... you might just find the very best reward of all. But with robots, lava pie, and a smattering of traps ― catching monsters is no easy business! Is there a monster living in your closet? Are you brave enough to catch him? Parents and children will love sharing this fun and inventive picture book, which reminds us that things aren't always as scary as they seem."
A perfect book for the child that is afraid of the monster under their bed or the one hiding in their closet. Help your kids stand up to the scary creatures they imagine up with this exciting tale.
11. "Room on the Broom" by Julia Donaldson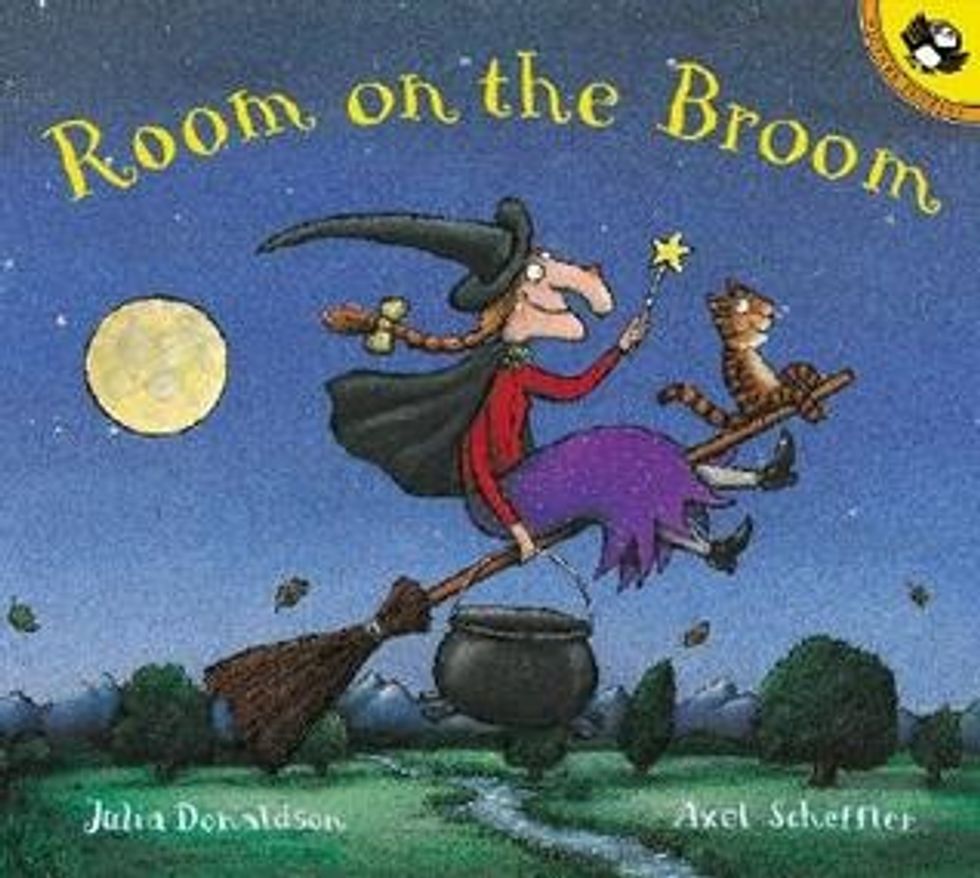 https://www.goodreads.com/book/show/177246.Room_on_the_Broom?from_search=true
Blurb: "The witch and her cat are happily flying through the sky on a broomstick when the wind picks up and blows away the witch's hat, then her bow, and then her wand! Luckily, three helpful animals find the missing items, and all they want in return is a ride on the broom. But is there room on the broom for so many friends? And when disaster strikes, will they be able to save the witch from a hungry dragon?"
Reminiscent of "Chicka Chicka Boom Boom," learn if there's enough room for all the friends that want to climb up! Teach your kids the power of being helpful and making friends.
12. "The Little Old Lady Who Was Not Afraid of Anything" by Linda Williams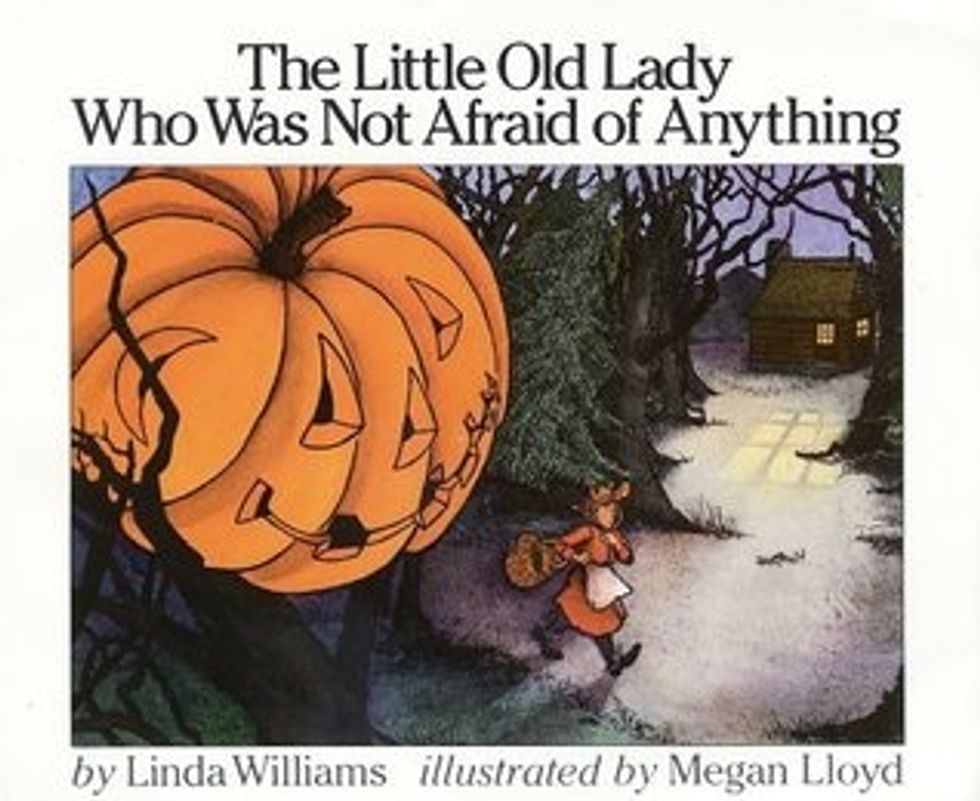 https://www.goodreads.com/book/show/363973.The_Little_Old_Lady_Who_Was_Not_Afraid_of_Anything?from_search=true
Blurb: "Once upon a time, there was a little old lady who was not afraid of anything! But one autumn night, while walking in the woods, the little old lady heard ...clomp, clomp, shake, shake, clap, clap. And the little old lady who was not afraid of anything had the scare of her life! With bouncy refrains and classic art, this timeless Halloween story is perfect for reading aloud."
Walk alongside the little old lady and she goes through the woods and hears spooky sounds. Perfect for letting your little one read along with you.
13. "The Hairy Toe" by Daniel Postgate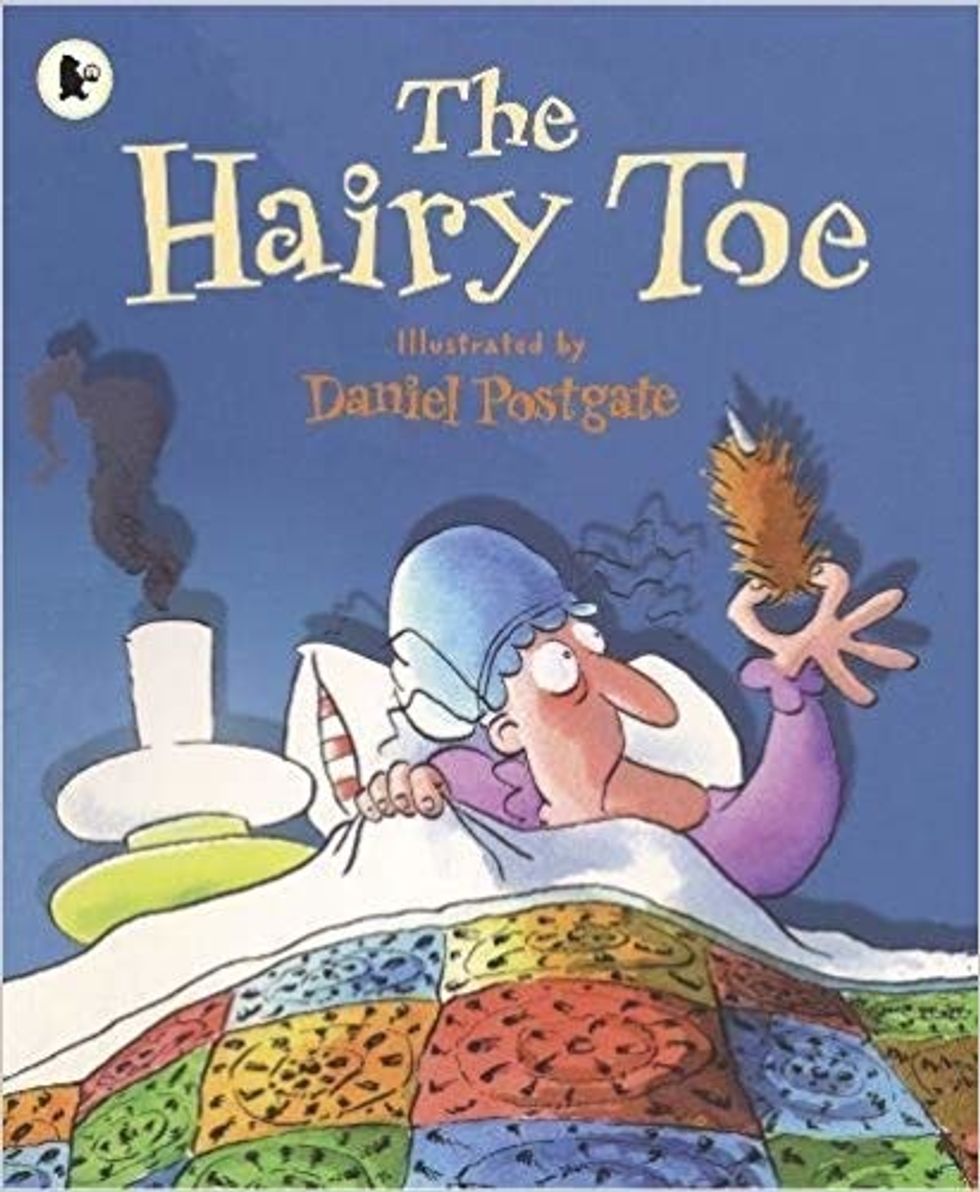 https://www.goodreads.com/book/show/1715318.The_Hairy_Toe
Blurb: "While out picking beans an old woman finds a hairy toe — and soon wishes she hadn't — especially when its owner comes looking for it... Humorously illustrated by Daniel Postgate this spine-tickling traditional tale is perfect for Halloween and shouts to be read out loud!"
One of my favorite stories as a child, be prepared to find out what comes to claim it's hairy toe from the old woman. "Who has my hairy toe?" You'll have to read to find out.
14. "Goosebumps" by R. L. Stine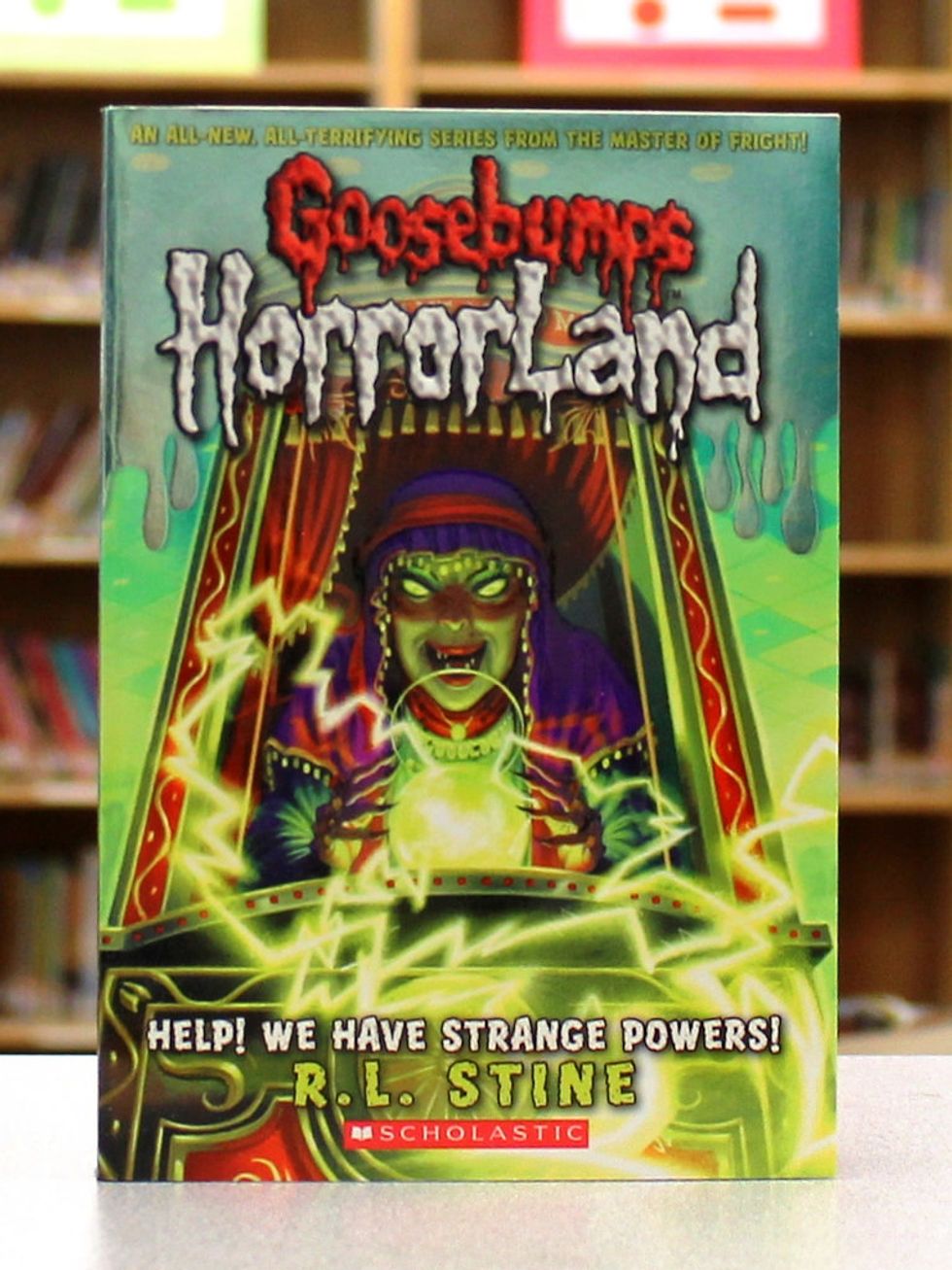 Series Blurb: "The stories follow child characters, who find themselves in scary situations, usually involving monsters and other supernatural elements."
From mummies and yetis, to goo and ghosts, follow along as these kids find themselves surrounded by scary things in their lives. Haunted houses, theme parks, and camping trips might just turn into a paranormal experience. This is a series with so many books that you're tweens will be occupied for weeks.
15. "Monster High" by Various Authors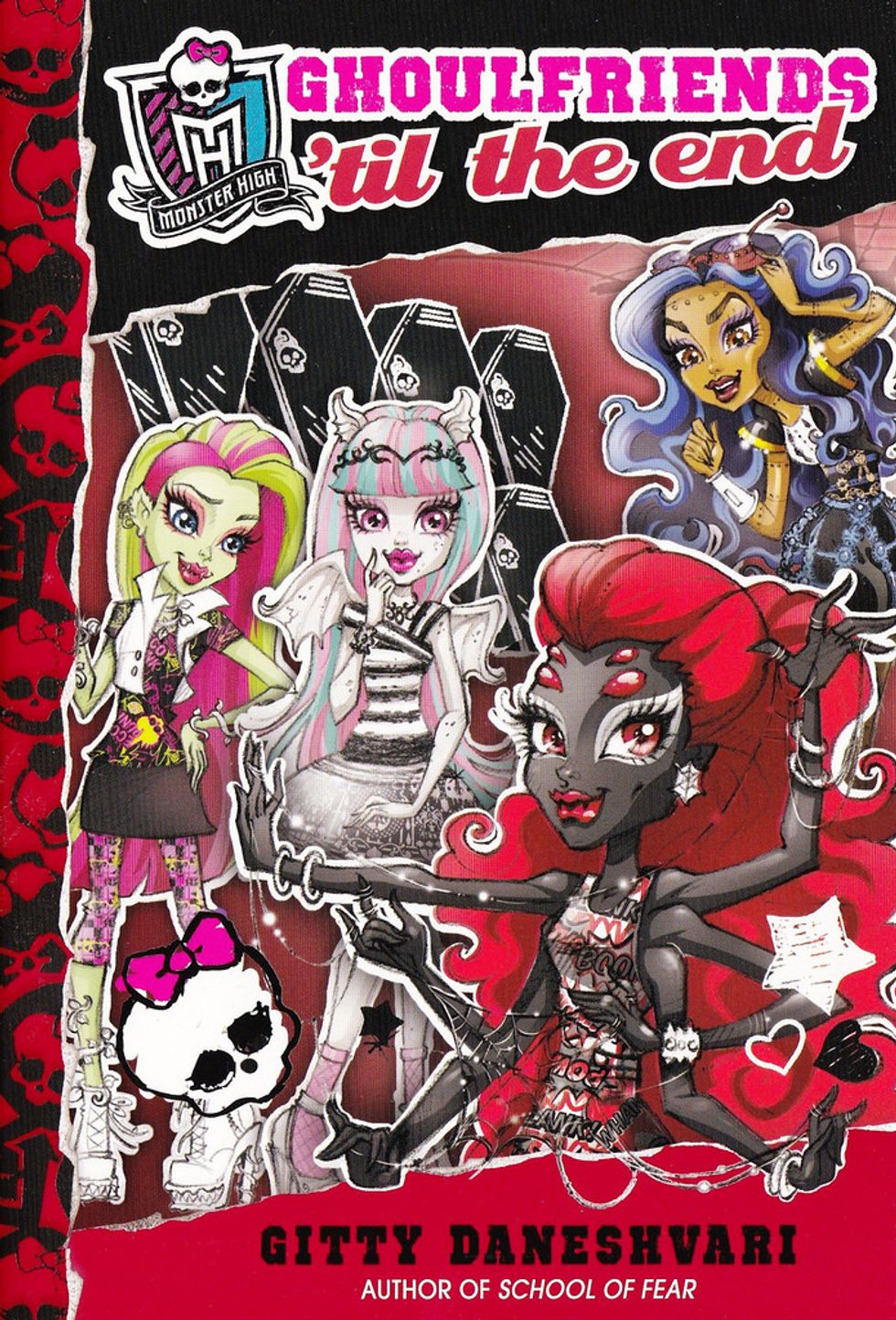 Blurb: "The books take place in a different fictional universe than the webisodes and deal with the Regular Attribute Dodgers (RADs) and their struggles with love, social life, school and not be outed as monsters to humans. Each of the books tells an ongoing story through the eyes of one selected character. In the case of the first book, it's Frankie Stein and Melody Carver, the second is about Cleo de Nile, the third about Clawdeen Wolf, and the fourth one about Draculaura. Another Monster High book called Drop Dead Diary was released on January 19, 2011; it was written by a pseudonym author Abaghoul Harris (rumored to be Ghoulia Yelps)."
Instead of secret monsters, follow along these characters living in a high school of creatures and cryptids. Let your freak flag fly, because even monsters can have school drama.
16. "The Adventures of the Bailey School Kids" Series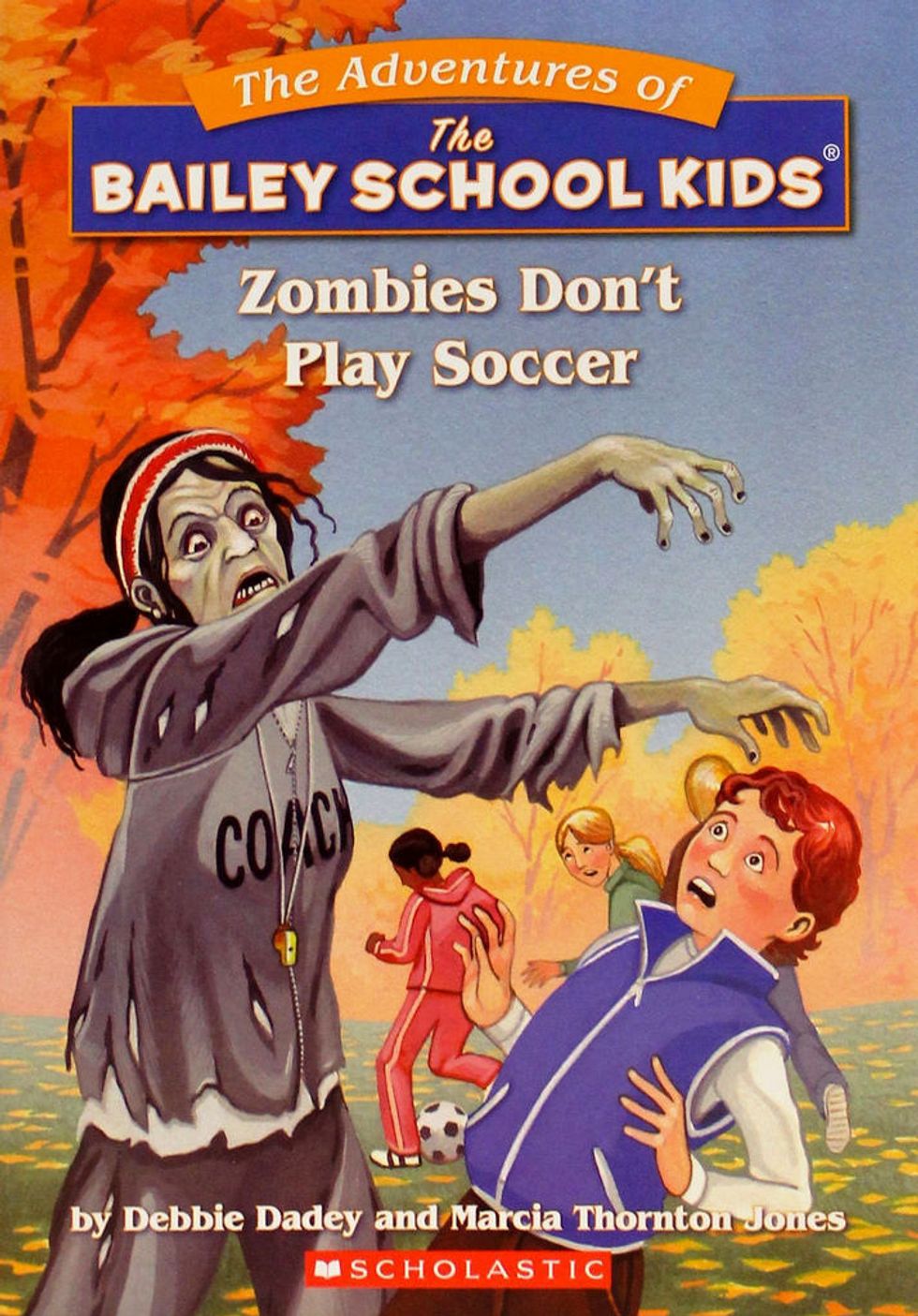 Blurb: "In each story, the Bailey School kids encounter a relatively innocuous character (such as a school teacher, custodian, etc.) who may or may not be a mythical being (e.g. a vampire, werewolf, dragon, etc.). The reader is left guessing whether the innocuous character is the said mythical being or not."
Read along with these kids to find out if all the adults in their lives are secretly monsters in disguise. When you get to the end, it's up to you to decide whether you think so or not. This series will leave your children with hours and hours of entertainment.
17. "Scary Stories to Tell in the Dark" by Alvin Schwartz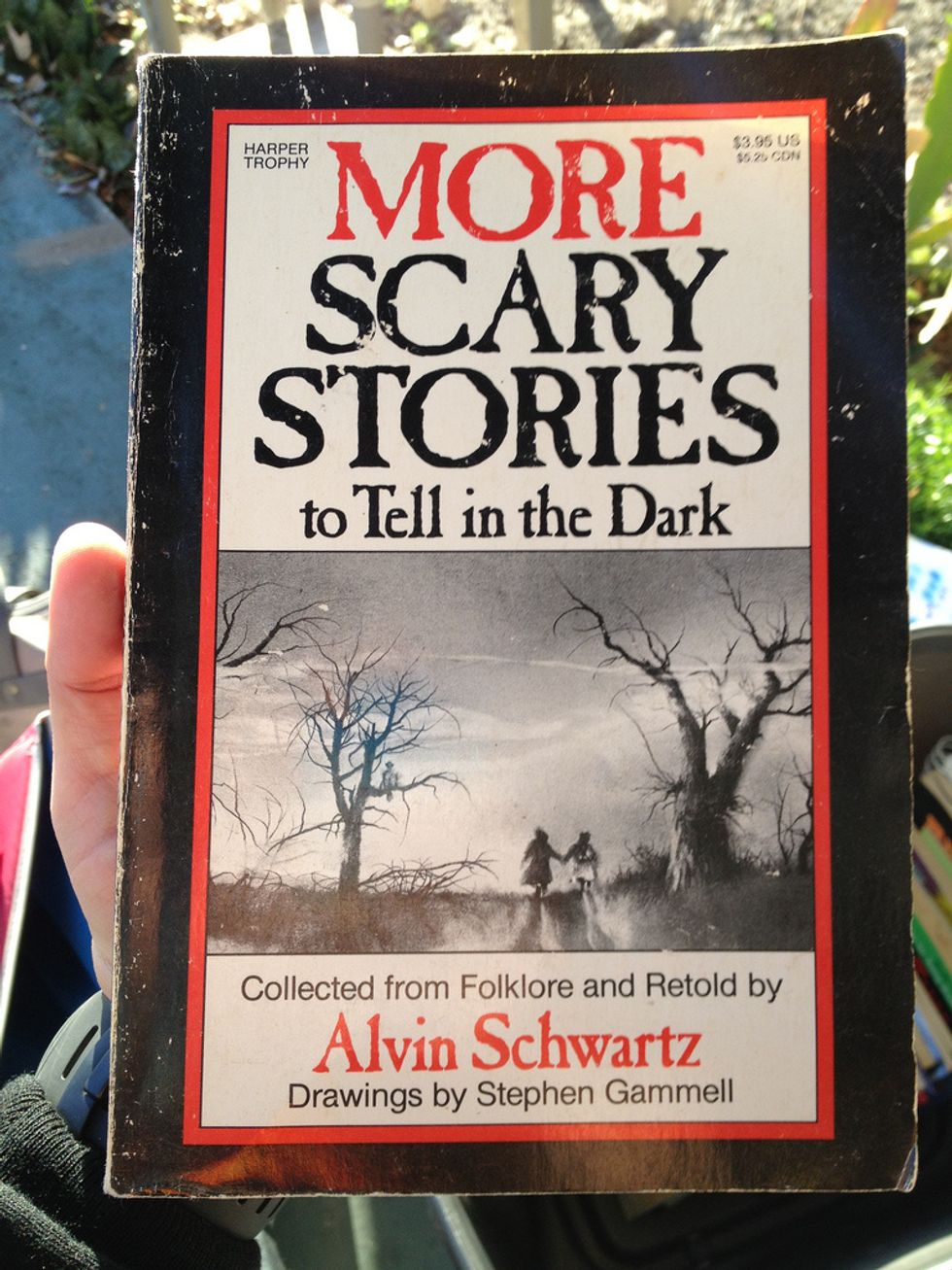 "Scary Stories to Tell in the Dark", "More Scary Stories to Tell in the Dark", and "Scary Stories 3: Tales to Chill Your Bones."
Blurb: "'Scary Stories to Tell in the Dark' contains some of the most alarming tales of horror, dark revenge, and supernatural events of all time. Walking corpses, dancing bones, knife-wielding madmen, and narrow escapes from death—they're all here in this chilling collection of ghost stories. Make sure you read these books with the light ON!"
Turn on a flash light and gather everyone around for these spooky stories. And beware the girl with the green ribbon. These books will be perfect to read to your friends during sleepovers to keep them up at night.
18. "Bunnicula" by Deborah and James Howe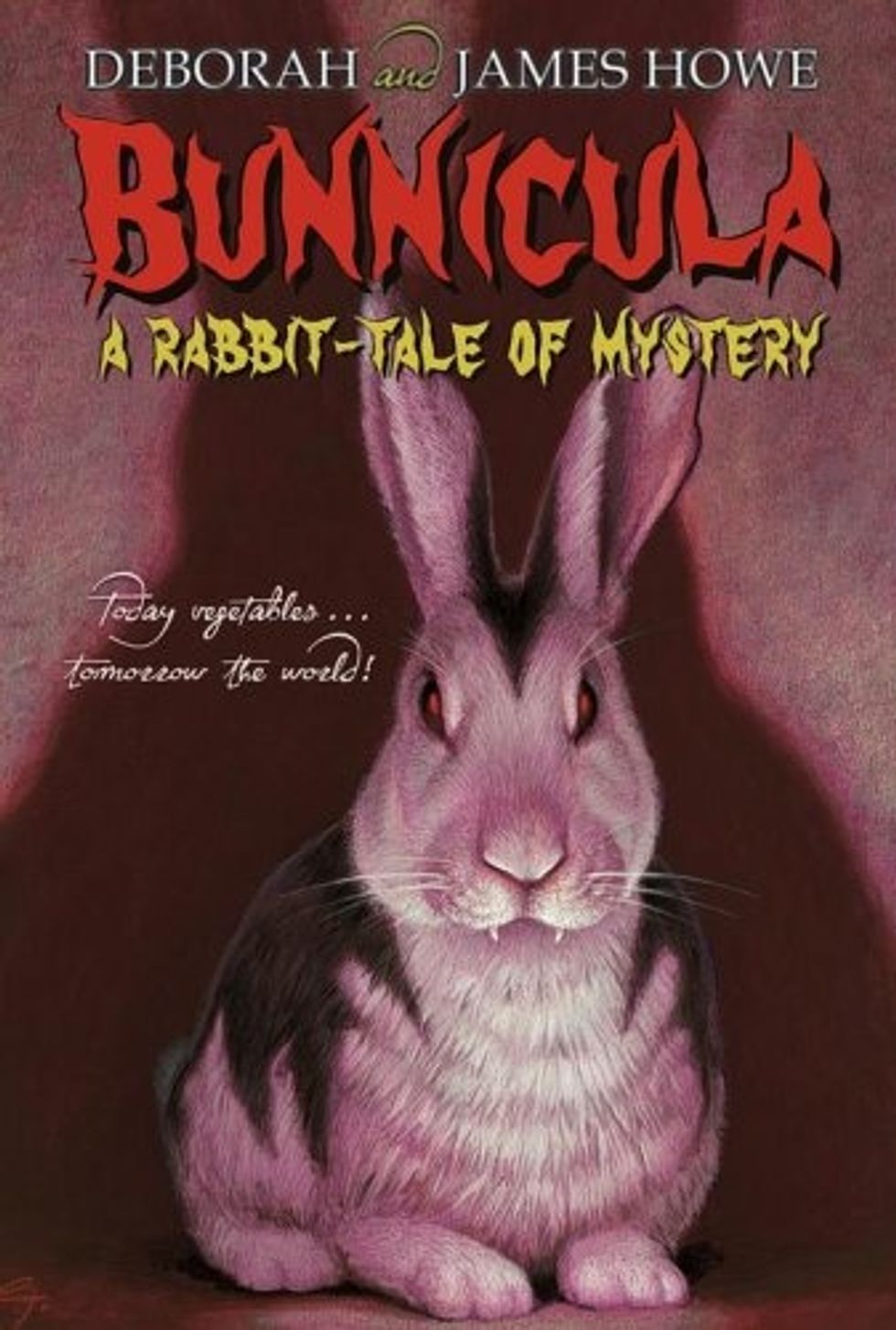 Blurb: "BEWARE THE HARE!Is he or isn't he a vampire? Before it's too late, Harold the dog and Chester the cat must find out the truth about the newest pet in the Monroe household — a suspicious-looking bunny with unusual habits...and fangs!"
Bunnicula is perfect combination of cute and creepy. No one ever suspects the little bunny, but how can you not when he has fangs?
19. "The Witches" by Roald Dahl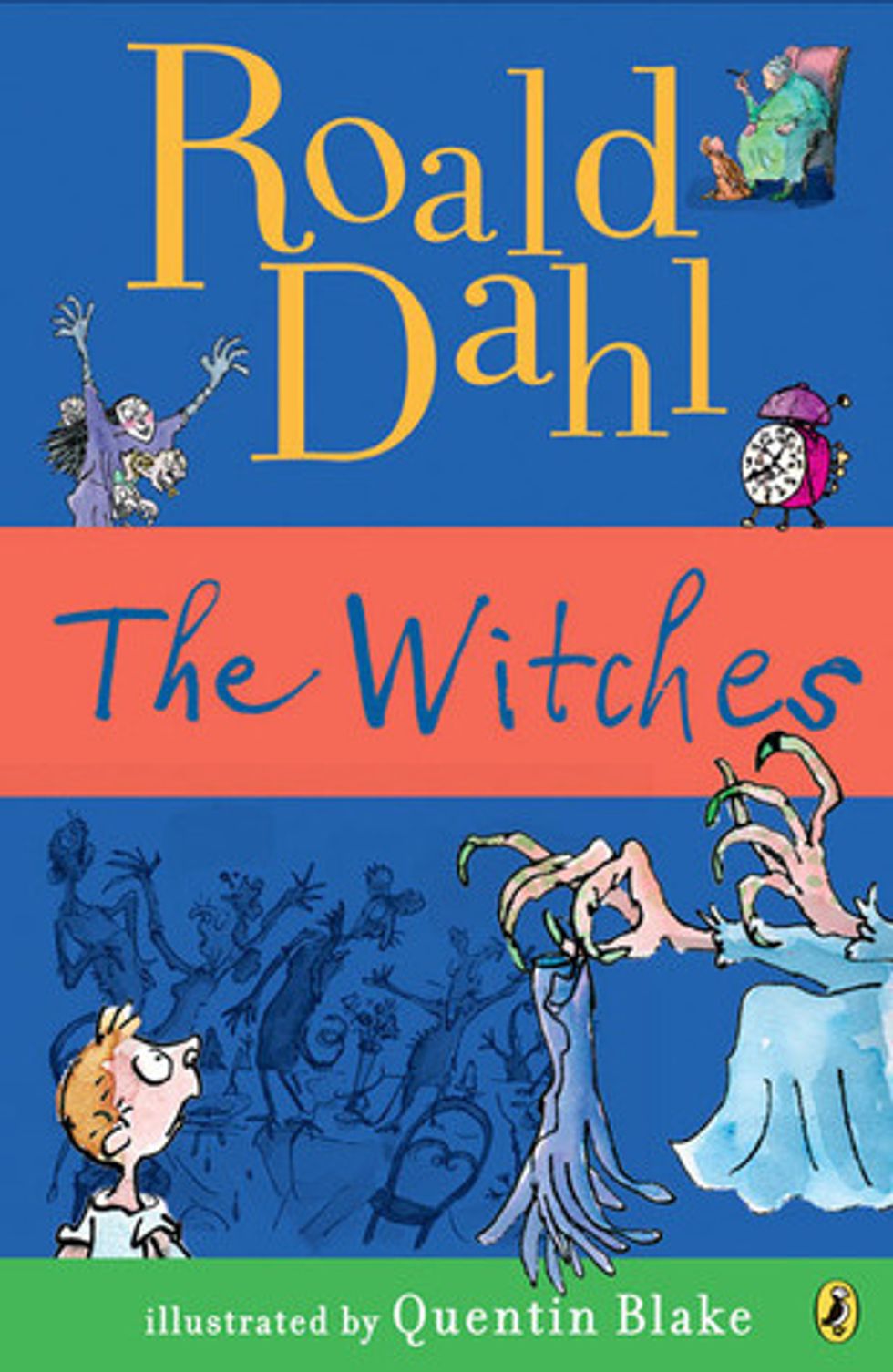 https://www.goodreads.com/book/show/6327.The_Witches?ac=1&from_search=true
Blurb: "This is not a fairy tale. This is about real witches. Grandmamma loves to tell about witches. Real witches are the most dangerous of all living creatures on earth. There's nothing they hate so much as children, and they work all kinds of terrifying spells to get rid of them. Her grandson listens closely to Grandmamma's stories — but nothing can prepare him for the day he comes face-to-face with The Grand High Witch herself!"
Something wicked this way comes, and it might just be a witch on it's way for you. This book will tell an enticing tale about his stories coming to life as he meets not just any old witch, but the most important witch.
20. "Truly Scary Stories for Fearless Kids" by Bill Slavin and Joe Weissman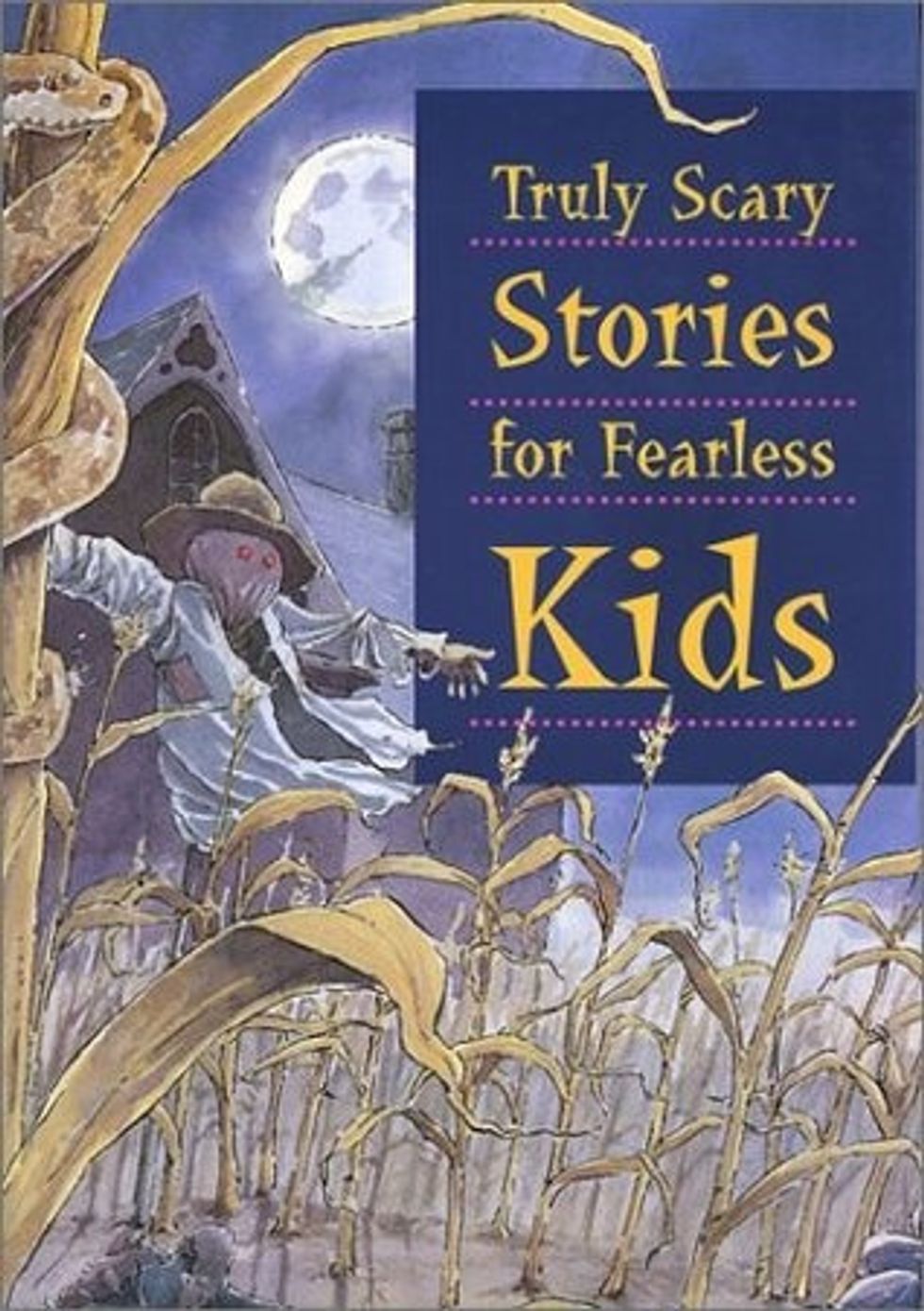 https://www.goodreads.com/book/show/1046736.Truly_Scary_Stories_for_Fearless_Kids?from_search=true
Blurb: "Here is an eerie collection of stories and poems from around the world and across time. With classic tales by such writers as Bram Stoker, Washington Irving, W.W. Jacobs, E. Nesbit and Guy de Maupassant, each story is guaranteed to send delicious shivers through even the most stalwart young reader. Readers will meet a groom who shows up for his wedding.... dead; a man who robs his wife`s grave and is haunted by her ghost every night; and even a boy who agrees not to reveal that he out-frightened the resident ghost in return for vanishing lessons. Fully illustrated throughout in fabulous color, this collection is sure to become a family favorite. Stories include: - The Legend of Sleepy Hollow by Washington Irving - The Cremation of Sam McGee by Robert Service - Dracula`s Guest by Bram Stoker - Buggam Grange: A Good Old Ghost Story by Stephen Leacock — Wedding by E. Nesbit"
A perfect amalgamation of classic horror and ghost stories, this book will give your tweens a glimpse into classical gothic literature. Get them geared up for the real deal when school hits with these hit stories.
21. "Coraline" by Neil Gaiman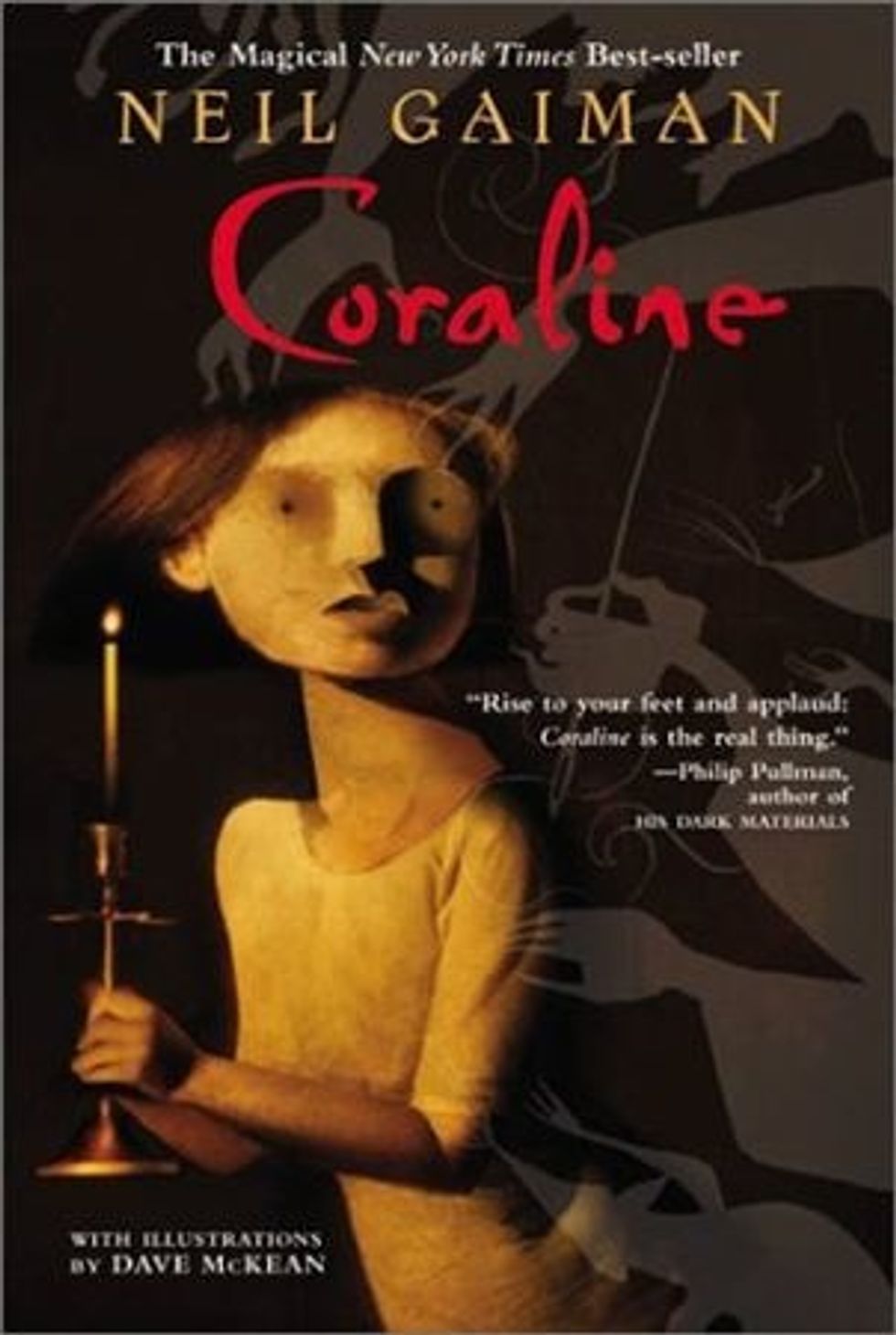 Blurb: "When Coraline steps through a door to find another house strangely similar to her own (only better), things seem marvelous. But there's another mother there, and another father, and they want her to stay and be their little girl. They want to change her and never let her go. Coraline will have to fight with all her wit and courage if she is to save herself and return to her ordinary life."
Welcome to a story that every kid has heard of when talking about gothic tales. This is a story that every baby bat should know.
22. "The Graveyard Book" by Neil Gaiman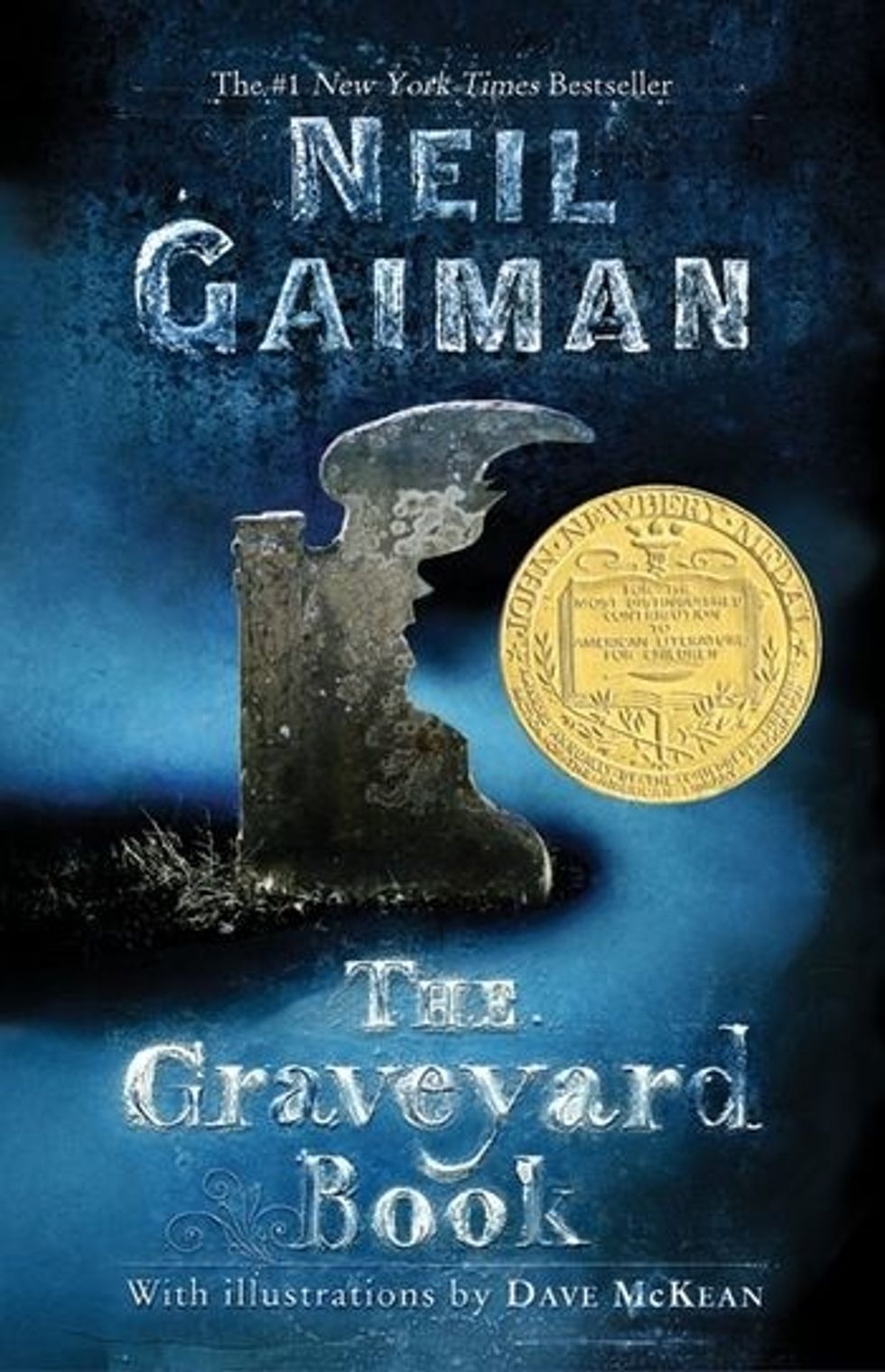 harpercollins.com
Blurb: "IT TAKES A GRAVEYARD TO RAISE A CHILD. Nobody Owens, known as Bod, is a normal boy. He would be completely normal if he didn't live in a graveyard, being raised by ghosts, with a guardian who belongs to neither the world of the living nor the dead. There are adventures in the graveyard for a boy — an ancient Indigo Man, a gateway to the abandoned city of ghouls, the strange and terrible Sleer. But if Bod leaves the graveyard, he will be in danger from the man Jack — who has already killed Bod's family."
Neil Gaiman is a beloved author of other books, but this story is a perfect way to slowly bring your child in to the world of spooky books. Spend the night reading about adventures in graveyards and learning about glorious ghouls.
23. "A Series of Unfortunate Events" Series by Lemony Snicket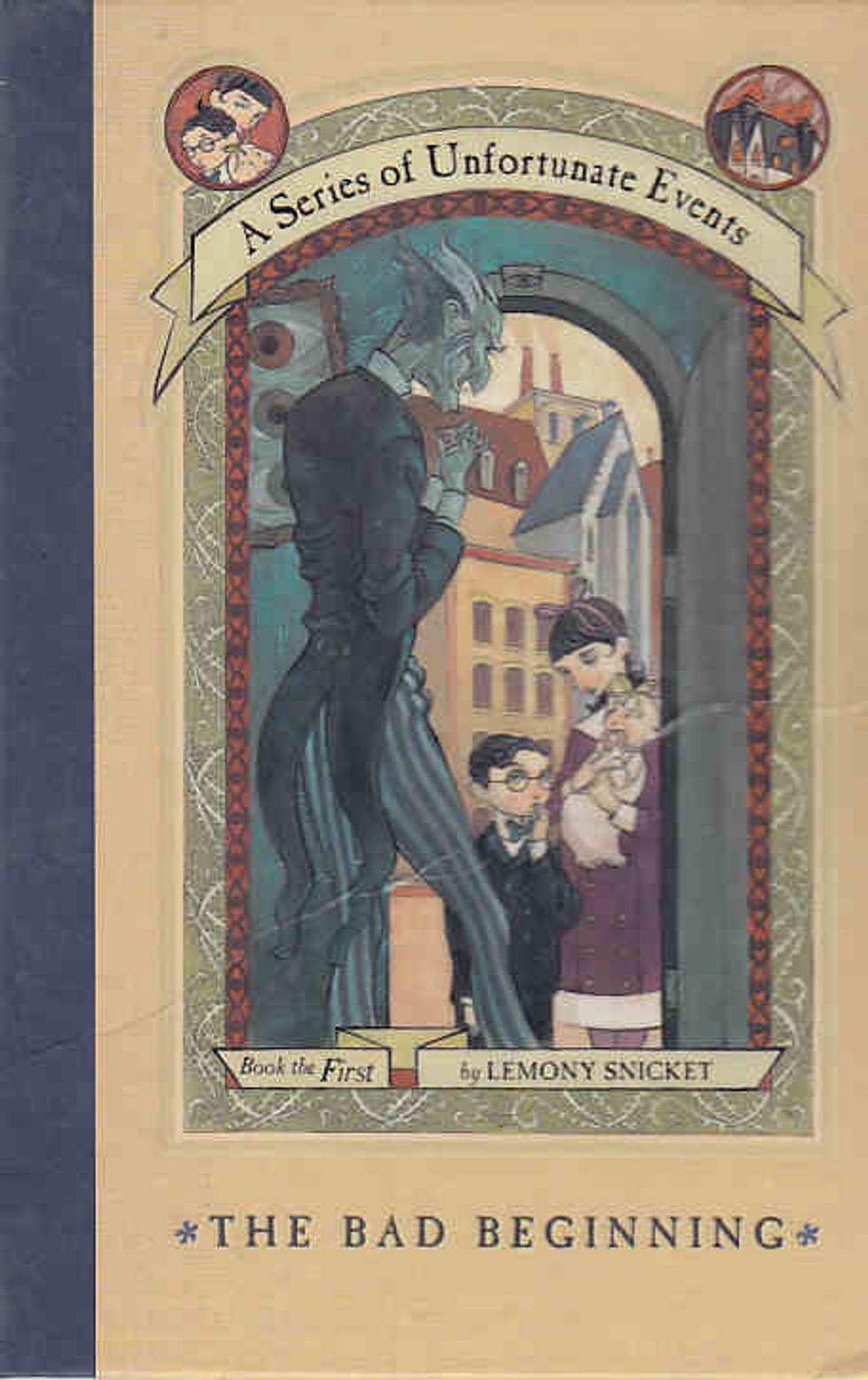 Blurb: "Although they are classified 'children's novels', the books often have a dark, mysterious feeling to them. The books follow the turbulent lives of Violet, Klaus, and Sunny Baudelaire. After their parents' death in a fire, the children are placed in the custody of a murderous relative, Count Olaf, who attempts to steal their inheritance and, later, orchestrates numerous disasters with the help of his accomplices as the children attempt to flee. As the plot progresses, the Baudelaires gradually confront further mysteries surrounding their family and deep conspiracies involving a secret society known as V.F.D., with connections to Olaf, their parents, and many other family relatives. The series is narrated by Lemony Snicket, who dedicates each of his works to his deceased love interest, Beatrice, and often attempts to dissuade the reader from reading the Baudelaires' story."
This is a beloved story of children attempting to escape disasters. Book after book in the series tells of unfortunate events that 'accidentally' befall the children, and how they escape time and time again.
24. "Deep and Dark and Dangerous" by Mary Downing Hahn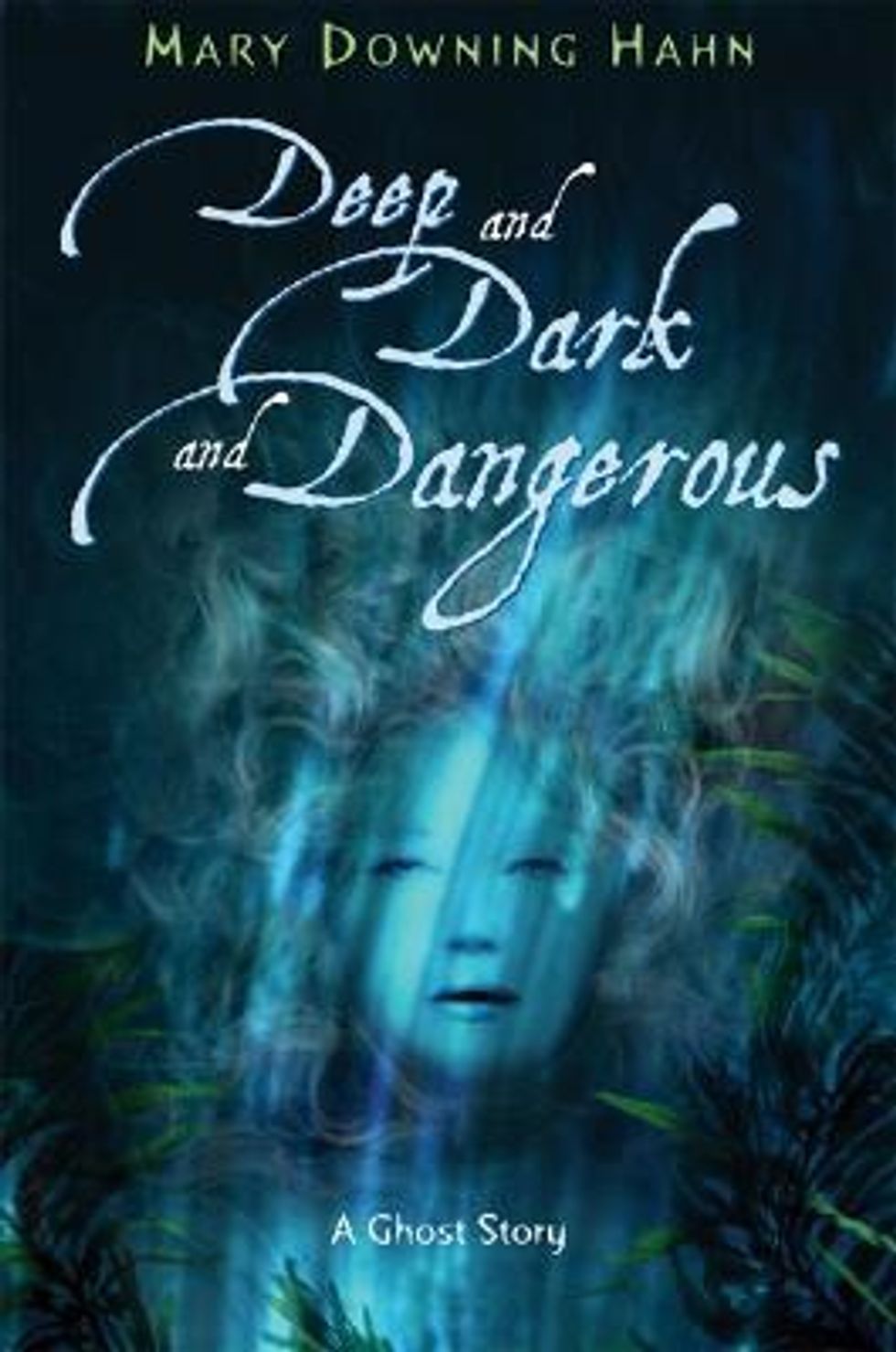 https://www.goodreads.com/book/show/541341.Deep_and_Dark_and_Dangerous?ac=1&from_search=true
Blurb: "Just before summer begins, 13-year-old Ali finds an odd photograph in the attic. She knows the two children in it are her mother, Claire, and her aunt Dulcie. But who's the third person, the one who's been torn out of the picture? Ali figures she'll find out while she's vacationing in Maine with Dulcie and her four-year-old daughter, Emma, in the house where Ali's mother's family used to spend summers. All hopes for relaxation are quashed shortly after their arrival, though, when the girls meet Sissy, a kid who's mean and spiteful and a bad influence on Emma. Strangest of all, Sissy keeps talking about a girl named Teresa who drowned under mysterious circumstances back when Claire and Dulcie were kids, and whose body was never found. At first Ali thinks Sissy's just trying to scare her with a ghost story, but soon she discovers the real reason why Sissy is so angry... Mary Downing Hahn is at her chilling best in this new supernatural tale that's certain to send shivers down her readers' spines."
There's nothing like a good mystery story, but throw in a ghost story on top of it all and you've got a great book. You'll be sucked into this book like a kid underwater.
Other good Gothic children's book lists can be found here and here.
These are the perfect books to start your little monster's To Be Read (TBR) list.