"Why should I go to church camp?"
The question my 10 year old self asked my parents when they brought up Saint Seraphim Camp. "I go to church and I have friends. I don't know anyone there." That excuse didn't fly with them, so I had no choice but to give it a try in the summer of 2009. At the time, I was a stubborn child who didn't like change, so I can't exactly say I was excited.
"Whatever" was my attitude on the first day. "At least if it doesn't work out, they won't send me back here next year." Never did I think that this week would change my life, but oh was I wrong.
Because that day, I fell in love with the beautiful camp that would become the highlight of every summer. I fell in love with the chilly nights of roasting s'mores by the fire and looking up at the stars, truly acknowledging their beauty for the first time. The capture the flag shaving cream competition we played against the boys in middle school, hitting my first bullseye in archery and joining the "big kids" volleyball game but miserably failing.
My days of shaving cream capture the flag competitions turned into real nighttime flags traditions of girls applying charcoal to each other's faces to blend in the dark, huddling together, repeating chants after our counselors at the top of our lungs, screaming into the walkie-talkie so the boys could compete with us to decide "Who's more pumped up for flags?" That was before we chased, tackled and hid from them and stopped at nothing to receive the most important camp title: Capture the Flag Champions. We were the generation of wild kids who kept turning the game into an even crazier event every time to where the typical outsider's response to "Saint Seraphim Camp" was, "I heard they have intense flags games." I like to think we'll go down in history for this hilarious reputation.
Growing up, I watched our junior counselors get ready for the Friday night dance every year as we went to movie night in our pajamas and sleeping bags, only for my tentmate to fall asleep on my pillow. "Great company, huh?" I used to think. (Still loved her anyways.) Before we knew it, 3 years had gone by and we were the cool girls looking for the prettiest dress to wear to our first camp dance. And every time, there was a new flash mob, a crazier Russian dance circle, trying to blend in with the older groups to stay longer, until our counselors found us and took us back to the campsite. Yet we could still hear the music playing at the bottom of the hill in our tent as we stayed up for hours exchanging stories from that night. Throughout those days, we were reminded of the real reason we came: To find our future spouses, as the Bishop has always said.
Okay, on a serious note: we came to strengthen our faith by learning about it and bonding with others who understand our souls, our values, and our daily lives. Because there will be no stronger connection than the one we share with other Orthodox people. These are the people who will fly across the country to visit you, the ones who'll go on long drives just to see your smiling face more than once a year and visit you in college when you're on your own for the very first time. Camp friends are friends for life, and nobody will ever love you more than them.
Every year, my friend group welcomed more incredible people and my cabin/tent population increased. For two years, my cabin was famous for squeezing in 9 girls comfortably because we all refused to be apart. The nights of playing flashlight tag, braiding hair, singing "We are the champions" in the shower at 10 p.m. after winning flags were the best days. The times of dragging empty cots out next to the bonfire to stargaze on the last night were all spent with people I've grown up with. Many of us live in different states, several hours away and sometimes halfway across the country from each other, but still find ways to reunite during the year at church feasts or over holiday breaks. We bonded through those inspiring Law of God talks every cold morning on the mess hall porch, huddled up together in blankets, cherishing the one time we could be together in a purely Orthodox environment. I've never felt the presence of God more in my life than I have in that little chapel we had church at in the beauty of nature.
So if you're a parent thinking about sending your kids to camp for the first time, my advice is this: Do it.
The picture below is a group of people I have the privilege of calling my best friends as well. This year will be my 10th year, and I will be going with people I've known for only 2 years up to ones I've known my whole life. Some of these guys were there in the original camp days with me as 9-year-olds in group 1, and last year we all went as counselors for the first time, 8 years later. Several of those girls were my first cabinmates 5 years ago, and our signatures on the cabin's pillars are still visible today, a tradition that my two fellow counselors continued with me in our other cabin last year. We've all watched each other grow up from elementary, middle and high school together to college. It started as little kids attending each other's annual Christmas parties to visiting our best friends' colleges for the weekend and going to their older sibling's weddings as young adults.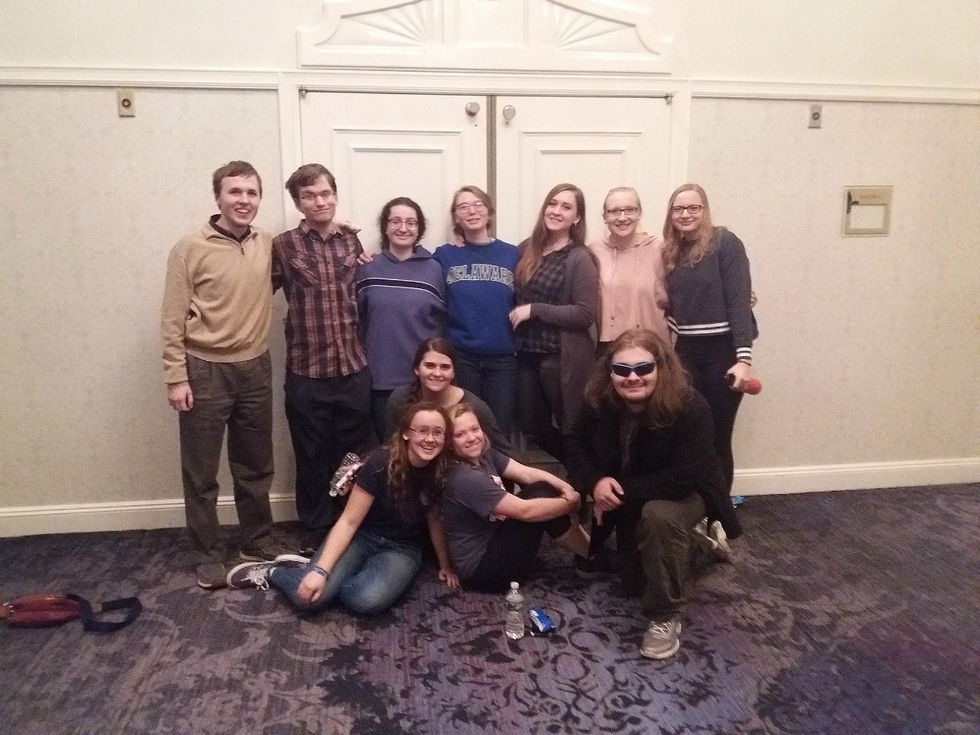 The incredible times didn't end with camp, because we were given the amazing opportunity to spend another week together at St. Herman's Conference after turning 16. Our friend group continued to grow as we ran around the streets of a new city every year, surprising the nearest restaurant with a group of 11 crazy teenagers when it's Christmas break and the night is quiet. (Until we arrived.) We celebrated major feasts together and worshipped in some of the most gorgeous church services I've ever attended.
Picture yourself going on weekend road trips to a new state to see your kids *silently* tackle their best friends in the back of a crowded church, trying to contain their excitement until the service is over. Imagine watching your daughter run across an airport terminal just to hug her long-distance best friend, remembering how you practically raised both of them together.
This is the type of environment you want to be in, the type of people you want to surround yourself and grow up with. This camp has changed all our lives for the better and brought us closer to the church by teaching us valuable lessons each year. I wouldn't be the person I am today if my parents hadn't dropped me off in the middle of this beautiful camp 9 years ago. Looking back, it's crazy to think that the little shy girl who first came here has now turned into a counselor who teaches all her favorite flags chants to her campers playing for the first time.
To be given the chance to have these traditions live on and share my favorite memories with a young group of girls every year from now on is a blessing. And if I had to sum up my camp experience in one phrase, it would be this:
It only takes 7 days to change your life.