With May being about Mental Health awareness, It shows that we need to expose people to the arts more often. The Orlando Fringe Festival is the longest running festival in the Orlando area. It provides an accessible and affordable outlet to bring the community together to create experiences through the arts. This festival takes place around the Loch Haven Park for about 2 weeks leading up to Memorial Day. It has around 500 uncensored performances each year and has something for all ages. Imagine something like this in every city. I feel like it would bring up the morale of each of the populations and get that vitamin D that everyone needs.
The artists that put in for the Orlando Fringe go through an application process and the cool part is for those outside Orlando that there is housing guaranteed for up to 4 people. That's something you don't hear everyday especially if the event lasts about two weeks. A festival like this is good for the soul and also good for the wallet. It gets people out into the community and provides exposure to the arts in an age-appropriate way. It provides an opportunity for people to go outside and enjoy the weather as we transition into summer. It's a perfect way for artists to showcase their craft and to expand their creativity. Its a prime example of why we should never stop learning.
If you are heading to Orlando Fringe from May 13th to 26th. I would check out multiple shows. Through talking to some of the artists, I found that the "How to Eat A Bear" Show is one of the shows to see. Luke Balagia and Mack Stine are the directors of the show. The show is based off a weird joke on a dating profile for Luke. These two met in an improv class 4 years ago and have been creating material ever since. They refuse to call it working because of it not being "Baller." It is a perfect example of if you do something you love, you never work a day in your life. With all of the love and care put into this, why wouldn't you want to go see it? The alternative is two men in the theater crying...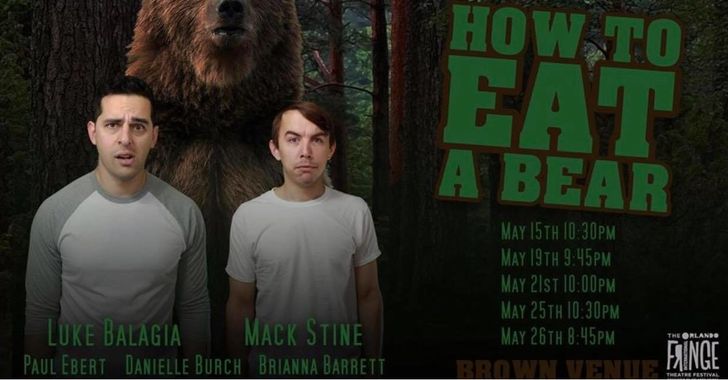 How To Eat A Bear Flyer Orlando Fringe
Imagine if the world was exposed to more of the arts, how much less mental health issues. Why do you think there is art therapy for those with mental health therapy. I've noticed that when people attend any celebration of the arts that they are happier people and make the best conversationalists. Being able to provide an alternative perspective on life is a beautiful gift that not a lot of people can give. With festivals like The Orlando Fringe, it provides a cheaper way to view the arts while going out into the community. Would you rather be stuck inside doing nothing or go out into the community and learn something about the arts?