Traffic lights are typically considered a functional aspect of everyday life. Green is go, red is stop. A glance at the color is all most give. Crossing streets in Germany instead provide a nostalgic ode to a former society. Ampelmännchen (German for "Little traffic light men") is a green man wearing a hat in full strut, found on pedestrian signals in the former East Germany sections.

West Germany and East Germany unified in 1989 when the Berlin Wall came down. Relief, jobs, peace- these were euphoric words to encapsulate a pivotal moment for both sides. In the name of unification, seemingly everything Western stayed and Eastern discredited, from currency to furniture.
For all of the good, locals felt dismayed to see their culture slip away and their homes seemed foreign. 40 years had separated the cultures and it was more than a wall dividing them. Fears and aches arose for the vanishing Eastern culture, known as Ostalgie, would be at the forefront.

On Oct. 13, 1961, designer Karl Peglau undertook a project in response to pedestrian deaths from confusion and visibility issues with traffic structures. Crossers followed the same lights as drivers. People found difficulty distinguishing the red, amber and green lights. From 1955 to 1960, there were 10,000 deaths recorded. Ampelmännchen would become the country's first pedestrian traffic light symbol. Production stages took tender care to mix functionality and charm.

Peglau sought to define the bodily features under the notion people could relate to someone they looked like, according to the official website for Ampelmännchen. The large size allowed more light to shine and give greater visibility in harsher weathers. Showing Ampelmännchen walking drew a quicker connection with the action commanded. Initially, he feared the stylistic attributes would make Ampelmännchen appear bourgeois and get rejected.
By 1969, Peglau's green man would make his debut on Unter den Linden and Friedrichstrasse, two major streets in East Berlin. Residents and media took an interest beyond traffic statistics. Beloved, the green man became a mainstream image and brand. He got acting credits through representation in the children's animated television show "The Sandman" and in coloring books.
However, in 1997, traffic lights were next for Westernization. Ampelmännchens were being replaced with the West's smaller, generic and simply styled man. This would be the last straw for East Germans.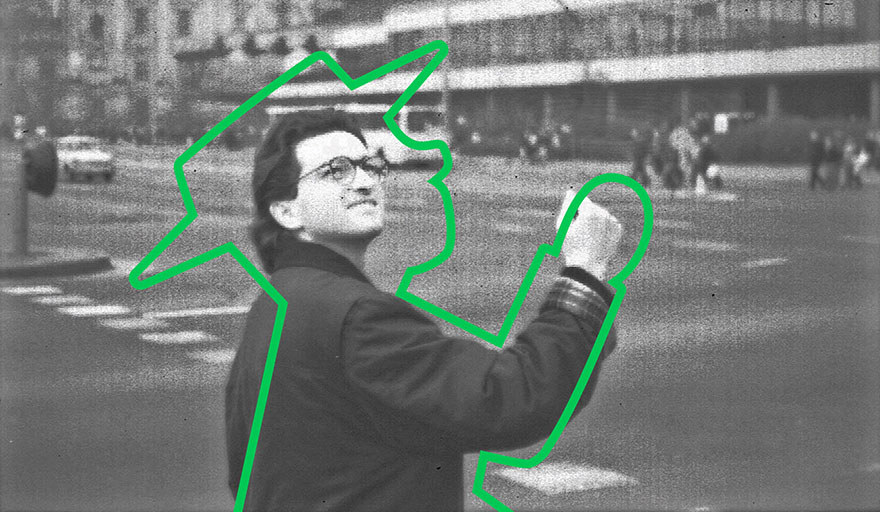 Markus Heckhausen, a native to East Germany, found fond memories of Berlin's Mitte fading. Uneasy with the present, he sought to reconnect with the past through traffic lights. Before his eyes, his culture was disconnected, dismantled and left astray on sidewalks. Collecting the glass on Rosenthaler Platz, Heckhausen created a gallery with the Ampelmännchen symbol prevalent. German press took notice and articles covered the story.

Hearing of the passion and artistic revival, Peglau reached out to Heckhausen for coffee. The two would strategize how to save the remaining Ampelmännchen and ultimately form a lifelong friendship.
Rescue the Ampelmännchen! was a committee dedicated to the cause. Lobbying right to the traffic minister, this was something a generation could get behind. Under public pressure, Ampelmännchen's survival was singled via the removals halted.
He has been used as inspiration throughout other German areas. As recently as July 2017, southern German city Augsburg unveiled a puppet-themed crossing figure to celebrate their theatre history. Residents in other parts regularly suggest personalised and themed symbols too.
Now a cult icon, Ampelmännchen went from being nearly extinct to fame beyond sidewalks. Outside of Berlin, you can see him internationally parading on shelves as a mug or key chain.