Valentine's Day is great, even if you are single. And, no, I am not being sarcastic. Everything is pink and pretty, flowers are all around you, and the chocolate sales are the best they will be all year. I am not putting V-Day down, but I am here to tell you about an even more fabulous holiday: Galentine's Day.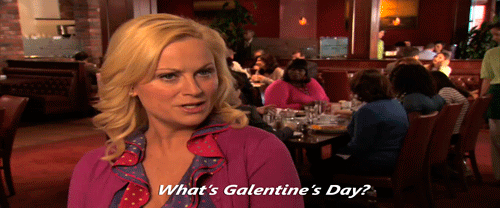 If you are not an avid fan of NBC's Parks and Recreation, you may not have heard about G-Day before. Leslie Knope, played by the uber hilarious Amy Poehler, invented Galentine's Day to celebrate the people in her life who are just as important as a significant other: your best gal pals.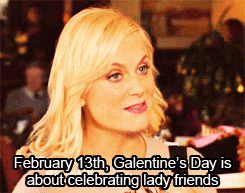 Don't get me wrong, celebrating your boyfriend or girlfriend or this week's Tinder match is all well and good, but your lady friends are the ones who are truly there for you through everything. They are the ones who hold your hair back after Sunday Funday gets a little out of control. They are the ones who tell you that dress does make you look fat, and then let you borrow a dress that suits you much better. They are the ones who go out of their way to like one of your Instagram pictures when it is at an uneven number. They are the only ones who ever get your obscure television references. They do not judge you when you cry uncontrollably at a random episode of Grey's Anatomy, or when you finish a whole bottle of wine by yourself because your crush changed his Facebook status to "In a Relationship."
A wise women (Carrie Bradshaw) once said: "Maybe our girlfriends are our soul mates and guys are just people to have fun with." 
This Feb. 14, make sure you tell your other soul mates that you appreciate them. Grab your sorority sisters, your real sisters, your roommates, your mom, or any gal in your life who has been there for you and give them a big ol' hug. Take them out to breakfast, catch a movie, go shopping, or even hang out at the beach. 

Galentine's Day is not about where you go or what you do, it is about who you spend it with. Friends are the people who really, wholeheartedly understand you, even when 90 percent of your conversations consist solely of emojis. 
So, to all my ladies out there: whether you are as single as a Pringle, taken like bacon, or in some kind of weird "it's complicated" area -- Happy Galentine's Day!