You can see it in the name. "Fresh." The crisp design of the prep area and the promising names of the menu items suggest that this is the spot for "healthy" on campus. But does it live up to its name? Are there any fresh fruits or vegetables actually involved? Are the food items not just full of calories and devoid of nutrients?

The answer - well, in my opinion, I think they actually have some pretty good options. Some nutrition aspects I was pleasantly surprised about, and some I was not quite expecting. However, they seem to have nutrition information more readily available than other eating establishments, and all-in-all, I was relatively pleased with the information I found.
Here are 20 facts about the menu items at Freshens you might not have known just from the menu…
1. Most of the items on their menu are actually available at our location.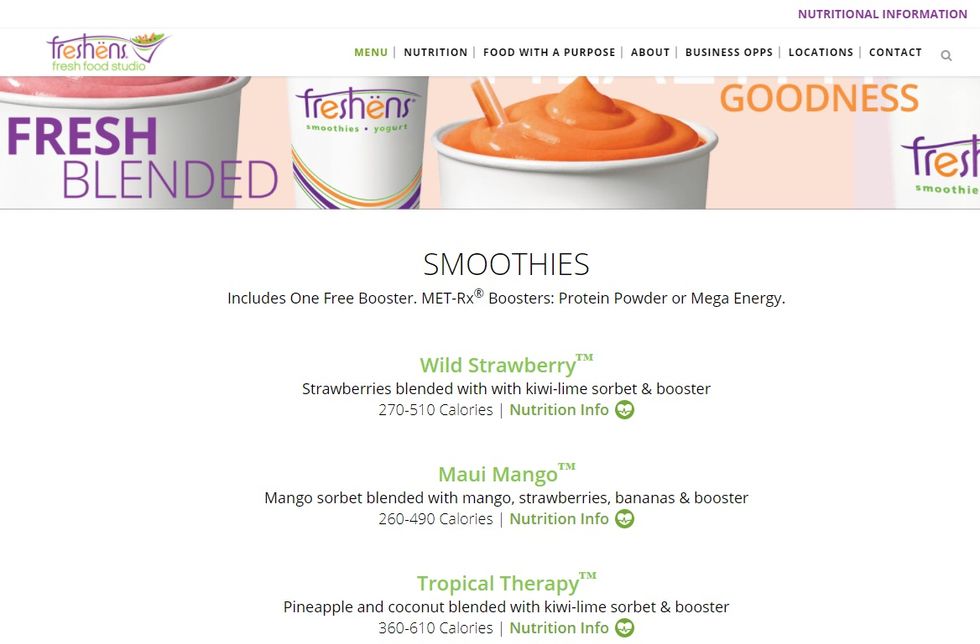 If you compare the menus at Chick-fil-A, Baja Fresh, or WOW to other locations, our menus are pretty limited. However, there are just a few Freshens items that we may not have here at JSU.
2. All of their salads are under 600 calories.*
Given that most college students probably need around 2000 calories, if you eat a (delicious) salad for one meal, and eat a relatively light breakfast like I do (400 calories or less), you still have 1000 calories you can consume for another meal + snacks.
*This isn't including the create-your-own salad. If you make your own salad with feta cheese, gorgonzola, parmesan, cheddar, bacon, eggs, walnuts, chicken, strawberries, black beans, and literally all the things, your salad is probably going to be more than 600 calories. Maybe it's tasty, I'm just saying, my "ALL" does not include whatever your pencil circles on the paper.
3. All of their salads provide OVER 100% of your daily value of vitamin A.**
4. All of their salads provide over 60% of your daily vitamin C.**
5. All of their salads provide at least 10% of the daily value for iron.**
6. All of their salads provide at least 25% of the daily recommendation for calcium.**
**Every person is different, so especially depending on your age, gender, if you're pregnant, etc., your needs may be a little lower or higher, so keep that in mind when you read percentages of daily values. This is just using the standard 2000 calorie reference.
7. The nutrition information INCLUDES the dressings.
That doesn't always happen in nutrition information. So if you want to change or reduce your calorie, fat, sugar, or sodium content, you can totally switch out your dressing and make that happen. But please keep in mind, my lovelies, that salad dressings are not evil. There may be some better options out there (or if you make your own!) that have lower sodium or added sugars.
However, salad dressings are often good sources of your good fats (i.e. polyunsaturated fatty acids, sometimes omega-3 and omega-6) vitamin E, and that magical substance called "vinegar" that half of America seems to think will save the world from all infirmities. (I like vinegar; the sass just moved in when I started reading so many claims based on so little research.)
8. All the crepes are 600 calories or less.
9. The cholesterol in two of the breakfast crepes.
As delicious as the breakfast crepes may be, you may want to consider saving them for special occasions, at least for the "Denver with Bacon" and the "Sausage and Egg"; they both contain over 200% of your daily cholesterol in the one crepe. Eggs are a great healthy option, but combined with the cheese and the sausage or bacon, it just comes out to a lot of cholesterol if you were considering making that a daily breakfast routine. The "Egg White Florentine," on the other hand, only provides 15% of your daily cholesterol.
10. All the smoothies contain at least 80% of the daily value for vitamin A.
11. All the smoothies contain over 100% of the daily value for vitamin C.
12. All the smoothies contain at least 25% of the daily value for calcium.
13. All the smoothies contain between 48 g ("Peach on the Beach") and 89 g ("Tropical Therapy") of sugar.
14. If I understand the website correctly, many of the vitamins in the smoothies are fortified, but they do have real fruit in addition to the sorbet/yogurt and vitamins.
"Our classic fresh blended Smoothies are offered in Greek Yogurt, Pom-Raspberry and Orange Sherbet options. Our Smoothie mixes are kosher certified, and fortified with 100% of vitamins A, C, D, E and 25% Calcium."
15. "Gluten-friendly"
This is probably one of the most important points. This spring, they are reformulating their smoothies and marketing them as "100% clean." One of their points is that their smoothies will be "gluten-friendly."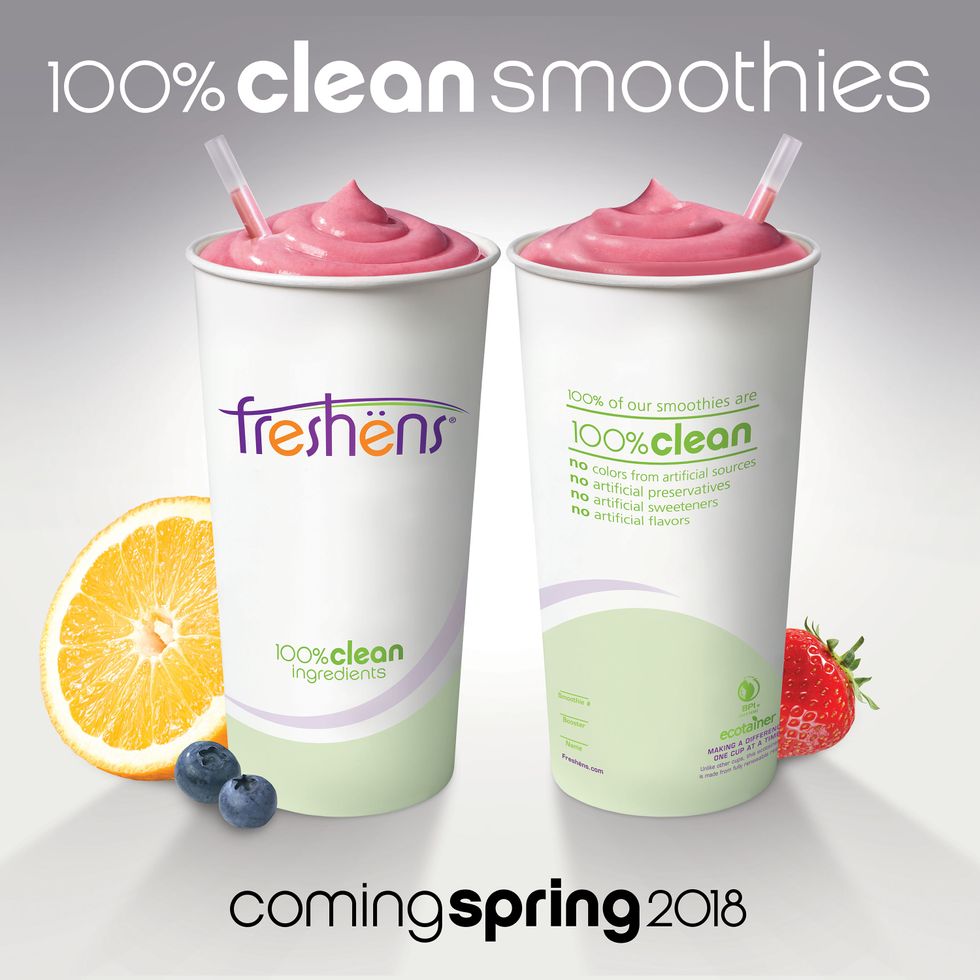 For those of you with celiac disease, you are probably accustomed to looking for that certified gluten-free logo.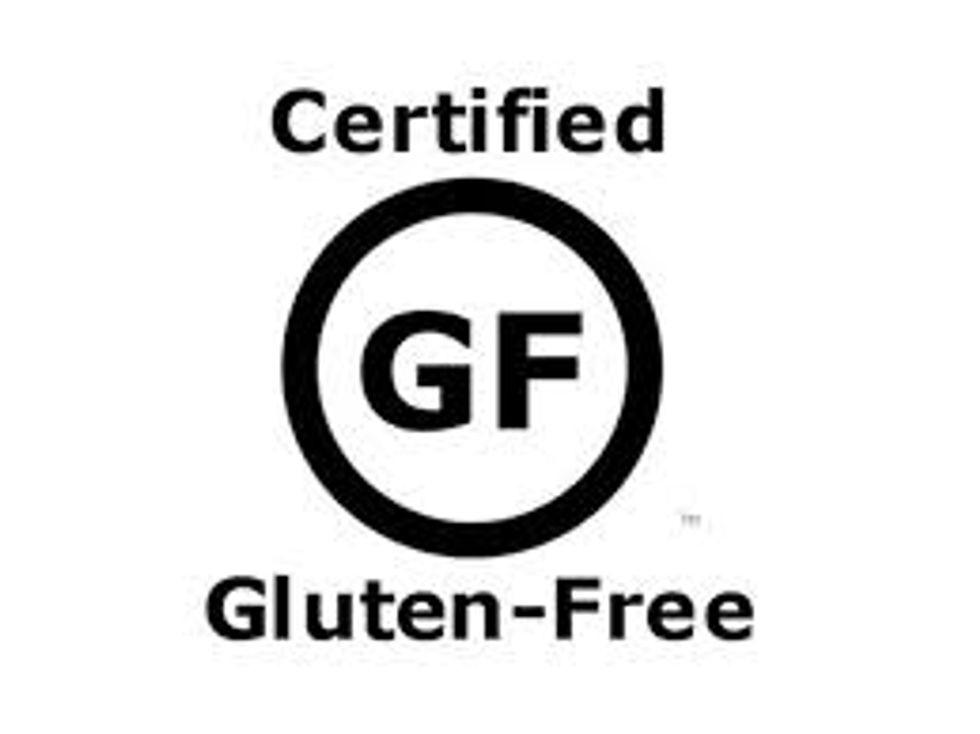 Based on the way it's phrased, I'm guessing that for those of you with a gluten sensitivity or those that can handle literally trace amounts of gluten, this is what you're looking for. They are probably emphasizing no gluten ingredients used in the sorbet, Greek yogurt, anything. However, I'm guessing that they are not certified gluten-free, meaning there could be trace amounts of gluten still in there.
Celiac patients can react to just a few parts per million in a food item, so I would definitely be wary of that phrasing. For most of those out there just generally trying to avoid gluten, it should be fine. However, I am interested to see in the future if they will try to make their smoothies certified gluten-free, or if there is some logistical technicality (i.e. being served in the same location as other products that contain gluten, I am not certain) that prevents this from happening.
16. All of the rice bowls are 710 calories or less. (Again, not including the make-your-own.)
17. All the rice bowls contain between 62 g ("Florence") and 90 g ("KC BBQ") of carbohydrates.
18. All the rice bowls contain at least 15% of your recommended daily iron.
19. All the rice bowls contain between 14 g ("Hummus") and 34 g ("Power Protein") of protein.
20. You can get the menu item ingredients and actual nutrition labels for each item online.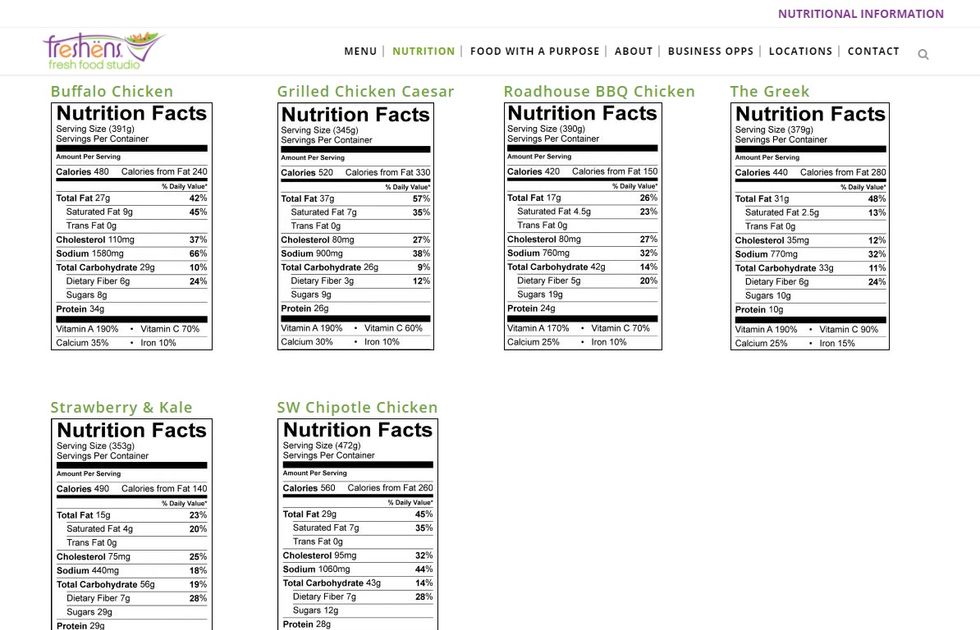 They do not have a breakdown of the actual ingredients in the dressings, smoothie mixes, and some of the other ingredients, but compared to other places on campus, Freshens has a pretty fair share of nutritional information. Check it out for yourself, and go grab something delicious.
I guess as a closing disclaimer, I wouldn't use this article to look at one aspect of the nutrition facts and decide to either eat here for every meal or to never eat here again. The sugar content was a lot higher in the smoothies than I thought it would be, but I'm definitely still going to enjoy them every now and again.

I also didn't realize just how nutrient-packed the salads were. I mean, I knew the flavor was amazing, but that was pretty exciting to find out.

Nutrition facts can serve as a double-edged sword for a lot of people, where people feel like restriction, shame, or release is the only thing that can come out of them. For some, it can be a tool to guide the dietary decisions a person makes each day to support their health, in addition to what they're craving.
Life is more than numbers, but numbers can help improve quality of life. I know I'm getting super cheesy, sorry not sorry. Use nutrition information to empower you, to broaden your knowledge, and to choose something that will make your body and your taste buds happy. Now return to your crepe.