Findings from a survey commissioned by Fifth Third Bank and conducted by Research Now concluded that many Americans struggle with the reality of their financial comprehension. Despite over half of those surveyed being confident in their financial understandings, only a fraction knew the APR on their primary credit card, and many did not have enough savings to get past six months. In another study conducted by Ally Bank, 70% of Americans think it isn't appropriate to talk about money. Millennial participants acknowledged they discuss financial topics like income, savings, and debt with others, but nearly two-thirds still agreed it was a "rude" subject.
It might be a stretch to assume that part of the don't-ask-don't-tell attitude with money stems from a lack of financial literacy, but luckily there's an app for that.
Mint is "your financial life, in one place that's easy to understand." It's the app that brings all your finances – checking, savings, credit, investments and expenses – into one, easy to navigate place. Mint organizes your banking, spending, and saving via a sleek, minimalist, user-friendly interface.
I stumbled upon Mint while researching banking diversity and investment management. Since I started listening to Gaby Dunn's podcastBad With Money, I've been looking for ways to get more financially savvy. After trying a few different budgeting and banking apps, I kept running into the same problem: there was no system I could find that didn't involve toggling between three different apps, on top my respective bank and investment apps.
I was skeptical at first about Mint's legitimacy, but Intuit – the app's provider – also produces QuickBooks, highly regarded financial management software popular with business accounting. As a read-only service, you won't be able to move your money back and forth between personal accounts, but you can pay bills. Mint doesn't require moving your money into questionable "holding" banks, but links directly to your personal accounts with encryption and monitoring processes used by TRUSTe and VeriSign to protect your information. Additionally, it uses the same security measures required by your financial institution for online banking.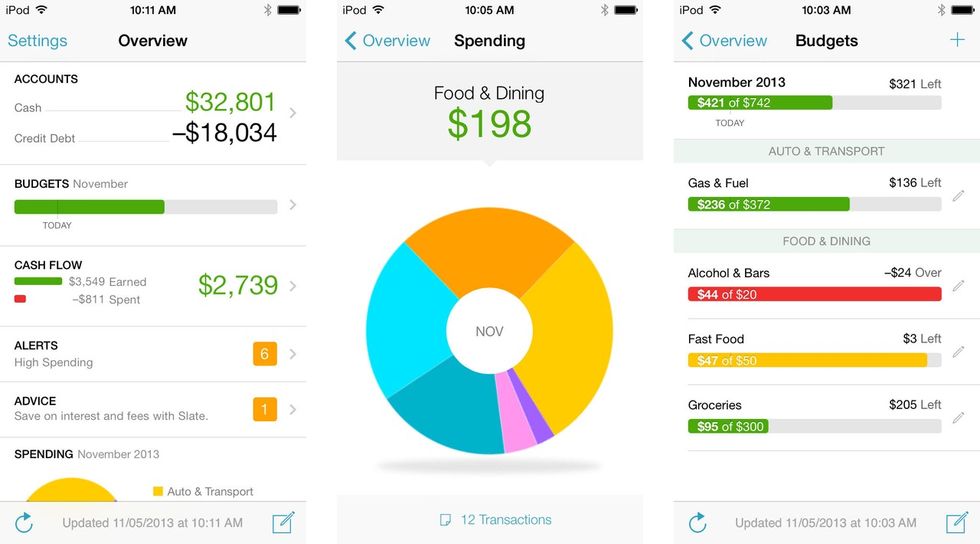 Mint provides features like flexible budgeting tools, financial summaries, free credit score powered by Equifax, and tax tools integrated with TurboTax. Detailed expense tracking compared against your income makes it a breeze to stay on track with maintaining a positive cash flow. If something slips past your fingertips, you can even set low balance alerts for your accounts, avoiding costly overdraft charges and banking penalties. Sync it with your investment accounts or investment apps like Acorns to see a comprehensive picture of your financial health, and stay aligned with long-term goals.
Mint "learns" your spending, saving, and investment habits, and you can customize how you'd like to receive the reports. When it analyzes financial activity that seems out of the ordinary, it sends an immediate red flag notification, incredibly helpful in preventing and/or catching credit and debit fraud. This type of comprehensive feedback is great for recognizing harmful patterns in your personal financial behaviors, and watching your financial skills grow.
Mint is currently available for free to download in the App Store and on Google Play.