Fast food is a staple of America. McDonald's, Wendy's, Burger King, they all have a place in the American household. When I talk with my friends about where to go eat, the deciding factor comes down to who has the better fries. That's right, those little bundles of complex carbohydrates are the deciding factor of what you put in your body. And I mean, can you blame them? Fries are the bomb! They are literally the perfect side order, they go with everything! Cheeseburgers, hot dogs, even steak; all made even better by those lovely bundles of joy!
With all the joy fries bring us, why do we hate on them so much? We say "oh this place has terrible fries, let's not go there". First of all, the fries are trying their best, don't be mean! Second, I completely understand that it's a little goofy to be writing an article about french fries when there are literally a million other things to be upset about, but after watching "Sausage Party" at 2 in the morning, I can't help but feel like food has feelings. Also, when I called out Odyssey on their polling of the better french fries, they told me to write about it.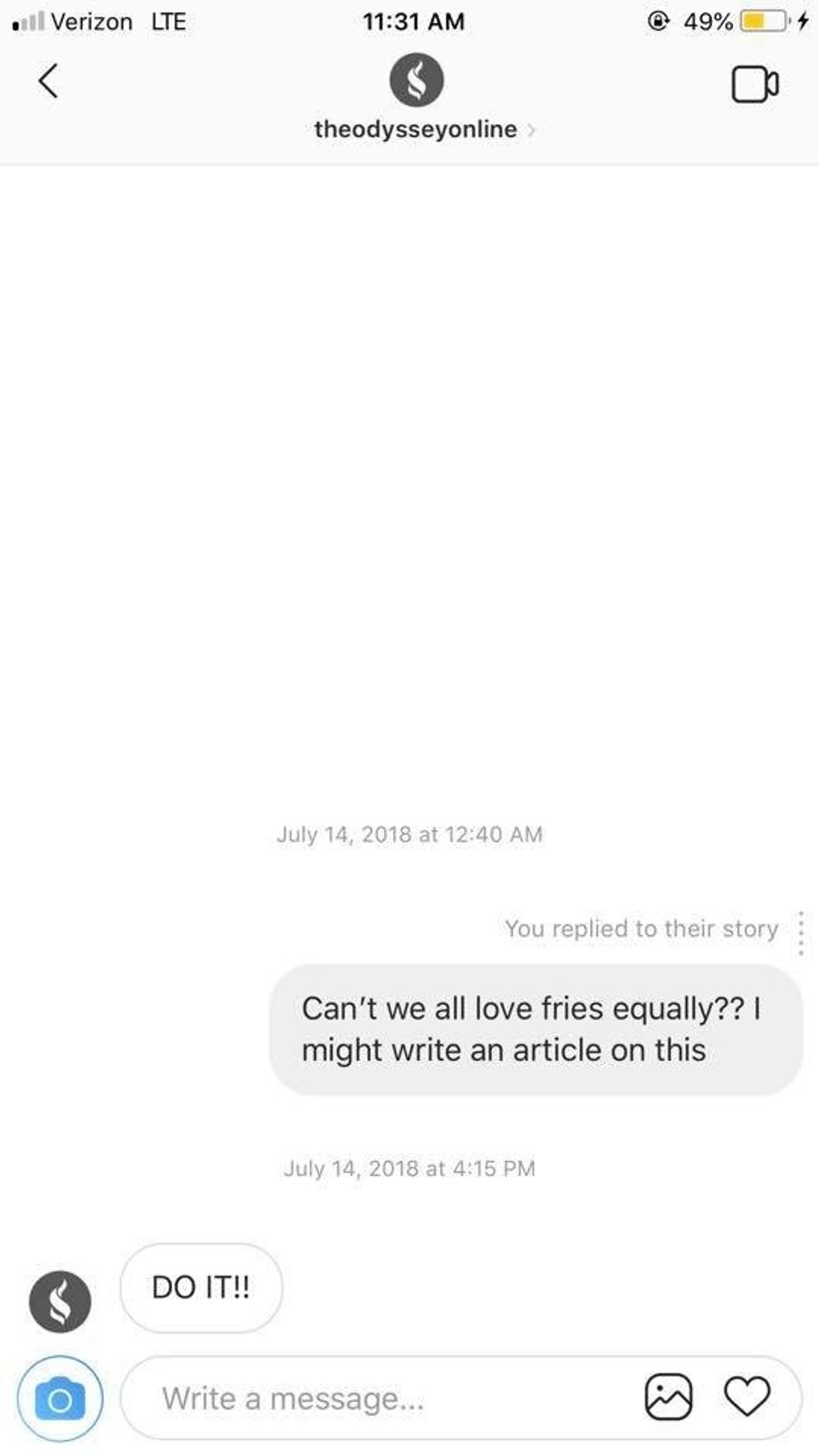 I told you guys... no fake news here!
Let's be real for a minute... fries are like pizza, even when they're bad, it's good! Also, every brand of french fry has something the other lacks. Culver's crinkle cut style has an advantage of McDonald's flimsy build, but McDonald's has higher quantity. Chick-Fil-A has waffle fries, but Burger King fries don't have a homophobic CEO. My point is that there are checks and balances for everything, including french fries.
When we were in elementary school, we always thought the kid who got fast food for lunch was the shit, we didn't care where it came from, we just wanted the fries. Where did this innocence go? Where did the excitement of our parents getting us a happy meal go? A time where we saw apple slices as a cheap imposter and indulged in the loving embrace of deep fried potato slices. How many horrific hangovers were prevented because we shoved our faces full of greasy fries and a Gyro (shoutout to my Greeks). Fries are a constant reminder that things will be better, and us eating our feelings will soon pass.
Regardless of your fast food allegiance, leave the french fries alone!! They're the innocent bystanders that will still be there in your Uber Eats bag when your drunk and need something to absorb the poison you've been pouring down your throat since 8 pm.
And if you need additional convincing, you can check out an amazing article written by my fellow Odyssey writer Alexis Lynch.