Holidays are a time of joy for children as they expectantly wait for the turkey and food on Thanksgiving or tons of presents from Santa on Christmas Eve. However, many times we lose the holiday spirit and what it means to do things as a family. Especially when caring for little ones. To help with this problem, I want to share five holiday treats you can give to your little ones this season. Each with their own recipe attached to allow the little ones to share in the making of these delicious treats.
1. Snowman Cake Pops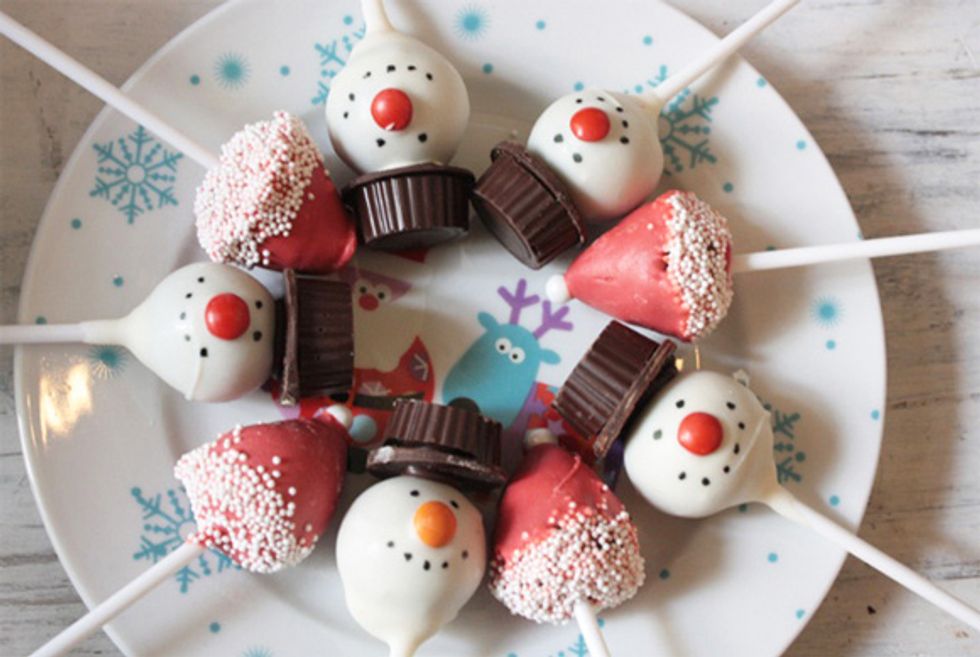 Recipe
1. Prepare and bake cake according to package directions, using a greased 13-in. x 9-in. baking pan. Cool completely on a wire rack.
2. Crumble cake into a large bowl. Add 1/2 cup frosting and mix well. Shape mixture into 36 3/4-in. balls and 36 1-in. balls. Place on baking sheets. Freeze for at least two hours or refrigerate for at least three hours or until cake balls are firm and easy to handle.
3. To assemble snowmen, insert a lollipop stick into a large cake ball and then a small cake ball. Insert cake pops into a styrofoam block to stand. In a microwave, warm remaining frosting; stir until smooth. Spoon frosting over each cake ball.
4. Using sprinkles, add faces and buttons to snowmen. Add earmuffs and scarves with baking bits and pieces of fruit rolls. Let stand until set. Yield: three dozen.
2. Chocolate and Caramel Drizzled Popcorn
Recipe
Heat oven to 250°F.
Place popcorn, cashews, and pecans in large roasting pan.
Combine brown sugar, butter and corn syrup in 2-quart saucepan. Cook over medium heat for 7-8 minutes or until mixture comes to a boil. Continue boiling for 2 minutes. Remove from heat; stir in baking soda.
Pour butter mixture over popcorn mixture in pan; stir well. Bake for 60 minutes, stirring every 15 minutes. Remove from oven; place onto waxed paper or parchment paper. Cool completely. (Do not break into pieces.)
Place chocolate chips and 1 teaspoon shortening into resealable plastic food bag. Microwave for 30-45 seconds; knead bag. Continue microwaving at 15-second intervals, kneading until smooth. Cut tiny corner from bag; drizzle melted chocolate over popcorn mixture. Repeat with white baking chips and remaining 1/2 teaspoon shortening, microwaving on Medium-High (70% power). Drizzle over popcorn mixture. Let stand for 3-4 hours or until chocolate is set. Break popcorn mixture into pieces.
Store in container with tight-fitting lid or resealable plastic food bag.
3. Sugar Cookies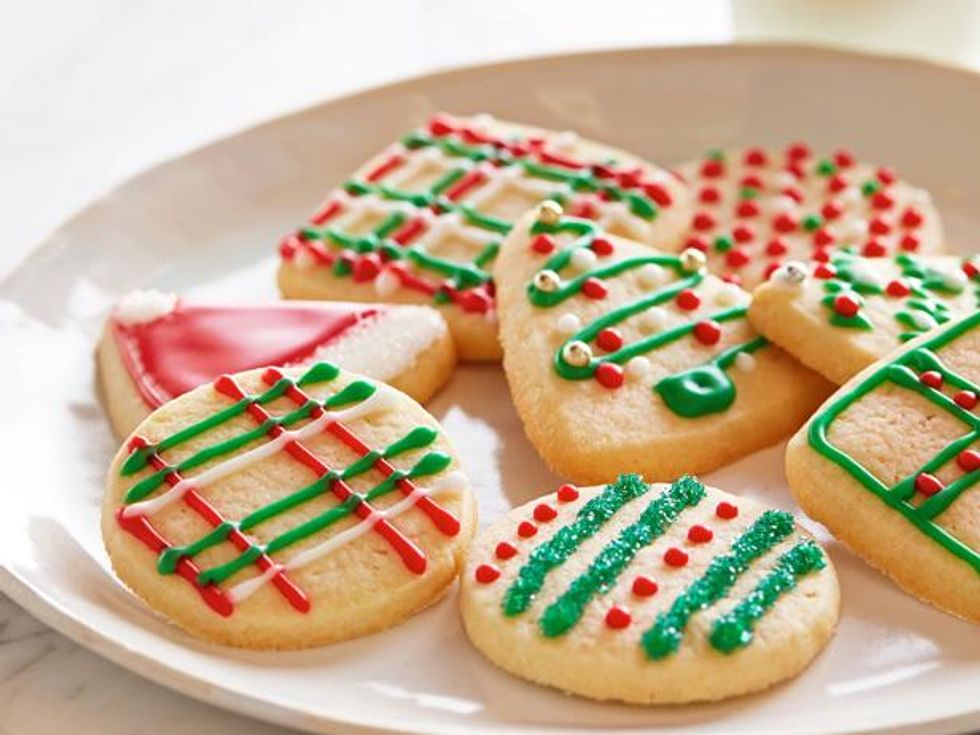 Recipe
Preheat oven to 375 degrees F (190 degrees C). In a small bowl, stir together flour, baking soda, and baking powder. Set aside.
In a large bowl, cream together the butter and sugar until smooth. Beat in egg and vanilla. Gradually blend in the dry ingredients. Roll rounded teaspoonfuls of dough into balls, and place onto ungreased cookie sheets.
Bake for 8 to 10 minutes in the preheated oven, or until golden. Let stand on cookie sheet two minutes before removing to cool on wire racks.
4. Puppy Chow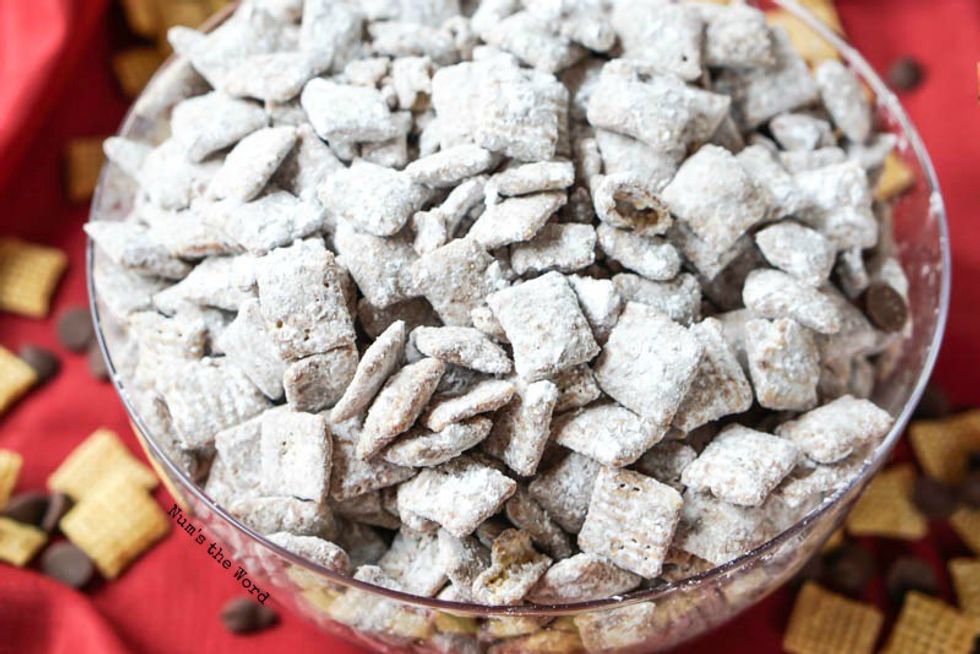 Recipe
Measure cereal in large bowl.
Set aside.
Microwave chocolate chips, peanut butter, and butter for 1 minute on high.
Stir.
Cook for 30 seconds longer or until smooth.
Add vanilla.
Pour mixture over cereal, stirring until coated.
Pour mixture into large Ziploc bag and add powdered sugar.
Shake until well coated.
Spread on waxed paper to cool.
Store in Ziploc bags or large sealed bowl.
Recipe Note: It helps to add cereal mixture a little at a time if you only have small bags.
Ingredients:

9

cups Chex cereal (any kind)

1

cup semi-sweet chocolate chips or 6 ounces semi-sweet chocolate chips, melted

1⁄2

cup smooth peanut butter, melted

1⁄4

cup butter, melted

1 -2

teaspoon vanilla

1 1⁄2 cups powdered sugar
5. Gingerbread House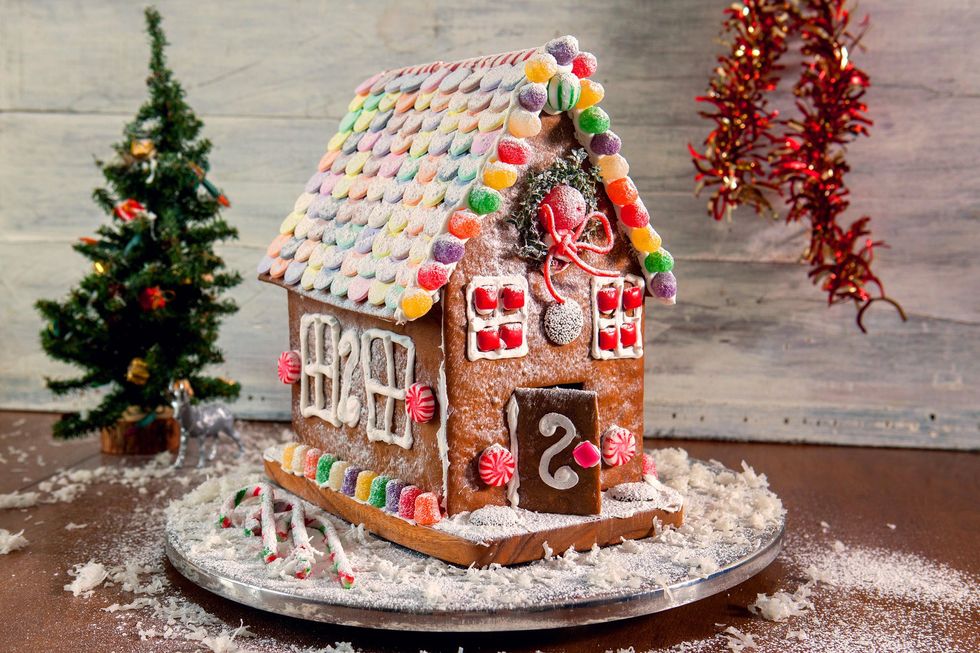 Recipe
(For assemblage and decoration)
Gingerbread House:
1. In a large mixing bowl, cream the butter, brown sugar, molasses, cinnamon, ginger, cloves and baking soda together until the mixture is smooth. Blend in the flour and water to make a stiff dough. Chill at least for 30 minutes or until firm.
2. Preheat oven to 375 degrees F.
3. Cut out the following paper patterns for the gingerbread house template:
4. Two rectangles, 3 by 5 inches, to make the front and back of the house. Two rectangles, 3 by 5 1/2 inches for the roof. Two pieces for the ends of the house, 3 inches wide at the base, 3 inches to the roof line, and slanted to a peak 5 1/2 inches from the bottom. Four smaller rectangles, 1 1/2 by 1 inch for the roof and sides of the entryway. And one piece, 2 inches wide at the base, 1 1/2 inches to the roof line, and slanted to a peak 2 1/2 inches from the bottom for the front of the entryway.
5. Roll gingerbread dough out to edges on a large, rimless cookie sheet. Place paper patterns onto the rolled out dough. With a sharp, straight edged knife, cut around each of the pieces, but leave pieces in place.
6. Bake at 375 degrees F for about 15 minutes until dough feels firm.
7. Place patterns on top of the gingerbread again and trim shapes, cutting edges with a straight-edged sharp knife. Leave to cool on baking sheet.
8. Place royal icing into pastry bag with a writing tip and press out to decorate individual parts of house, piping on decorations, windows, door, etc., as desired. Let dry until hardened.
9. Glue sides, front and back of house together at corners using royal icing. Place an object against the pieces to prop up until icing is dry (it only takes a few minutes).
10. Glue the two roof pieces to the pitched roof line of the house. Then, similarly, glue the sides and roof of the entryway together with icing. Attach the entryway to the front of the house.
11. Continue decorating the house, gluing on gumdrops, licorice and peppermint, as desired.